This year I have been fortunate enough to watch a variety of plays, musicals and dance shows in venues across Kent, London and Edinburgh. I have taken steps outside of my comfort zone of musical theatre and started to explore artistic material of deeper meaning, navigating darker and more harrowing themes. Yesterday evening was a prime example of this as I headed to the Old Red Lion Theatre near Angel for the press night of Ikaria: a new play by Philippa Lawford, focusing on mental health, personal struggle and the impact it has on loved ones. IKARIA is Tightrope Theatre's latest venture, running from 8th – 19th Nov at this unique London venue, providing a platform for new writing.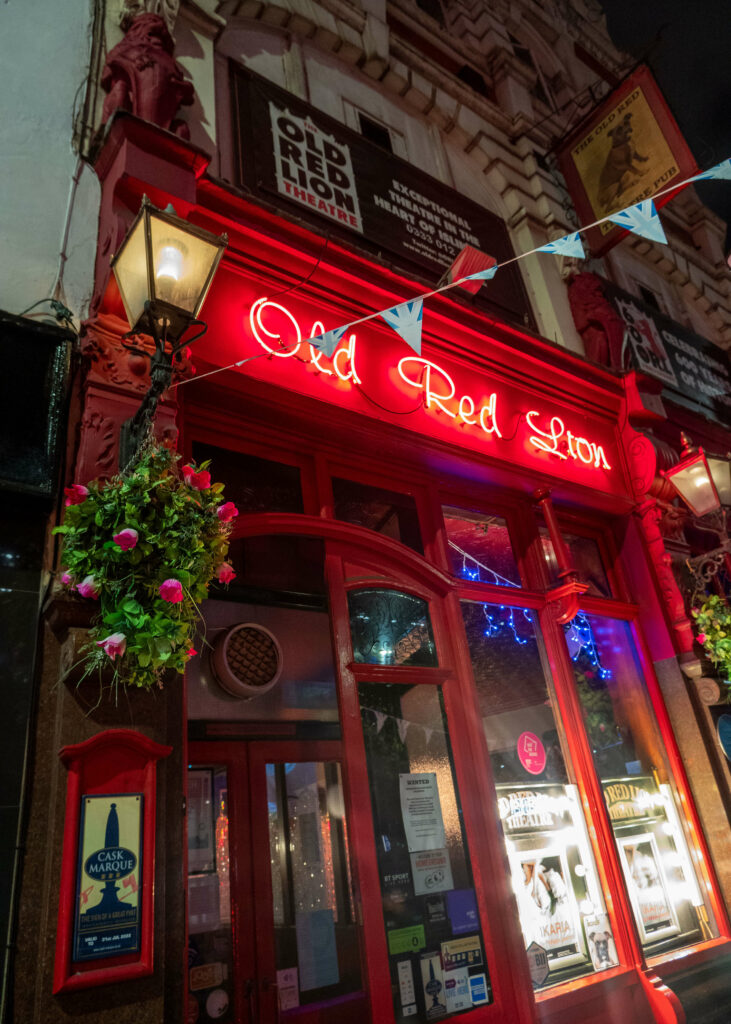 Synopsis
A love story set at university, Simon and Mia are in their first and third years, quickly falling for each other against the turbulent backdrop of university parties, student digs and looming deadlines. Mia is experiencing living away from home for the first time and Simon has returned from a year's break from studying. They meet at a film society event and instantly hit it off on one of the rare occasions that Simon is seen outside of his room. Simon experiences depression and finds it difficult to focus on his studies and look after himself, but Mia quickly becomes a beacon of light in his life. IKARIA takes place over two acts and follows the couple's relationship whilst navigating their spring semester.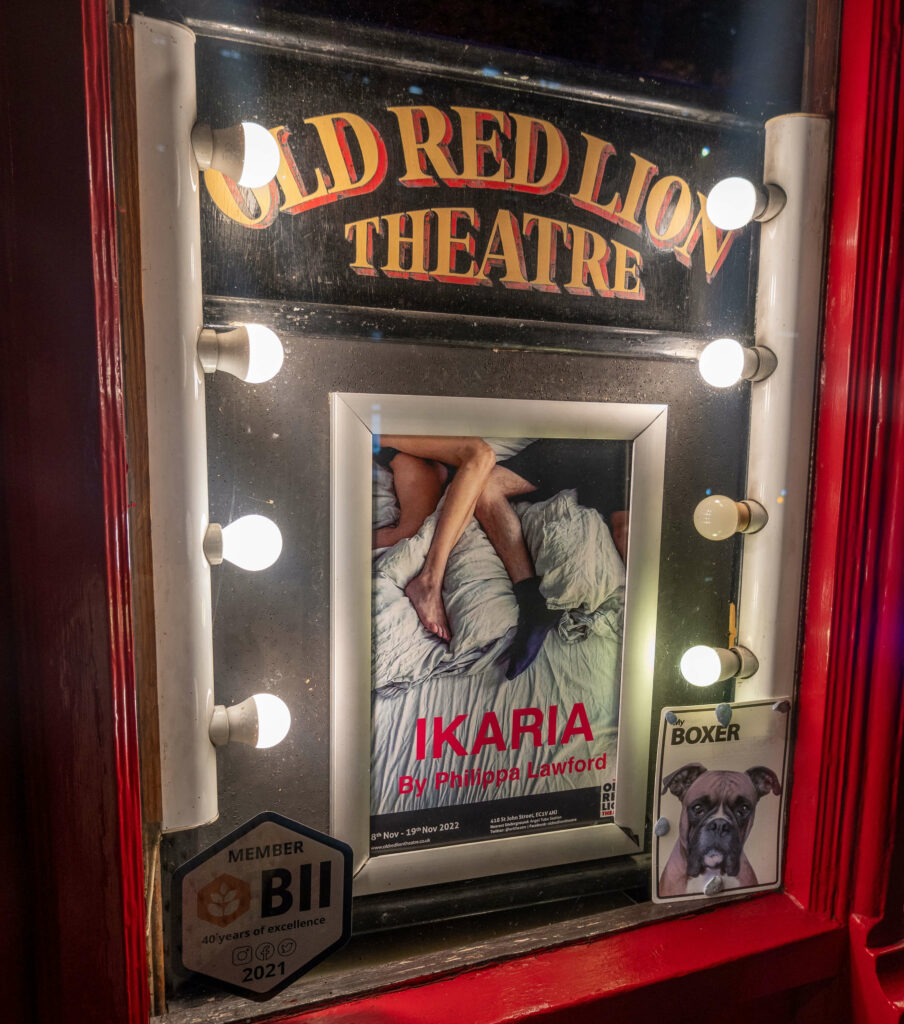 Themes, tone and writing
I was taken aback by the diversity of the writing within IKARIA. The first act featured lots of opportunities for the audience to laugh, as the characters poked fun at the absurdity of life in the 'student bubble'. There was also plenty of room to smile at the awkwardness of their first encounter, something that I was not expecting. This easy and affectionate dialogue between the characters made you realise how much Mia meant to Simon, despite everything going on in his life.
A large proportion of the play focuses on Simon and his innermost thoughts. Themes of depression, self harm and suicide run deep and it is this side of the production that will not be for everyone, due to the difficulty of the subject matter. Lawford conscientiously reveals Simon's struggles through visual representation instead of spoken word in many places, letting Simon's actions tell the story. This was incredibly powerful and left me feeling quite emotional.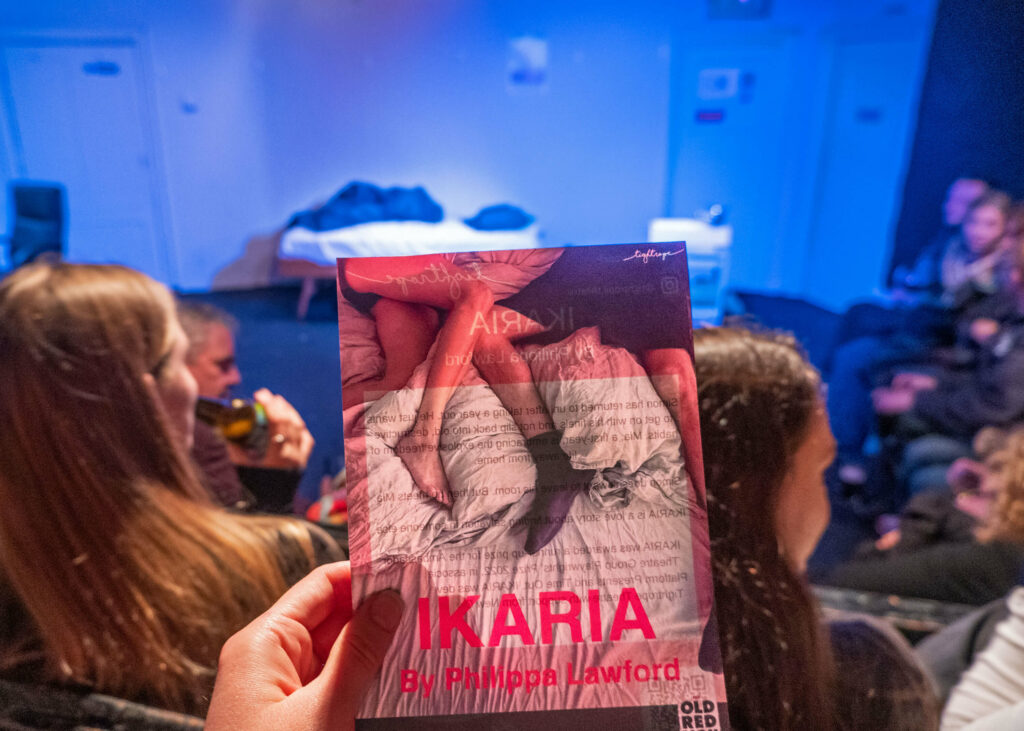 Set, lighting and props
The entirety of IKARIA takes place in one location: Simon's bedroom in halls. Most of his friends have already graduated in his absence and he looks to the university for suitable accommodation for his final year. It is such an authentic set with the papered stud walls, fire escape signs, small desk and sink in the middle of the room. There were stashes of Domino's discount vouchers on the floor and Deliveroo bags: realistic items that are often associated with modern-day student life. The creative team really managed to capture the essence of campus life, recreating the unpleasantness of student digs.
For one-location pieces of theatre, creatives often look to sound, lighting and props to distinguish scenes. The white walls of Simon's room were washed with different colour tones at moments of tension and distress. This effect amplified the sombre feeling of particular scenes, providing visual support to Lawford's written work. There was also the clever use of a set of fairy lights, something so innocent in physical form and appropriate for the university setting, providing light in the darker moments.
Cast
James Wilbraham and Amaia Naima Aguinaga had such authentic chemistry in the roles of Simon and Mia. The actors performed the source material with sincerity, appreciative of the complexity of the subject matter and the wider importance of talking about depression and how it affects people. Both incredibly talented performers, I look forward to seeing where they end up next.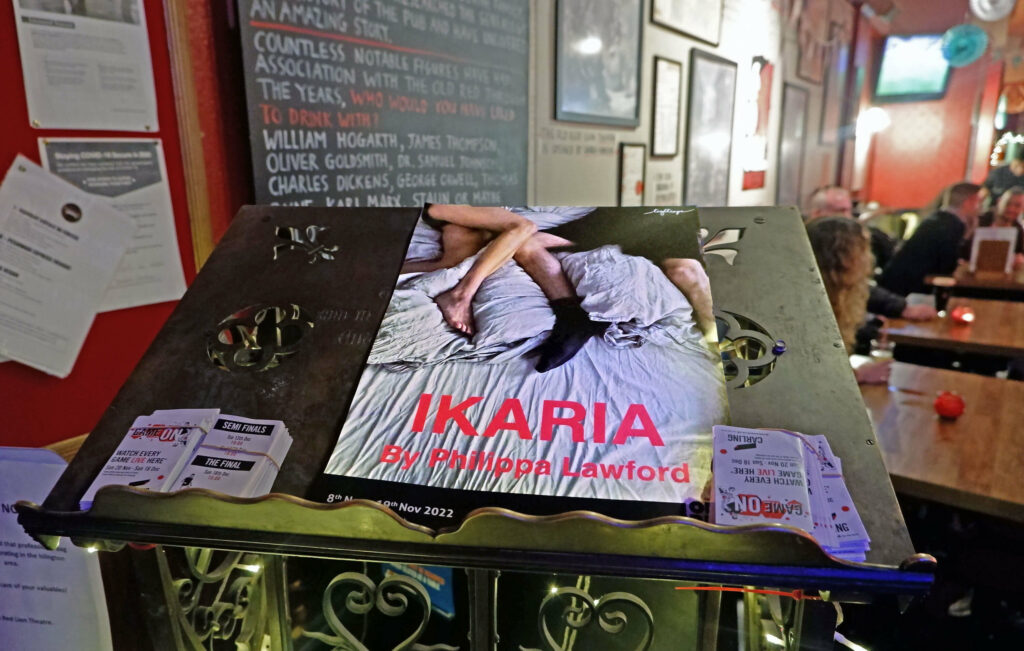 Final thoughts
A beautifully written and topically important piece of new theatre, IKARIA* is by no means a light piece of entertainment. Mental health can be difficult to watch in the arts, as a character's personal pain is exposed to the audience. At times I found myself quite distressed as a result of the actions on stage, but this just goes to show the sheer power of Philippa Lawford's writing. Tickets for IKARIA are available for purchase on the Old Red Lion Theatre's website and performances run up until next Saturday (19th November).
Thanks for reading my blog today.
Love Kat xxxx
*My ticket for IKARIA was gifted in exchange for a review of the performance.