It is always exciting when new musical theatre comes along and even more so when backed by a young creative team. It is a sign of what audiences have to look forward to in the future, as theatre as an art form evolves and grows throughout the years. This week I headed to London's Turbine Theatre for the press night of 'No Limits': a song cycle by Sam Thomas. Produced by Sam Caldwell (Paper House Productions) and with direction by Dean Johnson (LIFT at Southwark Playhouse), No Limits is a new piece of musical writing which first came to light in 2020 when the writer and producer were involved in a workshop for the show at university. Fast forward three years and No Limits is being presented at the Battersea venue: a theatre that is universally celebrated for providing a platform for emerging material.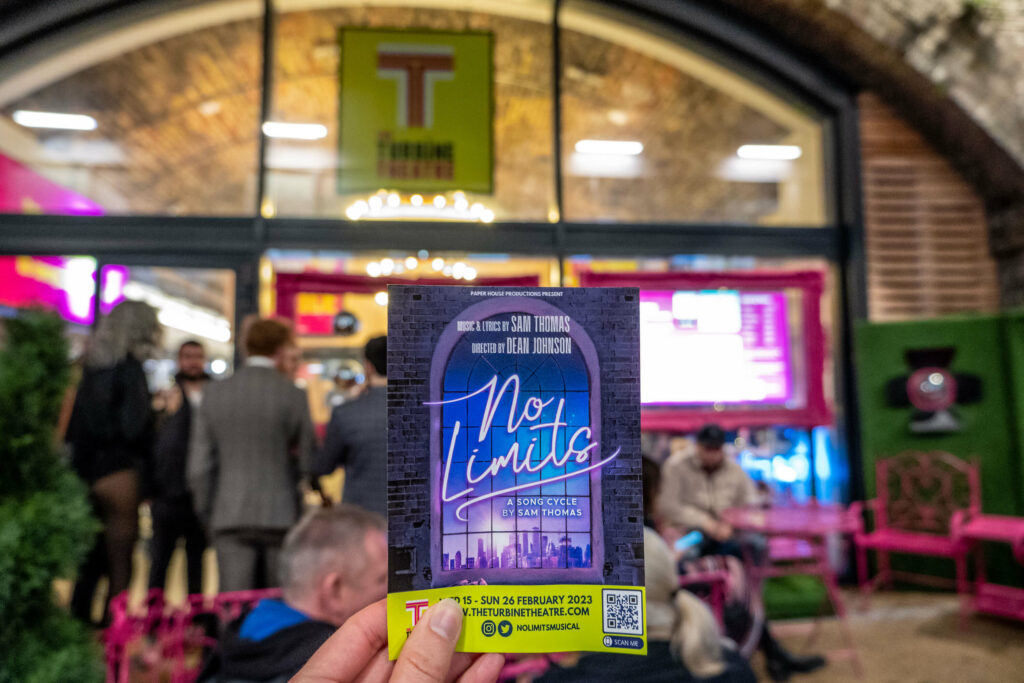 Song cycle format
For those of you that don't know, a song cycle is a programme of music that has been written with the view of being performed together. Although the songs can be performed individually, the writer has often composed the music as a set, telling a story or conveying a particular theme through the musical numbers. No Limits utilises this format, but the links between songs are the characters' emotional patterns and the consistent apartment setting. The characters are going through personal dilemmas and for each musical track, the apartment becomes their own space to vent and clear their heads.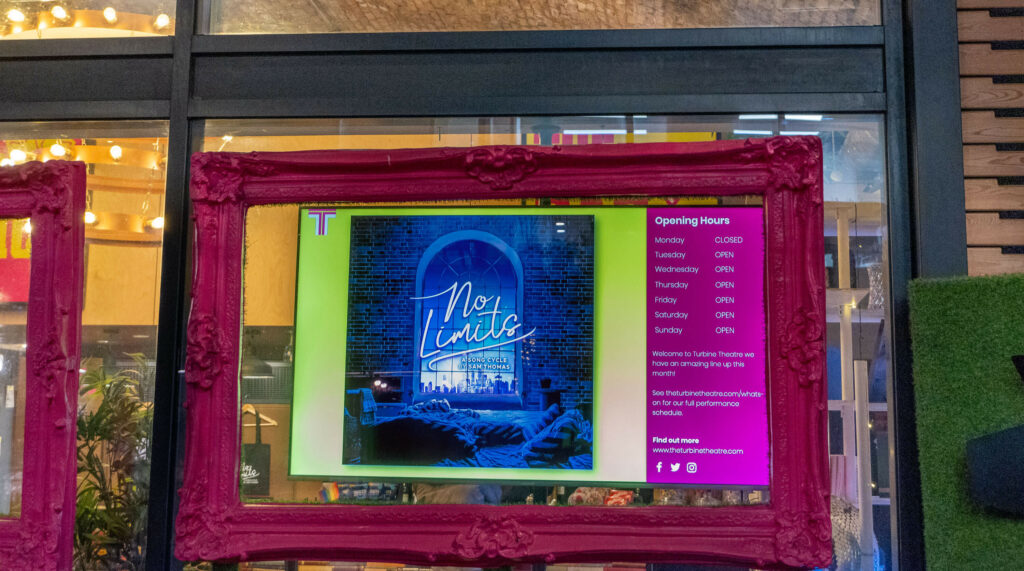 Background and theming
The production follows multiple characters that are stuck at a roadblock in their lives. Incredibly relatable given the modern day pressures of social media, highlight reels and online dating, the musical production explores how various characters overcome the issues that are holding them back and ultimately realise that there are 'no limits' to their success or self worth. Focusing on modern dating, LGBTQIA+ love stories, friendship, grief and themes of a sexual nature, this production is a letterbox view into the world of adulthood during a time where everything is documented online.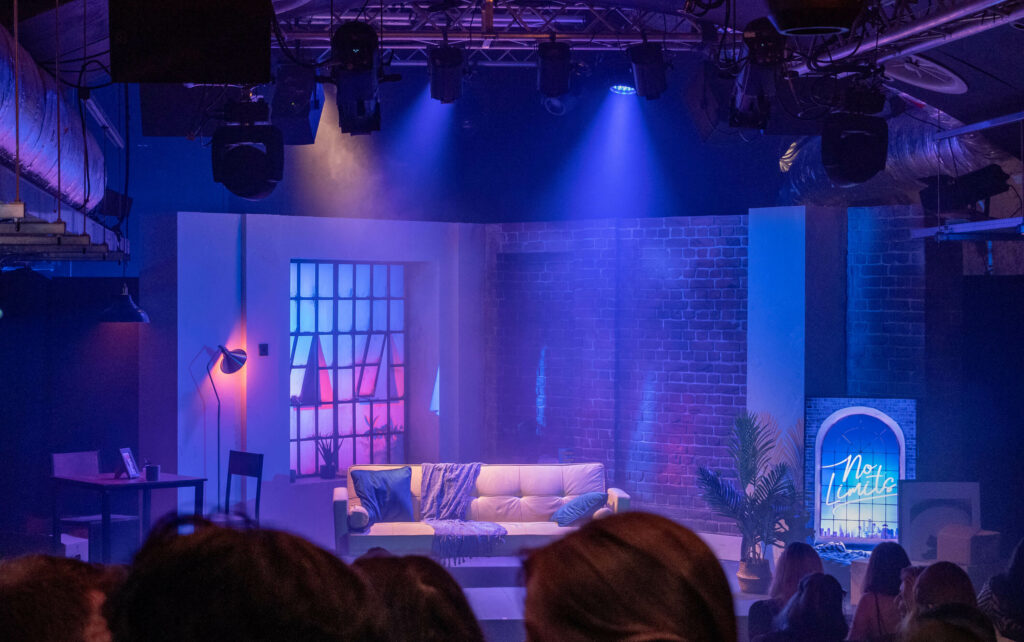 Music
Most of the songs focus on romantic relationships, but it was the tracks about family dynamics and friendships that stood out most for me. #DREAMER (Natalie May Paris) sings a heartfelt number 'Every Girl Needs a Mother' about the pain she has suffered in losing her mother at a young age. Sam Thomas' lyrics offer a transparent insight into grief, covering anger and loss, with Natalie pouring so much emotion into every note.
In contrast, 'The End of An Era' is a wonderful tribute to friendship, flatshare life and the fears of the unknown in the years after graduation. An anecdotal number, Owen Clayton and Mary Moore are brilliant together on stage, recreating the joy of long lasting friendships. In some ways I wish Thomas had written more songs surrounding these slightly less talked about topics, as they really stand out from other pieces of musical theatre which focus on romance. However Sam Thomas focuses on love stories from all walks of life and his writing has representation at the centre, something other new musicals should take note of.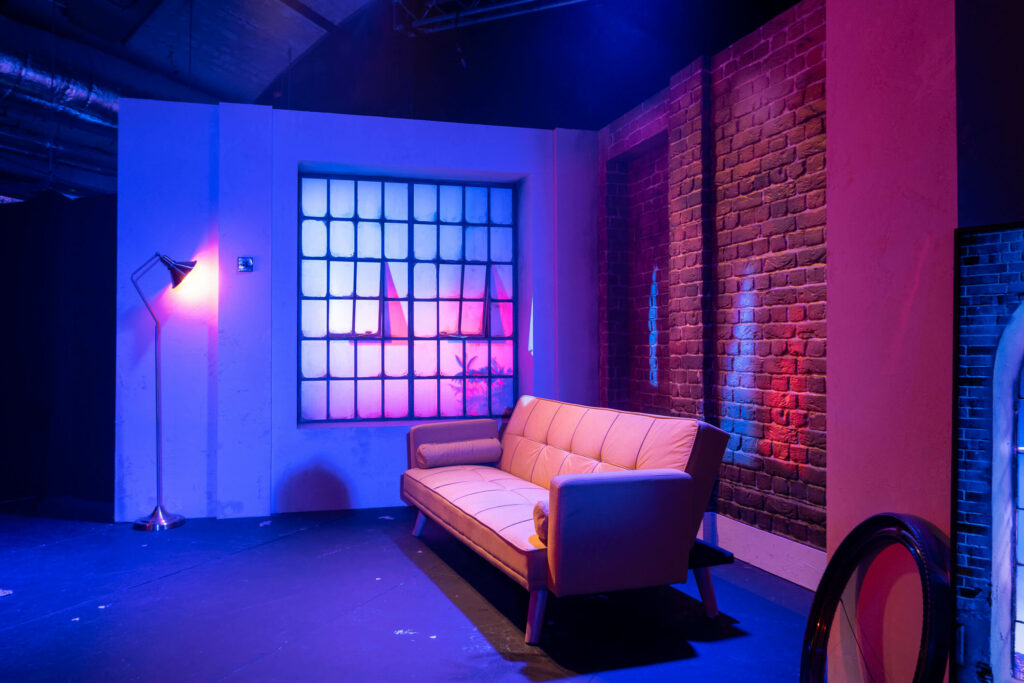 Location, sets and staging
Based in an apartment living room, I was in awe at the gorgeous blue, purple and pink hues on stage. Justin Williams' set and Alex Musgrave's lighting design are both inviting and reflective of modern day interior design, but the use of colour makes you feel as if the apartment is in the clouds. The maximalist and vibrant approach to design visually sums up the overarching theme of dreams and aspirations, something that is explored in depth within the piece.
Throughout the production a digital screen is present at the front of the stage. Supporting the musical material with fun visual prompts about the character interactions on stage and different social media references, it is a great way to reflect on the digital era within the piece.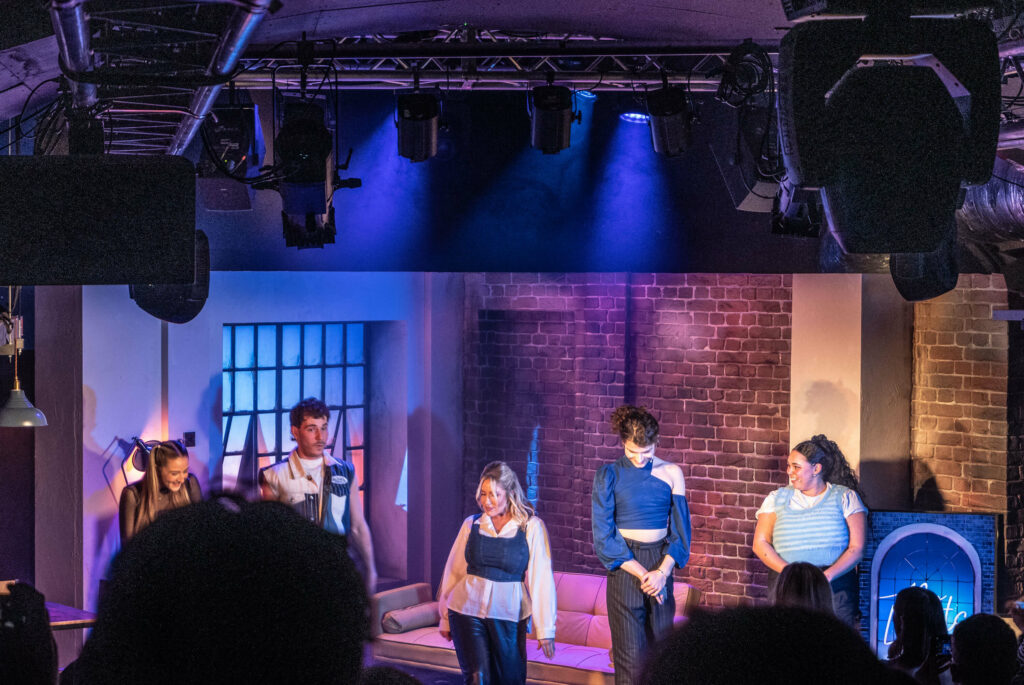 Character dynamics and relationships
With a cast featuring original SIX queen Natalie May Paris and Heathers the Musical alum Hannah Lowther, No Limits is an intimate piece of theatre with five performers and a swing role: #DREAMER (Natalie May Paris), #ROMANTIC (Owen Clayton), #FIGHTER (Michael Mather), #CATFISH (Hannah Lowther), #FUNEMPLOYED (Mary Moore) and Saffi Needham. There are many solo numbers throughout the song cycle, but the creative team have staged some of the pieces with supporting performers, adding to the humour of the piece.
Teddy bears become rock stars on stage during one of Michael's songs and they are puppeteered by other members of the cast. Additionally, during the catfish track (Confessions Of a Catfish) the backing performers add to the hilarity of it all. The cast are all extremely talented and able to quickly transition from solo artist to ensemble and conflicted characters to funny and confident ones at a moments notice.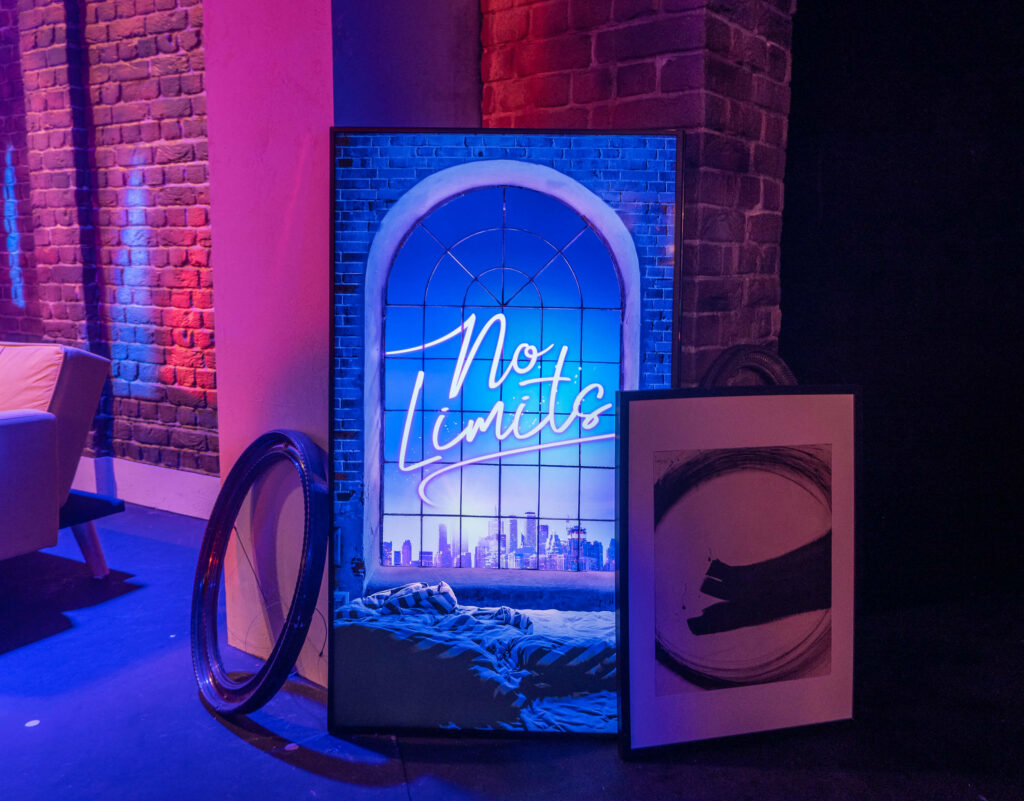 Final thoughts
Sam Thomas' No Limits is playing at The Turbine Theatre until Sunday 26th February and tickets can be purchased from the theatre's website. Complete with a setlist of powerful songs covering 21st century life, I can't wait to see what happens next for the show. Song cycles are never as easy to follow as traditional narrative-driven productions, but every musical number stays true to the wider themes and the compilation has been brought to life wonderfully by Dean Johnson.
Thanks for reading my blog today.
Love Kat xxxx
*My ticket for No Limits was gifted in exchange for a review of the performance.