[AD – PR invite*]
★★
Writer and poet Laura Thurlow is currently touring the Edinburgh and Camden Fringes with her comedy play about romance: 'A Preoccupation With Romantic Love'. With an absolutely full schedule, I didn't have time to watch the play last weekend, but an opportunity came up to review the show during its Camden Fringe run. Keen to continue my trend of seeing lots of Fringe theatre in August, I booked the show in for a few days after I'd returned from Scotland, during its time at The Hen and Chickens Theatre Bar. Heading over to Highbury and Islington, I was most intrigued by the play's press release, covering the ghosts of former partners and poetic verse.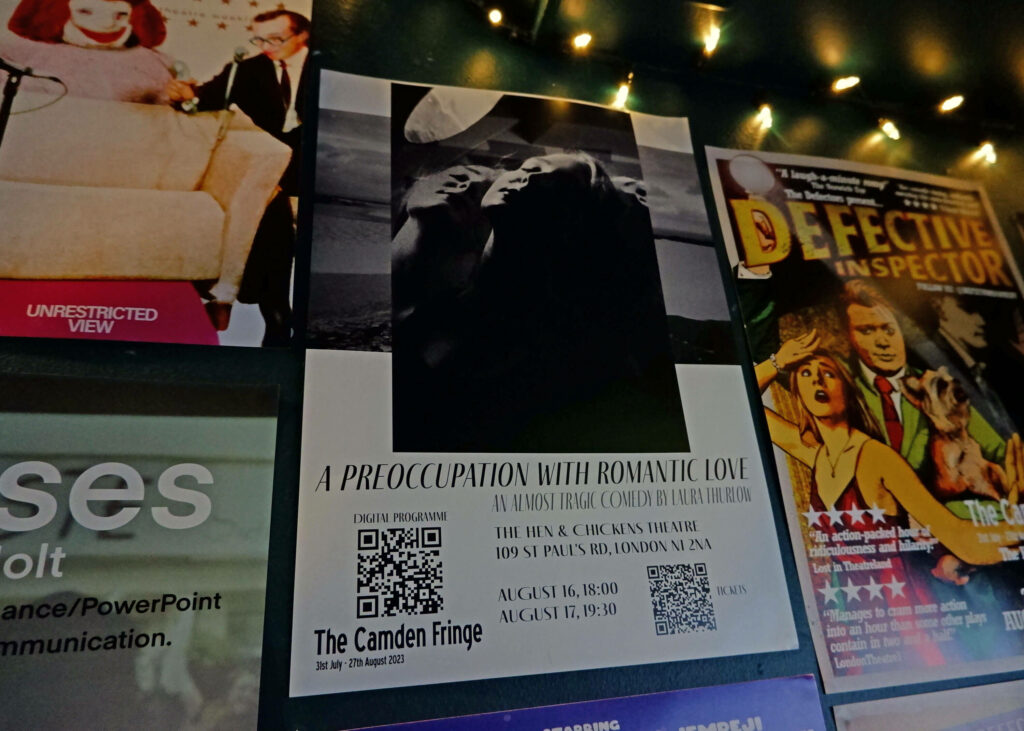 About the play
Centering on Thurlow and the unpleasant personalities of her exes, A Preoccupation With Romantic Love is a 60-minute one person play combining theatre, poetry and stand up comedy. Split into 6 micro-acts with each former partner at the centre of an act, Thurlow combines personal monologue with fictional voicemails (recordings) from her exes. It is a deeply personal show with the performer completely exposing her innermost thoughts to the audience, but the material straddles genres and this makes it difficult to appreciate and buy into what you are watching.
Covering multiple genres
It starts as a dark comedy, but as the material progresses the comedic elements are few and far between and the piece completely evolves into an emotive drama about identity and losing yourself. Normally I enjoy such powerful material, but Thurlow's character never quite hits the spot for me, with the persona holding back from truly letting go. We laugh with her at the start as she recounts her first couple of relationships, but then when things darken, the performer lacks the raw and passionate emotions that would be natural for such a situation. There were moments where she began to take the character to a much deeper level and give some intense emotion, but unfortunately these occasions were limited in their numbers.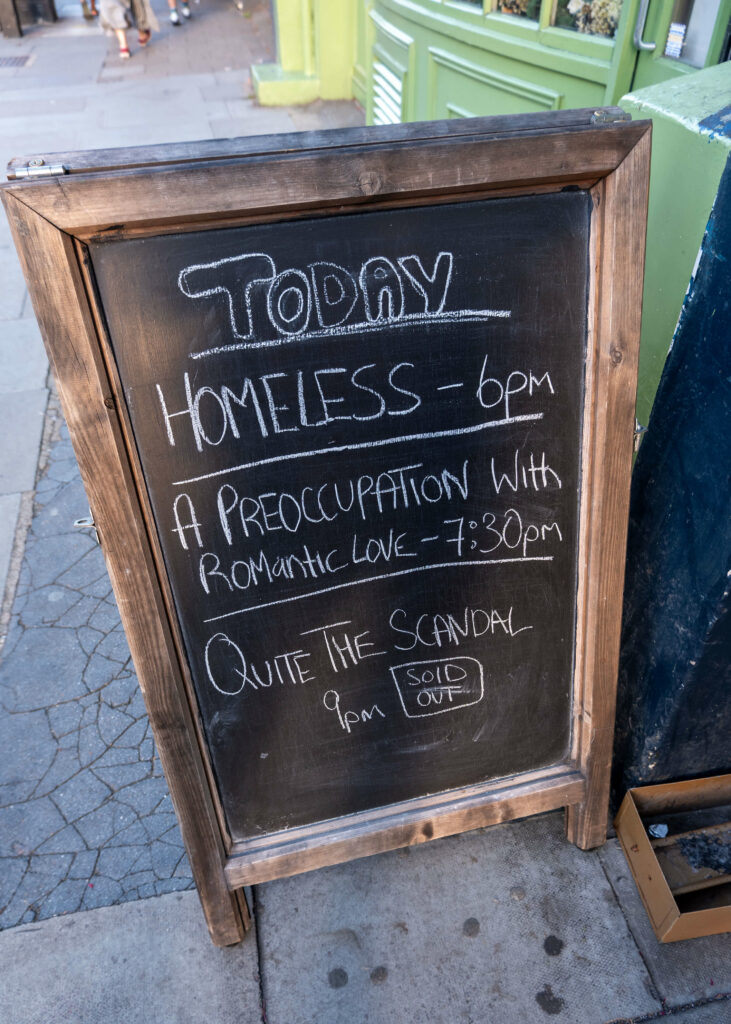 Breakdown of structure
At the start Thurlow is ultra clear about what you can expect from this burst of theatre. A lecturer once said that her writing is "preoccupied with romantic love" (hence the show's title) and she wants to get over it so that she can take on a practical career as an estate agent. Each act initially follows a set pattern, with the snippets of recorded words providing a clear insight into the former partners. It gives the audience an opportunity to empathise with Thurlow and see why the 'exorcism' of her exes is important. They are slightly too long in places given that you realise within seconds how unkind the men are, but I appreciate the sentiment of letting you get to know each of the six ghost figures.
Unfortunately the material never commits fully to its exorcism agenda, with this getting forgotten as the play progresses. At present, the humorous side of the show is where its vigour lies, both in the transparent representation of the exes and Thurlow's ability to see them through a clear-headed lens. I would have liked to have seen more of this, as I found that the content transcended too quickly into a spiral of emotions, which without Thurlow one hundred percent letting go, lacked power and impact.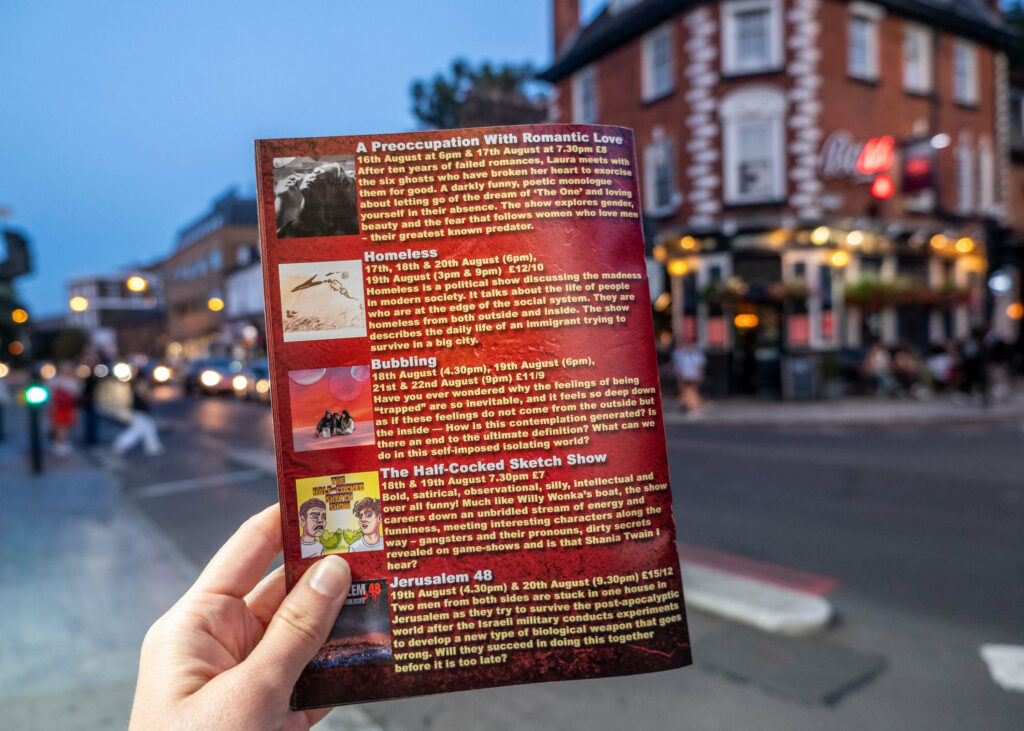 A complete change of direction
When the comedy is replaced by drama and personal anecdote, the material deviates away from what it sets out to do. It loses focus and direction, which could be justified by the character's breakdown in emotions, but it lacks the sense of closure that I was hoping we would receive. The content is less easy to follow as a result, making the latter turn of events somewhat confusing. By the end I was forced to reflect on the overall theme of the work as it ends in a very different place to where it starts.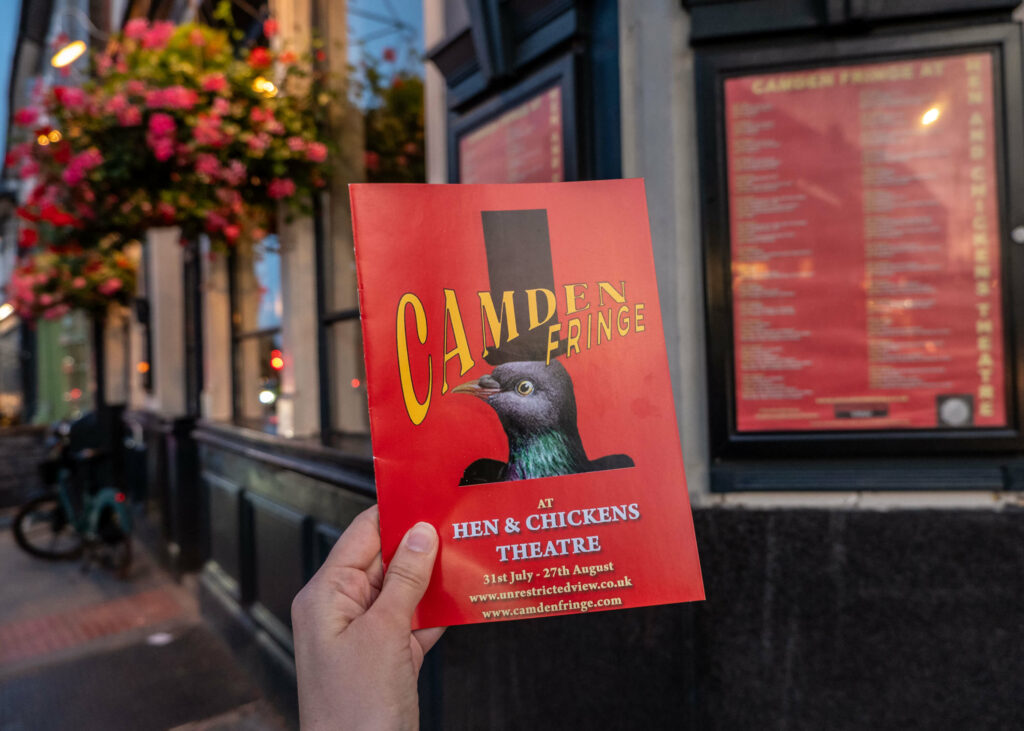 Final thoughts
The play has promise in its relatable theming of heartbreak and unique concept, but the lack of raw and wholehearted emotion holds it back from having a profound impact. The disconnected acts also could do with some smoother transitioning, so that viewers don't feel jolted from one direction and theatrical theme to another. Theatre has the power to speak to people and if Thurlow can encapsulate the strong, humorous personality in the first acts and also better illustrate the raw pain of that same person by the end of the show, it will help to strengthen the play.
As always this is the impression that I received and I would urge you to see the play for yourself, before forming any opinions. The 17th August was the show's last night at the Camden Fringe, before heading back up to Scotland. It is part of PBH's Free Fringe and will be playing at Burrito 'n' Shake – Downstairs Room (Venue #605) from 19th to 27th. Tickets for the remaining performances can be purchased via the Edinburgh Fringe box office.
Thanks for reading my blog today.
Love Kat xxxx
*My ticket for A Preoccupation With Romantic Love was gifted in exchange for a review.