[AD – PR invite*]
★★★★
My first Edinburgh Fringe show in 2022 was a visit to Kinky Boots at Paradise in Augustines. This musical was brought to life by Bare Productions: an Edinburgh based theatre company that provides arts opportunities to anyone locally who wants to pursue a passion for theatre in their free time. This year the company is showcasing RENT and I was thrilled to receive an invitation to review their production of Jonathan Larson's iconic work. Even more so after learning that they have been working with Scotland's HIV and AIDS charity 'Waverly Care' to ensure that their new interpretation is both authentic and accurate. Involving the charity in the theatrical process indicates sensitivity towards the complex themes of the piece, meaning the company isn't taking the AIDS crisis setting lightly.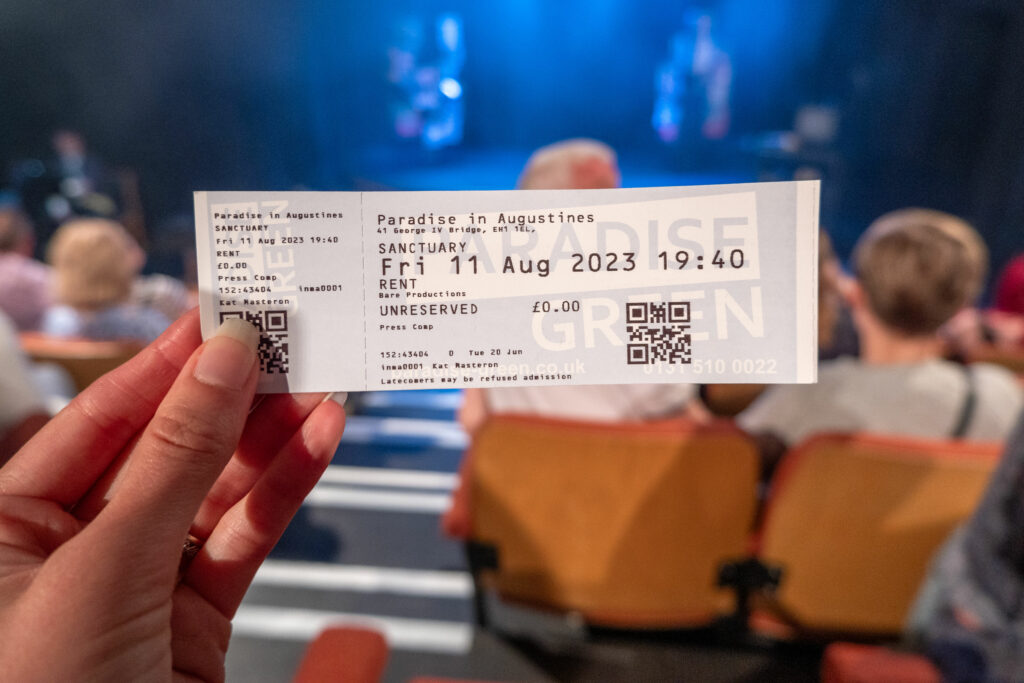 Initial thoughts
Bare Productions' revival is split into two acts and brings Larson's story to life at the Augustine United Church on George IV Bridge. It is a show of two halves with its strongest moments in the second act. I am split because elements of the show are worthy of 5 stars, particularly Dominic Lewis' thoughtful direction, heartbreaking representation of the AIDS crisis and the believable chemistry between the core partnerships. Unfortunately these moments were clouded by sound issues, with the multipart songs that the show is known for being overshadowed by inconsistencies in the vocal amplification. Soprano harmonies overpower the lower voices and in some places it even feels like the cast are shouting. The performers have incredible vocal talents which really shine in the softer numbers such as I Should Tell You, I just wish the heavier rock songs had followed this approach. Yes these songs need to be energetic, but the current arrangement feels too much.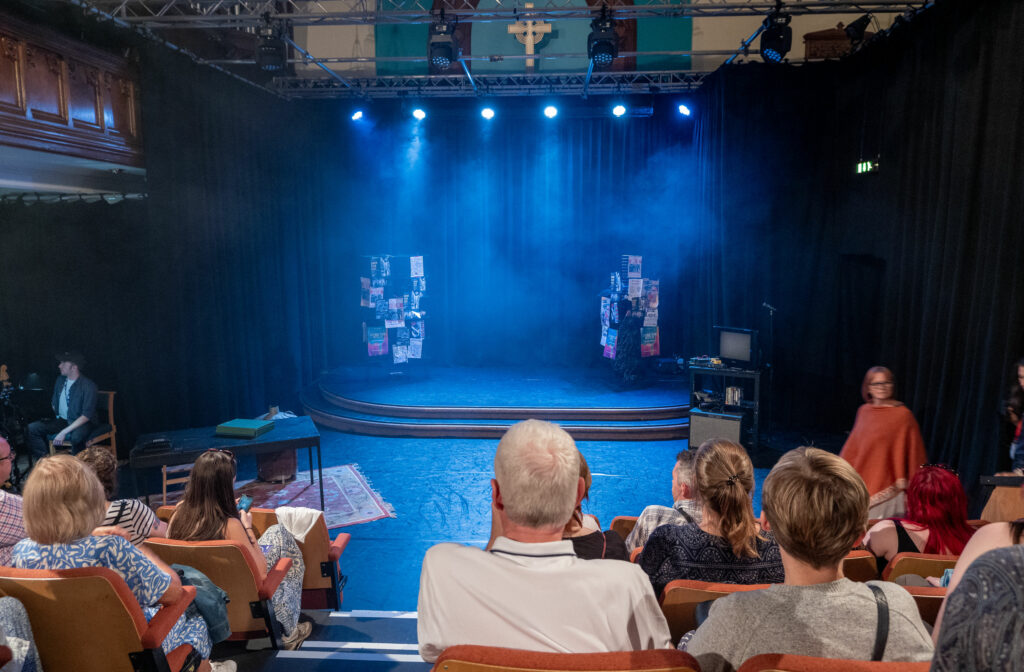 Sets, staging and costumes
I was thoroughly impressed by how the creative team had recreated 1990s New York. Andrew Layton's set is simple, but there are old phones, TVs and the costumes even reflect the sombre mood of the era. You can visually see changes in some of the character's make-up as their HIV symptoms worsen, from subtle marks on their bodies to a distinct change in complexion. These changes happen gradually, making you wholeheartedly believe that Bare Productions are aiming to be sensitive in their portrayal of such a devastating illness.
On stage chemistry
RENT is not the easiest show to follow if you are unfamiliar with the storyline. It is a lengthy musical, full of lots of characters and it can take a little while to understand how this network of people are all connected. I commend the performers for making the character dynamics as transparent as they can be, within the framework of the complex source material. This was particularly the case with Angel and Collins and Roger and Mimi, played by Rory McKeon, Andrew Gardiner, Nick Tomlinson and Freya Rivero respectively. I had tears in my eyes at one point, thanks to their raw approach to the relationships on stage.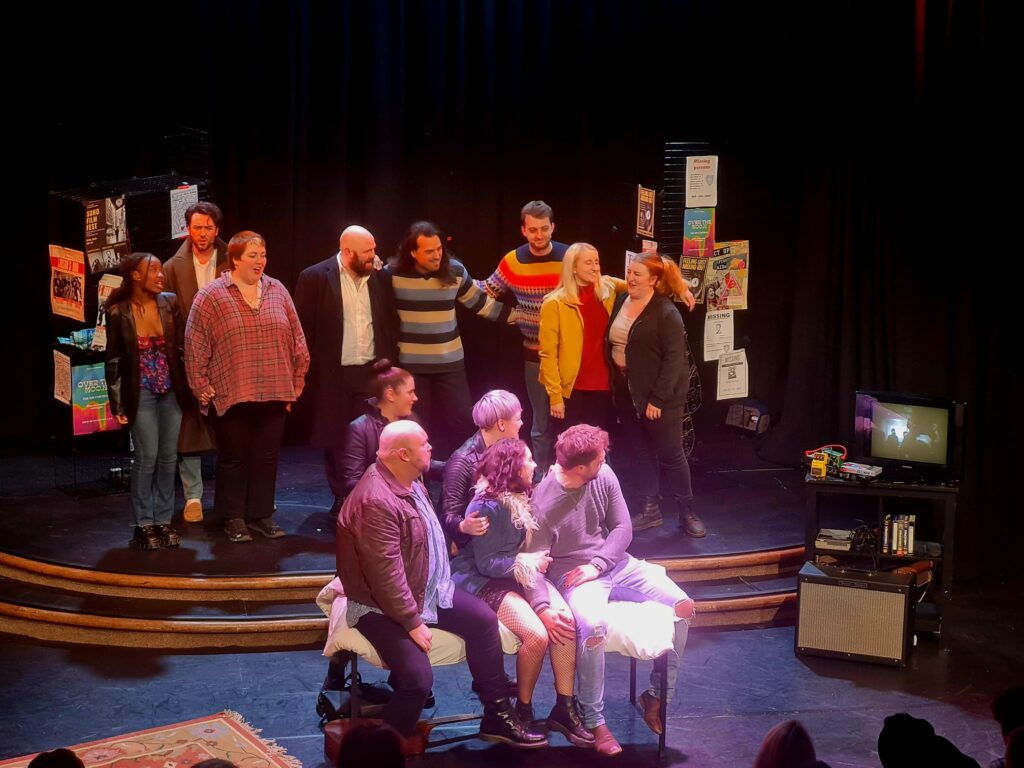 Performances
Despite my reservations about the sound quality when the whole ensemble comes together, there is a real sense of community in every full company song. The support group and Seasons of Love scenes are a brilliant example of this, with the latter really pulling at your heartstrings.
Standout performances include Ethan Baird as Mark, with their magnificent show cementing vocals and Rory Mckeon as Angel. I wish I'd had the opportunity to chat to Rory after the show as their portrayal was absolutely beautiful, bringing the ray of sunshine to life against the upsetting backdrop of the AIDS crisis.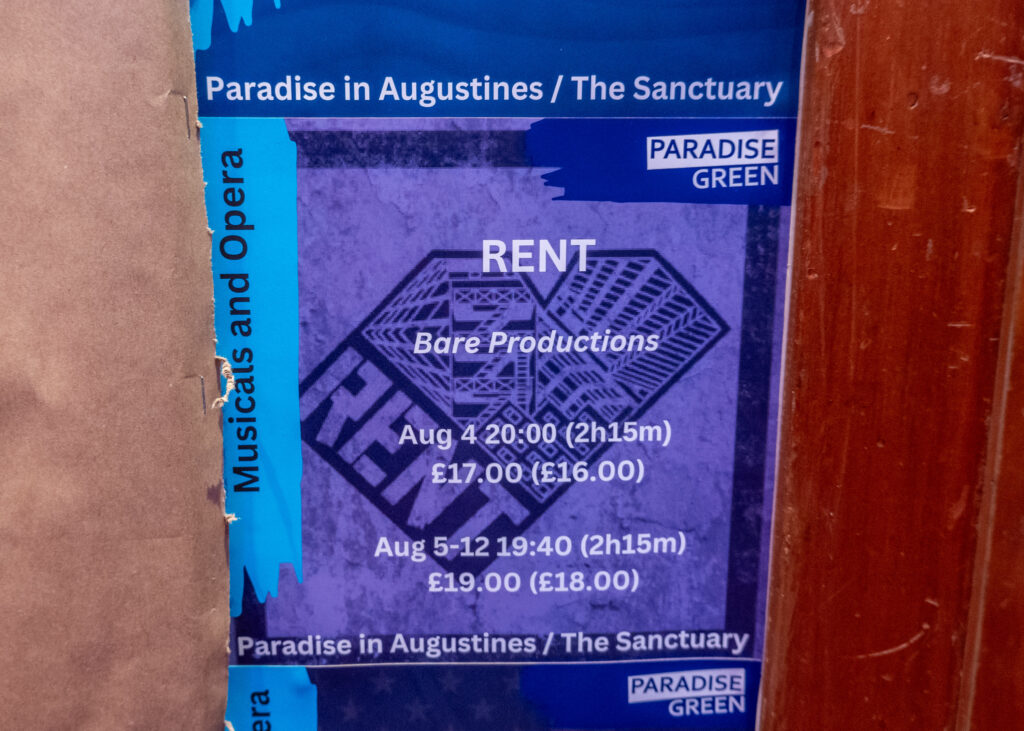 What's next for Bare Productions' production of RENT?
An emotional and caring revival of the hit show, Bare Productions' version of RENT enjoys its final performance this evening at Paradise in Augustines (The Sanctuary, venue #152). Tickets are sold out now, but Paradise Green operates a waitlist from 7pm, so if you are interested in seeing the show it might be worth stopping by the venue around then on the off chance that some come available. Following their run of RENT, the company is bringing Little Women the Musical to life in the second half of this year's festival.
Thanks for reading my blog today.
Love Kat xxxx
*My ticket for RENT was gifted in exchange for a review.