[AD – PR invite*]
★★½
Quid Pro Quo Theatre have been at Barons Court this week with their new play: A Woman On Fire. It's a two-act piece of new writing from a group of East 15 graduates who have created their own production company which aims to stage powerful and impactful work. Runquining from 7th – 11th November, I was able to catch the matinee performance on the company's last day at the theatre, intrigued by this new work.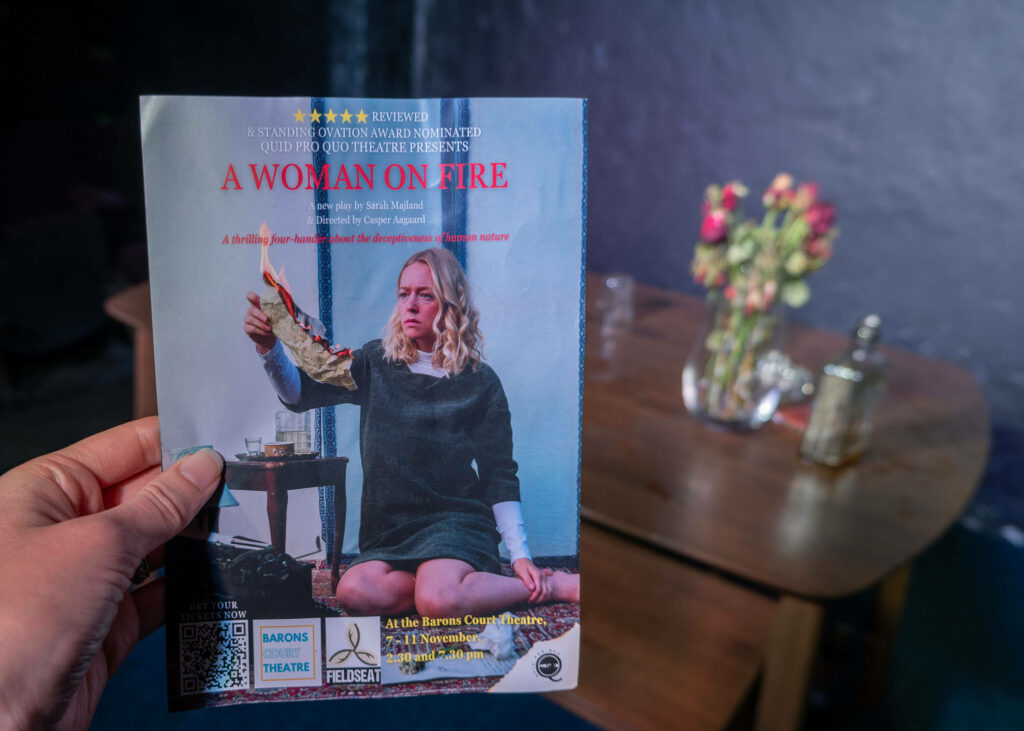 About the play
With direction by Casper Aagaard, A Woman On Fire is a complex, thrilling production about a former writer called Harper (Sarah Majland) in the 1950s who seemingly has it all: a devoted husband, a young daughter, a grand house in the suburbs and plenty of money to live on. Unfortunately she is experiencing postpartum depression and the subsequent feelings and emotions have forced her to turn to alcohol and leave the caring of her daughter to nanny Therese (Chloe Winney). At the same time her husband Mark (Boyan Petrov) is coming to terms with his sexuality and is secretly pursuing a relationship with another writer called Oliver (Oncel Camci), contributing to a complicated family situation. The play covers themes such as relationships, trust, mental health and revenge, as the characters navigate the protagonist's new found sobriety.
Overall themes
With writing by Sarah Majland the material has great intentions, but throwing the audience in at the deep end with an intoxicated Harper and little context makes it difficult to follow how the character got to this point. Therese's lines fill the gaps when she talks about her own mother's mental state, but this anecdote over-simplifies the postpartum depression and almost feels like it bleeds into Harper's own story.
The 1950s setting also provides no empathy for Harper's emotional state and consequently the theatrical material comes across as incredibly harsh and uncomfortable to watch. It feels like this is the purpose of the work and Aagaard's direction, to ultimately push audiences to reflect on addiction in a historical context. Even so Majland could have provided greater insight into the background of the substance abuse, providing the audience with greater reasoning for the overall sense of direction.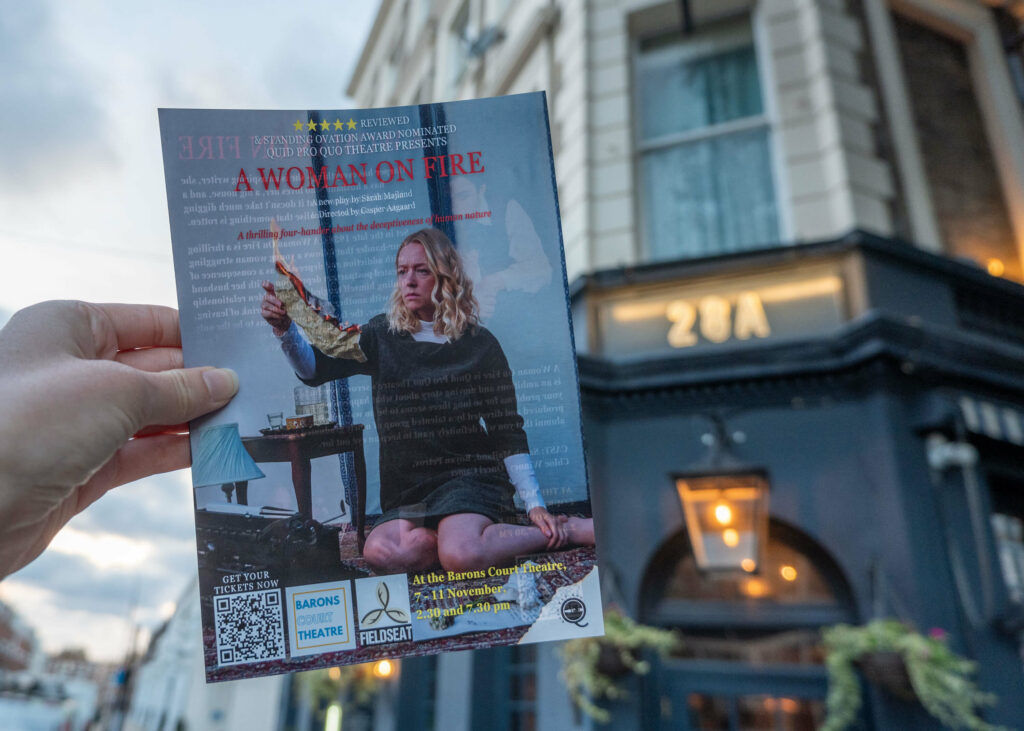 Too many central characters
The play tries to take on too much within its two hour runtime. The focus is Harper, but each of the four characters play a part in this rocky marriage and bring with them a unique theme. With so many central people, it is difficult to fully understand the depth of each person involved. This can be seen when Oliver questions Mark's homophobic attitudes and we never hear why he thinks this way. Another example is Harper's manic facade never truly getting broken down, presenting some of the relationships as unrealistic and the characters as untouchable.
Visual design and atmosphere
What the narrative and characters lack however is made up for in the overall aesthetic and visual design of the performance. The subdued lighting and overall dark ambiance reflect the uncomfortable environment and the costuming and props cleverly transport the audience to the 1950s era. Aagaard's creative vision has clearly been brought to life through the visual aspects, with original compositions by Camci to cement the 50s setting.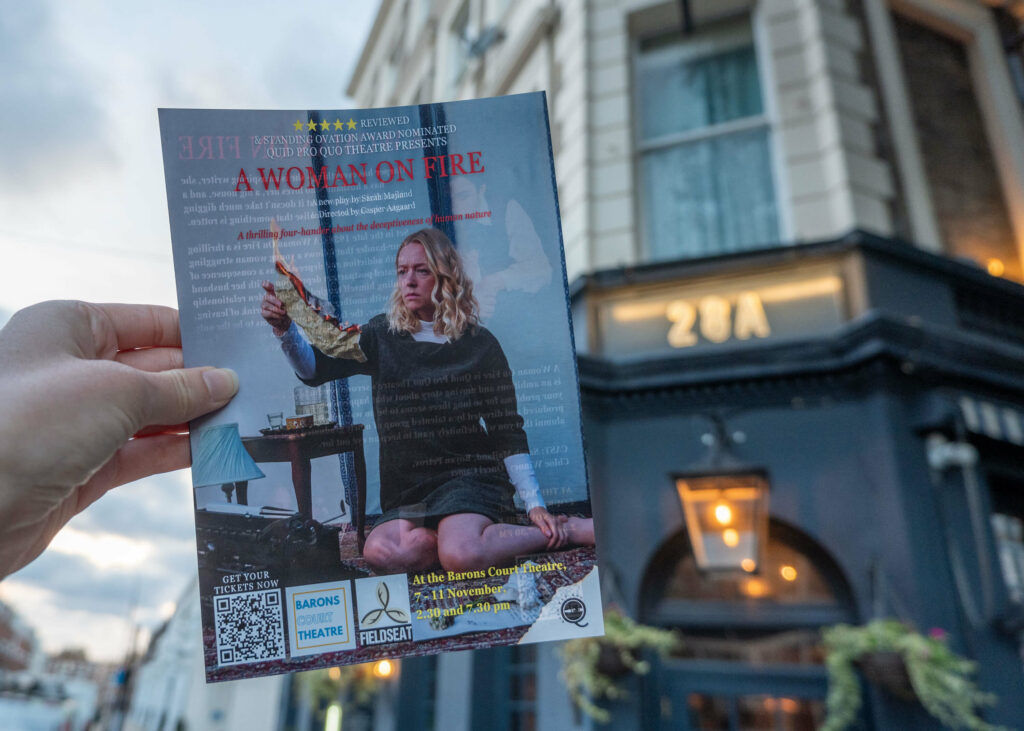 Overall thoughts
Despite my reservations about the writing and themes covered, the work is brilliantly acted by Majland, Petrov, Camci and Winney. Majland is an absolute force to be reckoned with, largely down to their haunting and manic portrayal of the main character. Camci is also slightly terrifying as Oliver, particularly when they are face to face with Harper towards the end. It's one of those plays where every character has a level of darkness, with each performer carefully exposing these traits at relevant points of the show.
Something in the material is disjointed though, with the themes of postpartum depression and alcoholism never fully getting explored. With refinement of the narrative and characters, A Woman On Fire could be a really thought provoking piece. The company have finished their run at Barons Court Theatre now, but I look forward to hearing what they do next.
Thanks for reading my blog today.
Love Kat xxxx
*My ticket for A Woman On Fire was gifted in exchange for a review.