[AD – PR invite*]
★★★★★
Earlier this year my friend Zuza of the West End Evenings theatre blog shared some wonderful words online about Kinder: a puppetry and visual theatre show by Smoking Apples Theatre that covers the World War II Kindertransport movement. I was so taken by her response to the play that I immediately googled the production and found out that it was coming to Canterbury as part of its UK tour. It was to be based in The Studio at The Marlowe Theatre from 2nd – 4th November and I was fortunately able to come and review the production during its opening performance. Off the back of my friend's recommendation, it is fair to say I went in with high expectations and wow, is this play a visual masterpiece.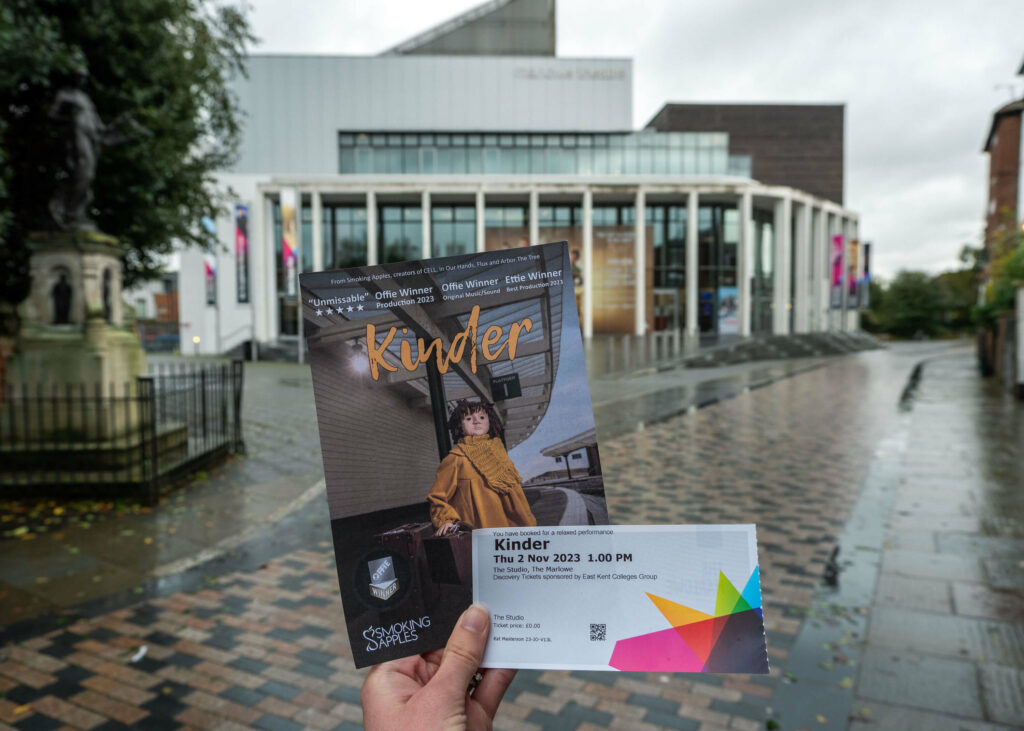 About the play
Covering past and present timelines, the play focuses on Baba: a Grandmother who is heading to Prague on holiday with her grandson. It is her first trip home to Czechia following evacuation from Czechoslovakia in the 1930s and the trip brings back vivid memories of her escape by rail as a young child. Told through the eyes of a young Baba, the play covers her experiences travelling across Europe, including having to hide her Jewish identity and also learn a whole new language and cultural customs, as soon as she arrives in the UK.
The material has been developed with neurodiversity in mind, where respite and the use of stimulatory accessories are encouraged. I actually attended a relaxed performance of the show and it is wonderful to see how accessible the production is.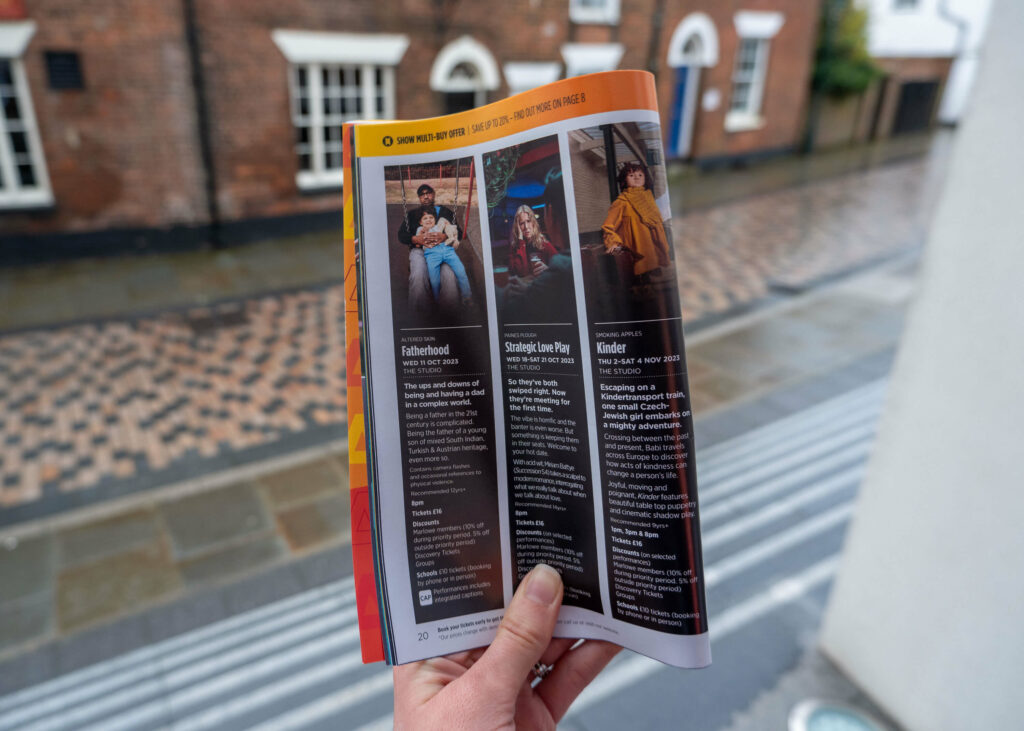 Immersive aspects
With direction by Molly Freeman, the play has been devised for young people, with moments of immersion and opportunities to interact with the performers and puppets, but the material will resonate with people of all ages. Without giving too much away, the audience quite literally become passengers on the train and are totally drawn into Baba's world, with characters appearing from every angle of Matt Lloyd's immersive set and different pieces coming to life over the course of 60 minutes of dynamic theatre.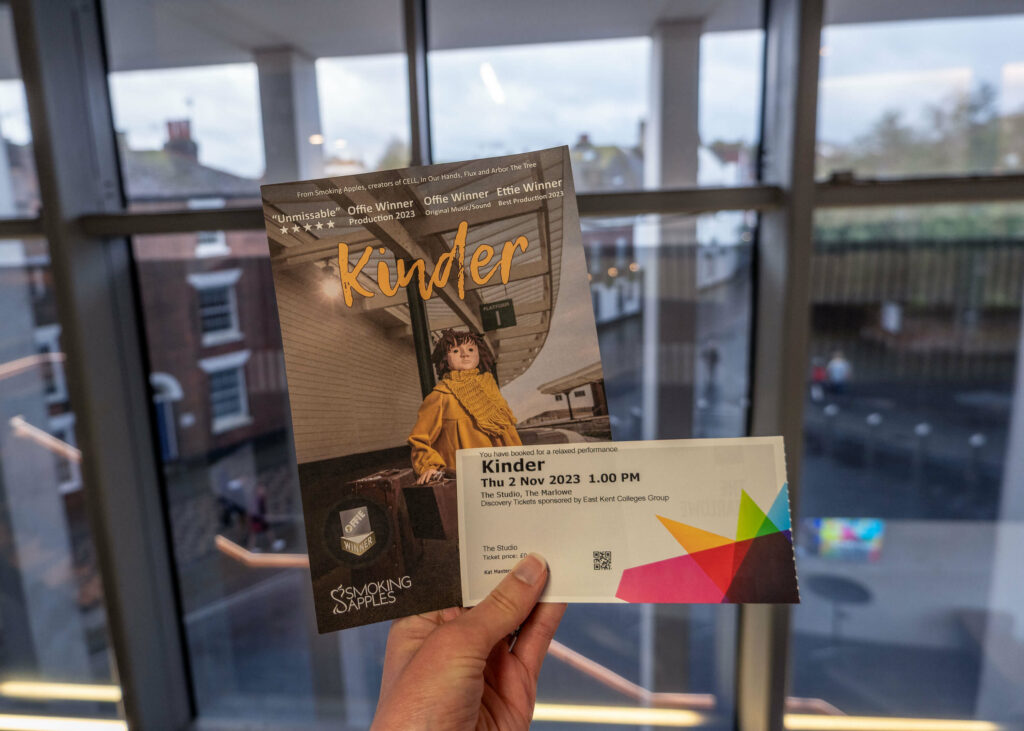 Tabletop puppetry
Hattie Thomas and Matt Lloyd's puppets stand on tables and are supported by three performers (Thomas, David Burchhardt and Tea Poldervaart), who bring them to life through choreography and voice work. There is something so natural about the movement of the puppets that really makes you absorb the emotions of the characters. In particular, the representation of fear through movement, as Baba covers her eyes and face when things are scary or overwhelming.
The creative team cleverly plays with scale, presenting adults as giants, which is how they would have looked to a frightened young girl. The puppets also communicate in the words that she would be hearing, with little knowledge of English initially. I found this part of the play particularly poignant, as Baba would have been able to understand very few words on arrival.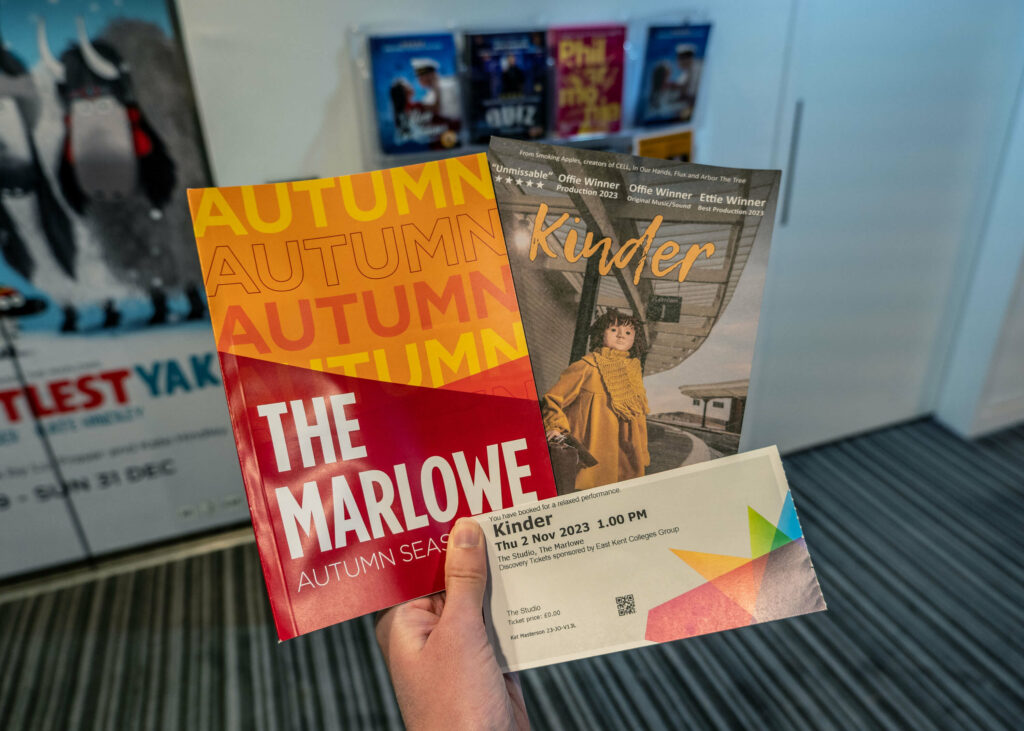 Sensitive shadow play
Shadow play/puppetry is used to portray references to the holocaust and the Nazi regime. Thomas' shadow illustrations use symbolic shapes to represent the atrocities, highlighting the awful things that happened in a more manageable way for young audiences. The speed that the different cut-out figures move around is incredibly impressive, with major shadow set transitions occurring in practically seconds. These visual elements of the show provide engaging visuals for audiences.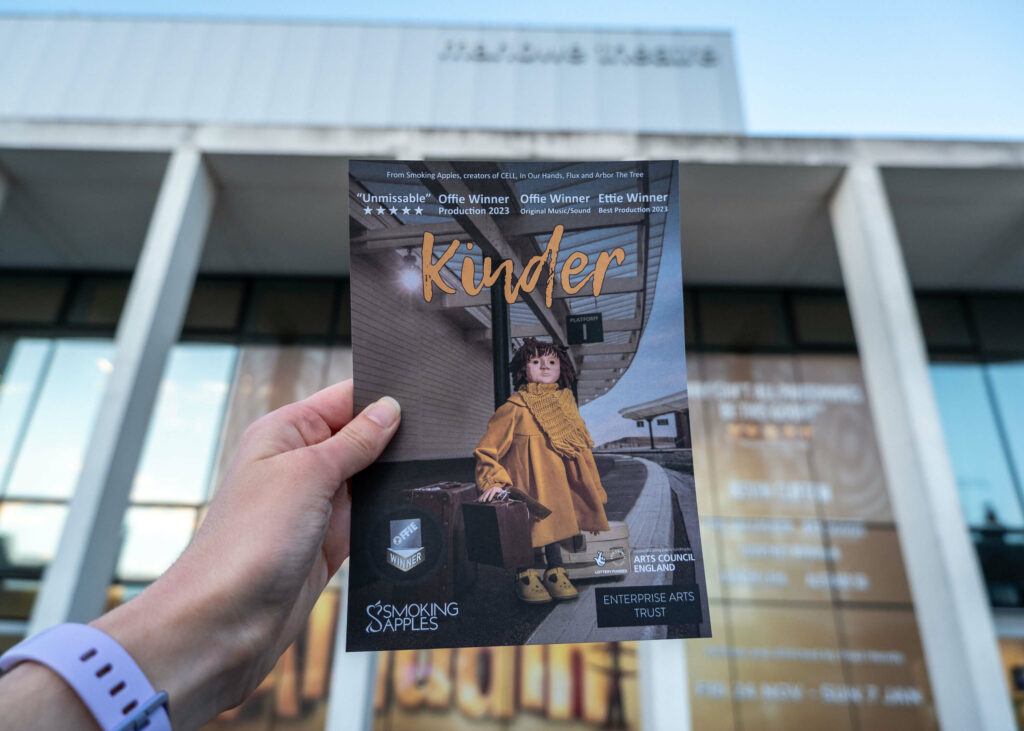 Immersive theatre with meaning
Smoking Apples Theatre have created a deeply emotional and thought-provoking play in Kinder, which features world-class puppetry. The tabletop figures, shadow puppetry and immersive set offer a completely unique theatrical experience, reminding audiences of a significant part of history through visually immaculate theatre. The play runs at The Marlowe Theatre until Saturday, with last minute tickets available on the theatre's website.
Thanks for reading my blog today.
Love Kat xxxx
*My ticket for Kinder was gifted in exchange for a review.