Last week I headed to the Edinburgh Fringe Festival for the first time, spending three days in the Scottish capital. Theatre is one of my biggest interests and I had been planning to visit the world's biggest arts festival for a while. The Fringe is celebrating 75 years in 2022, so it was an added bonus finally visiting during a milestone year. The festival provides spectators with the opportunity to see lots of theatre in a short space of time and ticket prices are a fraction of the cost of the West End. It also acts as a platform for up and coming artists, providing them with a space to share new writing and their creative talents.
Before arriving in Edinburgh I had very little idea of what to expect at the festival. Within our party I was the only first-timer and I was largely relying on my Mum and friend for advice about what to see and book. Now that I have returned home, I have a much greater understanding of how the festival operates, the types of venues participating and the different transport options for travelling between performances. I thought I would share these tips in today's piece, passing on the knowledge to fellow first-timers.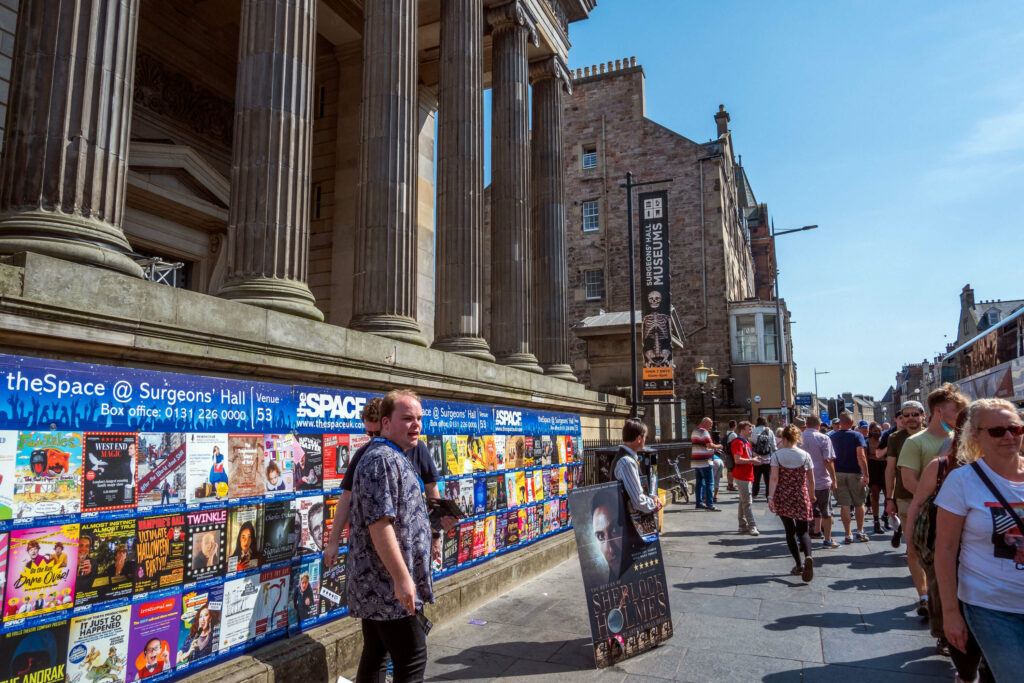 1. Always leave some free time in your schedule for a spontaneous show booking.
Between performances, artists and creatives will distribute flyers as a form of marketing for their shows. Some of the flyers will be of interest and some will not, but it is worth keeping some time free in your schedule just in case you fancy watching an unplanned performance. I ended up booking tickets to see the Durham Dynamics a cappella choir, thanks to leaflet distributors outside the Surgeon's Hall Museums. There are rows of promotional flyers in the foyers of venues and throughout August you will struggle to find a street corner in the city centre that does not feature a volunteer or company member promoting shows.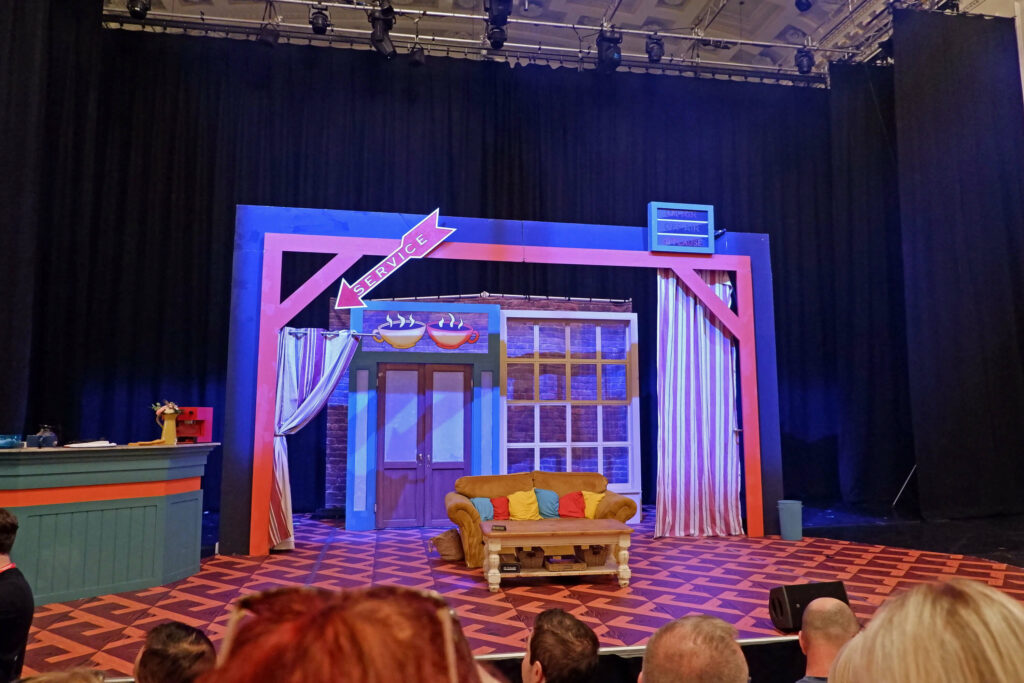 2. Visit the 'Half Price Hut' for bargain tickets.
Visiting the Fringe without a full schedule has additional perks as you can book last minute event tickets for half of the original price. A few days into the festival the 'Half Price Hut' opens and you can head to the Fringe Box Office to secure discounted vacant seats. To make it easier for visitors, the EdFringe team release a list of the available half price tickets on a daily webpage. This is helpful as you can review the list of shows before you head into the centre for the box office. I recommend keeping a close eye on the festival's website and socials during your time in Scotland; you might be able to grab a festival bargain!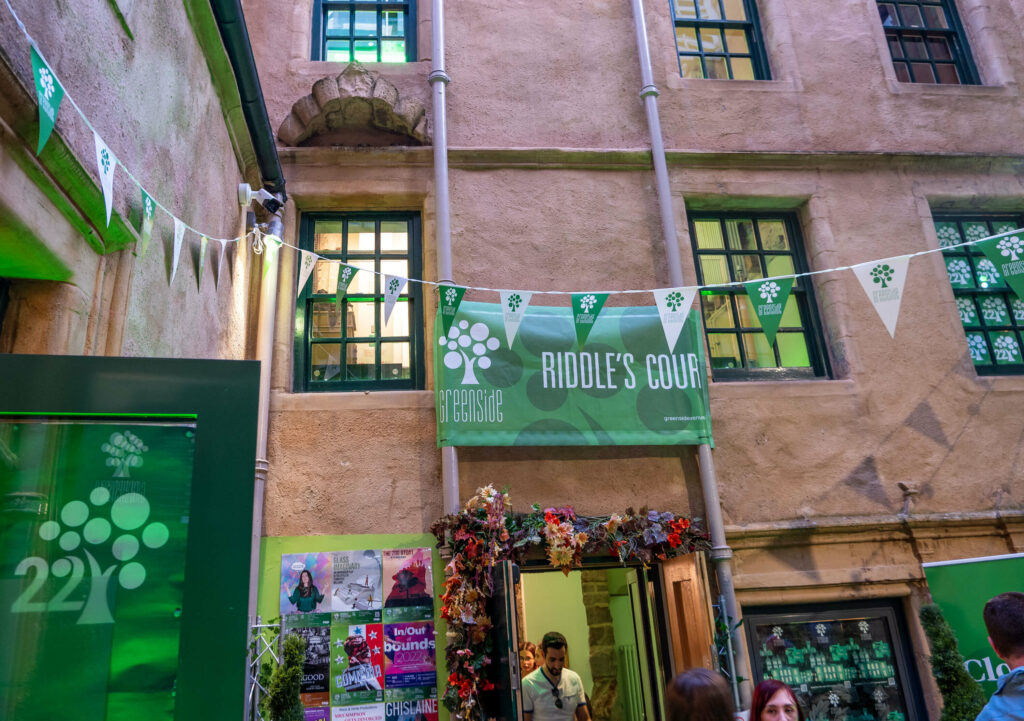 3. Fringe performances take place all over the city.
The local government and many city businesses join in with the celebrations during the Fringe. As a result, there are nearly 300 private spaces and buildings across the city that have been transformed into venues. From churches and lecture theatres to bars and museums, festival visitors can watch shows in many different locations.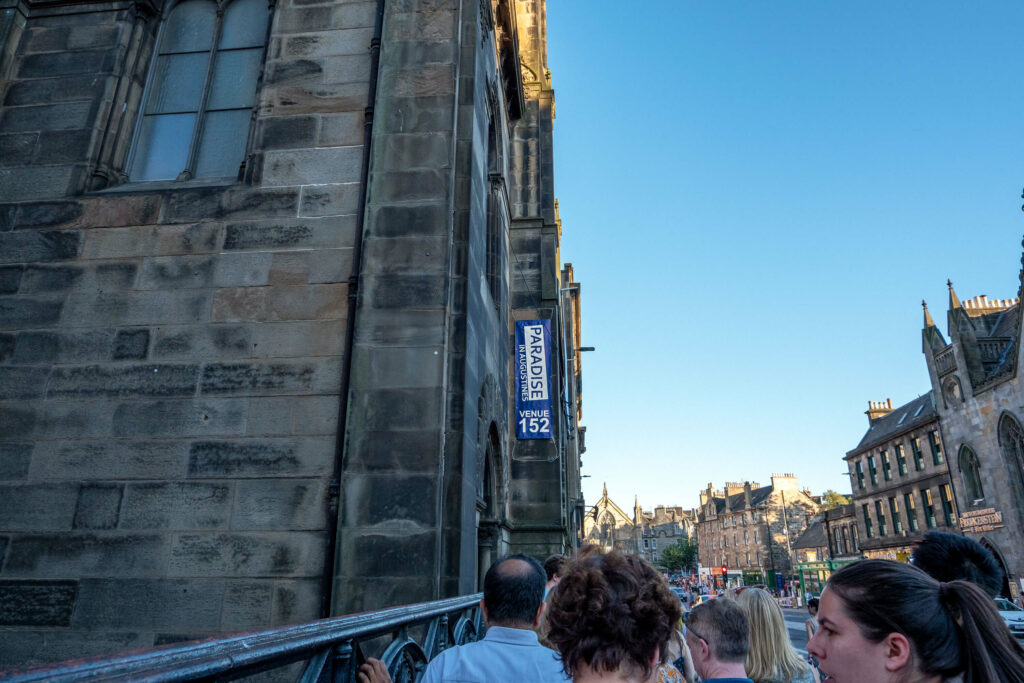 4. Allocate extra time for travelling between venues.
If you are visiting multiple venues in one day, you need to put some time aside for walking, busing or getting a taxi between them. I recommend creating an itinerary for your trip and jotting the venue name, number and postcode down on a piece of paper or your phone. You can then route plan using a maps app and work out which mode of transport will be the most time and cost effective. I found that some of the venues were slightly more complex to find than a straight forward postcode though, so I would recommend leaving a little extra time in case you get lost. Each venue has a large banner outside with the name and number on it, so keep your eyes peeled when you are nearby on foot.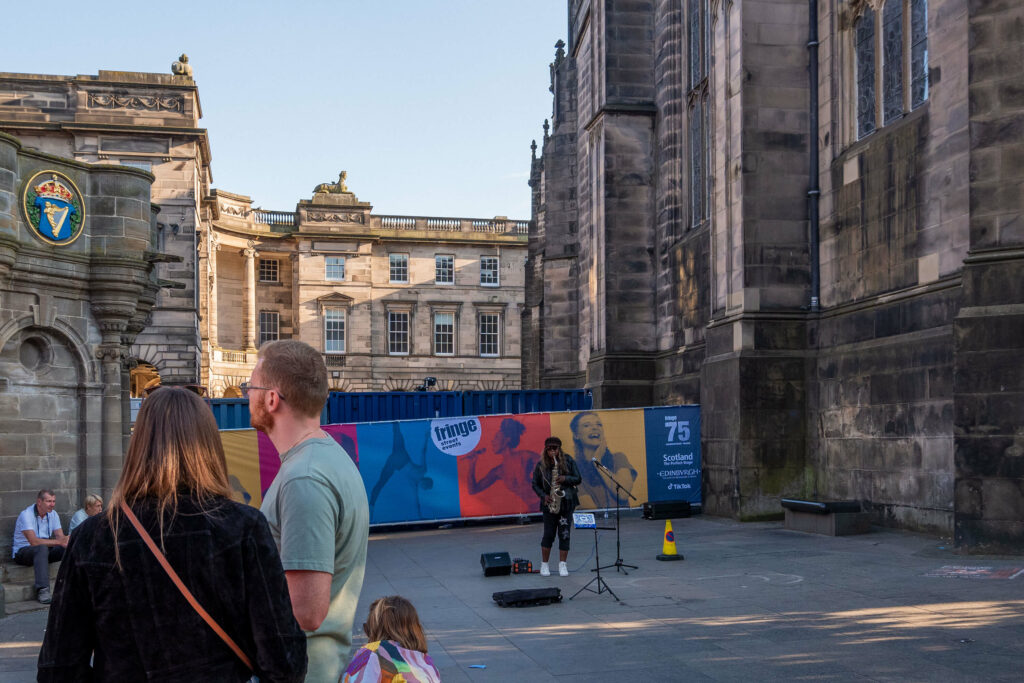 5. Every kind of art form is represented at the Fringe.
My Mum first visited the Fringe in 2019 and before her trip I was under the impression that the Fringe was a platform for aspiring comedians. I like comedy, but not as much as I enjoy theatre, music and dance, so when she returned from the trip and told me about the variety of shows that they had watched, I knew that I would want to visit in the future. At the Fringe you can find musical theatre, dramatic plays, musicians, comics, magicians, acrobatic acts and more, providing entertainment for every interest. There are even street performers out in force on the Royal Mile, providing free and relaxed micro-shows for the crowds in the old town. Anything goes at the Edinburgh Fringe and you can curate your performance schedule to best match what you enjoy.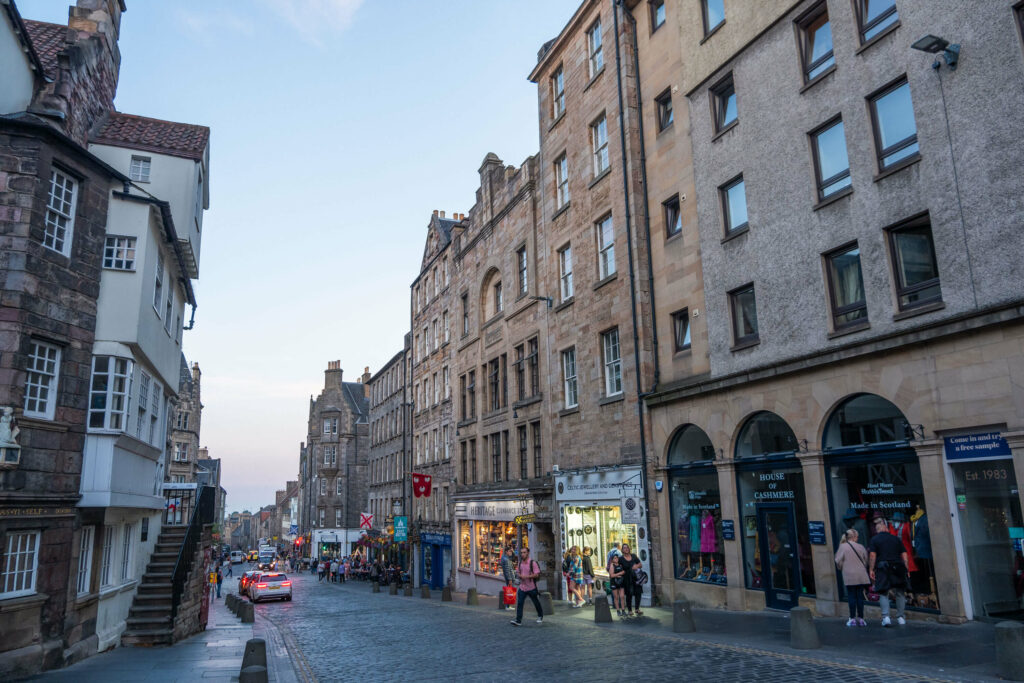 6. The Fringe shop and box office follow regular trading hours.
The top of the Royal Mile is known for its joyful and lively atmosphere, which continues right into the evening during the Summer. The souvenir stores and restaurants stay open until late, but the official Fringe shop and box office close at 6pm. It can be easy to lose track of time when you are in the Fringe bubble, so it is useful to know that in person tickets and official festival souvenirs need to be purchased during the day.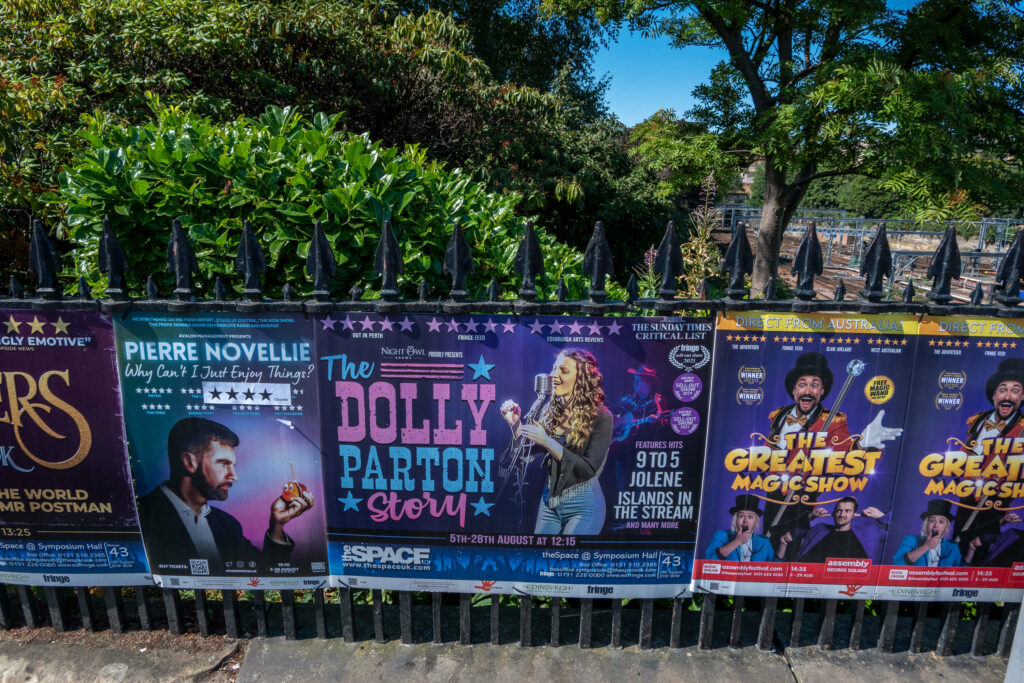 7. Performances are more relaxed than their West End counterparts.
Regular theatre etiquette is an unwritten rule at the Fringe, but unlike formal theatrical performances, audience members are encouraged to join in on many occasions. Last week we were singing along with the Dolly Parton Story vocalists and clapping with the music during The Black Blues Brothers' stunts. It was a lot of fun getting involved and everyone was so happy to be at the festival. Watching Fringe shows is a totally different experience to London's West End, but I adore both approaches to live performance.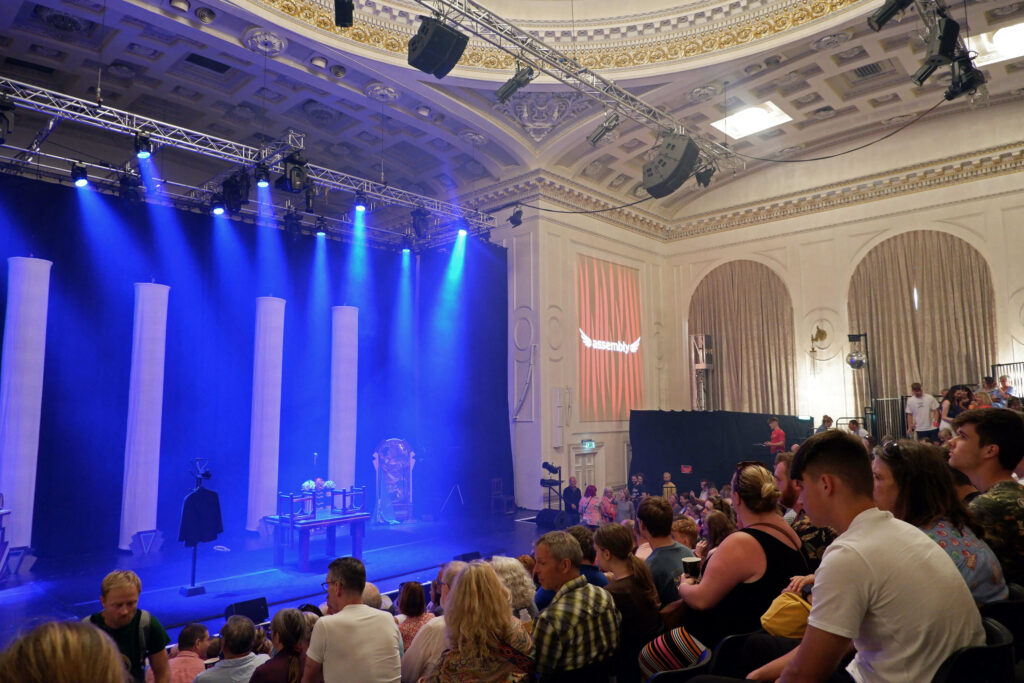 8. Restaurants in the city centre are extremely busy.
In August 2019 (the year before the COVID-19 pandemic) over 850,000 tickets were sold for Fringe shows, reinforcing the importance of the festival to the arts industry in the UK and abroad. August is Edinburgh's busiest time of year in terms of visitor numbers and restaurants, bars and cafes are busy during this period.
We got lucky and were able to get into places without reservations, but we did not eat at popular meal times. Making time for food when we had free time, we carried snacks with us, ate our evening meals early and opted for grab and go options at lunchtime. If you are a fan of the arts and a foodie as well, I would recommend booking some reservations ahead of your visit so that you can be confident that you will get into the restaurants of your choice. There are so many wonderful places to eat in and around the city centre.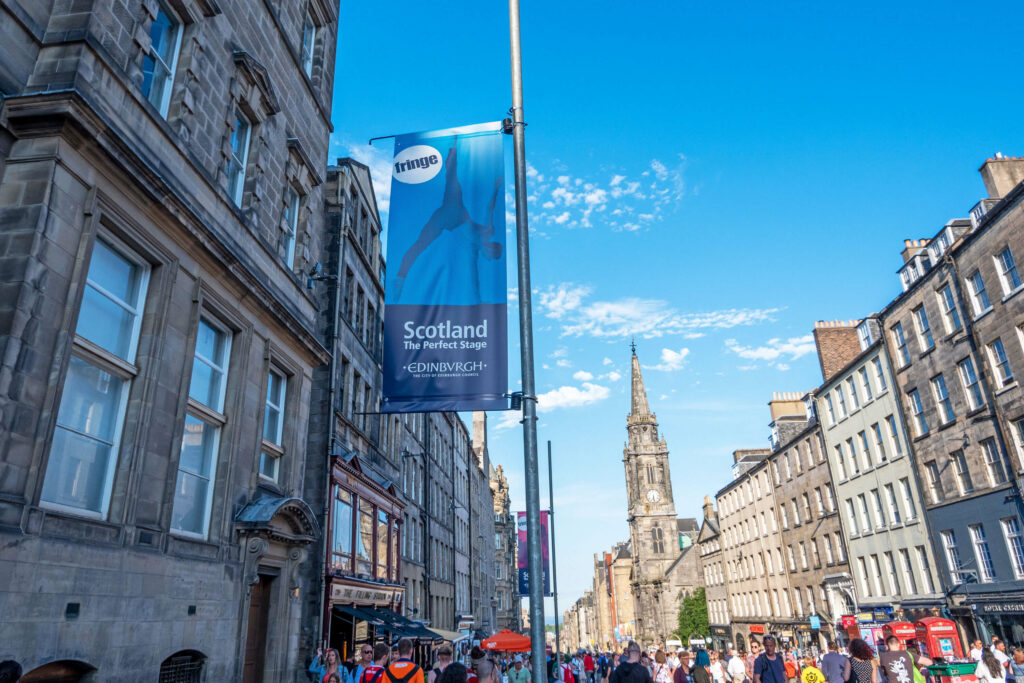 I had such a wonderful time at the 2022 Edinburgh Fringe Festival, celebrating 75 years of the arts in the Scottish capital. Now that I have experienced the Fringe once, I am much better prepared for future years and have a greater appreciation of the logistics involved in putting together a fringe schedule. Our plans provided generous gaps for breaks and travel time between venues and this was important as each day was packed full with performances and sightseeing.
Hopefully these tips will help other first timers to the fringe. The festival website can feel like a minefield at times, but please do not worry, you can always pre-book a few of your favourites and then see how you feel about other shows when you are on the ground in Edinburgh.
Have you ever visited the Fringe?
Thanks for reading my blog today.
Love Kat xxxx