In early September we headed to Edinburgh for a long weekend at the start of my week off work. We'd booked the trip at the start of 2018 after I found cheap mix-match flights and a bargain hotel deal with Hub Hotels by Premier Inn. My Mum grew up in Edinburgh and I've been visiting the city ever since I was a little girl, so I was desperate to take Stuart to the city that I have such fond memories of from my childhood.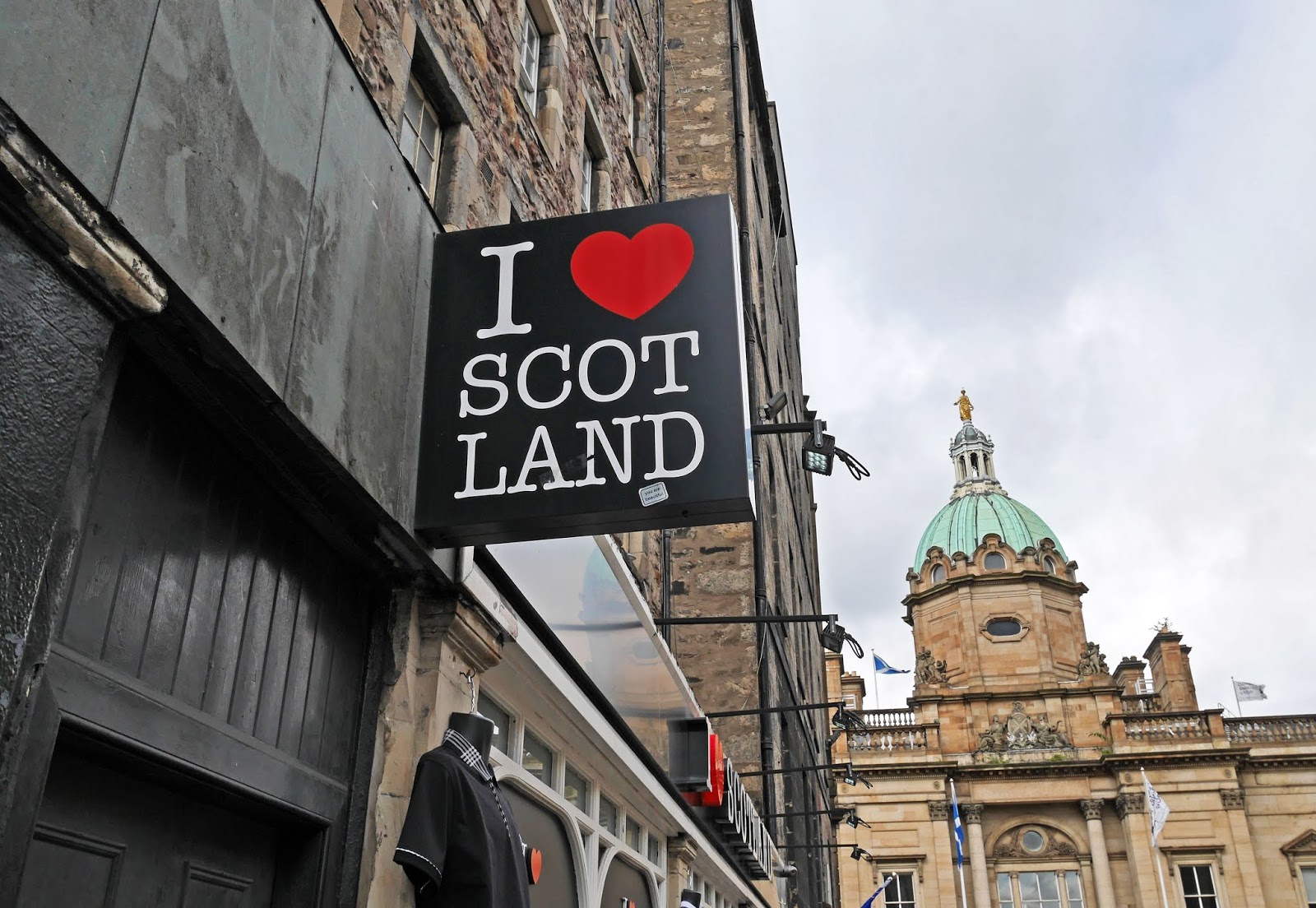 Saturday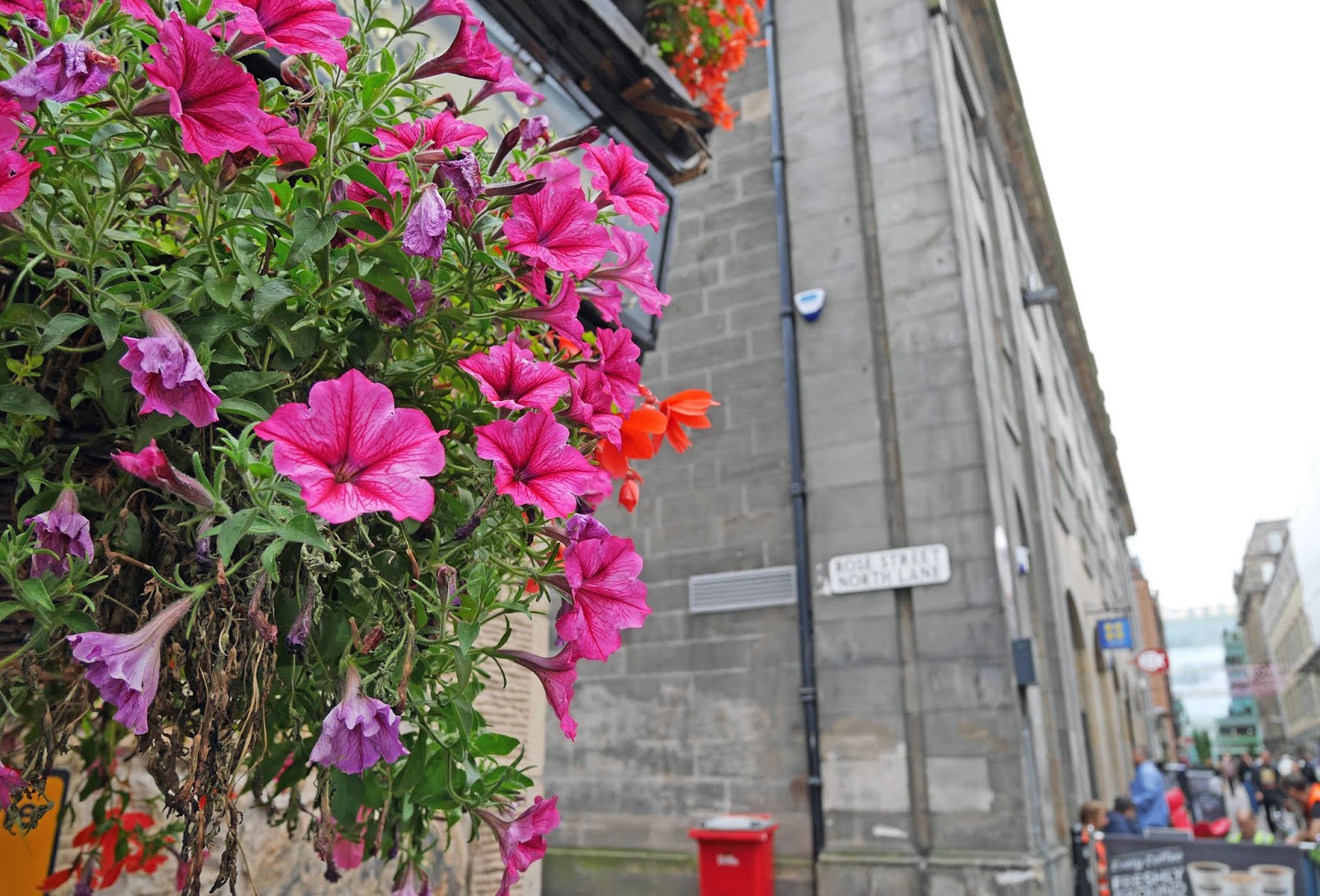 We woke up early on Saturday 1st September and headed straight to Stansted Airport for our easyJet flight to Edinburgh. The flight to Edinburgh is so short that we landed before 11am and we were on Princes Street (Edinburgh's main shopping street) before midday. We were staying on Rose Street which is parallel to Princes Street, so we dropped our bags there straightaway before heading out to explore.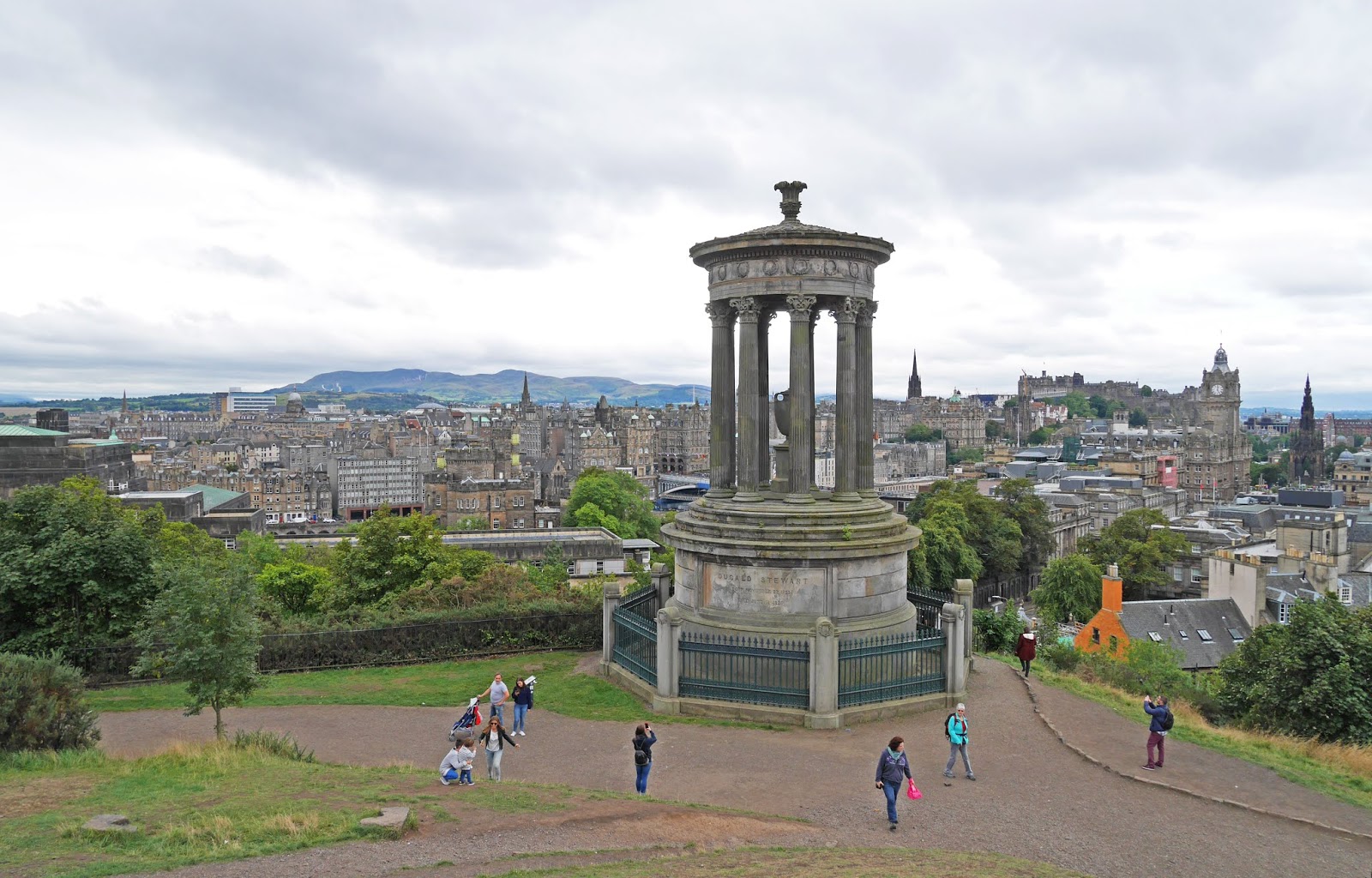 Our first stop was Calton Hill, which has absolutely incredible views of the city. We had a picnic at the top of the hill whilst taking in all of Edinburgh's major sites. You could see both Edinburgh Castle and the Palace of Holyrood from the hill so it's easy to see why Calton Hill has some of the best views in the city.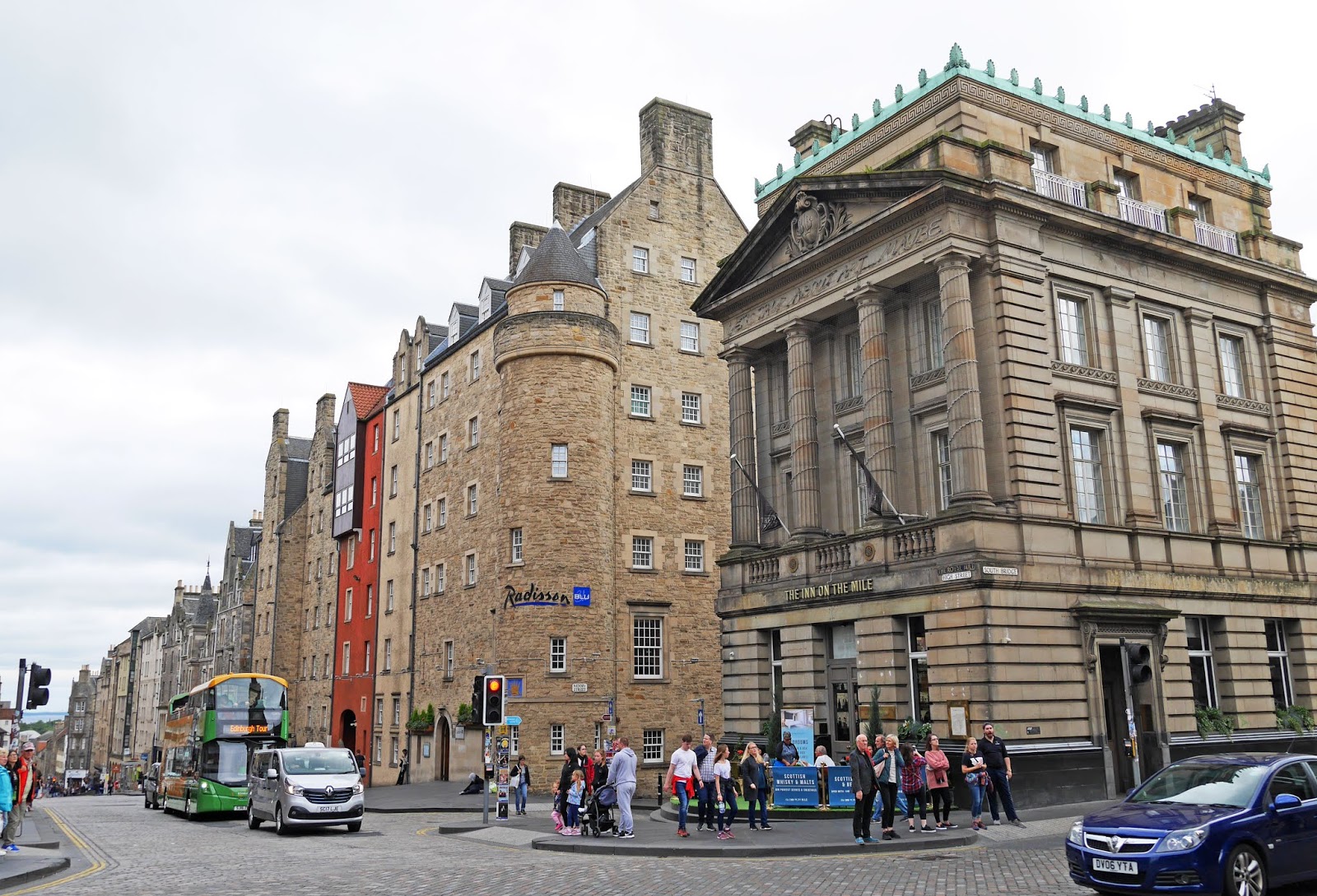 From Calton Hill we walked back into the city centre and across the North Bridge. We followed the road upwards to the Royal Mile where street performers and bagpipe players were helping to create a lively atmosphere. We walked up to the castle briefly but we didn't hang around for long as we had planned to go inside the castle the following day.
During the afternoon we explored the new town and Princes Street Gardens. We went souvenir shopping on Princes Street and George Street, which is actually where we ended up staying for dinner in the evening. There was a Pizza Hut on a road perpendicular to Princes Street and George Street, so we were able to get quick comfort food after a day walking around the city.
Sunday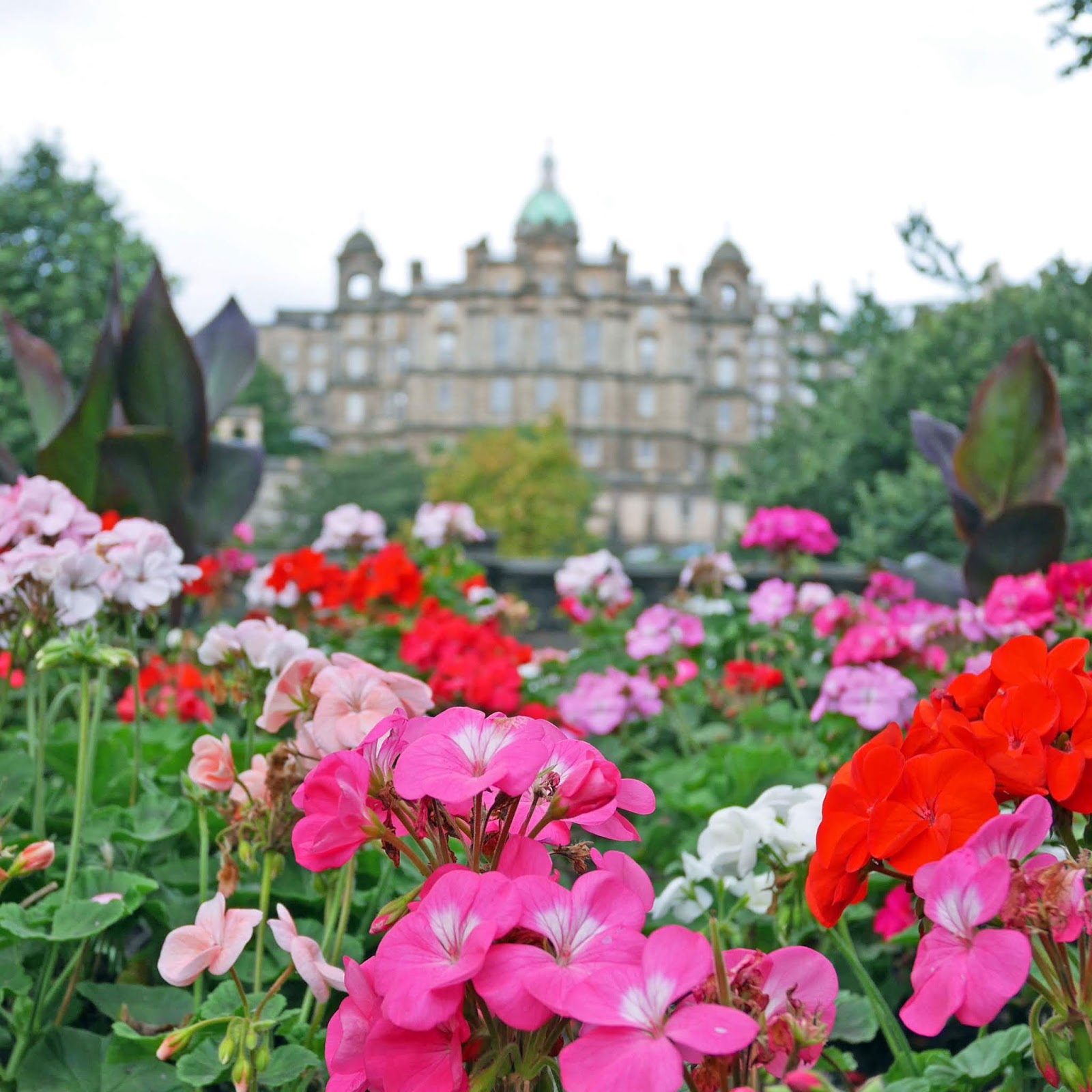 We didn't upgrade our hotel room to include breakfast so by 8am on Sunday we were out and about wandering the streets of the city. The city centre was so quiet at this time as the shops, cafes and tourist attractions didn't open until 10am, but we were able to find a Greggs bakery that had opened early enough for us to get some breakfast. We took our croissants to Princes Street Gardens and enjoyed them on a bench in the park, with a view of the spectacular Edinburgh Castle. After 9 we walked up to the castle via a slightly quieter side road and we were at the castle gates a little bit before the 9:30 opening. When we arrived I thought that we'd been a little bit too keen getting there so early, but seeing the crowds at the castle at 11am made me relieved that we'd got there for opening. I was also pleased that we'd booked the tickets in advance as there was a long line of people wanting to buy tickets on the day.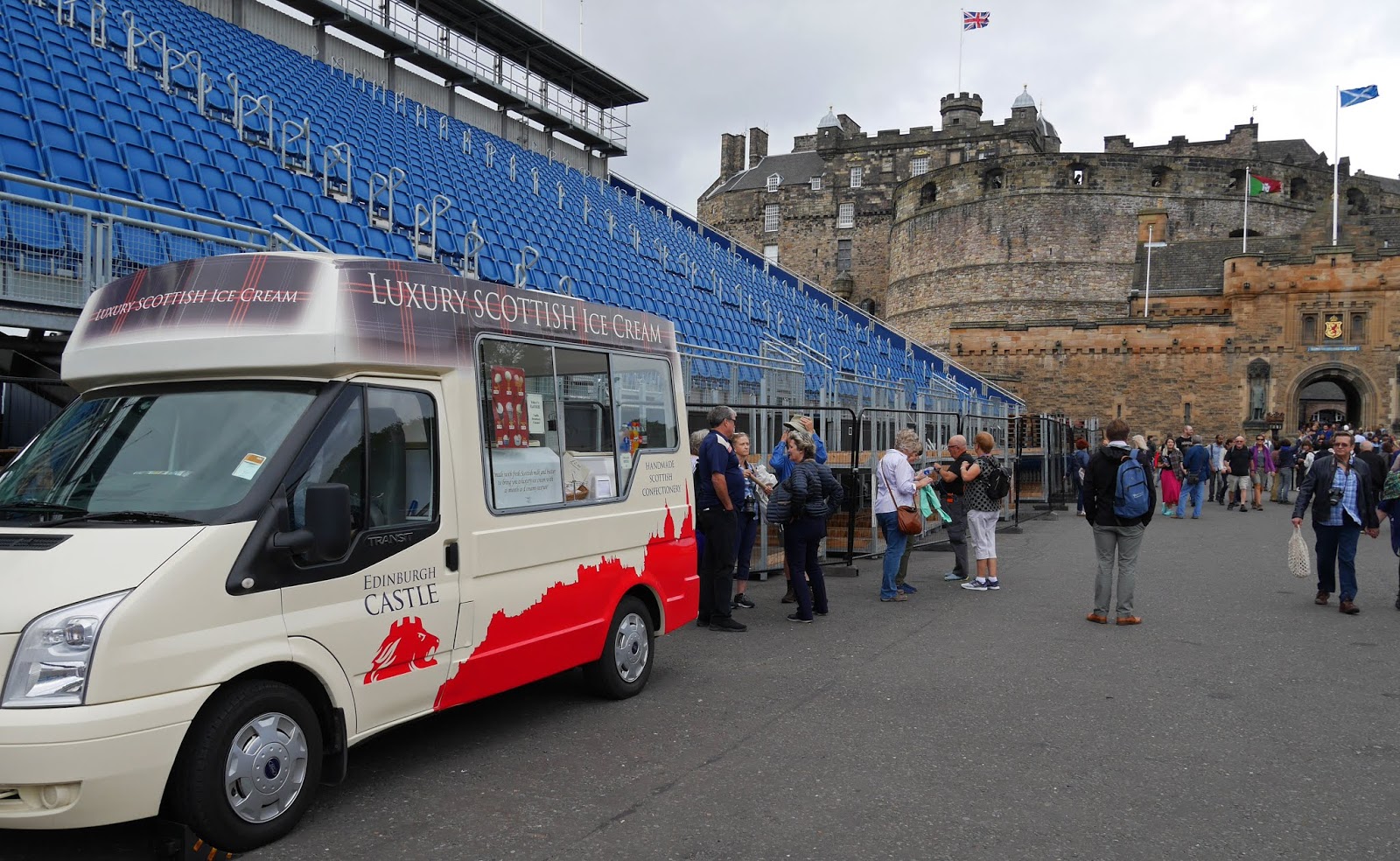 There was so much to see at the castle from the restored prisons to the Royal Apartments and the Scottish Crown Jewels. We spent 2 hours there and that was ample time to see everything. Advance adult tickets for the castle cost £17 and we thought that this was very affordable given how much there is to see in the castle grounds.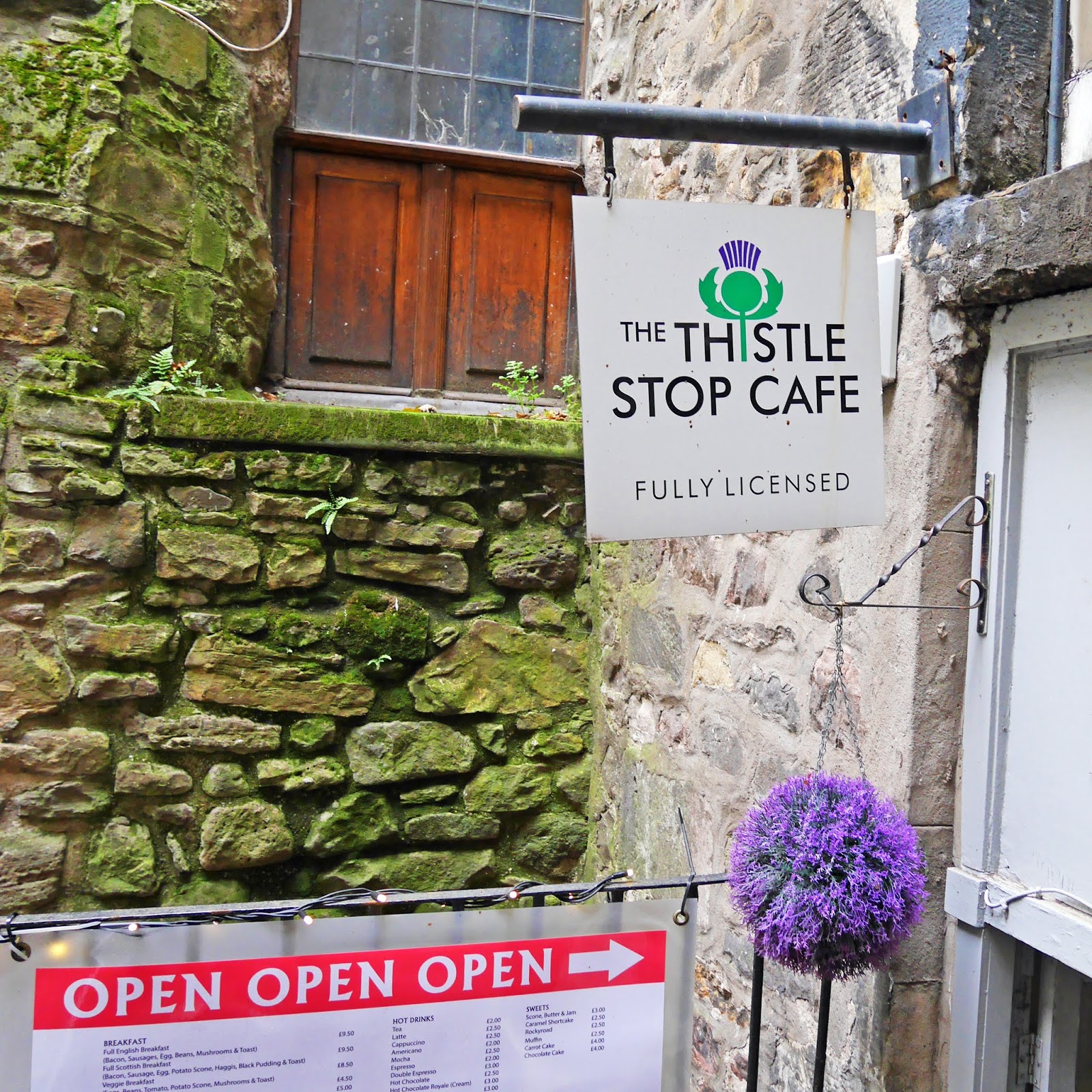 The Thistle Stop Cafe was where we ended up at lunchtime, mainly because of the authentic Scottish name. We both ordered toasties at the cafe which arrived very quickly, making our lunch a 'whistle stop' on the Edinburgh tour.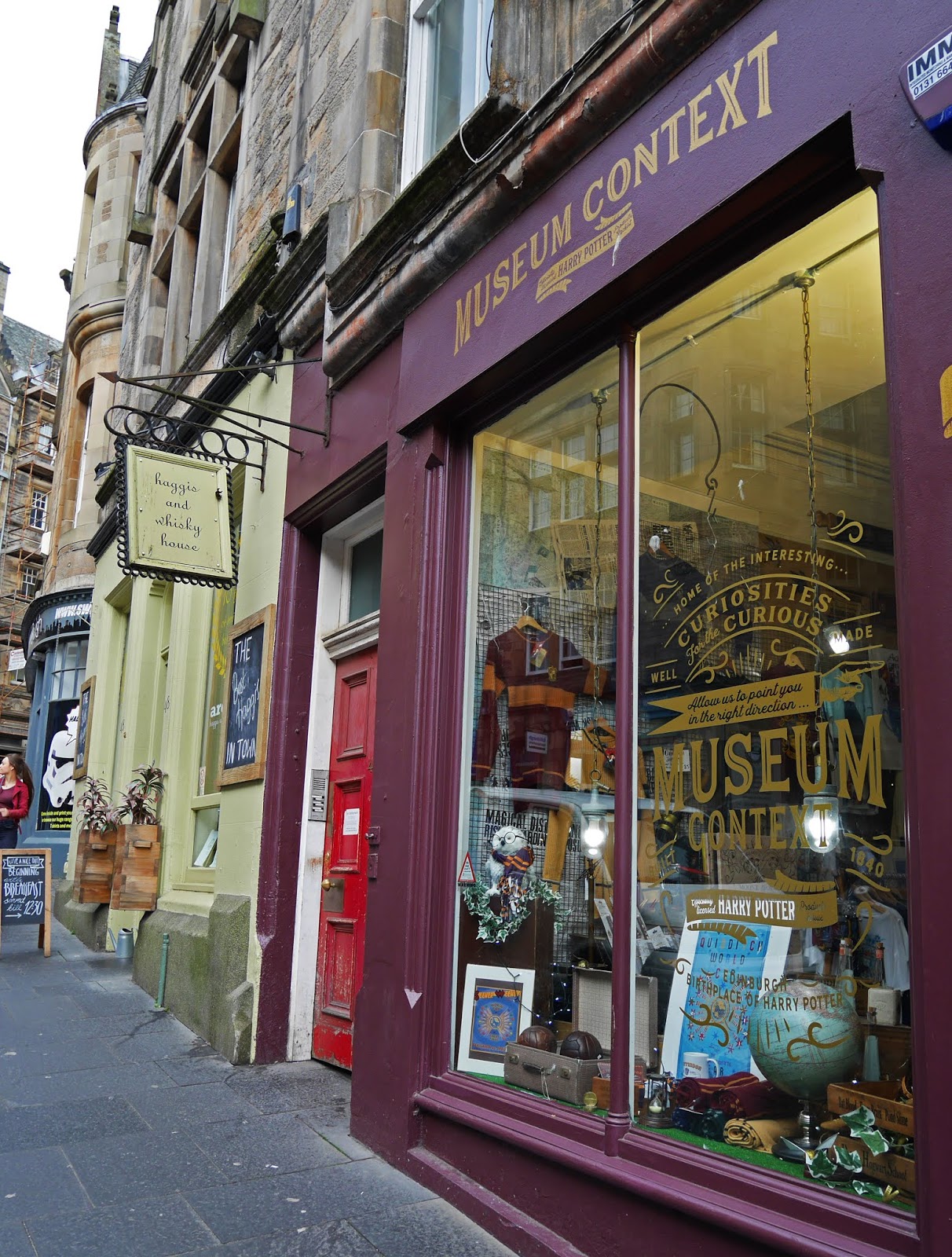 In the afternoon we spotted the Harry Potter shop near the Royal Mile. Until I saw the shop I'd totally forgotten that we were in JK Rowling's city and once I stepped inside the shop I quickly realised how Edinburgh is the inspiration for Harry Potter.
After a brief bit of Harry Potter education, we went for a long walk out to The Meadows and the University of Edinburgh. On one of the main streets leading to the university we found some movie fandom shops, which were full of of unique film merchandise and comics. If only we'd have taken hold luggage with us to Edinburgh, I could have bought lots of the Disney bits in one of the stores.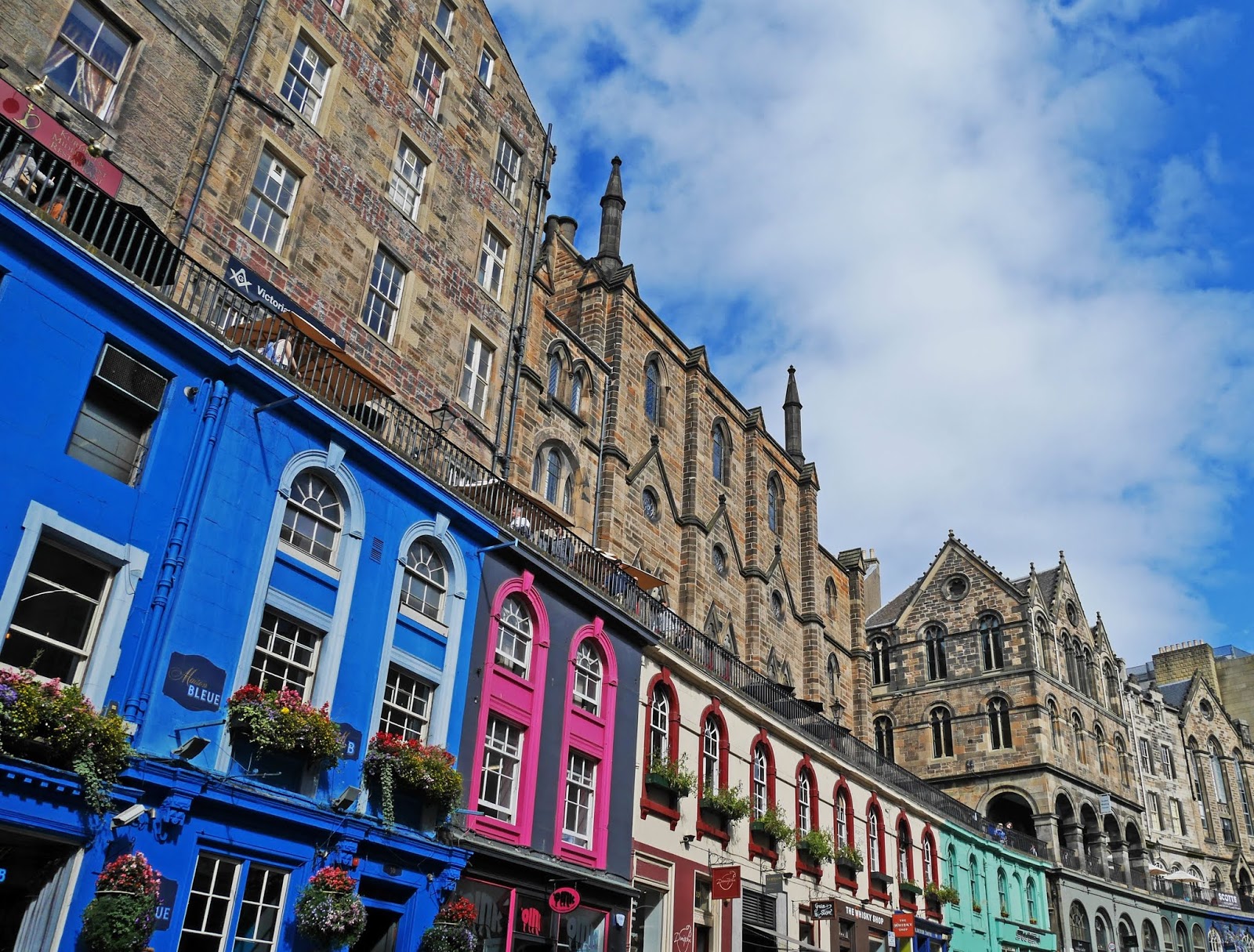 Not far from The Meadows we found a long set of steps which took you down to Grassmarket and Victoria Street: the road that inspired the Wizarding World's Diagon Alley. Victoria Street felt like a painting with all of its brightly coloured shops and the neighbouring old Scottish buildings. After we'd reached the top of Victoria Street we were back on the Royal Mile so we decided to head back to the hotel for a brief rest and a free cup of tea (Hub hotels let guests grab free tea and coffee all day in the lounge downstairs).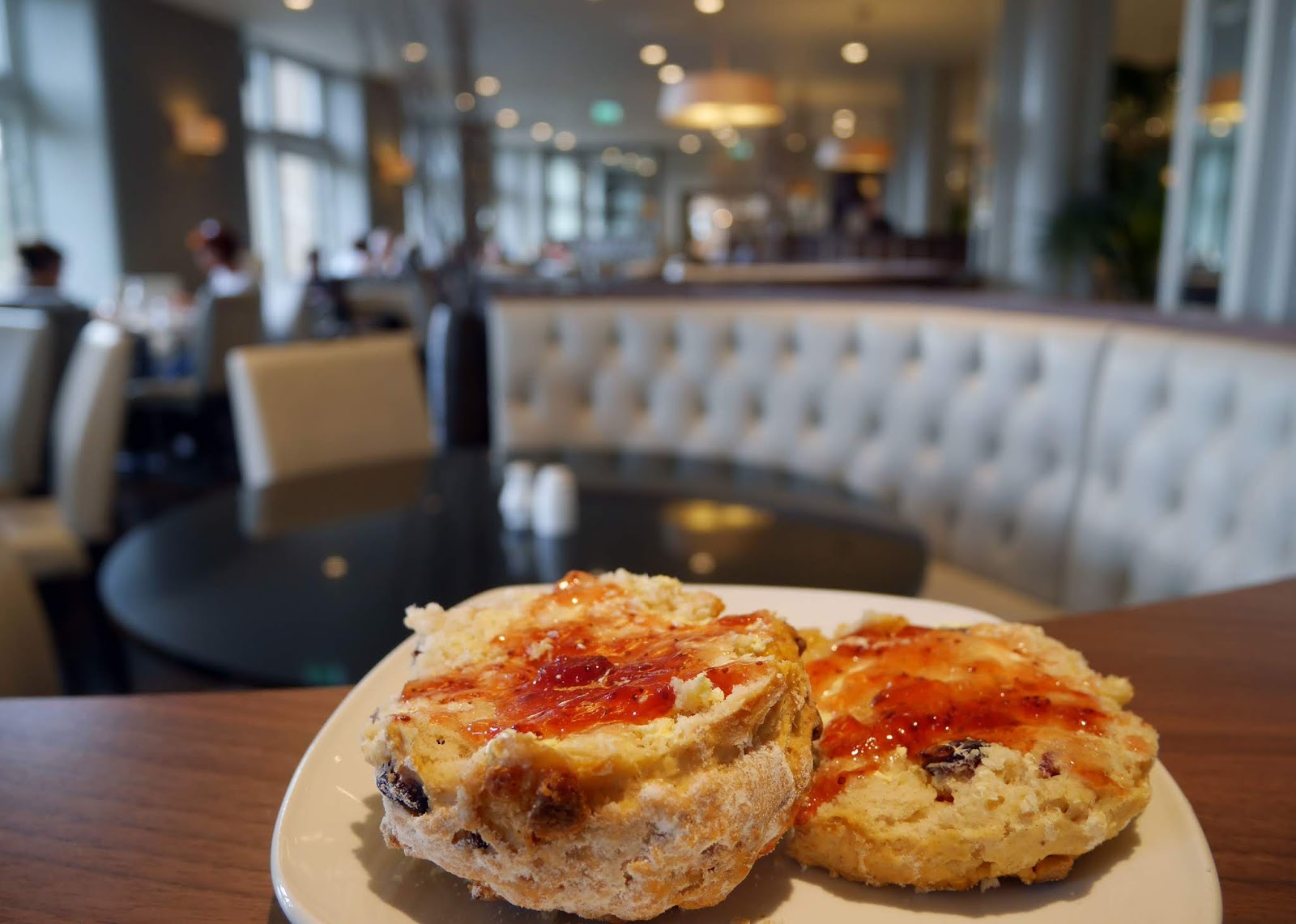 Our last touristy thing we did in the city was go to Jenners: a 180-year-old department store that has a cafe overlooking Princes Street Gardens. My Mum went to Jenners when she was little so I felt as if I'd taken a walk in her footsteps when we stopped there for a scone in the afternoon. Jenner's felt so nostalgic and old, reminding me very much of Mr Selfridge and the glamour of classic department stores.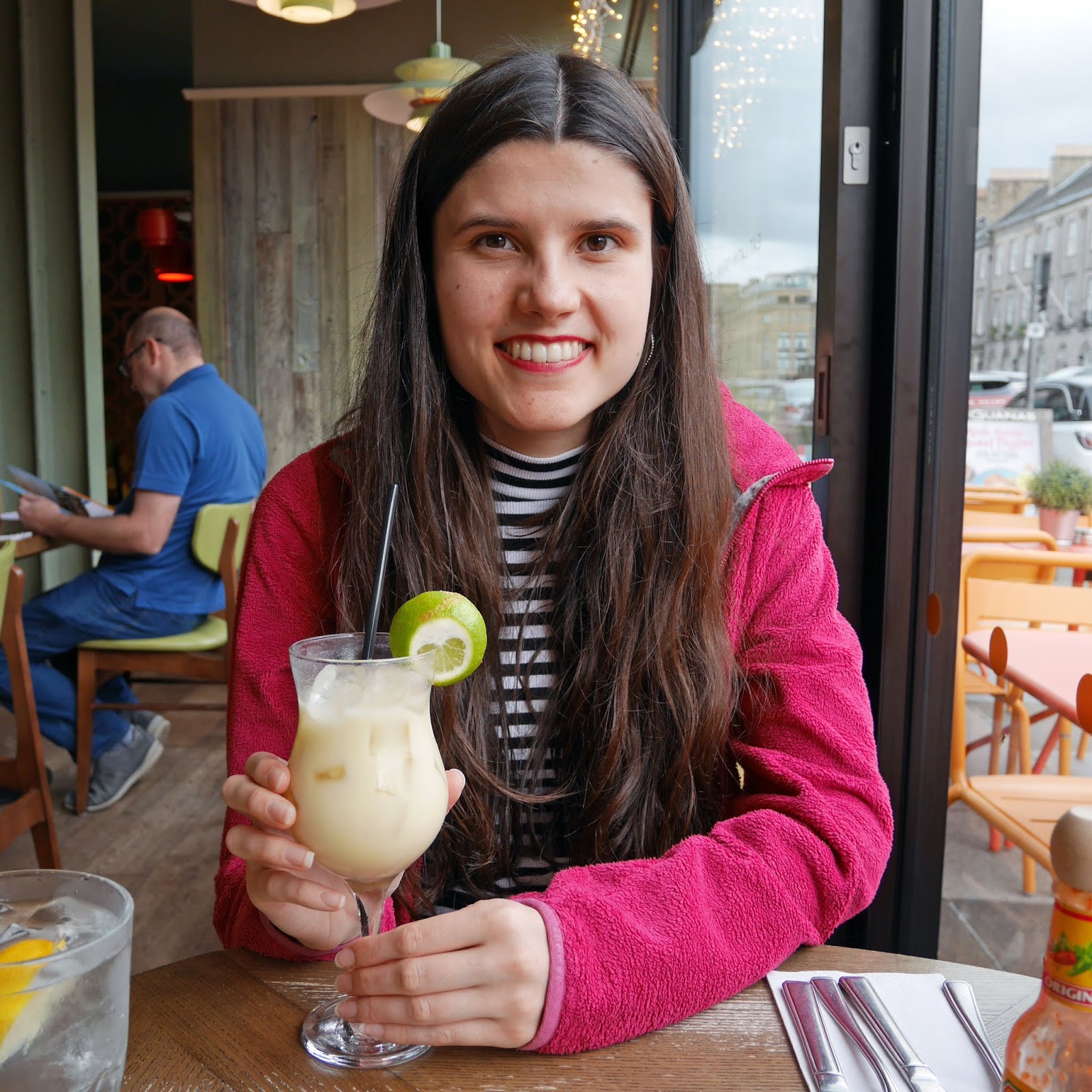 When it was time to have dinner in the evening we stopped at Las Iguanas on George Street. We had nachos and quesadillas for starters, followed by a veggie enchilada (me) and a rack of ribs (Stuart) as main courses. Las Iguanas had such a fun atmosphere; I wish they would open a branch in Canterbury.
Monday
We left the hotel early on Monday morning as our flight was before lunchtime. There was so much rain that morning so I was grateful that the bad weather had held off until the day we were leaving. Getting back to the airport was very convenient as there was a tram stop on Princes Street.
We had a fantastic weekend in Edinburgh, seeing the sights, eating good food and marvelling at all of the lovely traditional Scottish souvenirs. Two nights was the ideal amount of time to spend in the city and we left on the Monday morning feeling as if we'd seen it all. Edinburgh has definitely reminded me how much I like Scotland and I'm hoping to go back and visit another area of the country in the not too distant future.
Have you ever been to Edinburgh? What did you think of the city?
Thanks for reading my blog today.
Love Kat xxxx