[AD – PR invite*]
Nothing says Christmas in Canterbury like the arrival of the annual Marlowe Theatre pantomime. It is one of the best ways to get into the festive spirit in the city and attracts an exciting cast of celebrities every year, each finding a home in Kent for the most wonderful time of the year. Every November the panto is much anticipated, but this year there seems to be an even greater buzz and excitement than normal. This is largely due to the spectacular casting and a creative reveal video, showcasing out of focus clips of this year's cast. The silhouettes left panto fans guessing days before the official announcement that Ore Oduba, Carrie Hope Fletcher, Jennie Dale, Max Fulham and Ben Roddy would be taking on the principal roles for 2022. Musical theatre fans across the country must have been dancing in their seats at the chance to see Carrie in her very first panto appearance; and to be playing the villain as well? How fabulous!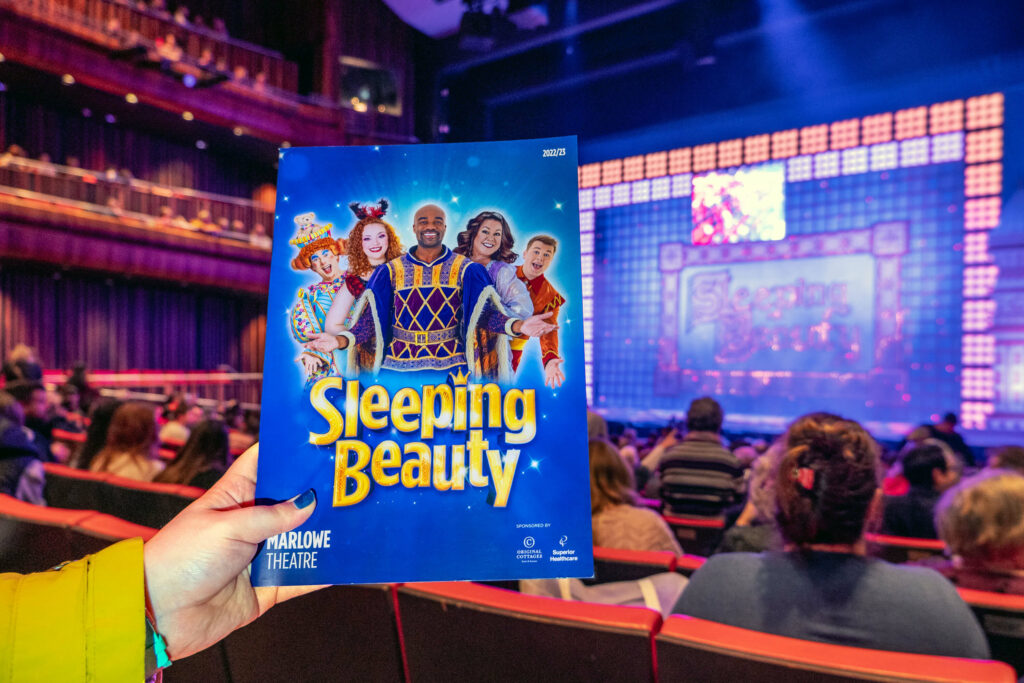 Panto partnership
The Marlowe have partnered up with Evolution Pantomimes once more for 2022: a relationship that has spanned eighteen years thus far. Last year's Jack And The Beanstalk won Best Pantomime at the 2022 Pantomime Awards and I could not wait to see how the co-producers would follow up on last year's success. A couple of weeks ago panto fever started here in Kent, with the switching on of the Christmas lights in the city centre. Ever since the cast chatted to KMFM about the upcoming show, I have been talking about panto on social media and it was finally time to see the show yesterday evening at the Sleeping Beauty press night.
Storyline
The pantomime version of Sleeping Beauty is quite different to the Disney fairytale, with a different kingdom, villain and supporting characters. The basic synopsis is largely the same, with the citizens trying to protect Princess Aurora from a spinning wheel prick, but Carrie Hope Fletcher's Carrie-bosse (a rather appropriate adaptation of the panto villain Carabosse) is the antagonist instead of Maleficent. There is one good fairy called Fairy Moonbeam (Jennie Dale) in lieu of Flora, Fauna and Merriweather and there is the addition of a best friend in the form of Jangles (Max Fulham) and a panto dame in Nurse Nellie (Ben Roddy).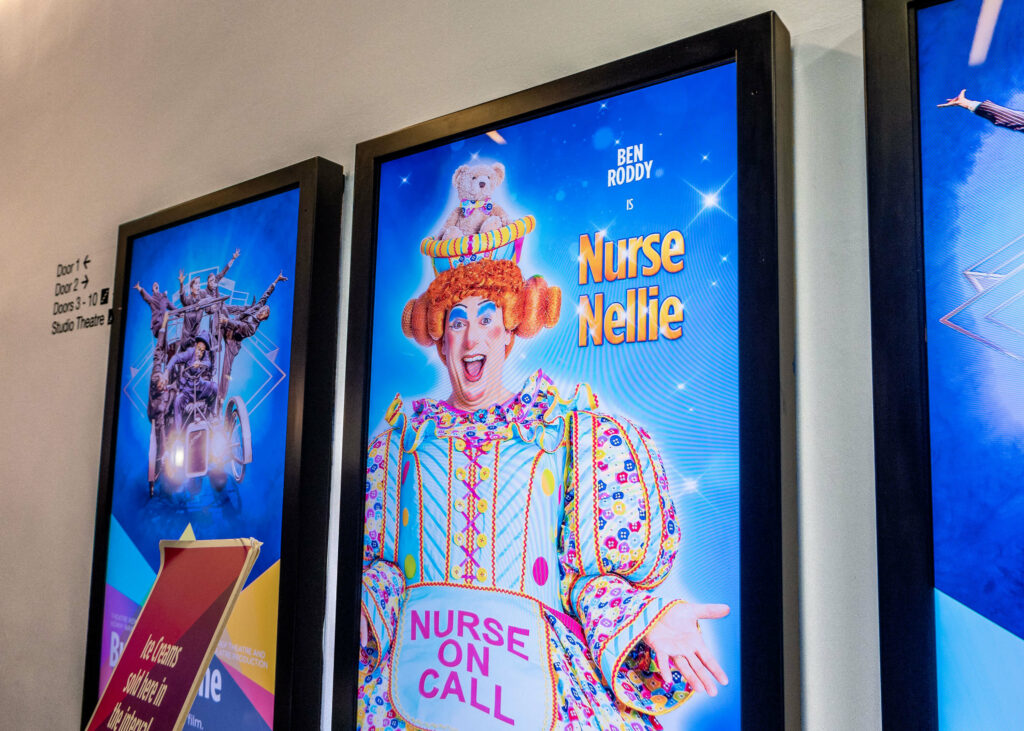 Overall panto theme
Last year's panto featured many boy band references thanks to the casting of Blue's Duncan James in the role of Jack. Sleeping Beauty instead focuses on musicals, with the 'wheelbarrow of puns' and other jokes having a musical theatre spin to them. It was a brilliant idea, especially with so many theatre stars in the production.
Without revealing any spoilers, there were lots of in-jokes about Carrie's time on the West End stage. My friend and I both practically cried with laughter at the perfectly timed lines, which would be lost on non-theatre fans. Nurse Nellie and Jangles also covered so many well-named musicals in their pun sketch, fitting a large number of stage titles into the scene. It was incredibly impressive with the actors barely taking a breath!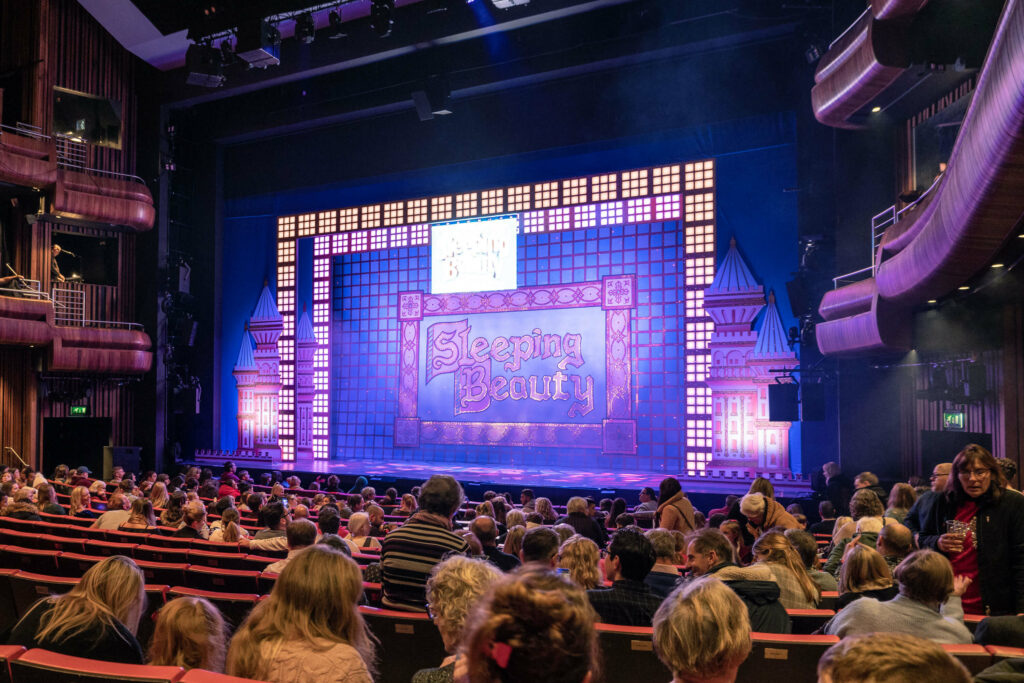 Marlowe traditions and changes for 2022
I adore the community atmosphere of the Marlowe Panto and every time I attend a performance, this statement rings more true. From the recurring 'it's the law' lunges to the annual poking of fun at other Kentish towns, audiences can really feel at home during panto season. There were plenty of puns, Dad jokes and silly humour slotted in, but this year I thought Paul Hendy's dialogue was in a different league. The performers' personalities and careers were brought into the script, something that fans of the actors will really appreciate. Some of the lines were quite outrageous (in a good way!) and just when I thought things couldn't possibly go any further, the jibes kept coming!
It was great to have a female villain in the form of Carrie-bosse. Carrie had multiple solo numbers and her rendition of The Hunchback Of Notre-Dame's 'Hellfire' was a standout moment for me. Supported by menacing guards, evil red lighting and fire effects, Carrie totally transformed for the role.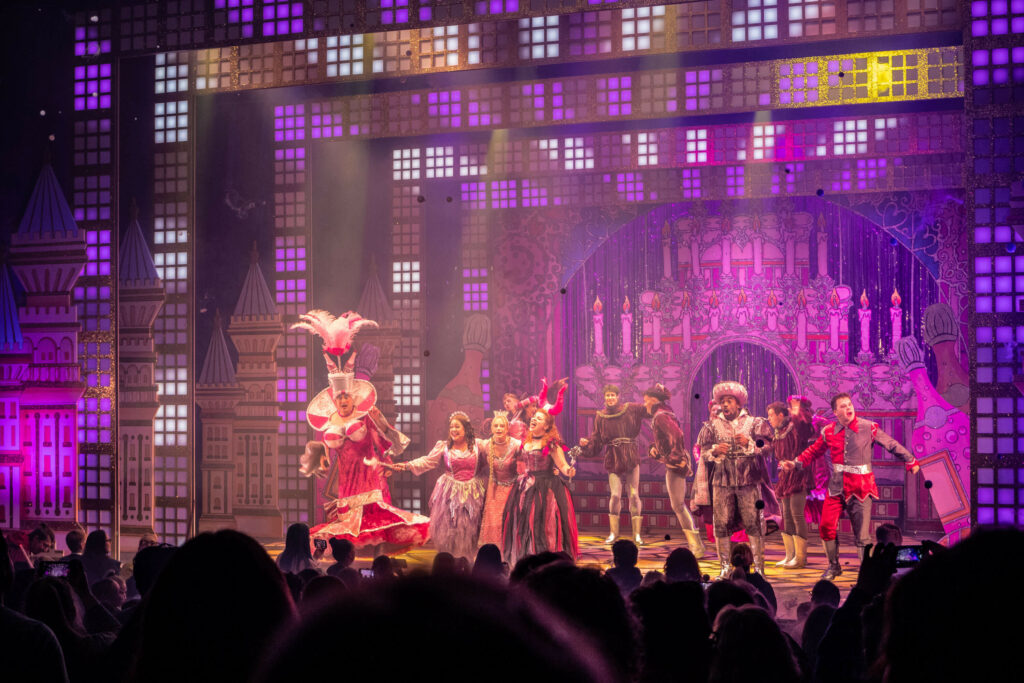 Standout performances
I really enjoyed the good vs evil duet between Fairy Moonbeam and Carrie-bosse. Everybody knows that Carrie is an exceptional singer but I was taken aback by how strong Jennie Dale's voice is. The duet showcased their vocal ranges and the pair brought the house down with their final high notes. In the finale we got to hear their voices together again in 'Everybody Needs Somebody to Love' and they were joined by another fantastic vocal talent in Ellie Kingdon (Princess Aurora).
Max Fulham's ventriloquism and comedy style were perfect for Sleeping Beauty; it is no surprise that he won a Great British Pantomime Award in 2020. Max and his puppet Gordon's onstage relationship with Ben Roddy and Ore Oduba was also absolutely hilarious. They brought so much joy and humour to the show.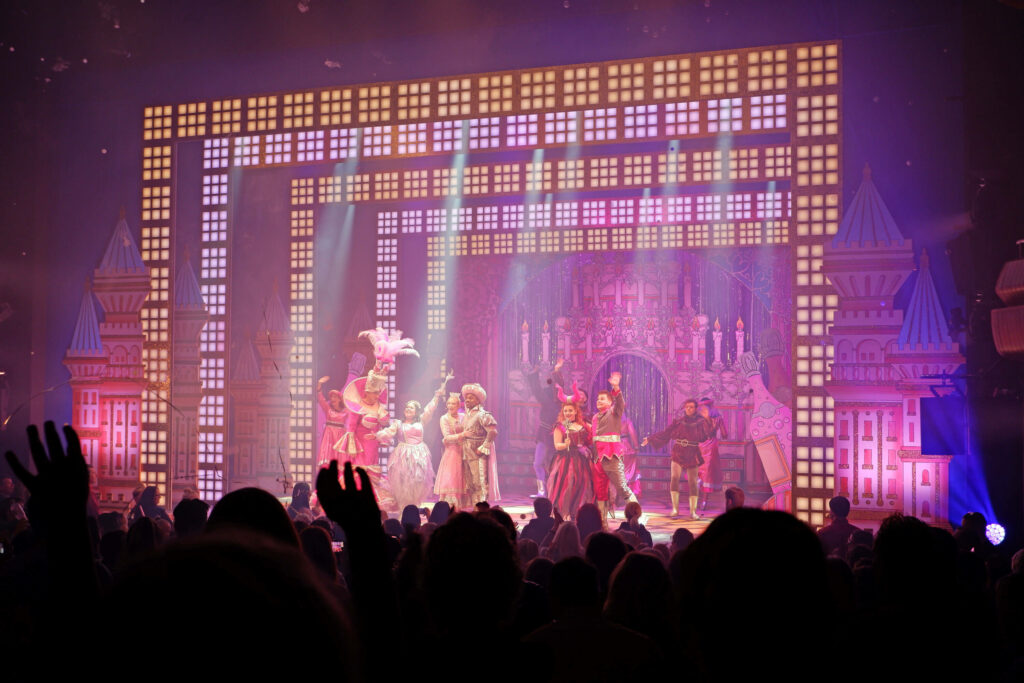 You'll have to see it again then, won't you, whoops!
My biggest takeaway from Sleeping Beauty* is the fact that it is good fun for both pantomime and musical theatre fans. I really enjoy panto, but I appreciate that it is not for everyone and it is very different to West End musicals or gripping dramas. The 2022 Marlowe Panto has managed to capture two styles of theatre goers in its casting, script and songs, making panto enjoyable for an even wider audience than usual.
There is plenty of opportunity to see the festive production between now and the new year. Running from 25th November to 8th January, tickets to Sleeping Beauty are available on The Marlowe Theatre's website. A visit to the Marlowe Panto is the perfect way to get into the festive spirit!
Thanks for reading my blog today.
Love Kat xxxx
*Our tickets and programme for Sleeping Beauty were gifted in exchange for a review of the performance.