I am a firm believer in the fact that there is something for every taste in London's West End. Whether it be a beloved musical, drama, adaptation of a book or a new theatrical phenomenon, anyone hoping to see a live production should find something that interests them within the bright lights of the theatre district. Sometimes shows come along that take West End theatre in a whole new direction, where previous creative teams have not gone before. A recent example of this is 'The Choir of Man': a concert-style production that is set in a local pub and features an all-male choir. The Choir of Man may be performed on a West End stage, but it is by no means conventionally theatrical, feeling more like a live gig than a traditional piece of musical theatre. I have been fortunate enough to see the production twice in its latest London run and cannot wait to share my thoughts about this relatively young show.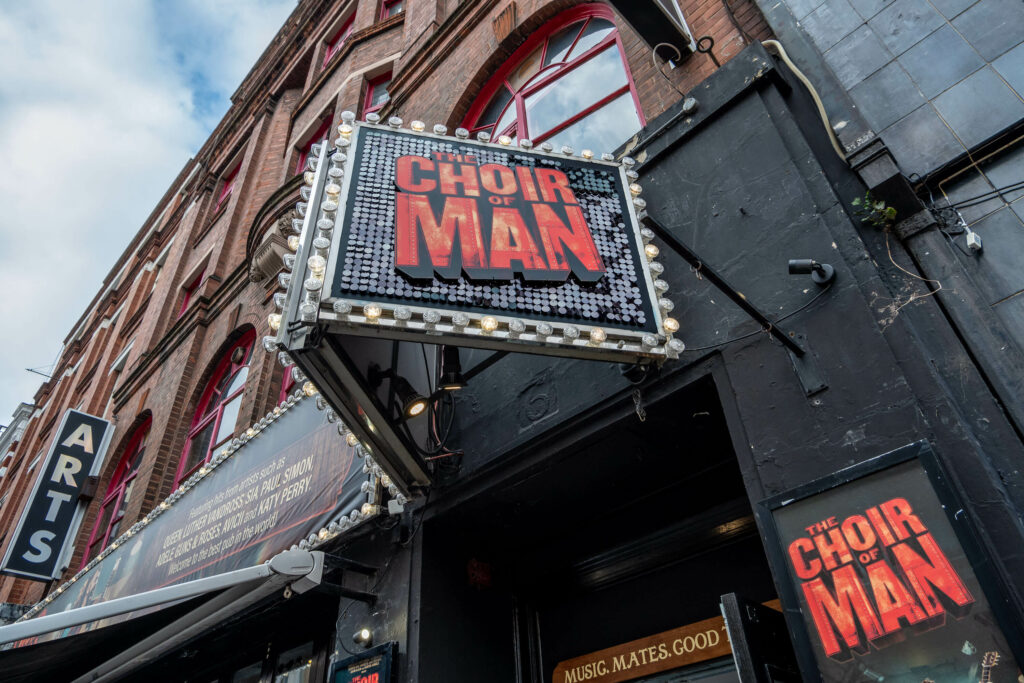 Background
The Choir of Man started in 2016, when producers Nic Doodson and Andrew Kay began developing a new musical centred around a group of men that didn't fit a specific image or description. It was to be a one-act piece of theatre featuring a series of pop songs and segments of spoken word, told from the perspective of a group of friends enjoying a night out at their local pub. There is a particular focus on men's mental health, specifically having a place to talk and the pub is a perfect venue for this.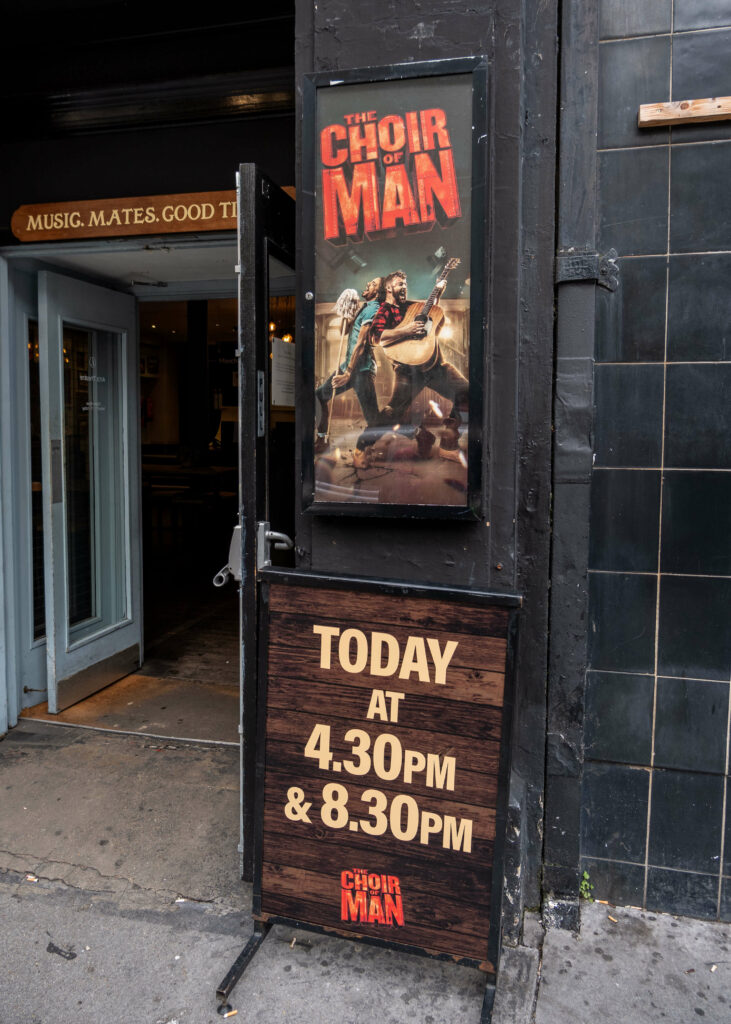 Similar to other new shows, the musical debuted at the 2017 Edinburgh Fringe Festivals and since then it has been on a global journey that includes the Adelaide Fringe, various tours, a stint on Norwegian Cruise Line, return trips to Edinburgh and multiple runs in London's West End. Skip forward to 2022-2023 and the musical is based at The Arts Theatre until the end of July: an intimate venue in the heart of theatreland.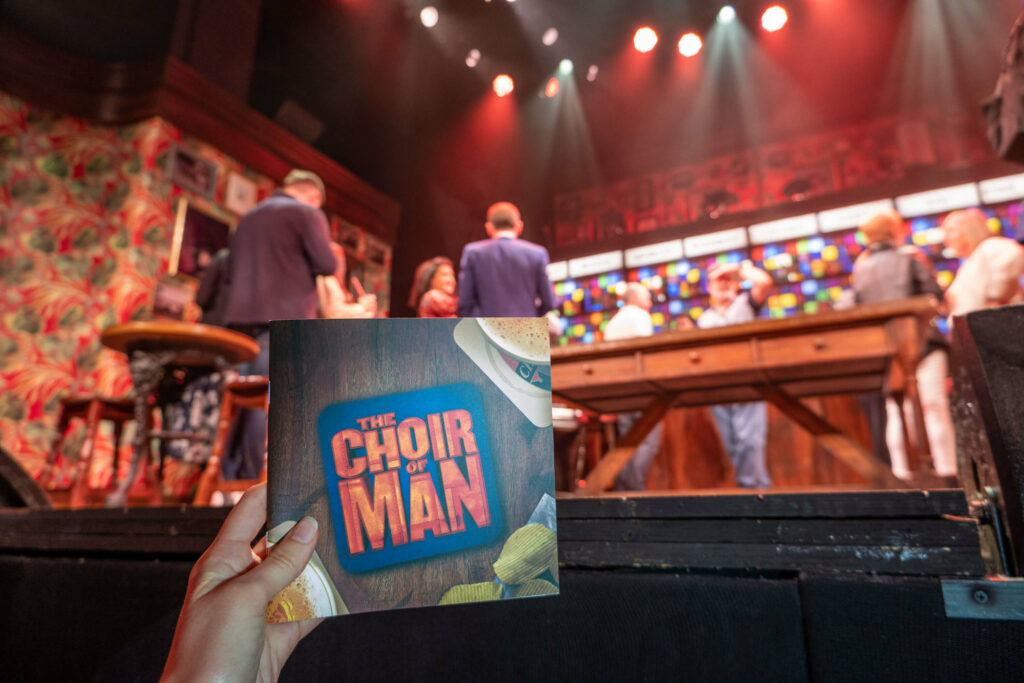 Immersive atmosphere
The Arts Theatre stage has been transformed into 'The Jungle' pub, with an operational bar, small tables and frames of memories along the walls of the auditorium. Upon arrival at the theatre, members of the audience can purchase drinks tokens in the foyer and then exchange them on stage for a pint which has been pulled from the bar set. Patrons can also chat to the cast members at the tables as they emerge from backstage: a form of interaction that is normally reserved for Stage Door. We benefited from this arrangement in the front row, with the cast coming forward to speak to us in our seats.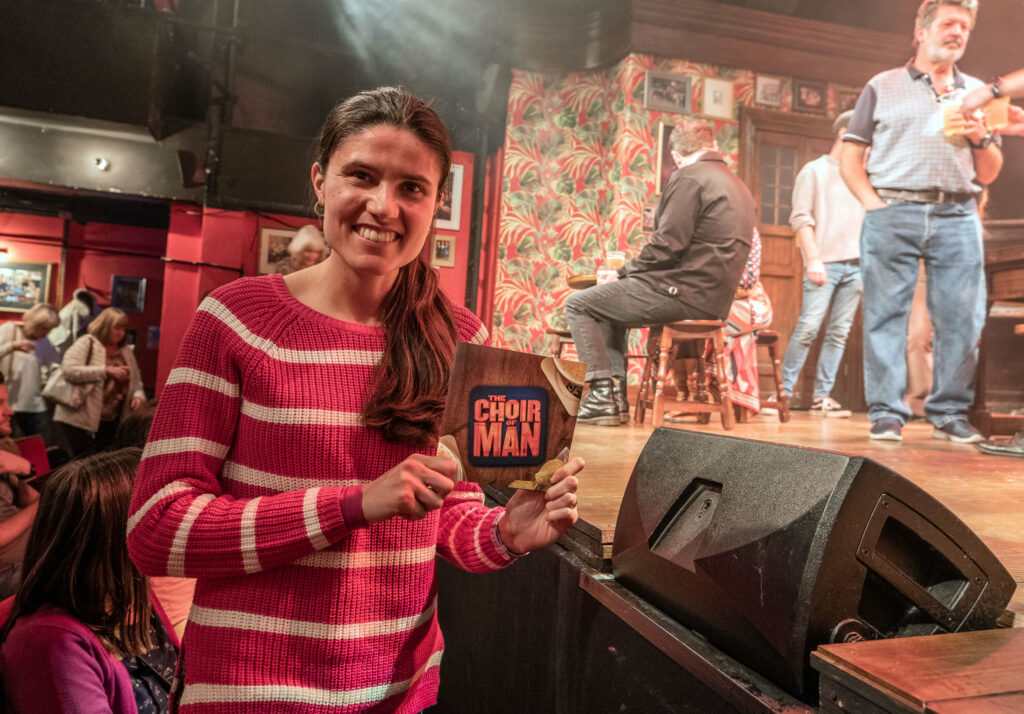 This natural, immersive experience is unlike anything I have seen in the West End and must feel right at home in Edinburgh with the wide variety of venues at the summer festivals. Just before the performance started audience members were guided off stage to their seats and the cast leisurely took their positions for the opening scene. Everything has been carefully choreographed to create a relaxing ambiance from the moment spectators walk into the auditorium. As a result, The Choir of Man can only be described as a captivating experience, as well as a musical production.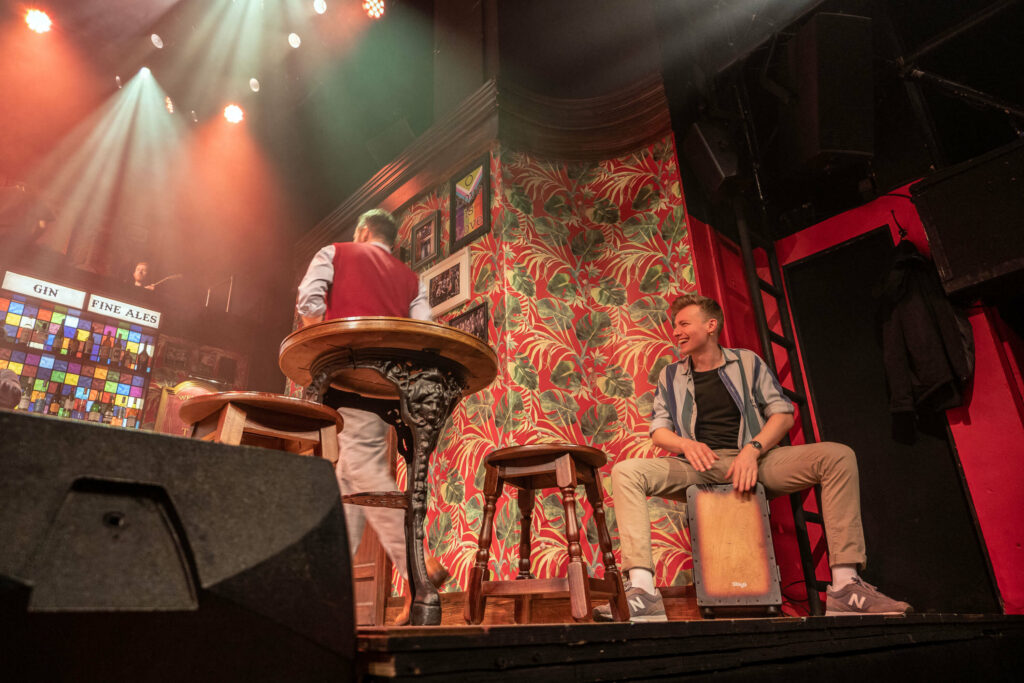 Music
Covering artists from the 1960s to the present day, the soundtrack for The Choir of Man features a variety of hits, old and new. Each number is performed in multi-part harmony with a different performer taking on the lead. Some of the group even join the band on the instrumental backing, playing various instruments from song to song. Being a member of The Jungle's choir requires so much musical talent, from strong vocals to being able to play multiple musical instruments. It was amazing to witness the amount of rhythm that each of the actors have.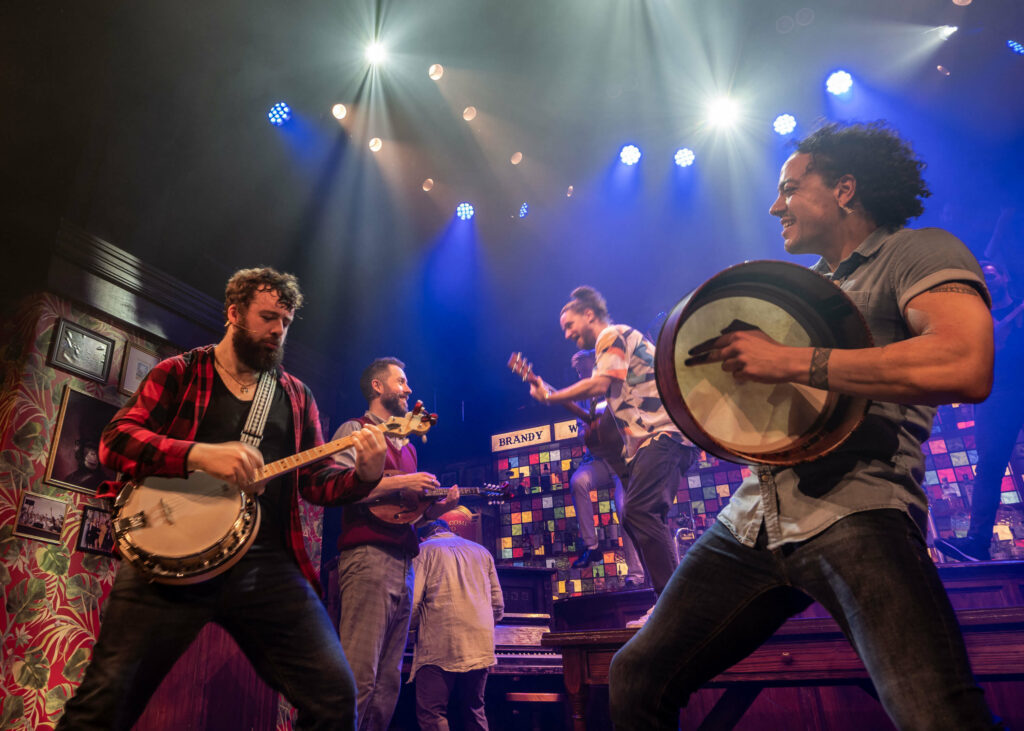 A standout musical moment was the mid-show sing-along led by The Maestro (Michael Baxter). Without revealing the song that makes an appearance, Michael played the track on the piano in various styles and kept the audience entertained for a good five minutes. It was such a fun moment in the show, where everybody could join in with a much-adored song!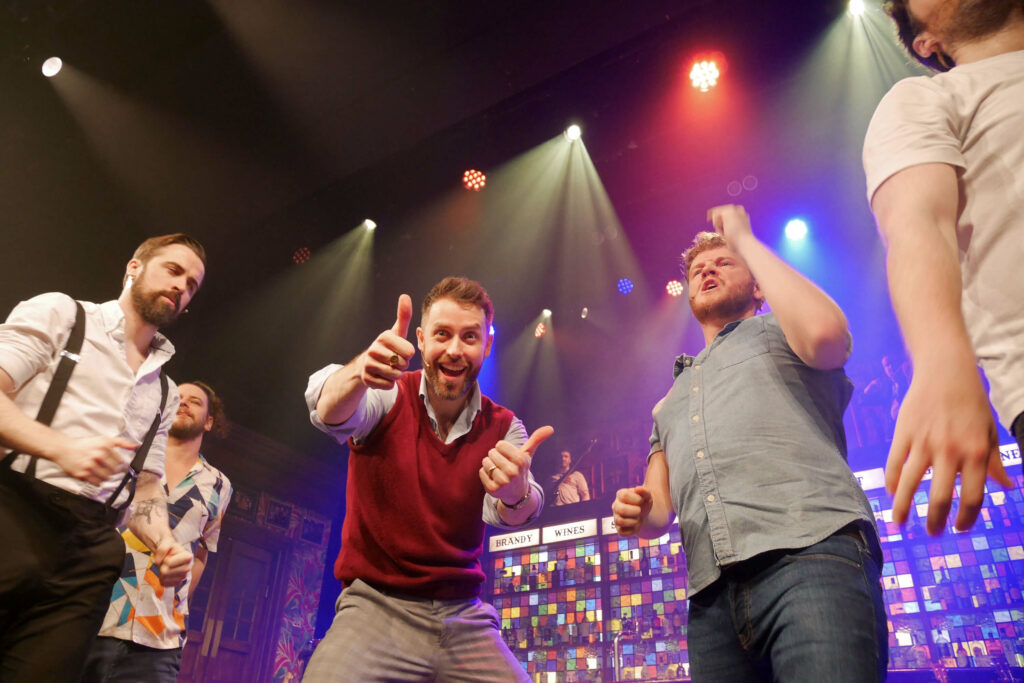 A relatable production
If I were to summarise the production in a word it would be relatable as for the ninety minute runtime it feels as if you've joined a group of friends on a night out at the local pub. There are no frills, no extravagant costumes and everything has been stripped back to focus attention on the music. There is a single static set that the audience can easily feel at home in thanks to the cosy and welcoming pub layout, but it never detracts from the singers, musicians and band. An engaging and easy to watch musical, The Choir of Man is proof that simple concepts really can work on a West End stage.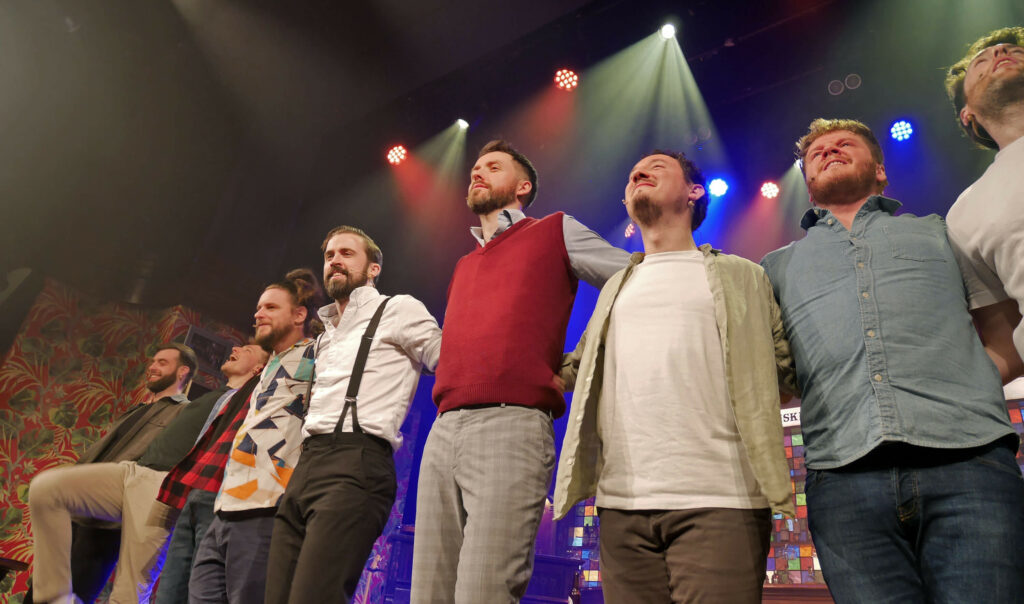 Final thoughts
The Choir of Man is playing until the end of July and there are eight performances a week to choose from including two matinees. If you are looking for a lively, feel-good show to see with a group of friends or family, The Choir of Man is a brilliant choice. With an immersive set and various opportunities for audience participation, there is plenty of scope to get involved in the show. I felt uplifted when I exited The Arts Theatre and I hope you find as much enjoyment in this show as I do.
Thanks for reading my blog today.
Love Kat xxxx