[AD – PR invite*]
★★★★
This year I am prioritising new writing at the Edinburgh Fringe, specifically new musicals. Fresh off the train at Waverley Station, I headed straight over to Gilded Balloon Patterhoose for Jingle Street: a new production by lyricist Joe Venable and composer Georgia Rawlins. Described as a musical about a man who suddenly wakes up one day and can only speak in ad jingles, the show was inspired by a previous charity challenge that Venable took part in.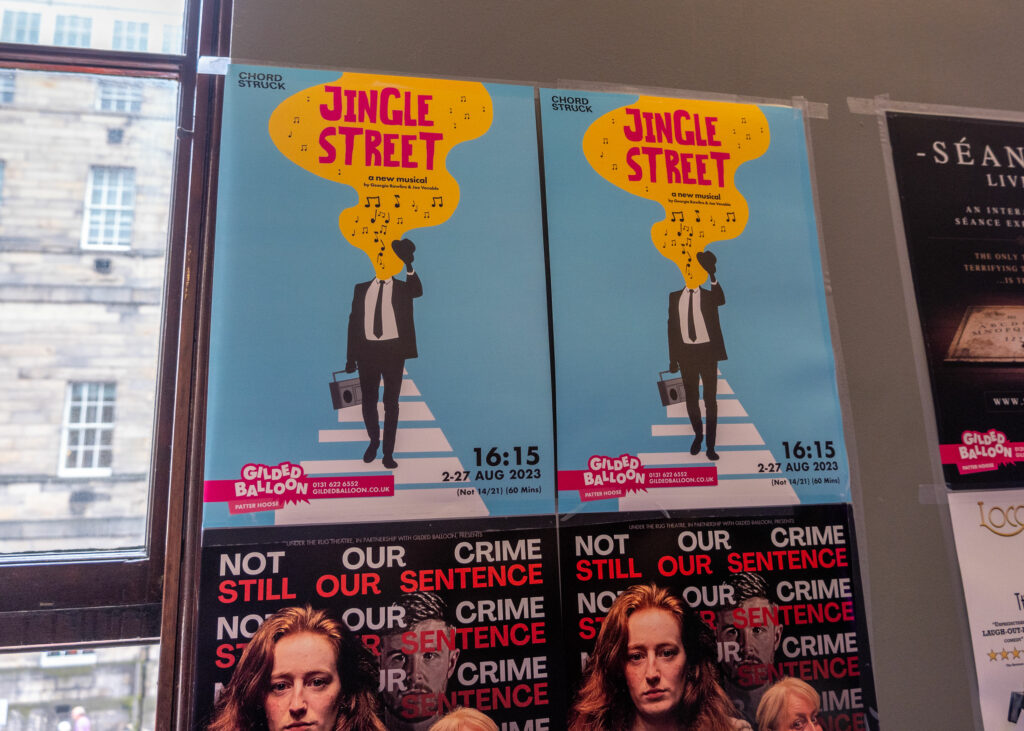 Jingle Street is not Venable's first Edinburgh venture, with the writer winning 'Best Musical' at the 2021 festival for On Your Bike (MusicalTheatreReview.com). Chordstruck Theatre are bringing both Jingle Street and On Your Bike to life for almost 4 weeks during the festival, adding two musicals to the Gilded Balloon programme.
Initial thoughts
Essentially the show is a madcap new musical set on the fictional 'Fingle Street', starring Tom Hayes as jingle writer Colin Hollins, Maddie Smith as Green Party candidate Jasmine Doig, Emily Huxter as best friend Parsley Smith-Jones and Xander Pang as Colin's boss Holofernes. With direction by Mimi Pattinson and live on stage backing by musical director and pianist Joseph Giles, Chordstruck Theatre have managed to create a belly achingly funny show, that is both fast-paced and full of action. Jingle Street showcases a strong soundtrack, tens of ad jingles and bundles of charisma, all within 60 minutes.
Music, lyrics and vocals
It is the songwriting and the vocal talents of the cast that make Jingle Street stand out. Combining lively melodies, witty lyrics and strong vocals, the show is a brilliant new example of British musical theatre. Each of the songs reflect the characteristics of the core characters, with individual performers bringing bundles of energy and personality to their roles. Smith in particular makes you hold onto their every note as they express their frustrations over Colin. What an exceptional voice!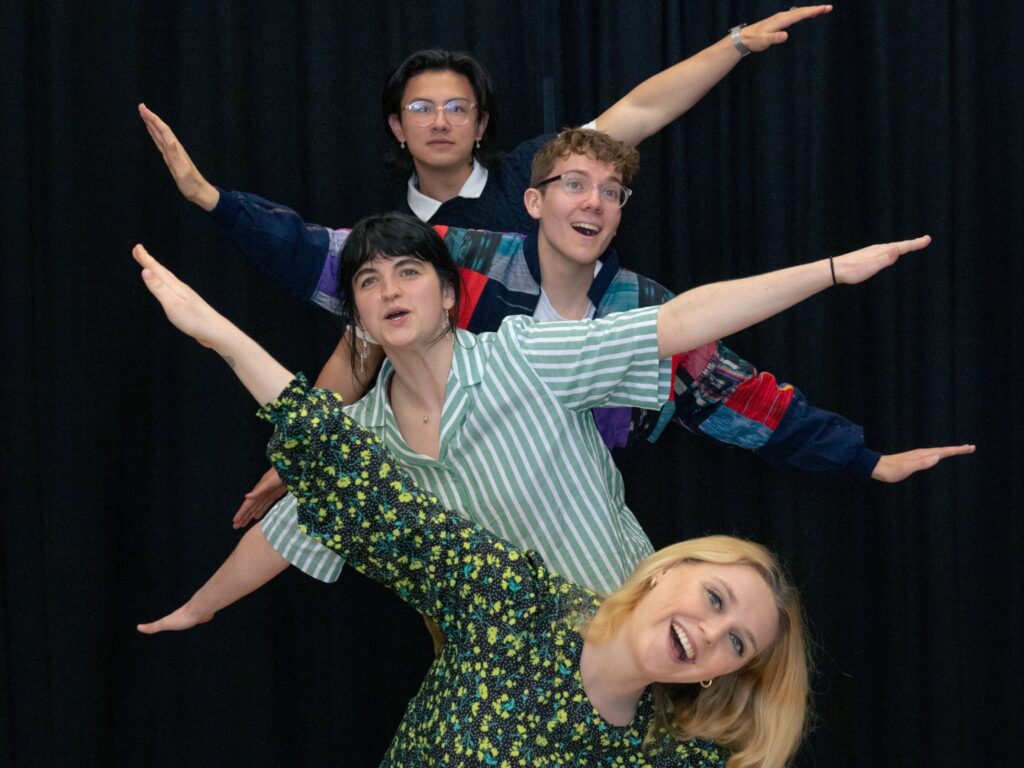 My only reservations were around the microphone levels during the group numbers, as you could hear certain harmonies louder than others. All of the parts are incredibly inspired and cover a vast array of vocal ranges, but the soprano sections are a little overpowering. A more equal approach to the microphones and sound would give the intricate musical arrangements a better chance to shine.
Standout musical moment
A musical highlight is 'Pinky Swear': an over-the-top number about the significance of this specific act of trust. Performed by Smith-Jones and Pang, they have an incredible rapport on stage, so much so I was left wishing that the song had more coverage within the piece. It is intentionally melodramatic and bold, adding to the humour of the show. It also brings an unexpected Big Band sound to the production, which must've been inspired by the likes of Peggy Lee. Could this section be described as utterly bonkers? Absolutely, but it works within the lively themes of the show.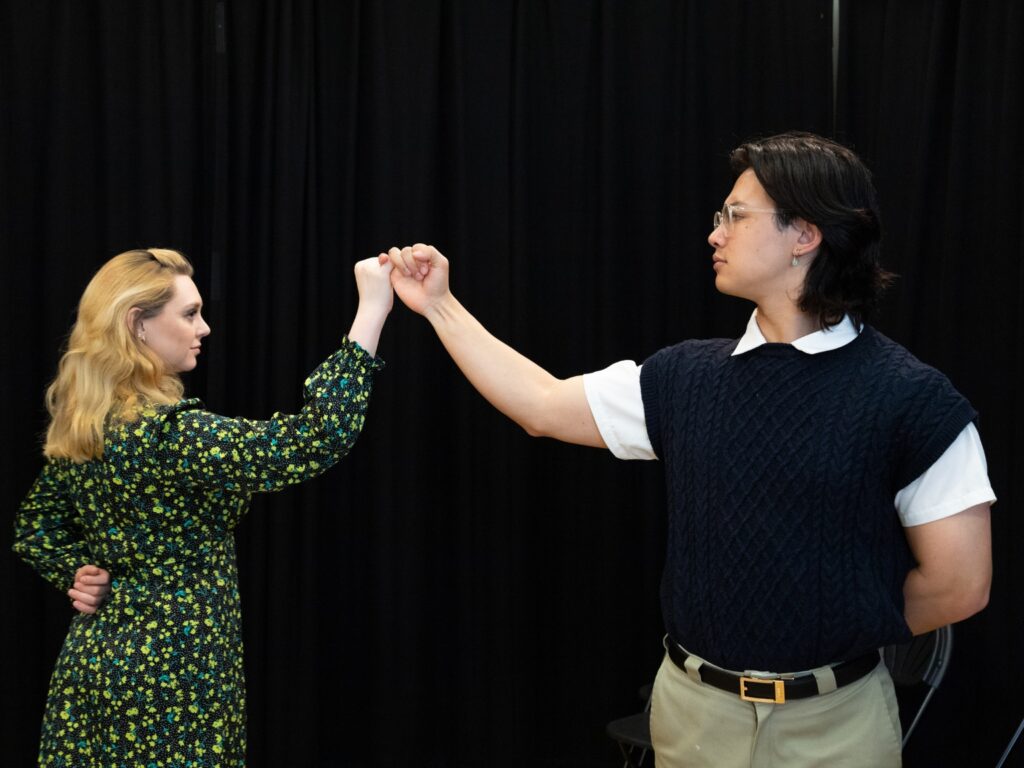 Speed and pacing
Watching Jingle Street is like watching the best bits of a high energy West End show, slimmed down to a fringe length format. The short length of the production means that it moves very fast in places, so much so that it can come across slightly intense and full-on. There is some really clever partnership work and choreography by Alix Addinall which adds to the overall ambiance, but when combined with the fast pacing, it is a little untidy in places. It can be forgiven though, given how much the show is trying to achieve within an hour. The performers must be exhausted after every performance; they are clearly giving so much energy, heart and soul to the work.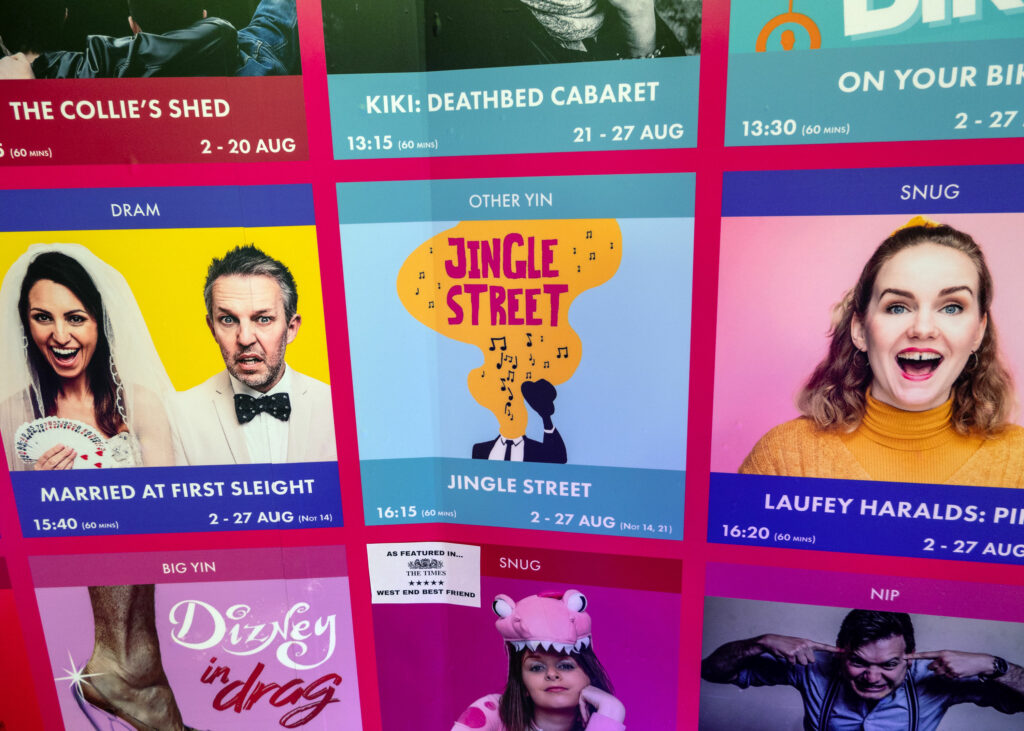 Is the ad jingle theme too much?
Whilst I enjoyed the ad jingle theme and thought it worked well as a piece of fringe theatre, such a decisive theme and concept has the potential to come across as repetitive and tiresome. It would be great to see a little more variety in the ad jingles portrayed, as there are so many notable tunes that didn't make the cut. It feels as if the creative team's attention has been focused on repeating a specific batch of jingles, not expanding the main character's jingle repertoire. A wider variety of commercial melodies would have avoided this feeling.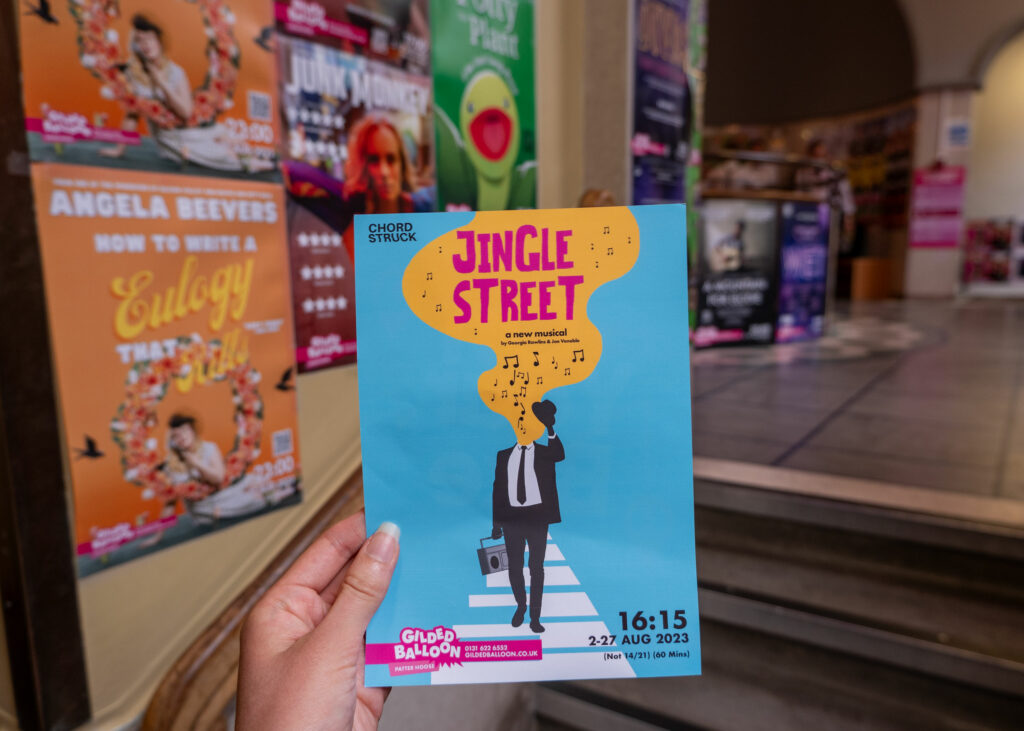 Final thoughts
A creative and fun new musical, Jingle Street is quite intense in its love-it-or-hate-it jingle theme but its playful and clever soundtrack help to widen the show's appeal. I look forward to seeing the company in action later today in their revival of On Your Bike. Jingle Street is playing at Gilded Balloon Patter Hoose (Other Yin, venue #24) from 2nd to 28th August, excluding the 14th and 21st.Tickets can be purchased via the Fringe box office.
Thanks for reading my blog today.
Love Kat xxxx
*My ticket for Jingle Street was gifted in exchange for a review.