[AD – PR invite*]
★★★★
Hip hop musical comedian Rob Broderick (Abandoman) took over the Westgate Hall in Canterbury last night, bringing his very own 'Future Fest' to the city centre. Known for his improvisational musical comedy shows, Broderick recently enjoyed a stint at the Edinburgh Fringe and has brought the same comedy rave to Kent this week. On a rainy Storm Ciarán evening, I headed to the city centre venue for Abandoman and my last review of the Canterbury Festival, with no idea how much I was about to laugh. The adults only show is full of expletive language so it won't be for everyone, but his infectious personality makes for such an enjoyable gig.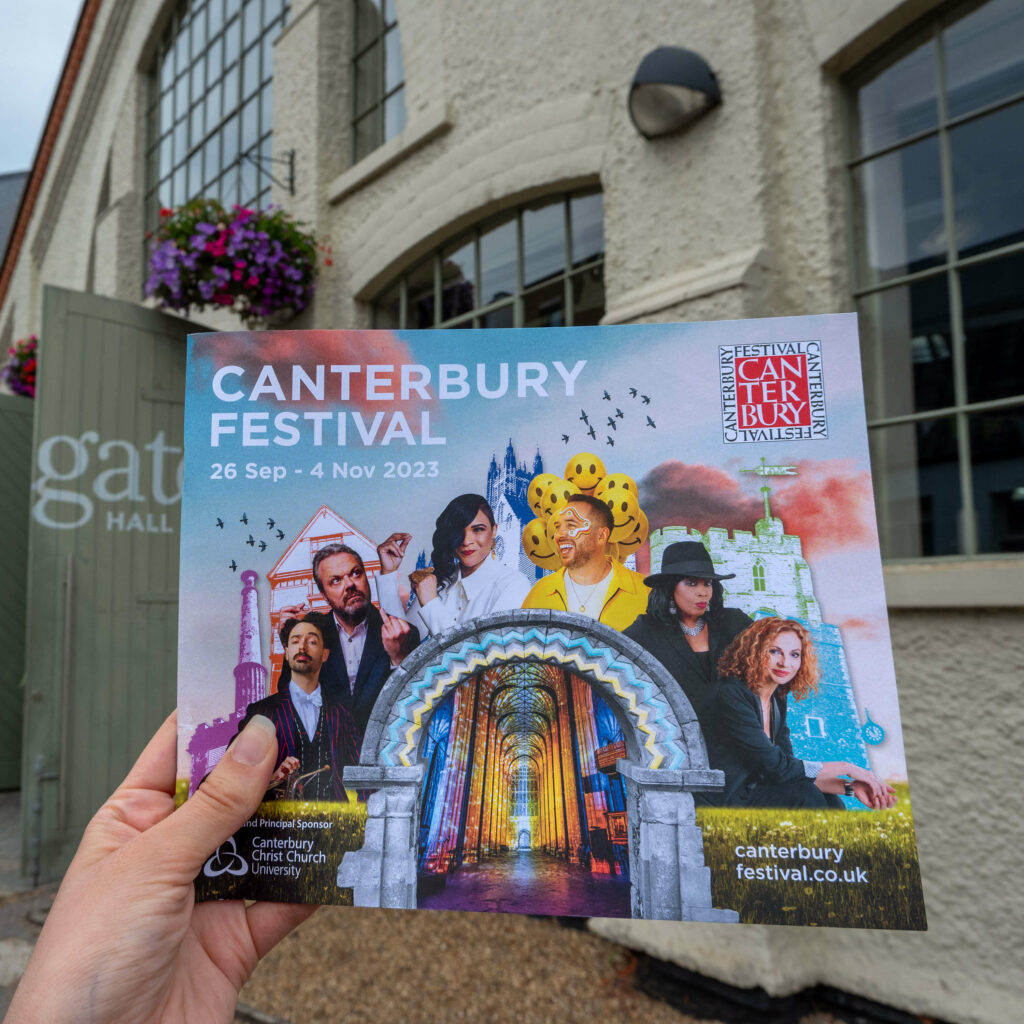 Overall concept
Featuring 60 minutes of improvisational, musical comedy, in Future Fest Broderick turns members of the audience into headlining acts of the evening's music festival. Following the Friday and Saturday night format of Glastonbury, the entertainment is driven by the audience's personal stories, with Broderick having to work on his feet to quickly interpret the words into rhyme and catchy musical numbers. It involves a lot of audience interaction and if you're not a fan of joining in, you'll find it hard to avoid Broderick's eye contact and the microphone, but it is wonderful to see the comedian be so supportive of anyone that gets picked out from the crowd.
An inventive start
Before the performance I had seen the trailer for Abandoman, so I was aware of the opening number, which involves Broderick asking everyone to take out the strangest items from their bags and pockets. Even though I had a feeling it might be coming, it was brilliant to see the Canterbury Festival version of this, as with improvisational work, the content differs at every performance. It was so funny seeing the performer rhyme about Rennies, PG Tips tea bags and boujee biscuits, opening the show with immediate audience interaction.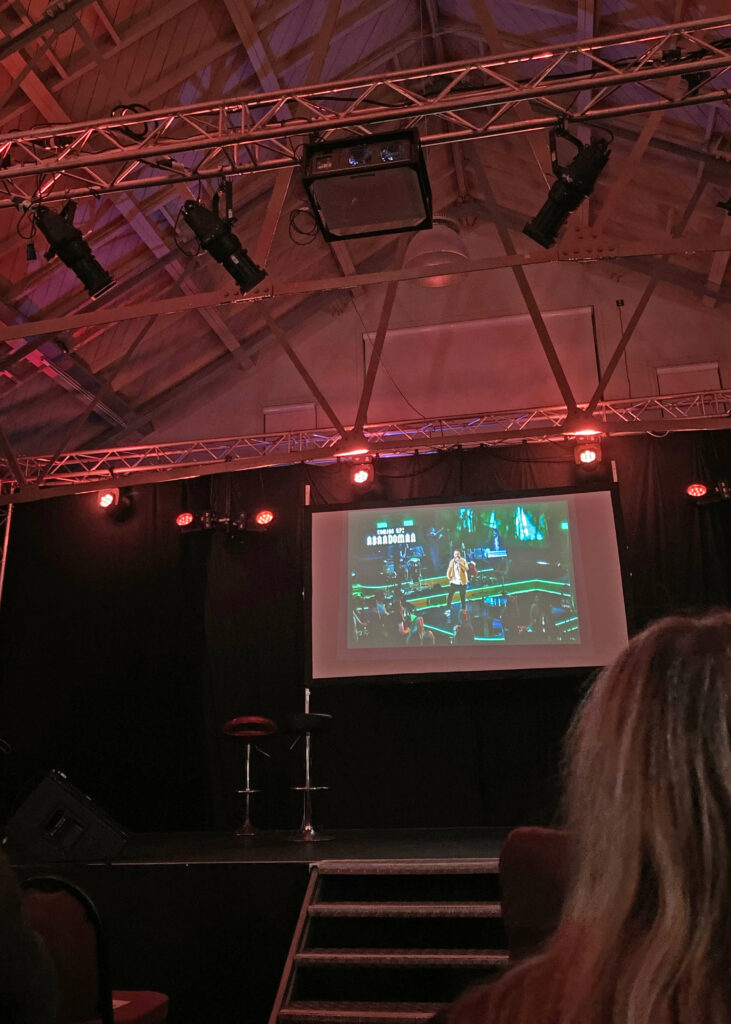 A friendly and supportive comedy show
An hour into this comedy gig, it felt as if the audience had all become friends and this is largely to do with Broderick's welcoming and encouraging approach to stand up. He has such a natural comedy style, so much so that when things go slightly wrong, you can't help but laugh along with him.
From having to find words to rhyme with 'mauve' and 'fruitarian' which each made an appearance in audience anecdotes, it is refreshing to see him think out loud and own it when things go slightly pear shaped. Improvisational comedy is complex and when you throw music into the mix too, it takes on another level of difficulty. It's bound to go slightly wrong in places, but that can be part of the fun of it all.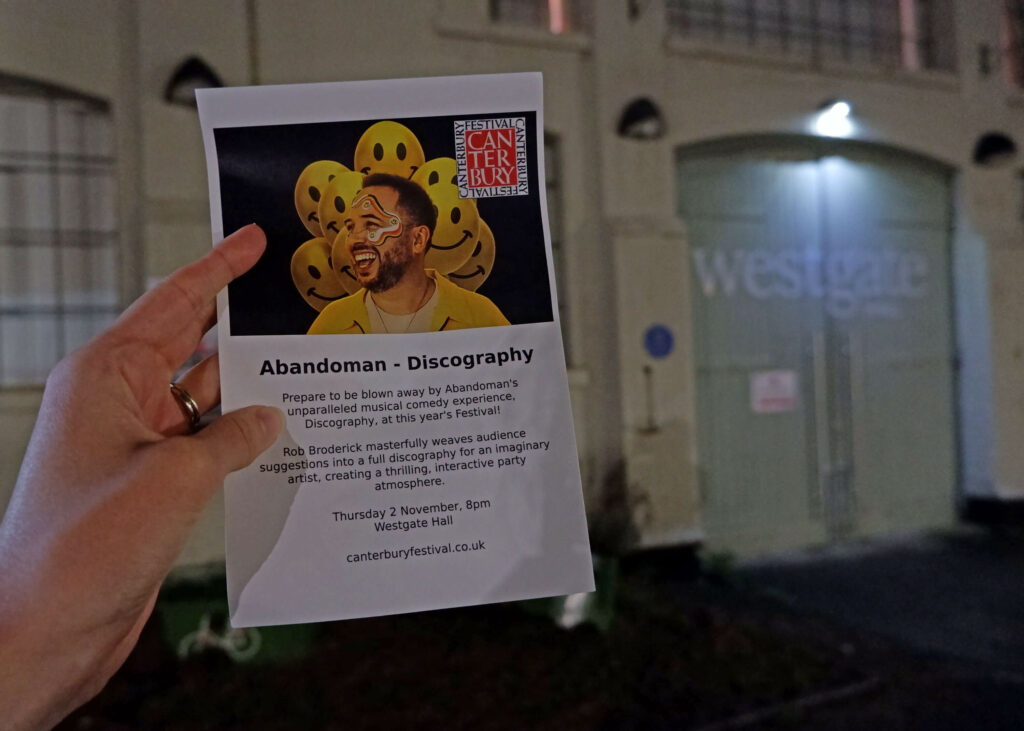 Combining memory and music
Cleverly using live looping to build the songs, I was impressed by how the musical comedian retains vast amounts of information throughout the performance and also uses technology to create multipart songs. Each musical number has a distinct hip hop sound that fits with the performer's overall brand but also has the audience laughing at the hilarious lyrics. On a few occasions I found that the music overpowered the comedy and I would've preferred Broderick to prioritise connecting the different stories and personalities in the audience over the musical value. That being said, the overall combination format keeps the material unique, pairing together everyday anecdotes with hip hop 'vibing'.
A guaranteed good time!
Abandoman is the escapism that everybody needs right now, bringing together music, lively audience interaction and natural, feel-good comedy. How he manages to connect the dots of approximately 10 peoples' stories is beyond me. It is a lot to absorb hearing everybody's experiences and a real challenge instantly turning them into songs that the audience can sing and laugh along to. Canterbury Fest sadly finishes tomorrow, but I've had a blast covering festival events in 2023.
Thanks for reading my blog today.
Love Kat xxxx
*My ticket for Abandoman was gifted in exchange for a review.