The Ashdown Forest has a special place in my heart. It's somewhere that Stuart and I have spent a lot of time and it's my own Disney playground – 1 hour 30 minutes from home. A. A. Milne used to spend a lot of time in the forest and it's where he was inspired to write Winnie the Pooh. Ashdown Forest is the real life 'Hundred Acre Wood' and today visitors can track down the book locations via various trails in the forest. From Pooh Bridge to Gill's Lap, there are lots of places for people to visit and there is even a Winnie the Pooh shop and tearoom in the heart of Hartfield (the Sussex village where the new Christopher Robin movie is set). After many day trips to the Ashdown Forest, we decide to book a countryside retreat for a few days in July and wow, did we discover a Pooh paradise in the forest.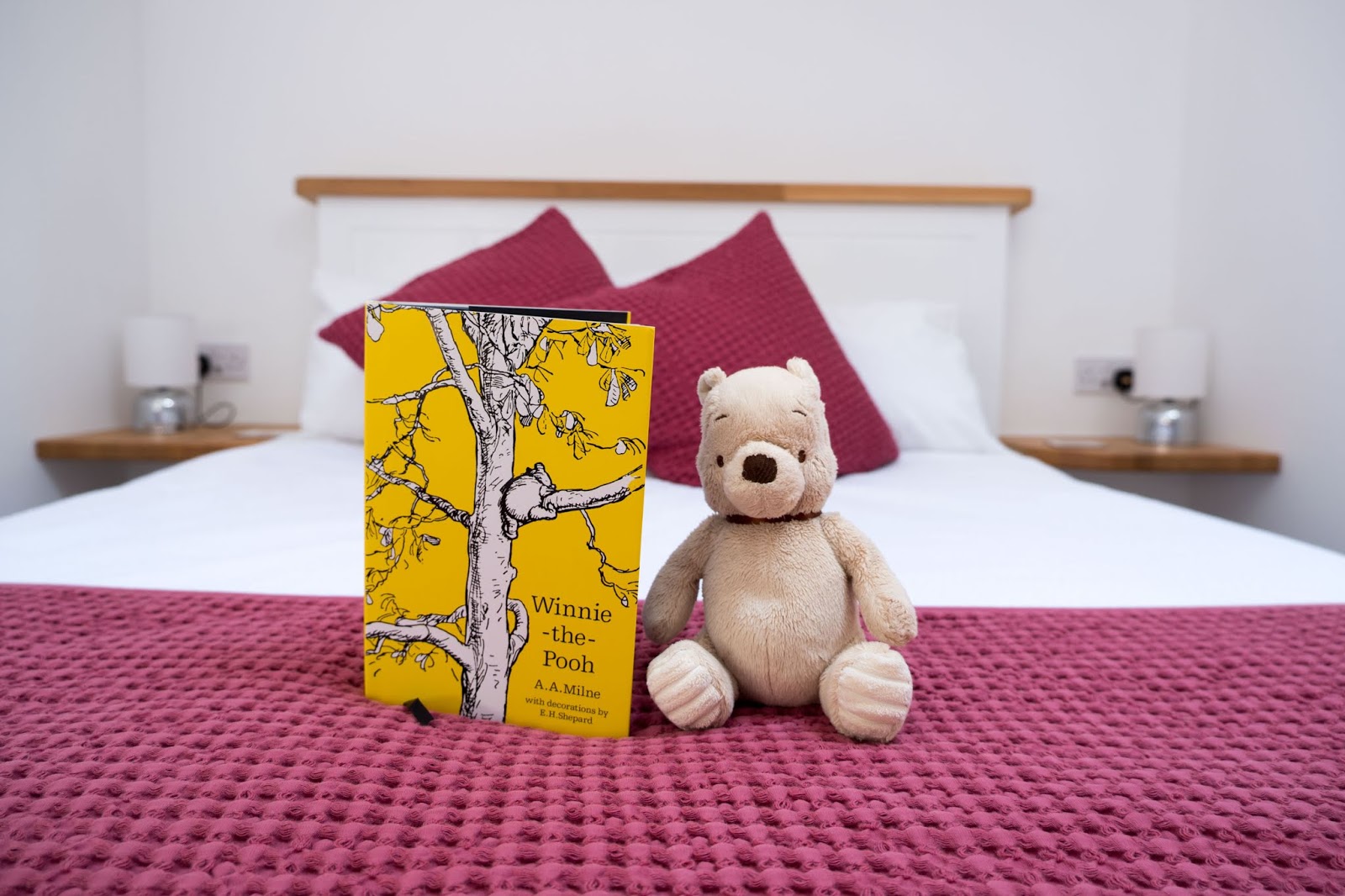 Eve's Hundred Acre Wood studio is located in a quiet part of the forest, about 10 minutes in the car from Hartfield. It's only been listed on Airbnb since 2018, but it's been extremely popular from the get go and I can certainly see why – the Pooh theming is adorable. The forest is incredibly remote so you need a car to stay at Eve's place but she has plenty of parking and you'll be grateful for your car when it comes to finding the Winnie the Pooh attractions.
Arrival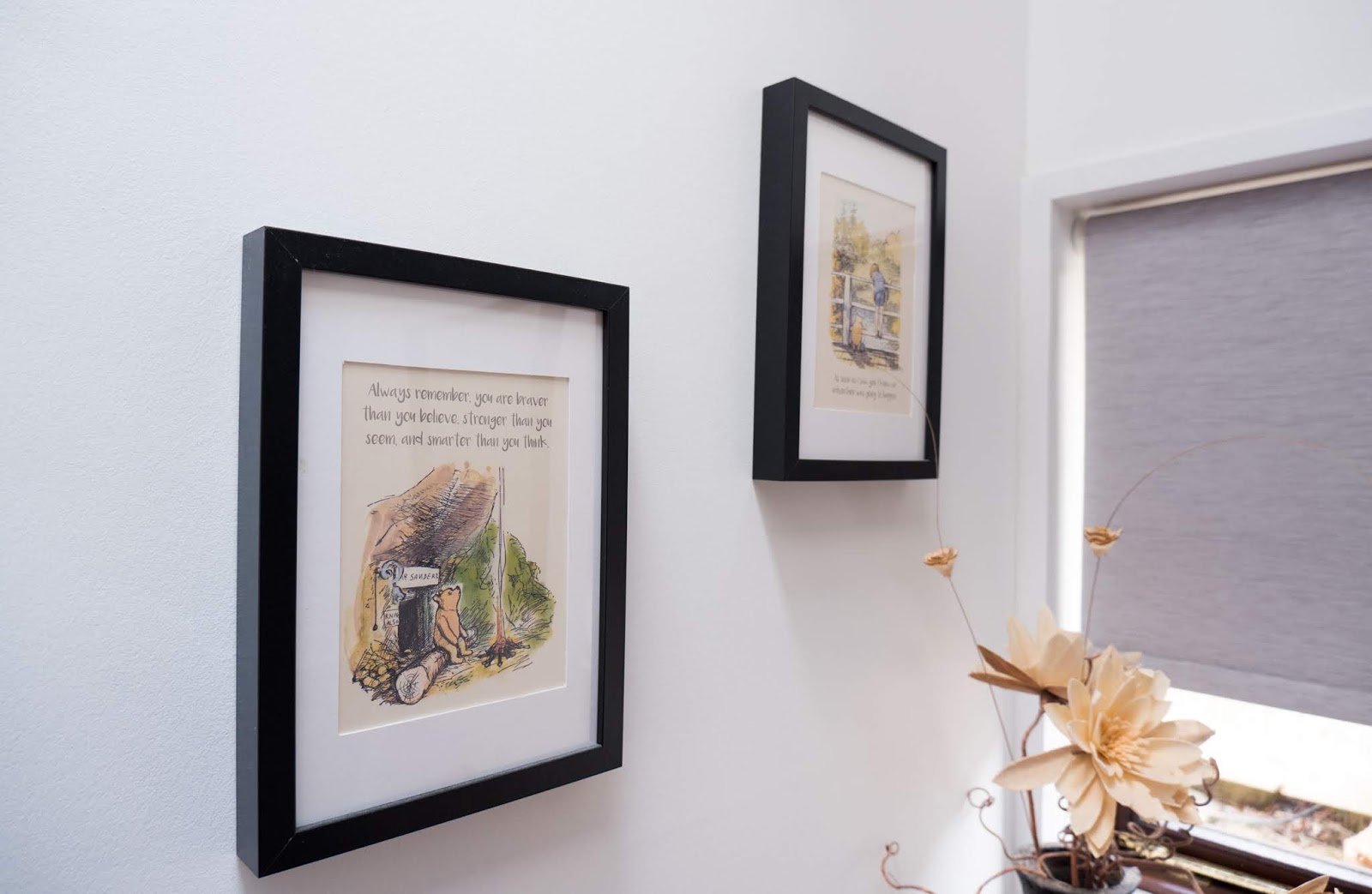 Eve let us into the airbnb at midday, which was extremely helpful for us as we wanted to refrigerate the food and drink that we'd brought from home. When we're staying in an airbnb we tend to take snacks with us so that we can save some money and this trip was no different – we arrived loaded down with our supermarket shopping. Once we were inside we quickly noticed Eve's attention to detail. Winnie the Pooh artwork was dotted on the walls alongside a hanging quote and some nature-themed home accessories: all reflecting the studio's spectacular location. The studio was light, bright and airy for a relatively small apartment, making it a lovely place to stay in the Summer.
Facilities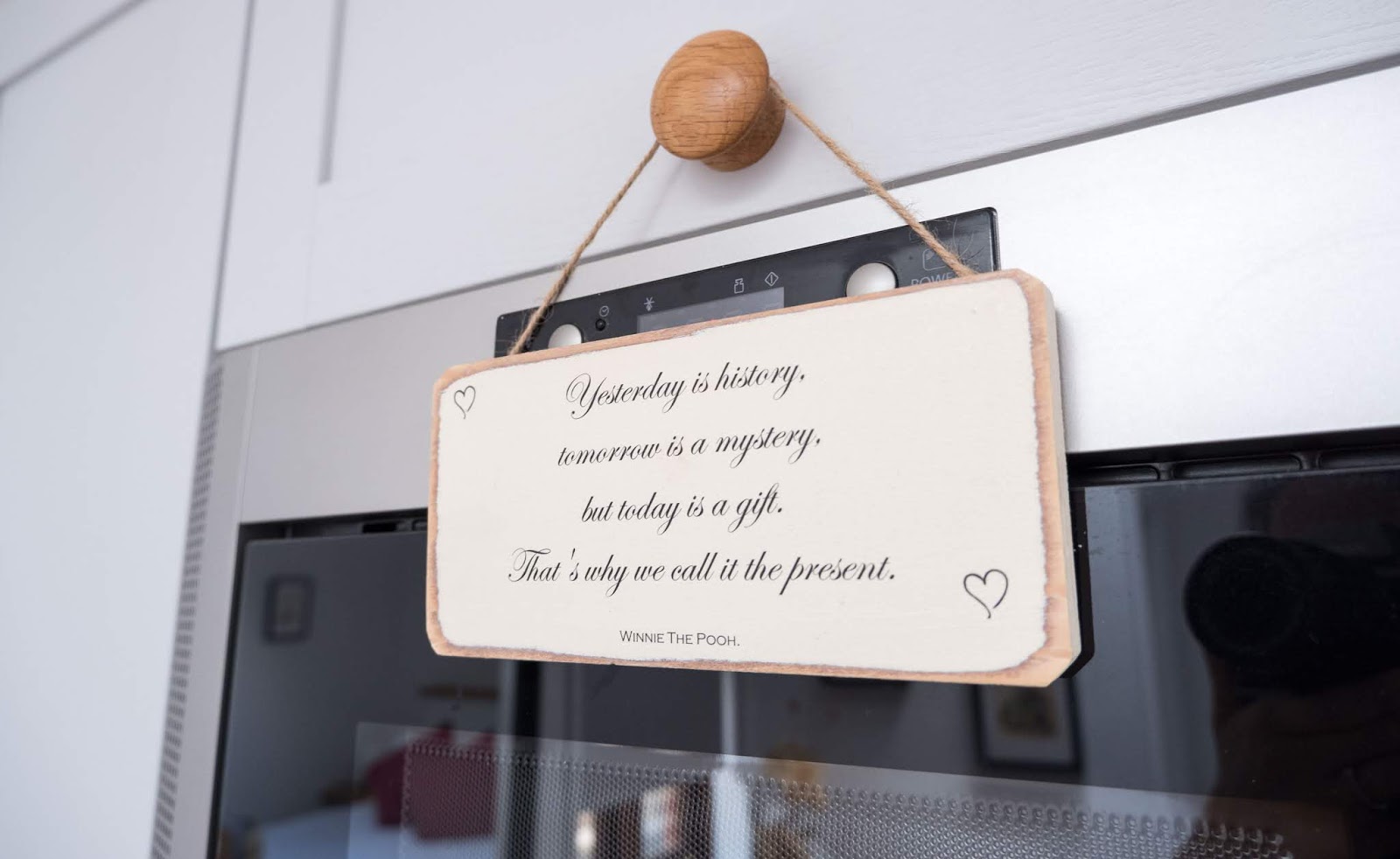 In terms of kitchen facilities, there was a kettle, toaster, fridge, microwave and 2-ring hob. There was no oven, but for a couple of days it's pretty easy to cope without one. There was a monsoon-style power shower, a hair dryer and many toiletries, so you certainly had everything you needed for a mini break. As a note, if you fancy watching TV make sure you bring a tablet or laptop from home as there is no TV in the studio. We watched on demand services via my laptop and were happy enough on the 2 evenings.
Location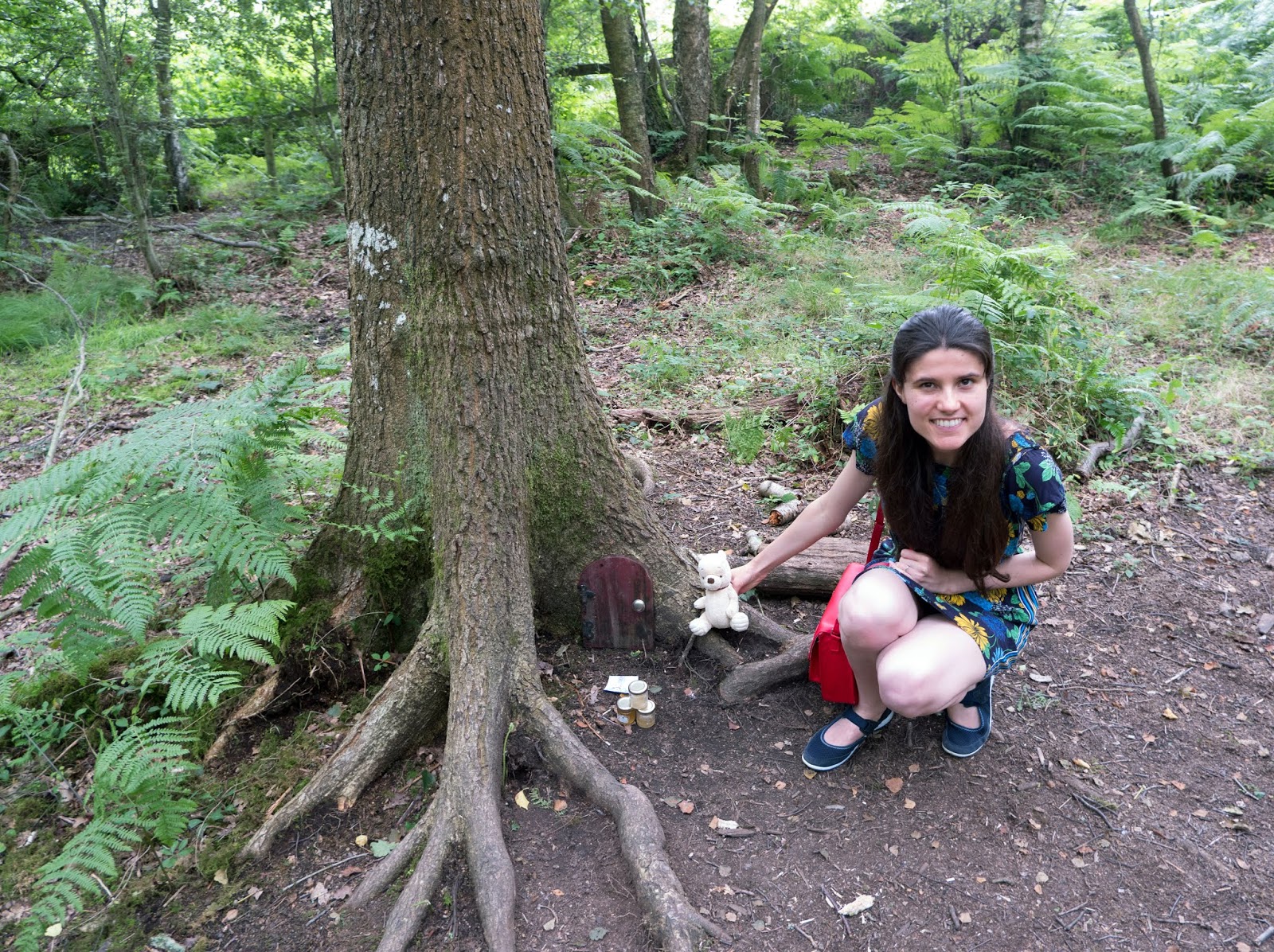 Eve's studio backs onto the forest and if you're a fan of walking, you can take lots of hiking trails direct from the studio. We were mainly there for the Pooh walks so we always drove straight from the airbnb down into Hartfield, but if you're keen to explore more of the forest when you're visiting, definitely bring some walking shoes.
How to book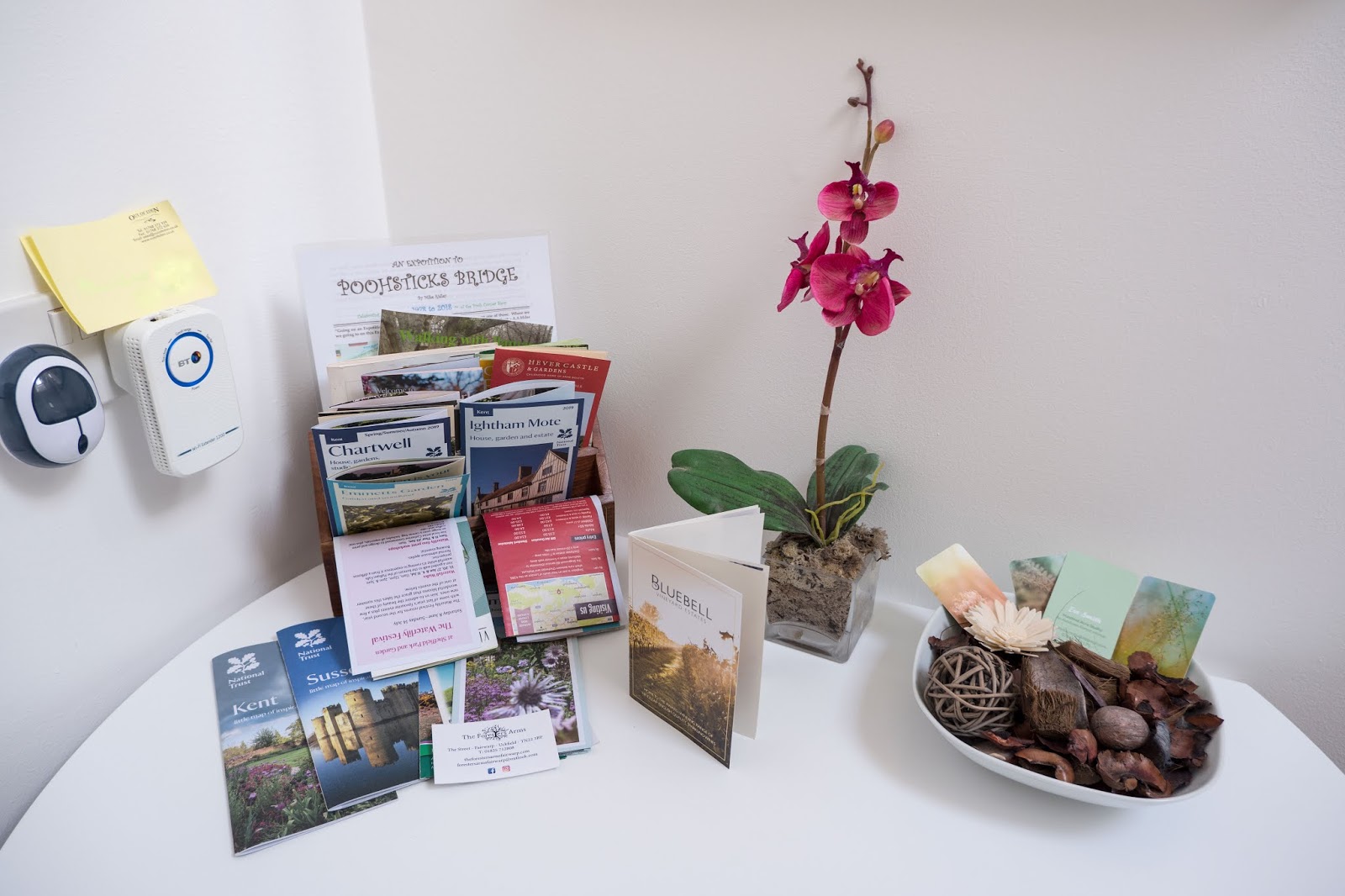 Eve's place is very popular on Airbnb so make sure you book in advance to secure your Winnie the Pooh retreat. She's very responsive on the platform and will work around your schedule.
Eve's place is a dream holiday home for any Winnie the Pooh or Disney fan. We had a lovely couple of days in East Sussex and would highly recommend her airbnb. It is so special being able to stay in the heart of the Hundred Acre Wood.
Thanks for reading my blog today.
Love Kat xxxx