2021 has certainly got off to a quiet start, with England being under lockdown since 4th January. Restrictions have gradually been easing since March and after 12th April we were finally able to plan a day out to Ashdown Forest, ending with lunch in the Pooh Corner tea garden in Hartfield, East Sussex. With plenty of outdoor Pooh sights to visit, on Saturday 1st May we set off for a COVID-safe day out in the real life Hundred Acre Wood, almost 2 years since our last visit.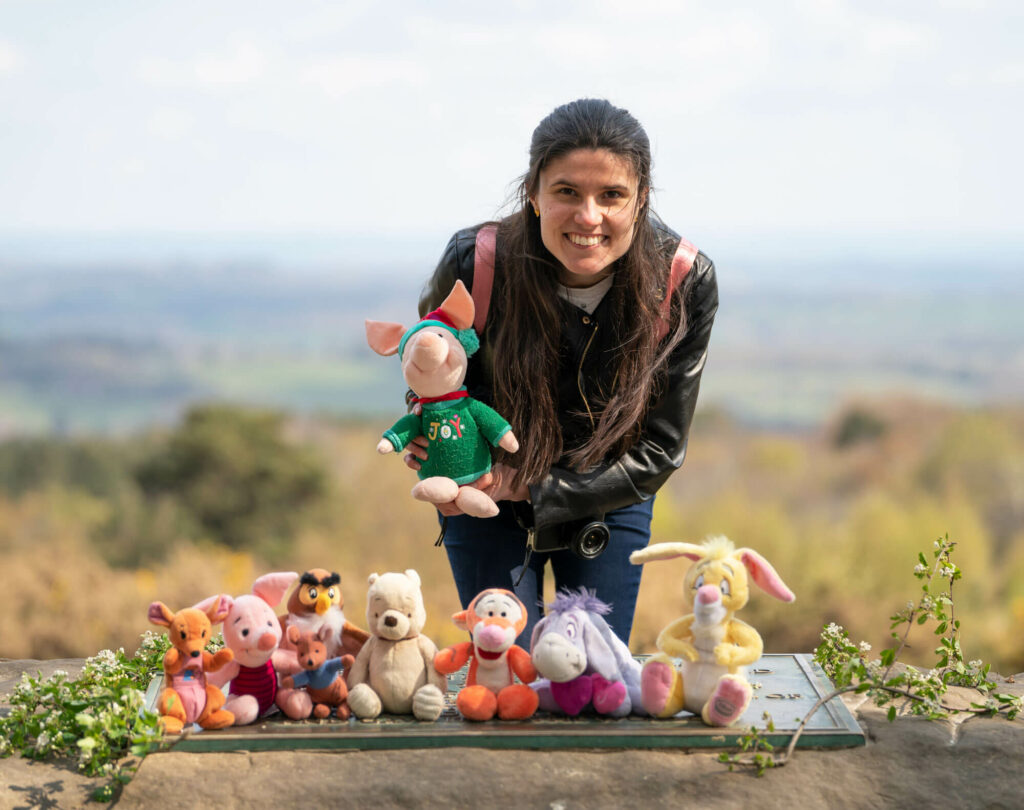 Gills Lap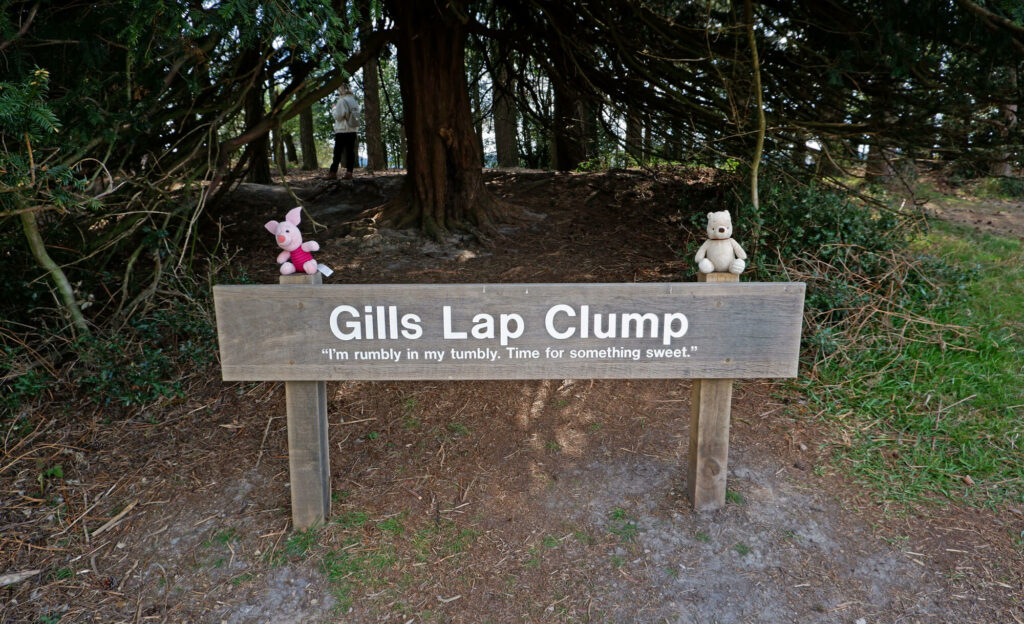 We are fortunate to live in a relatively green city, with lots of parks and open spaces either a walk or short drive away. However it's not the countryside by any means and when we drove into the Ashdown Forest on this sunny Saturday, I couldn't help but smile at the beautiful landscape. As we parked at Gills Lap (Galleons Lap in the books) and got out of the car, all you could hear was the peaceful hum of nature, with very few vehicles in sight. We met up with my parents at the car park and started the first Pooh walk of the day: the 1km stroll to the A. A. Milne and E. H. Shepard memorial and back. Once we reached the memorial and looked out at the spectacular view, I immediately recognised the unique landscapes that inspired the stories we know and adore. Ashdown Forest is really quite special and at this precise moment, I realised how much I missed being able to visit in 2020.
Pooh Bridge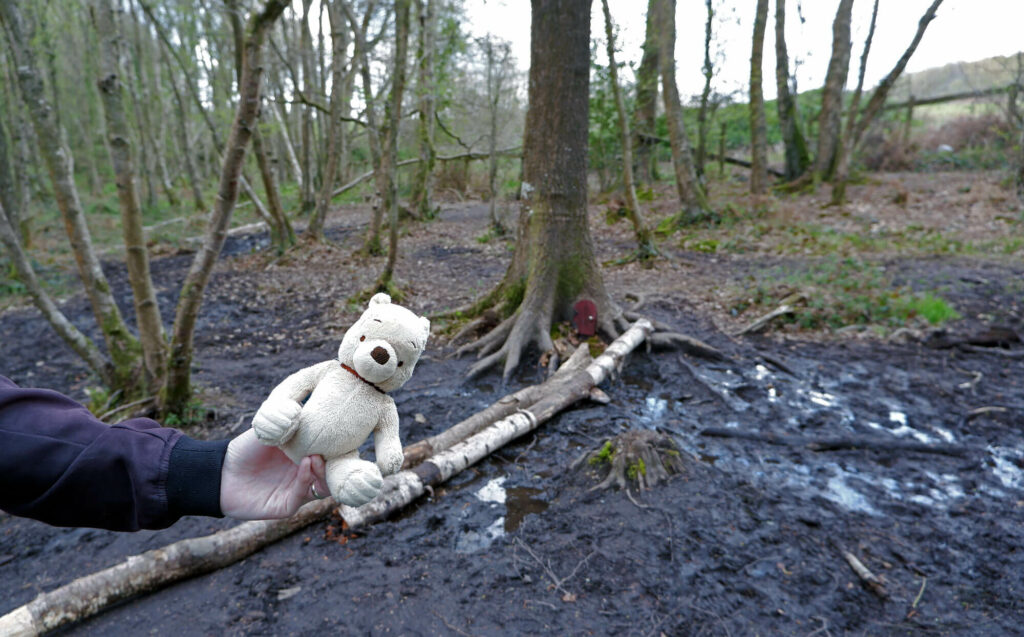 Once we'd finished the route, we jumped back in the car and headed down the hill to the world-famous Pooh Bridge. The bridge is about 10 minutes walk from the appropriately named Pooh car park and on the walk down to the iconic poohsticks location you can see Owl and Pooh's houses in the trees. It was a little muddy when we visited, but that didn't stop us from taking a photo of my classic Pooh plush in front of the little door!
Spring was in the air when we reached Pooh and friends' playground, with the sun shining above and the beautiful bluebells growing next door. We thoroughly enjoyed roaming the woodland around the bridge, taking in the wonderful landscape that inspired A. A. Milne all those years ago.
Outdoor dining at Pooh Corner Ltd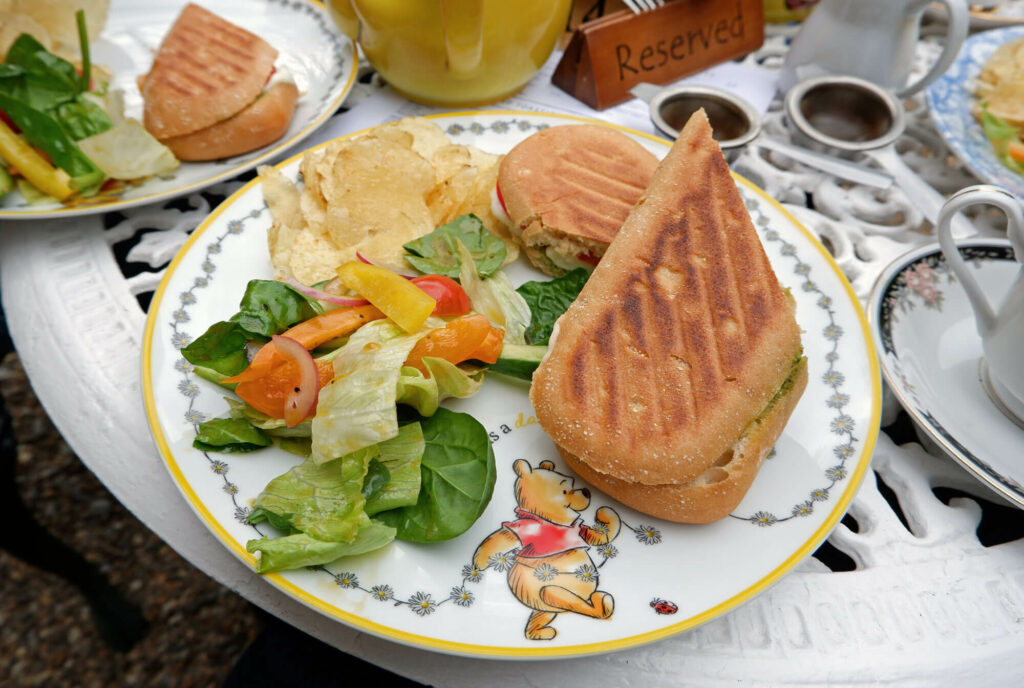 With a 'rumbly in our tummies' as Pooh would say, we headed down to Hartfield for lunch at Pooh Corner Ltd. When we visited the tearoom the indoor seating wasn't able to open yet as a result of government guidelines. This didn't affect us at all, with the weather being so glorious and us having a great little table in the corner of the garden. After months indoors, it was lovely to be able to spend some time outside at my favourite tea and cake spot. Lunch highlights included fresh pots of tea, toasted ciabatta sandwiches and Victoria sponge cake, set on some vibrant Pooh crockery.
Souvenir shopping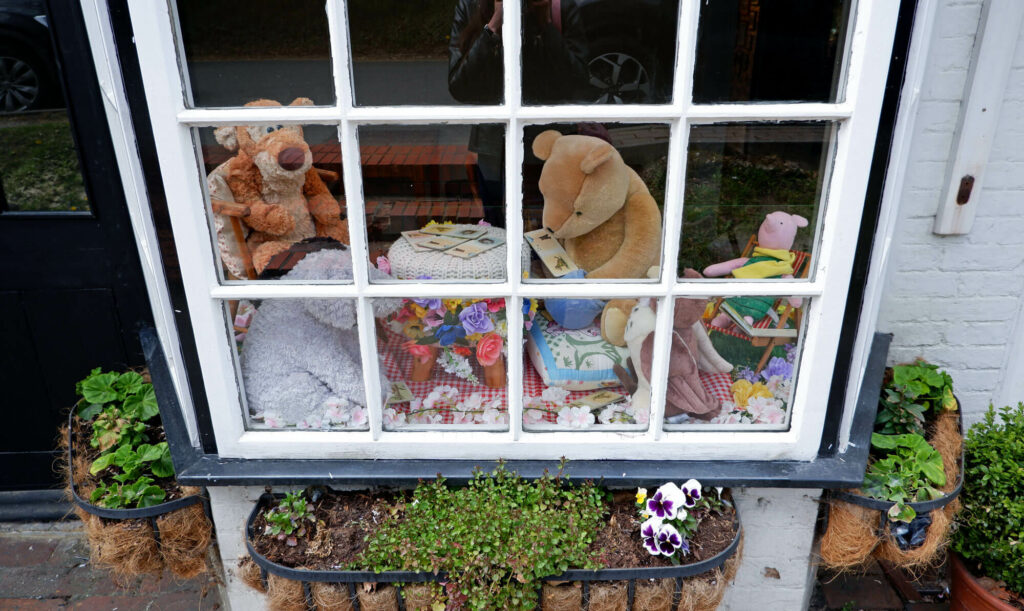 No trip to Pooh Corner is complete without a visit to the store and fortunately we were able to pop inside before it was time to head home. With cabinets and shelves full of Pooh-themed gifts, it's a really special store for fans of A. A. Milne's books. We've recently started collecting magnets for the fridge and with Pooh Corner having their own range of souvenirs, we were able to purchase a magnet showcasing the exterior of tearoom! Next time we visit Pooh Corner, the Poohseum should be back open: a relatively new attraction that opened towards the end of 2019. I can't wait to learn more about A. A. Milne and the origins of Winnie the Pooh!
I am struggling to put into words how wonderful it was to be back in the Ashdown Forest. This was our first proper day out of 2021 and what a great way to start the year, following in the footsteps of A. A. Milne and E. H. Shepard. We felt very safe exploring the Pooh sights and having lunch at Pooh Corner. The staff have done an amazing job making the tearoom COVID safe! I cannot recommend Ashdown Forest enough for a day out or UK staycation this Summer.
Love Kat xxxx