This time last year my husband and I had just got married at the beautiful Broome Park Hotel on the outskirts of Canterbury. Saturday 19th December 2020 was the best day of our lives and albeit smaller than planned due to the pandemic, we were just so pleased to officially be husband and wife. The team at Broome Park did everything they could to make it as special as possible for us, even sending our loved ones home with takeaway afternoon tea as reception meals weren't permitted under the COVID rules at the time. The sun actually came out when it was time for photographs and we felt very lucky to have had such a wonderful Christmas wedding at the historic Broome Park.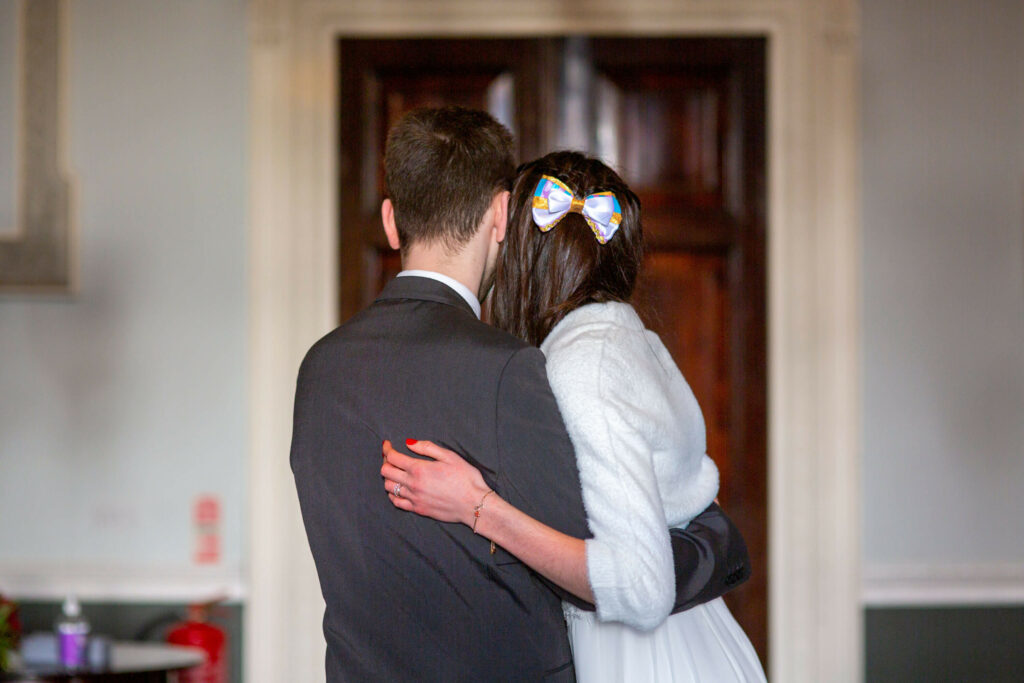 Fast forward a year to Sunday 19th December 2021 and COVID-19 is still very much part of our lives, so much so that we had to cancel our 'mini-moon' to Disneyland Paris. As much as we were disappointed, we completely understood the reasons for the enhanced testing and additional travel restrictions, and decided to book a last minute stay in one of the woodland lodges at our wedding venue instead. We pre-booked a festive afternoon tea for the exact time we got married (1pm), an evening meal in the Kitchener Restaurant (Broome Park was once owned by Lord Kitchener) and were determined to still celebrate our first anniversary, just a little closer to home than originally planned.
Arriving at the hotel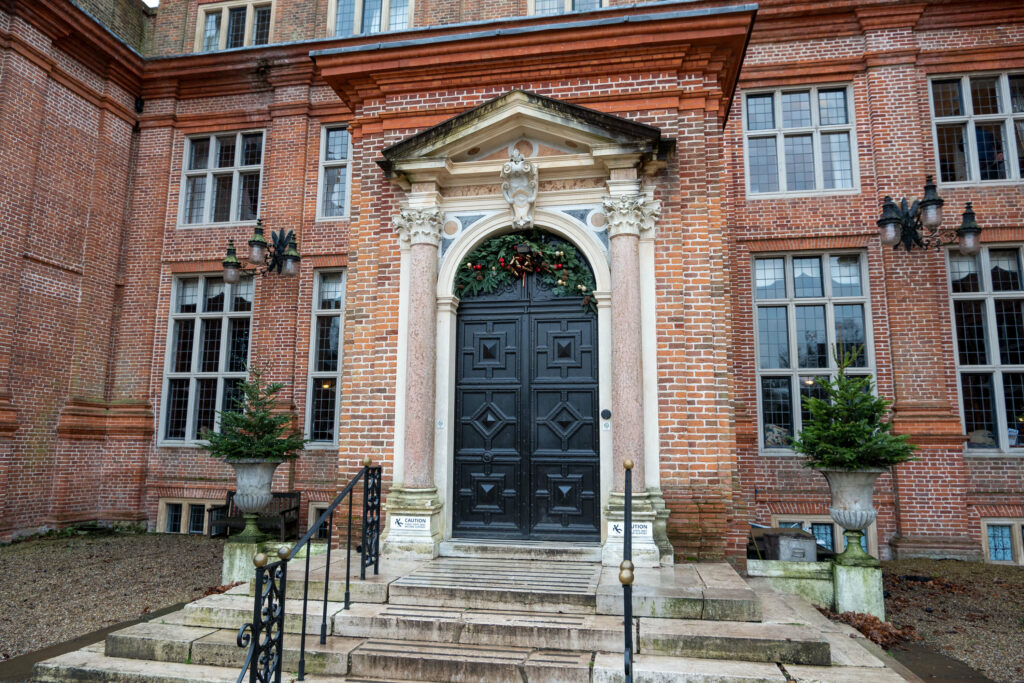 On arrival, the hotel looked just as beautiful as we'd remembered. From the festive arrangement above the entrance to the impressive ceiling-high tree in the lobby, Broome Park puts so much effort into its Christmas decorations. We headed straight to reception and a member of staff kindly led us to our afternoon tea reservation in The Kitchener restaurant.
Festive afternoon tea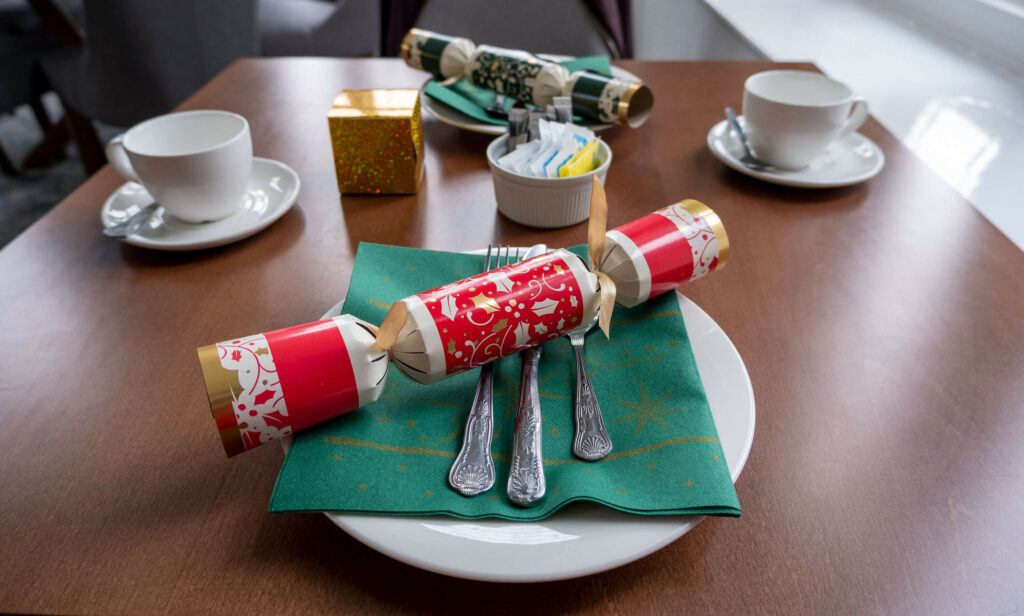 There were crackers, festive-themed napkins on the table and Christmas tunes playing in the background, which were such a lovely touch for guests. The afternoon tea itself featured teatime classics such as scones, finger sandwiches and mini slices of cake, as well as seasonal mince pies and a pot of eggnog panna cotta snowball. I ordered the vegetarian version of the afternoon tea, but the regular tea even featured a turkey and cranberry finger sandwich, how festive! The afternoon tea treats were absolutely delicious and at £19.95 a person including tea or coffee, I thought the price was extremely reasonable. In central London you'd pay closer to £50 a head. Booking the festive afternoon tea was a lovely way to celebrate our anniversary and the start of our time off work this Christmas.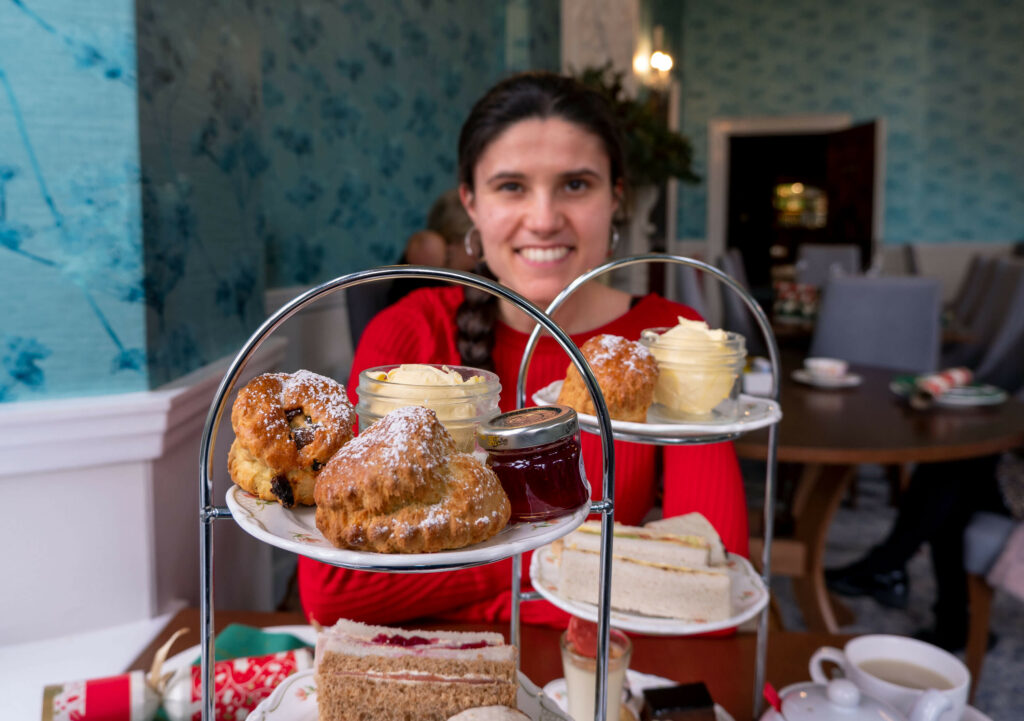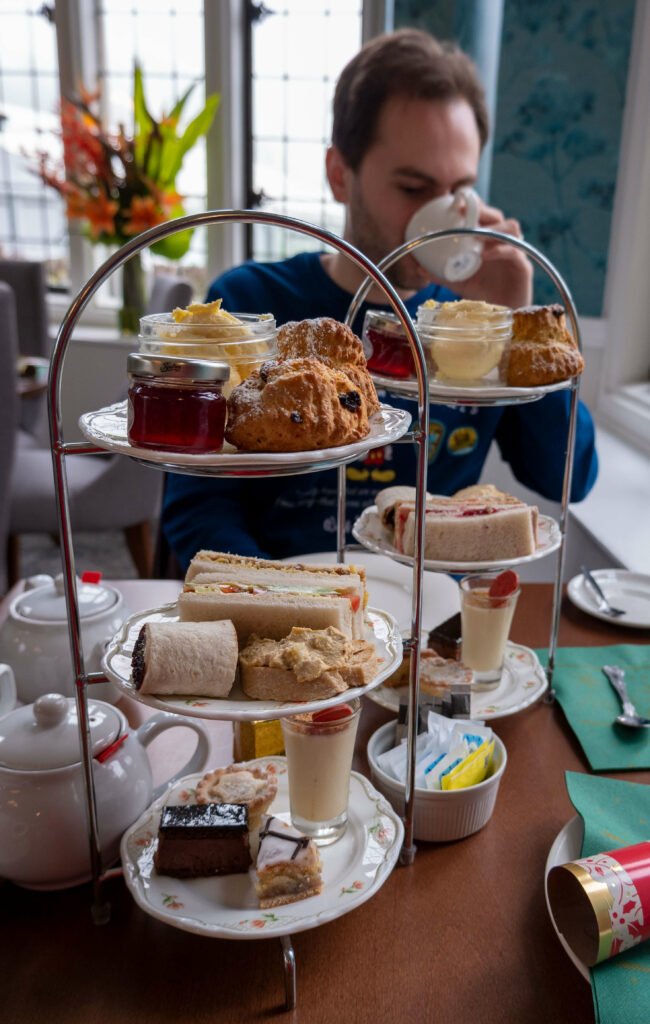 Our woodland lodge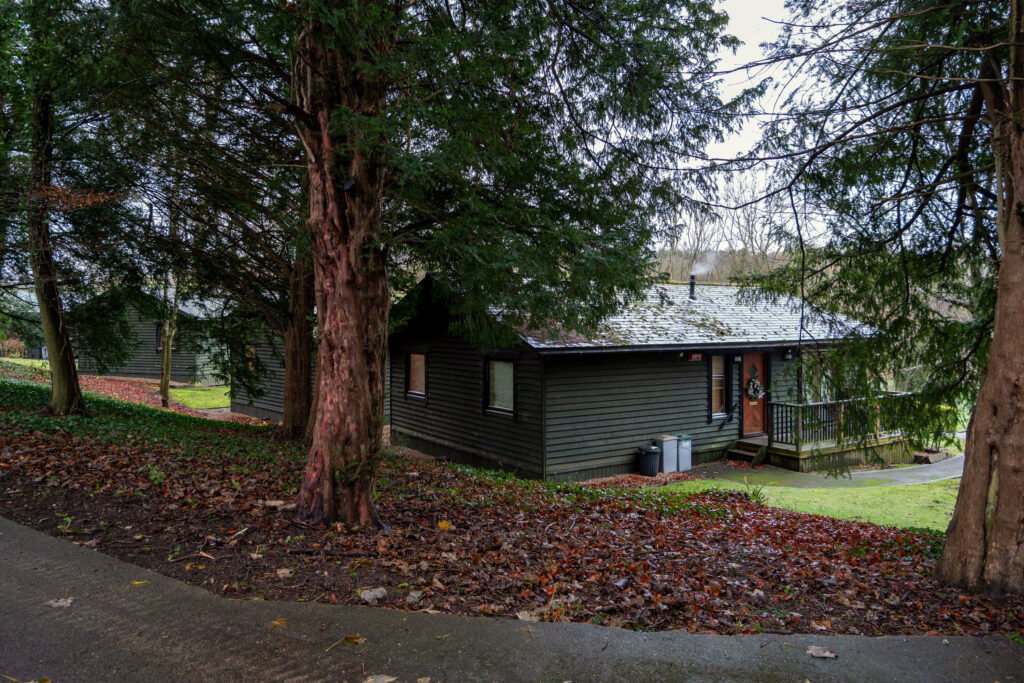 By 3pm it was time to check into our woodland lodge, which was a short walk or one minute drive from the main house. Broome Park has eighteen suites (doubles, twins and family rooms) above reception and fourteen on-site lodges that each provide accommodation for up to six people. Opting for a lodge was an anniversary treat and when we entered it was so cosy and comfortable. The lodge had large windows that showcased expansive views of the estate and woodlands. It was a little oasis in the Kentish countryside. Facilities wise, there were two bedrooms, two bathrooms and a lounge with a kitchen-diner. If we'd booked to stay for more than one night, I'd have definitely brought ingredients with us to make dinner in the lodge, but on this occasion we headed back to The Kitchener for dinner.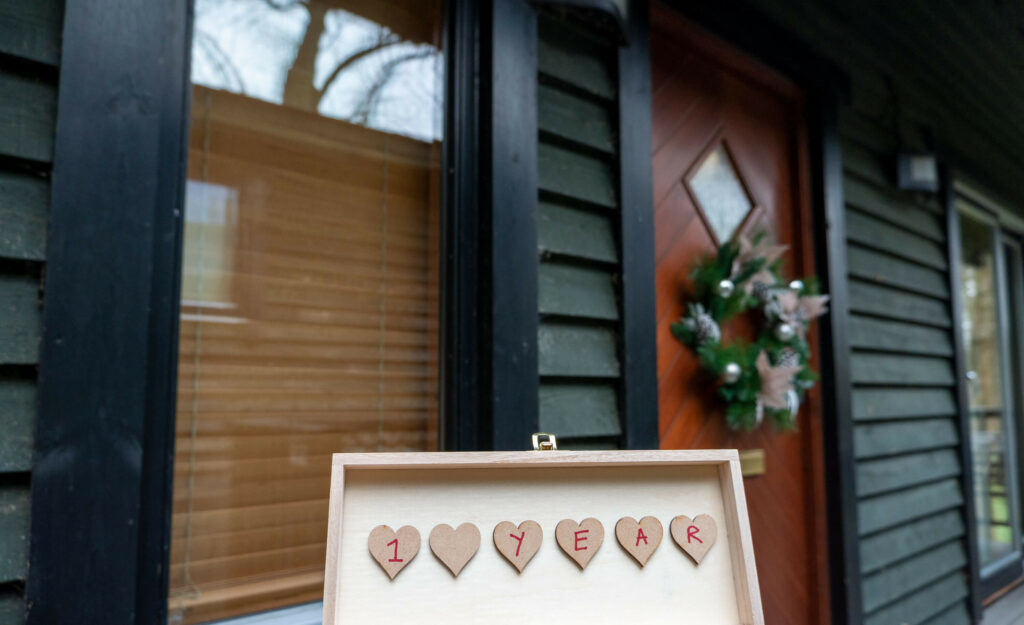 Anniversary dinner at The Kitchener restaurant
Our evening meal was absolutely wonderful! I picked a Winter spiced parsnip soup for starter and a chickpea & butternut squash curry with basmati rice for my main course and both options were delicious. I really like how much the hotel focuses on offering seasonal dining options; it definitely keeps things exciting throughout the year! My husband was also thrilled with his ham hock terrine and steak; we kept saying how much we'd like to come back to Broome Park for dinner again soon. Our first anniversary dinner ended on a high with the hotel offering us celebratory complimentary desserts to finish. It was a really unexpected gesture that made our meal all the more special! A short after dinner stroll back to the lodge brought us to the end of a perfect day. The lodge was extremely toasty and inviting; the woodland accommodation is perfect for a Winter getaway!
Breakfast the following morning
The next morning we headed back over to the main house just in time for checkout. Breakfast was available from 8-10:30am, meaning we could make the most of the serene setting right up until the time that we needed to give the keys back. Cooked breakfast options included a full English or three-egg omelette and we were able to enjoy them as brunch, before getting back into the car to go home. Hot food was made to order and there was a cold buffet including cereal, pastries and toast available in the next room.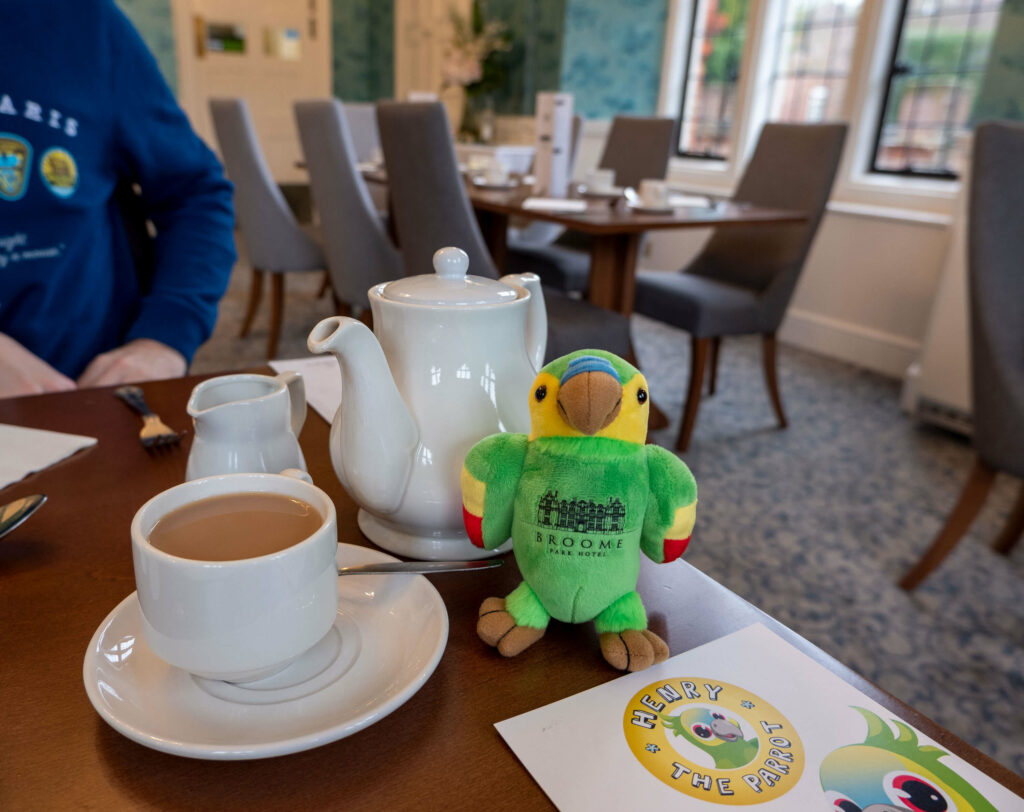 We had such a wonderful festive couple of days at Broome Park. It was so lovely to be back at our Wedding venue, exactly one year on. Being surrounded by festive decorations and wonderful food was just what we needed to kick start the final countdown to Christmas!
I hope you all have a very merry Christmas and a happy new year. It's been a difficult year for so many, but we've made it to the end and can finally celebrate with our loved ones. Stay safe and keep well!
Thanks for reading my blog today.
Love Kat xxxx