Whilst we were away for the weekend in Bratislava and Vienna, I collected tangible memories from our trip such as boarding passes and tickets, that I could take home with me and put aside to use in my scrapbook. I went into tourist information centres, museums, galleries and souvenir shops, looking for leaflets and maps that I could cut up and display on my pages about the trip. My scrapbooks are always filled to the brim with photos, stickers and craft materials, but it's the leaflets and tickets that I pick up whilst I'm away that make the adventures come alive in my books. My mantra whilst I'm away is 'collect everything and anything' because it's always much easier to throw materials out when you get home, than sit there and feel like you don't have enough trip memories to stick in your book.
Postcards
I picked up a variety of postcards in Bratislava and Vienna, some photographic and some arty. I found it really easy to find postcards in Bratislava (and cheap ones too). It was a bit more difficult to choose postcards for Vienna, purely because there were so many different ones available in the shops and they were also on the more expensive side. I love collecting postcards, but sometimes I cut sections of them out for my books, so it's not worth paying more than about €1-1.50 for them.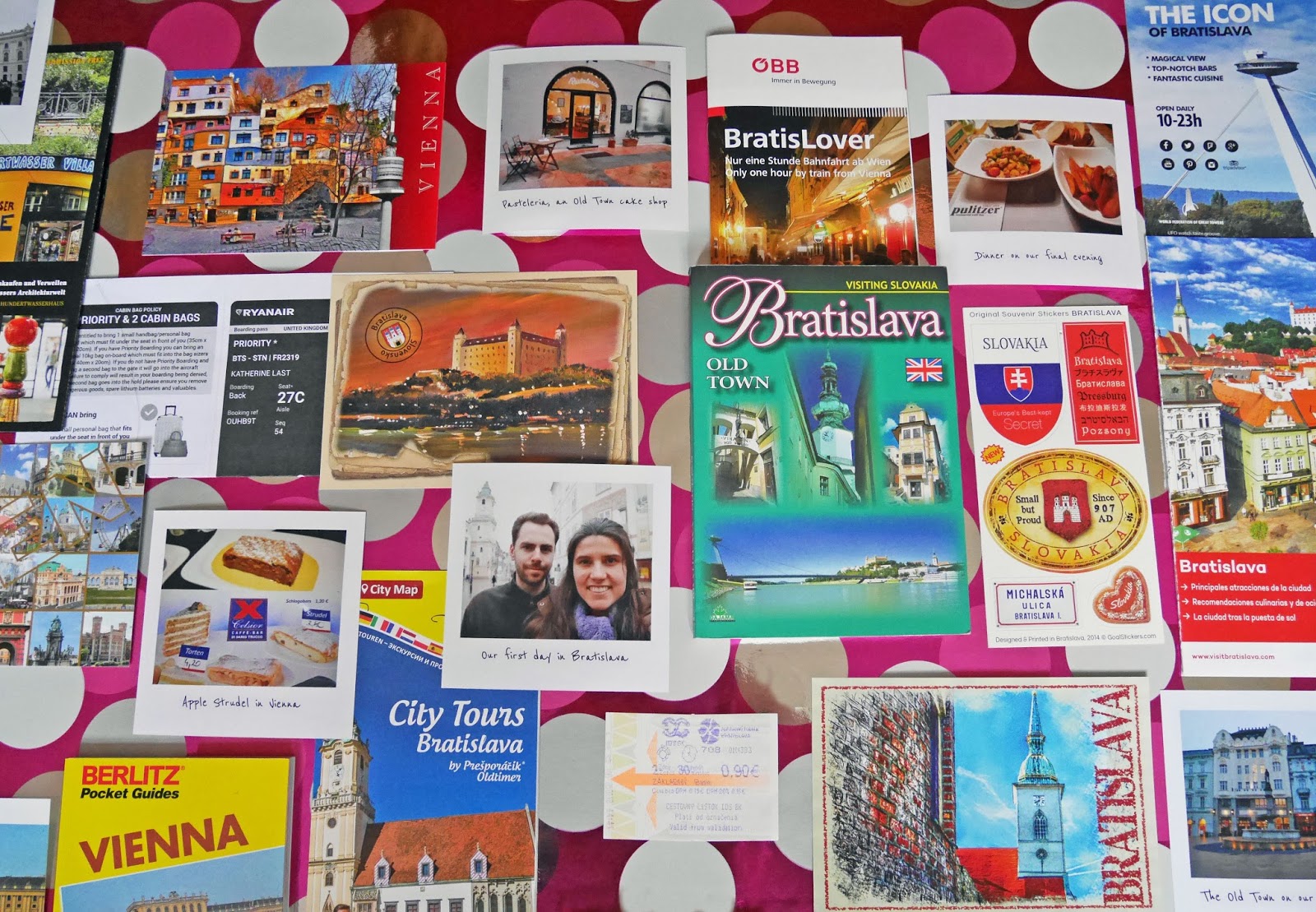 Stickers
Stickers aren't so easy to find when you're in a foreign country, so I was really thrilled to find some Slovakia-themed stickers in one of the souvenir shops in Bratislava Old Town. The stickers were €2.50, so a little pricey for a single sheet of stickers, but I knew I wouldn't be able to find any easily back in the UK, so I decided to buy them.
Tickets
I kept our boarding passes, public transport tickets and museum tickets from our weekend away. Tickets look lovely in collages, as they often have printed dates and images on them, so every time that we went into a tourist attraction, I made sure that I put the tickets in a safe place in my handbag afterwards. At Bratislava Castle, we didn't have to pay for entry as we were visiting on the first Sunday of the month – a free day. We still needed tickets to go inside the castle, even if we didn't have to pay anything for them, so it was great to be able to get a castle ticket for my scrapbook.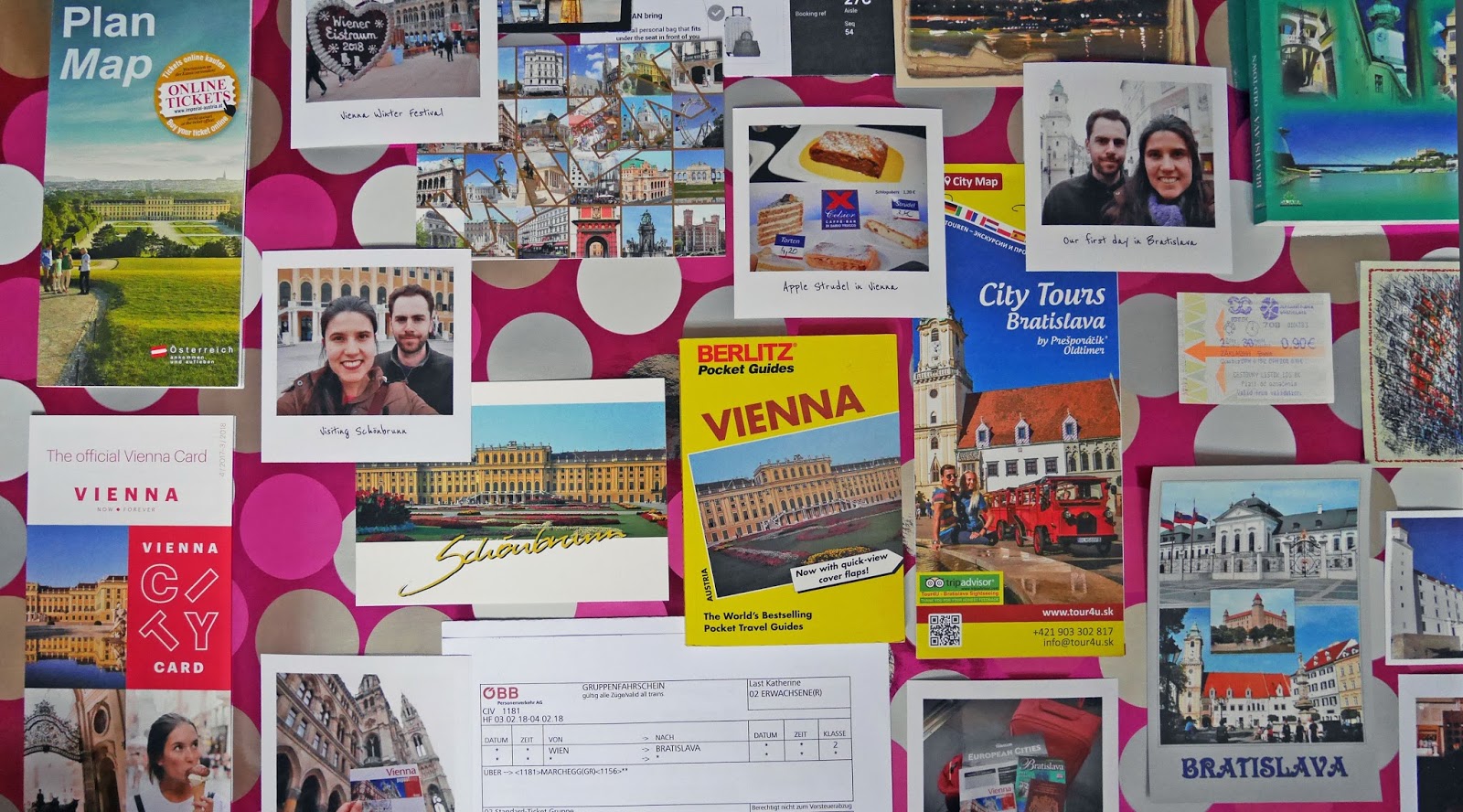 Business cards
I picked up a few business cards for cafes and tourist attractions that we went to, whilst we were in Bratislava and Vienna. You often find these on the counter when you pay for your food at cafes or when you visit the ticket office at a tourist attraction. They're a perfect keepsake to add to your scrapbook, that will remind you about all of your foodie and sightseeing adventures. Stuart's really good at spotting business cards and he found one for Pasteleria whilst we were in Bratislava. Pasteleria was an adorable little cafe that we visited twice during our trip. Pasteleria reminded me of independent tea rooms that we have in the UK.
Photos
I snapped away and took tonnes of photos whilst we were away for the weekend. I ended up printing 40 photos from the trip as soon as we arrived back in the UK, as Printiki (my favourite photo printing service) had a 20% off discount code. Printiki retro prints look fab in scrapbooks and if you fancy purchasing some for yourself, you can get free delivery with my referral code: R5A6WVBV.
Do you make scrapbooks? What materials do you collect for them whilst you're away on holiday?
Thanks for reading my blog today.
Love Kat xxxx