Bruges is popular with tourists all over the world, despite being relatively small in comparison to other European cities. People are drawn to Bruges' cobbled streets, waterways and classic Flemish architecture, which have avoided modernisation and stayed true to Belgian heritage. Bruges doesn't have a huge amount of tourist attractions per say, but it's ambiance and slow pace make it the perfect location to visit for a weekend of shopping, good food and leisurely wandering. In today's post I'm going to talk about my recommendations of things to do in Bruges, which cover food, places to visit and experiences in the city.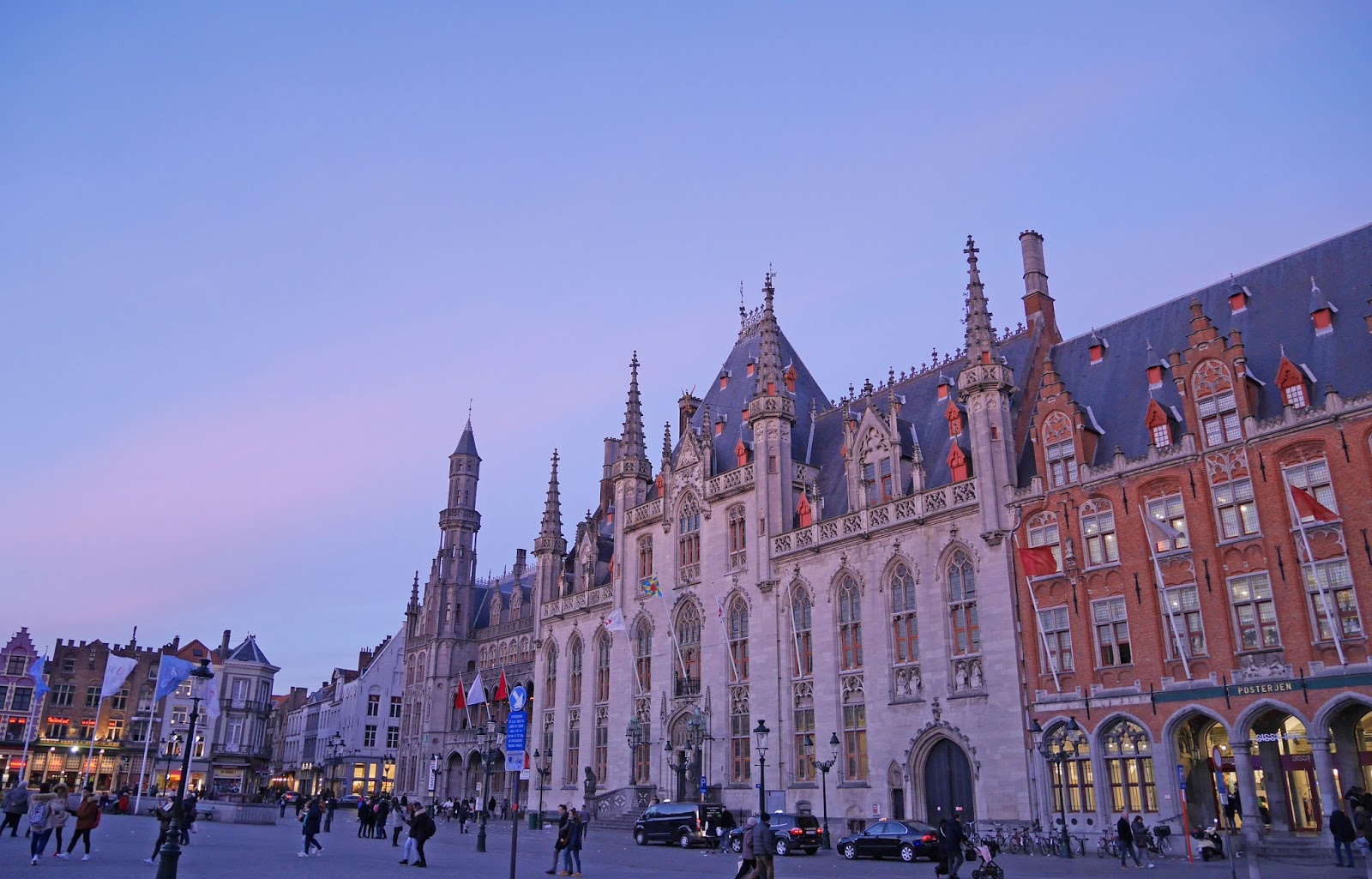 1. Eat waffles in the city's Market Square.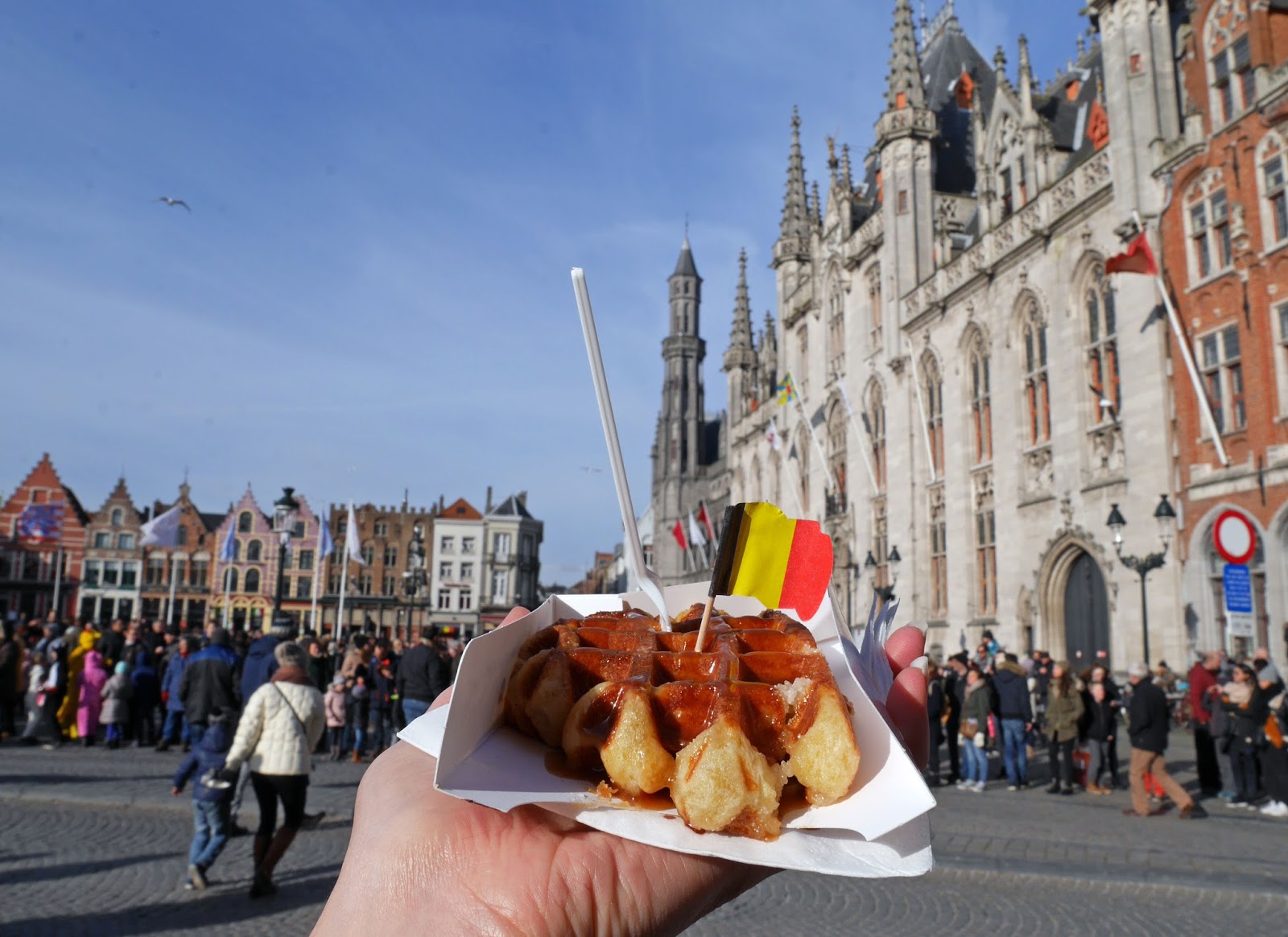 When you're visiting Bruges, you absolutely have to stop for waffles! Chez Albert is located just off the Market Square, so you can grab your waffles from there, before finding a seat in Bruges' most atmospheric and picturesque square. I could have spent hours people watching here; it is such a lively place.
2. Take a stroll through Arentshof Park.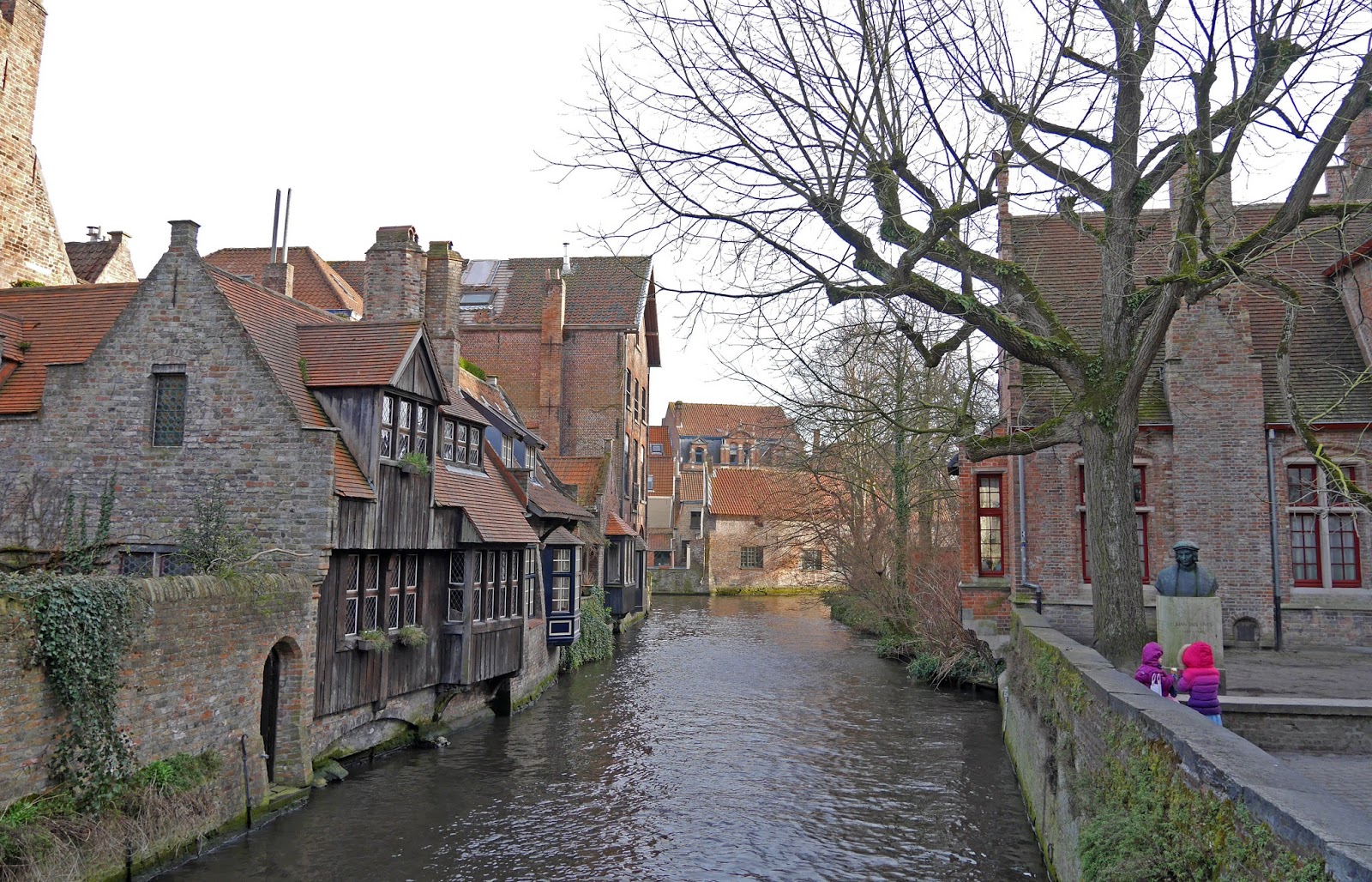 Arentshof Park is incredibly peaceful, despite being located in the centre of Bruges Old Town. If you fancy a break from the city crowds, I recommend taking a detour through the park and walking over the beautiful bridge in the middle of the park. The architecture around the park is beautiful and there are far less people standing by the canal here, so you can spend a lot longer by the water here without feeling pressured to move.
3. Visit the Beer Wall.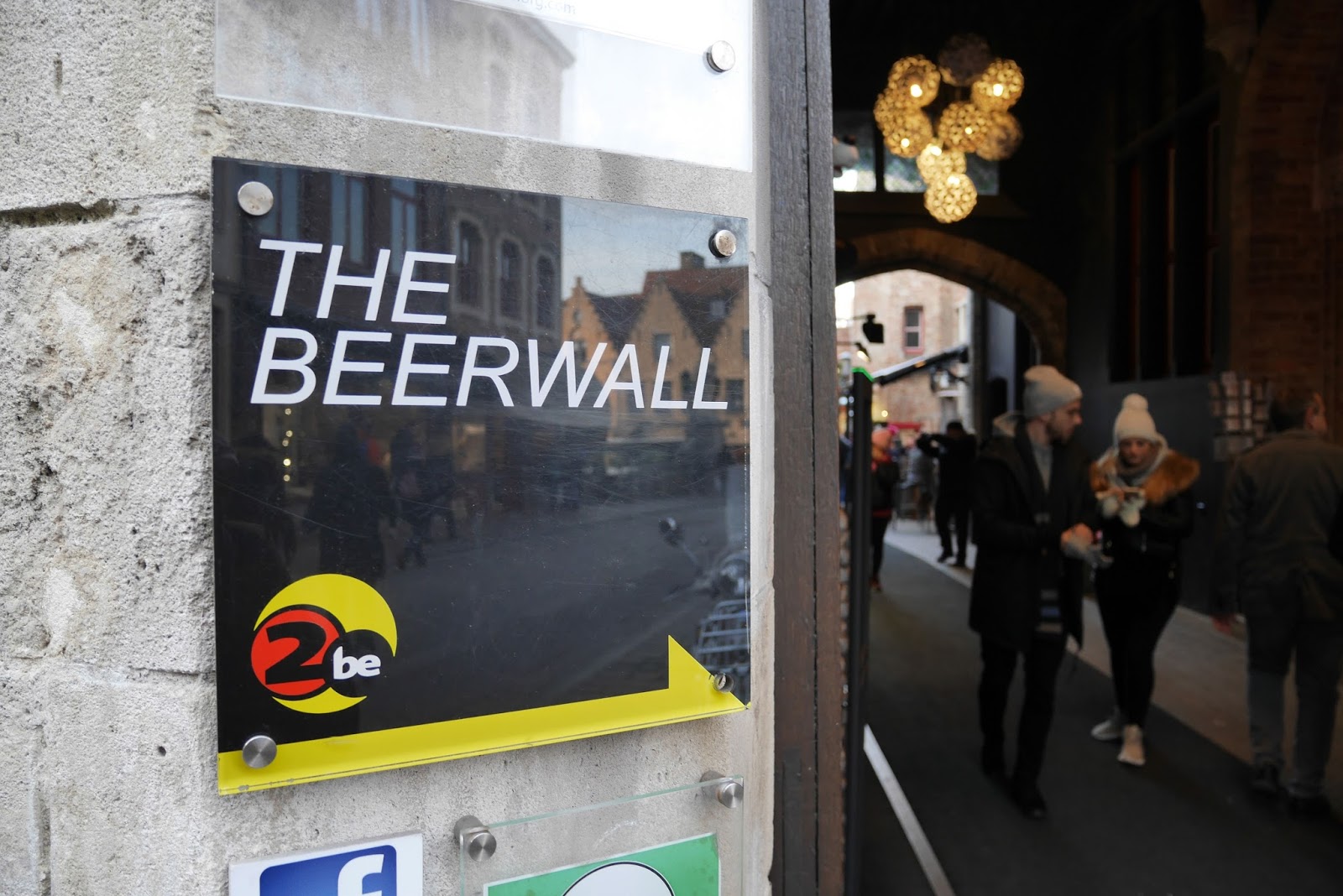 The Beer Wall is a very long glass cabinet filled with Belgian beers, that has become a popular tourist attraction in Bruges. At the Beer Wall, you can try samples of different Belgian beers, which I imagine is a fun experience. We stopped at the Beer Wall for photos and then went inside the huge Belgian goods store next door, which is full to the brim of The Smurfs, Tin Tin and other Belgian-branded merchandise. Something to point out is the fact that the Beer Wall closes during the evening, so you'll need to plan your visit earlier in the day. We were caught out as we had hoped to go back to the Beer Wall after dinner in the evening, but it wasn't open when went back there at about 8pm.
4. Book a canal boat ride.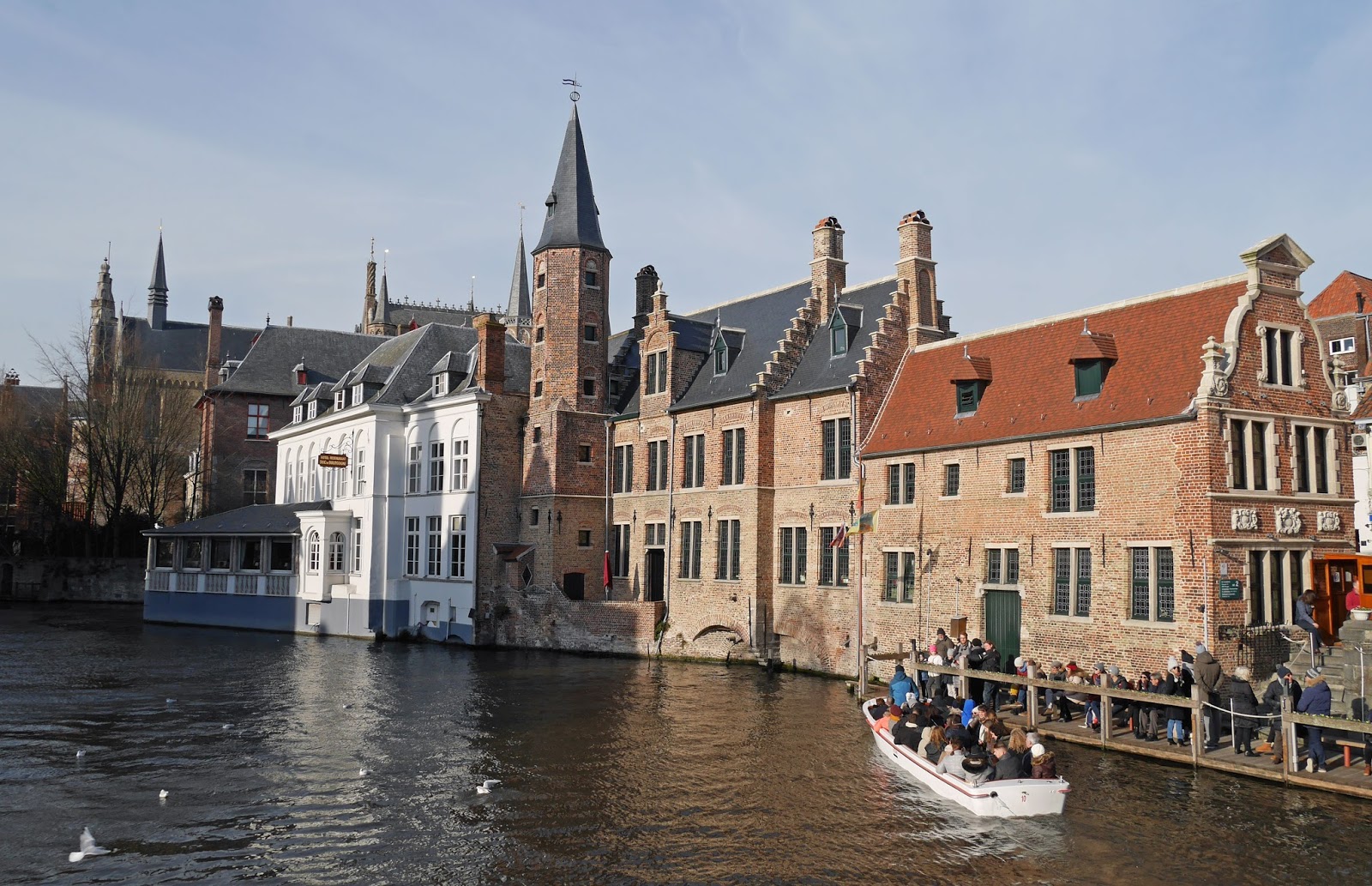 We didn't do this on our recent trip, but I highly recommend booking a canal boat ride. It's something that I did around 7 years ago when I visited Bruges with my family in the Summer and it was such a great way to explore the city. In February, queues for the boat rides were long, so I'd recommend booking tickets in advance if you can.
Bruges is such a lively yet calm city. It's not a big metropolis like Paris or Rome, but it's certainly got plenty of places to visit and things to do if you fancy a weekend in Belgium.
Thanks for reading my blog today.
Love Kat xxxx