I've been living in Canterbury for over 4 years now and every year, I have been overwhelmed by how the city transforms at Christmas time. Towards the end of November, the cobbled streets are dressed in fairy lights and the annual Christmas Market descends upon the city, high street and Whitefriars outdoor shopping centre. On Saturdays you get to hear carol singers and brass bands when you're wandering through the many shops in town and if you stop somewhere for lunch, you'll often find that the cafe you're visiting has put a lot of effort into their Christmas decorations. Canterbury is a festive dream at Christmas and if you read on, I'm going to try and convince you to visit our little city in Kent this festive season.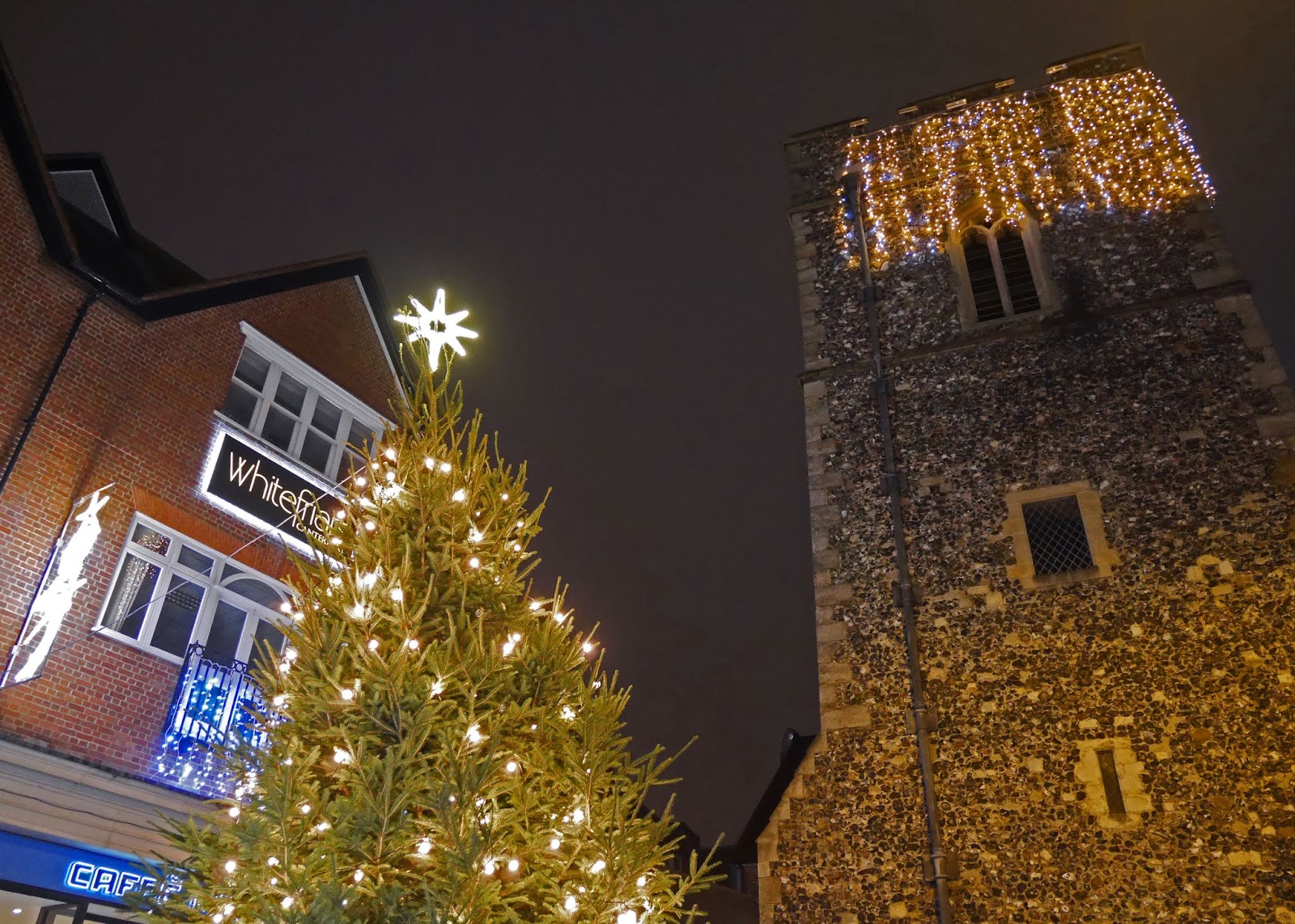 The lights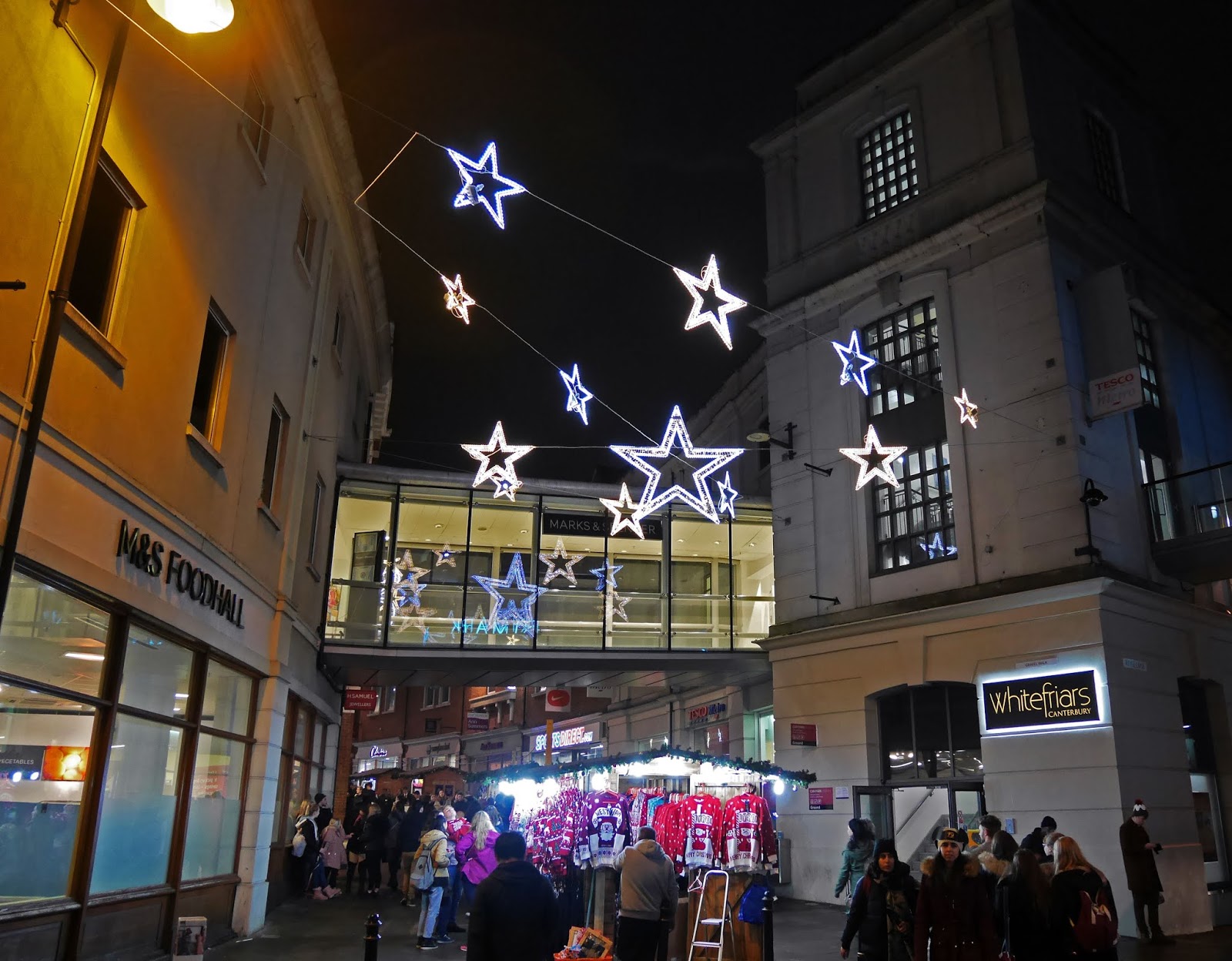 Every year Heart Kent comes to town to celebrate the annual Christmas Light Switch On. During the week in late November, a stage is put up on the high street for an evening of festive music and cheer. Locals wear their Santa hats and joyfully wait for the countdown and the lights to go on. Canterbury's lights are really special. There are lots of star lights on the ceiling of one of the small arcades in town, there are traditional fairy lights hung up surrounding the Cathedral and the old streets of town and there are lots of beautiful stars above the outdoor Christmas Market at Whitefriars. At the far end of the high street there is a tall Christmas tree and it's covered in sparkling string lights. The town centre isn't huge, but it's certainly decorated well.
The markets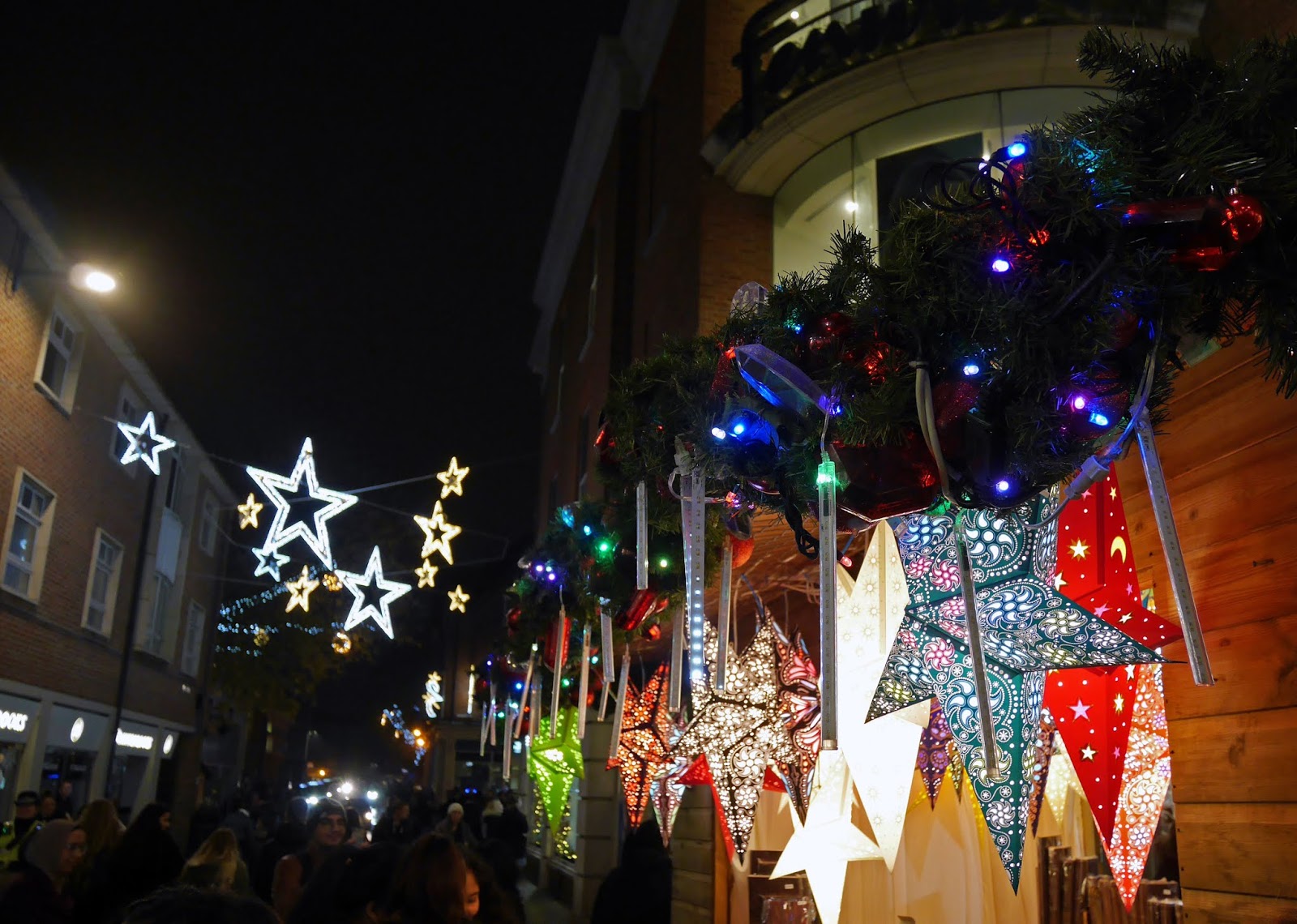 Think German Christmas Market on the Kent coast and it's a pretty accurate description of Canterbury's Christmas Market. One of the food stalls even sells bratwurst that is imported straight from Germany and you'll find those hanging light-up star decorations that are sold at almost every Christmas Market around the world. The Christmas Market is a great place to visit if you're looking for unique Christmas Gifts and there's even a craft stall full of products made by local Kent Makers. If you're looking for a special shopping experience, definitely come to Canterbury for the Christmas Market this festive season.
The shops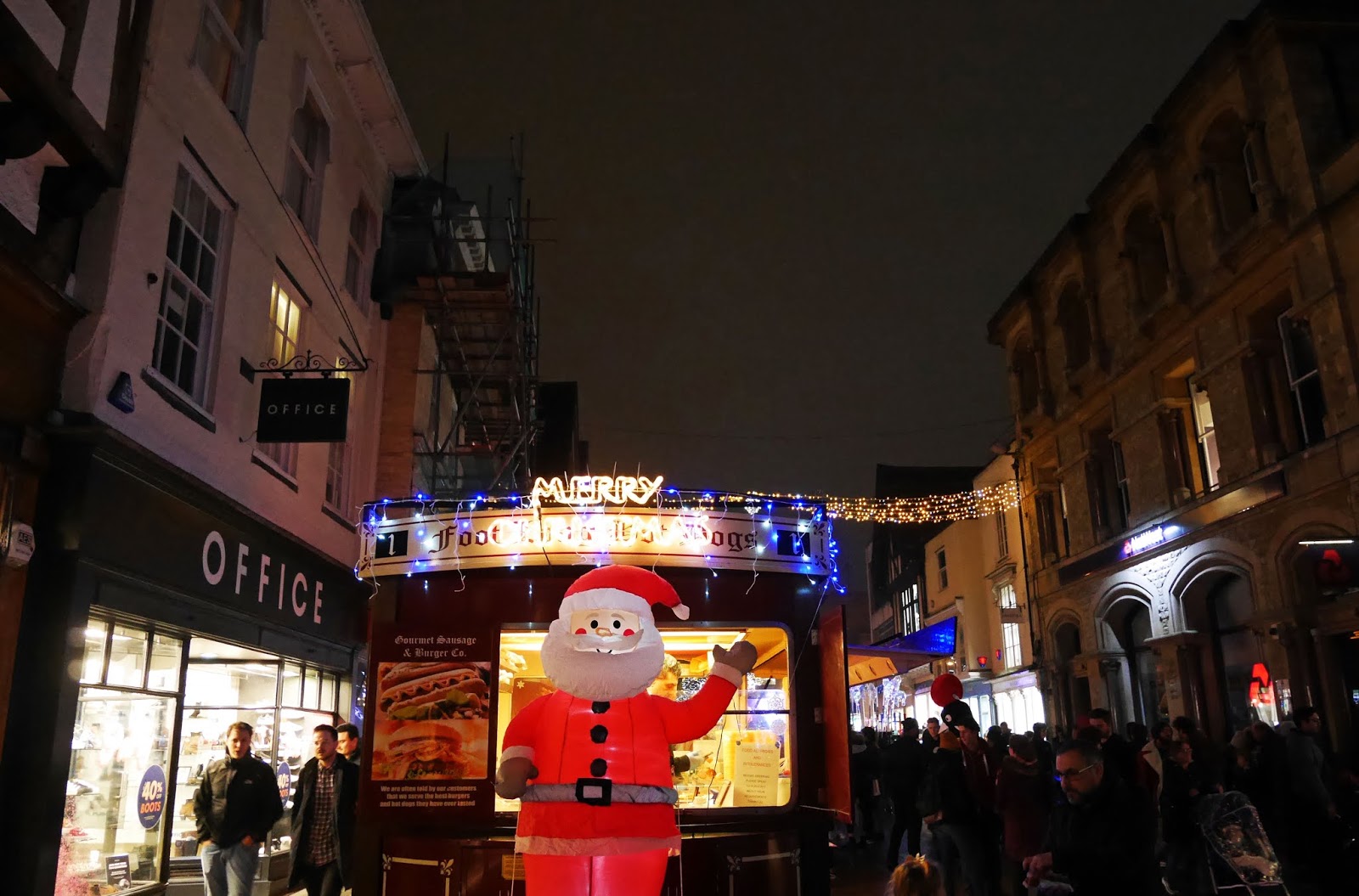 For a rather small high street, we have a diverse range of shops and you could easily pick up the majority of your Christmas shopping from the stores in Canterbury. Aside from the personalised items that I can only get online, we did most of our Christmas shopping here in Kent this year and it was certainly a more enjoyable activity than browsing lists of items on a computer screen. From Paperchase to Cath Kidston and Zara to Topshop, there are lots of exciting stores in Canterbury city centre at the moment.
The food
Some of the best ever meals I've had have been eaten here in Canterbury. We are spoilt for choice in town and you will easily be able to find a traditional roast dinner at one of the many pubs in the city centre. The Old Weavers is a favourite of mine and it's set in a gorgeous 16th century building. If you eat there, you'll be able to enjoy a hearty meal in a fabulous old setting. Additionally, The Miller's Arms is also great at Christmas time with it's cosy atmosphere and twinkling fairy lights.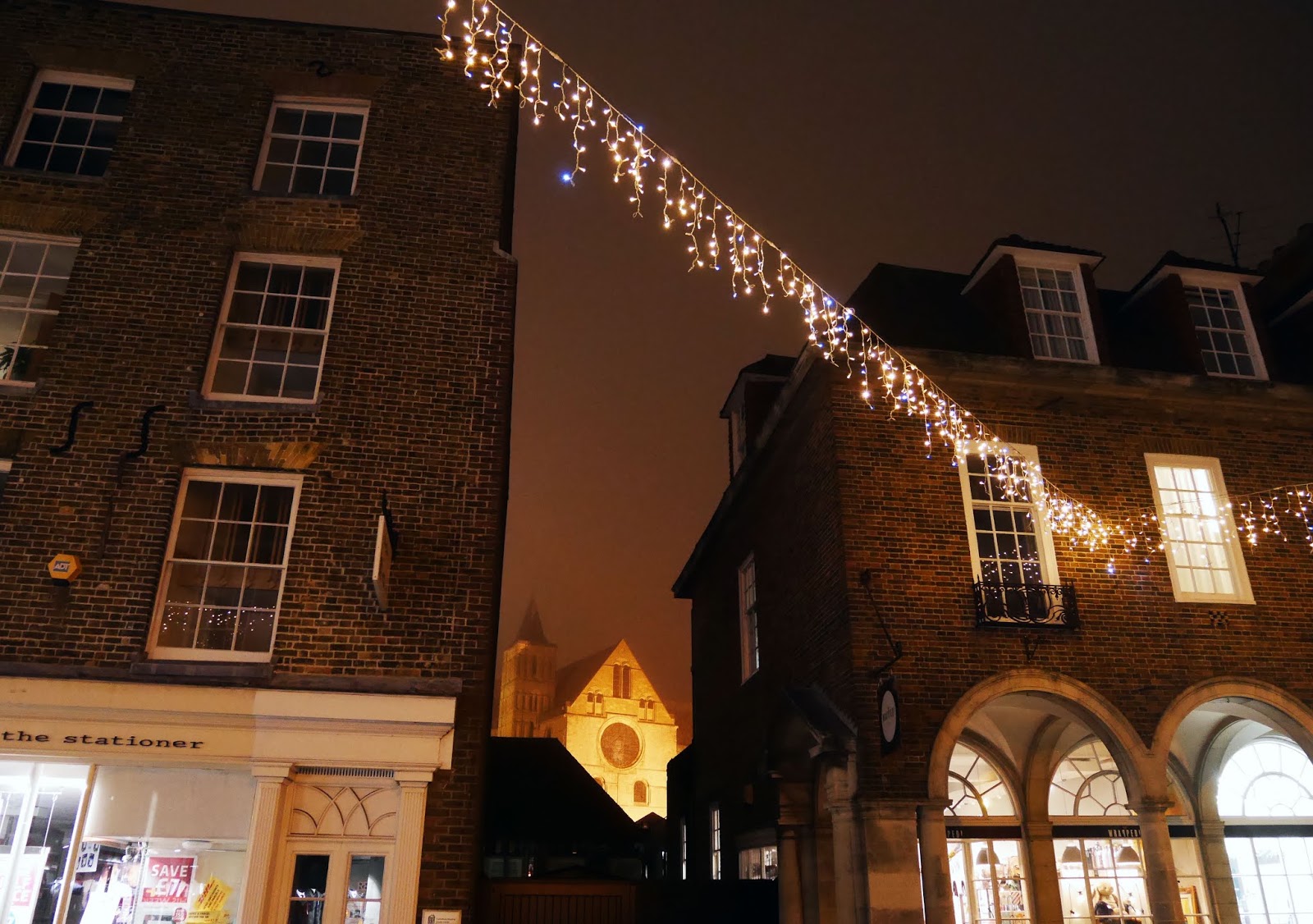 Canterbury is my current home city and although I'm exceptionally biased, I can guarantee that you will enjoy a wonderful festive day out if you come to Canterbury this Christmas. The Christmas Market is fantastic and 100% worth worth making the trip to Canterbury for, especially now that the market is bigger than other years.
Have you ever visited Canterbury at Christmas?
Thanks for reading my blog today.
Love Kat xxxx