We've reached that time of year again where Canterbury turns into a Winter Wonderland for the festive season. The celebrations start approximately six weeks prior to Christmas, with beautiful lights illuminating the streets, the arrival of the annual Christmas market and pantomime rehearsals underway at the Marlowe ahead of its late November launch. A couple of years ago I wrote a piece about all of the festive things you can do here in Canterbury and after a significant absence of festivities last year due to the pandemic, I wanted to provide an updated guide to the Christmas market at Whitefriars.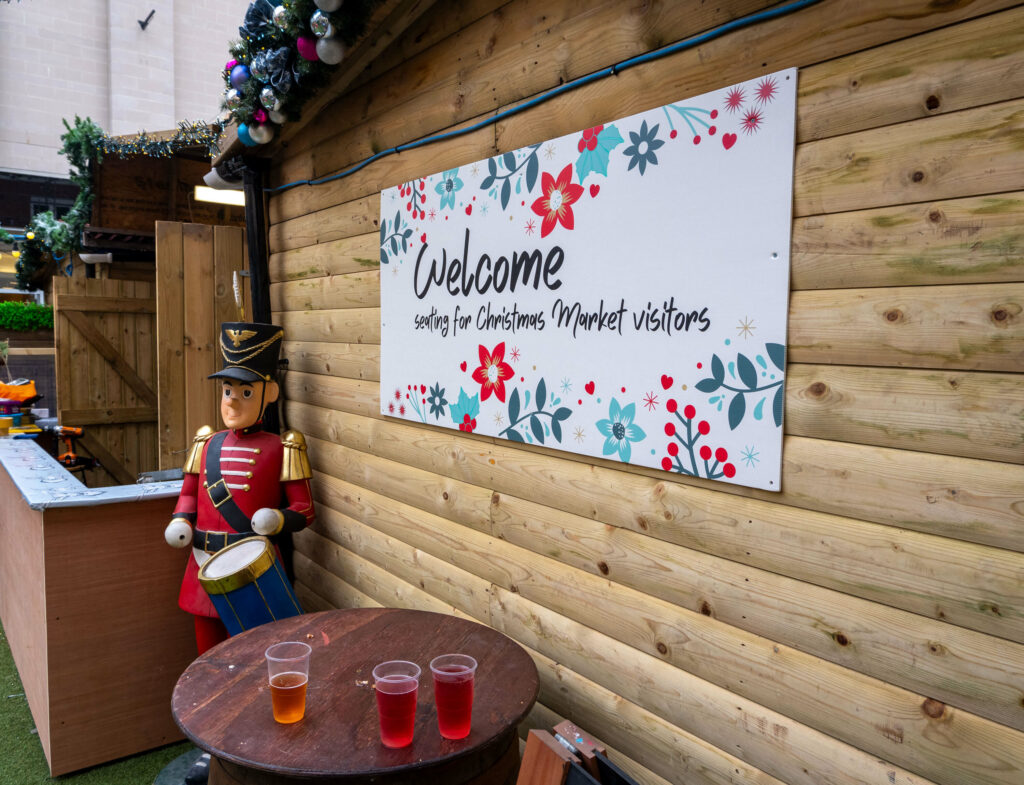 The stalls this year are exceptional, with many previous exhibitors making an appearance alongside a series of new booths. The market definitely has a craft and food focus, with personalised Christmas decorations and bratwursts on offer. Whether you are visiting as part of your Christmas shopping or briefly stopping at the market for some mulled wine, this year's festive stalls are definitely worth a visit.
Christmas decorations and crafts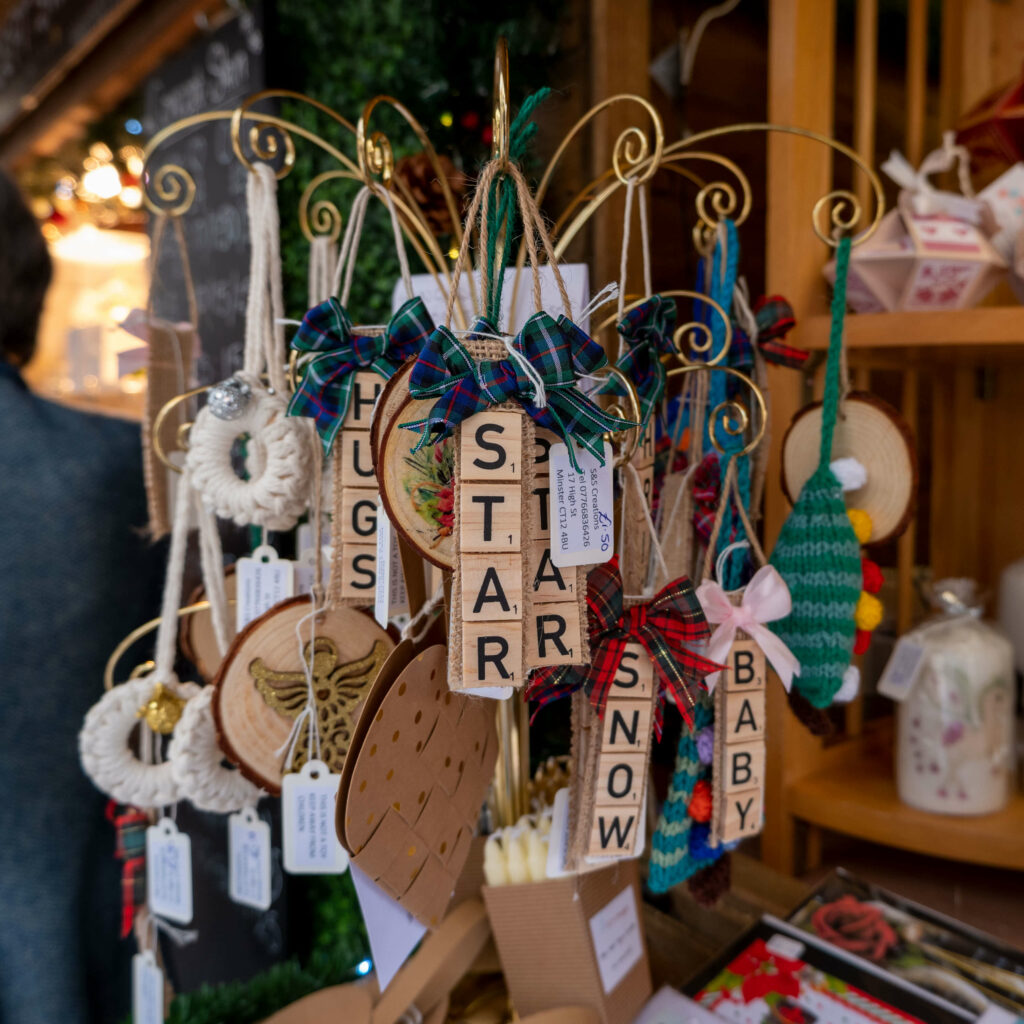 'The Reindeer Shack' offers gorgeous log-carved reindeer and snowmen ornaments, with prices ranging from £10-20. Last year we received a snowman as a Wedding gift and the carving had personalisation on the bottom saying 'Mr and Mrs Masterson'. I absolutely adored putting it out on display in 2020 and as soon as I saw the market stall this year, I knew we had to purchase a reindeer too. Pyrocrafts Canterbury kindly personalised a small reindeer for us yesterday and it's already proudly up in our home.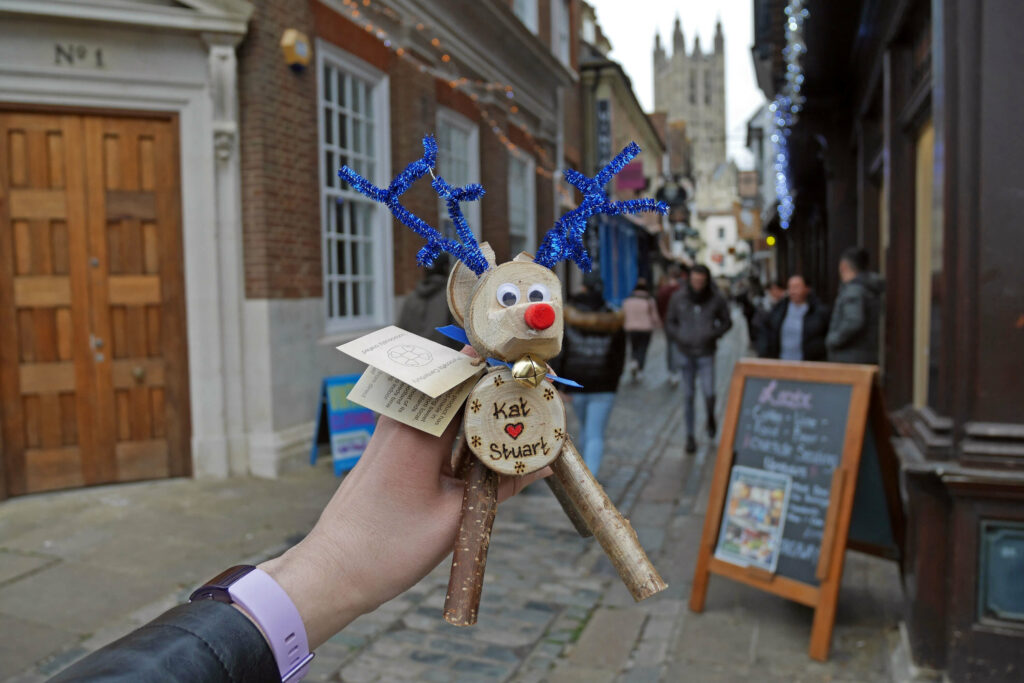 The Canterbury Cathedral team have a stall at the market this year and inside their hut you can find a complete wall of Cathedral-themed baubles. It was lovely to see that they had decorations for every budget. I picked up a 'festive paper appliqué bauble' for only £5, which seemed very reasonable as it was an official Cathedral product. Our tree is full of decorations from the different places that we have visited and I'd been looking for a specific Cathedral one for a while. From the Cathedral's booth you can also purchase calendars, Christmas cards and nativity-themed items.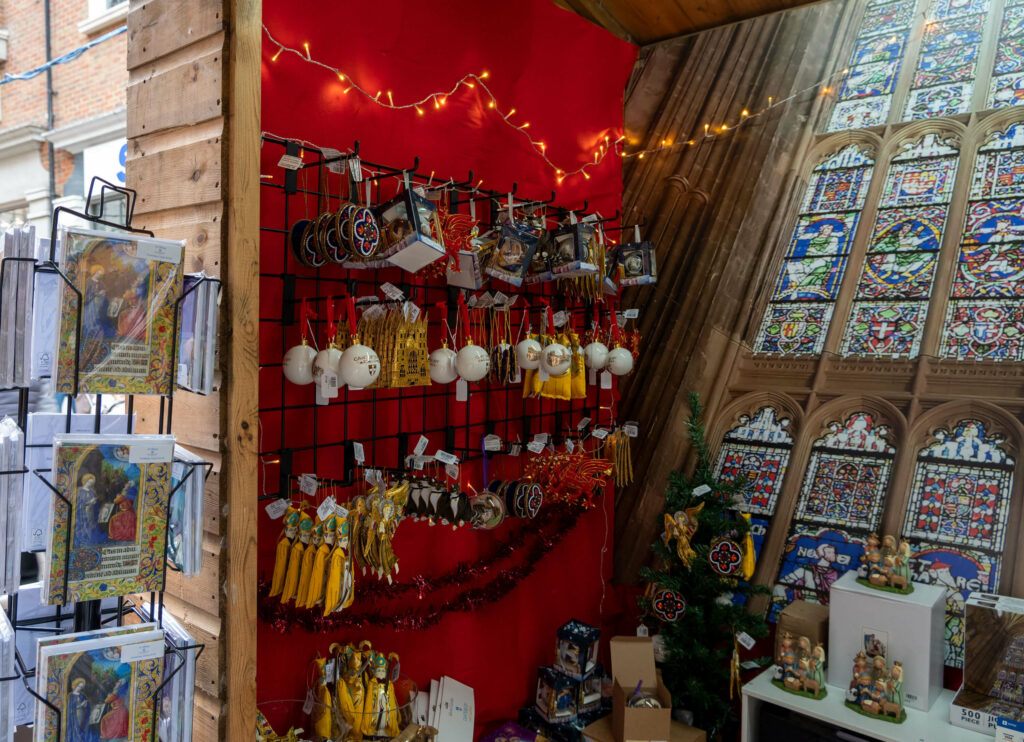 The glass artists behind local shop 'Canterbury Glass Art' are also selling some of their dainty glass animals at the Christmas market. The intricate robins, penguins, polar bears and snowmen would make beautiful tree decorations. In addition to Christmas-themed pieces, they have creatures from their wider year-round collection available too. Even if you don't end up purchasing one of their creations, definitely go and take a closer look at the items. The stallholder kindly let me get close with my camera to snap a photo, but they are even more impressive to look at in person.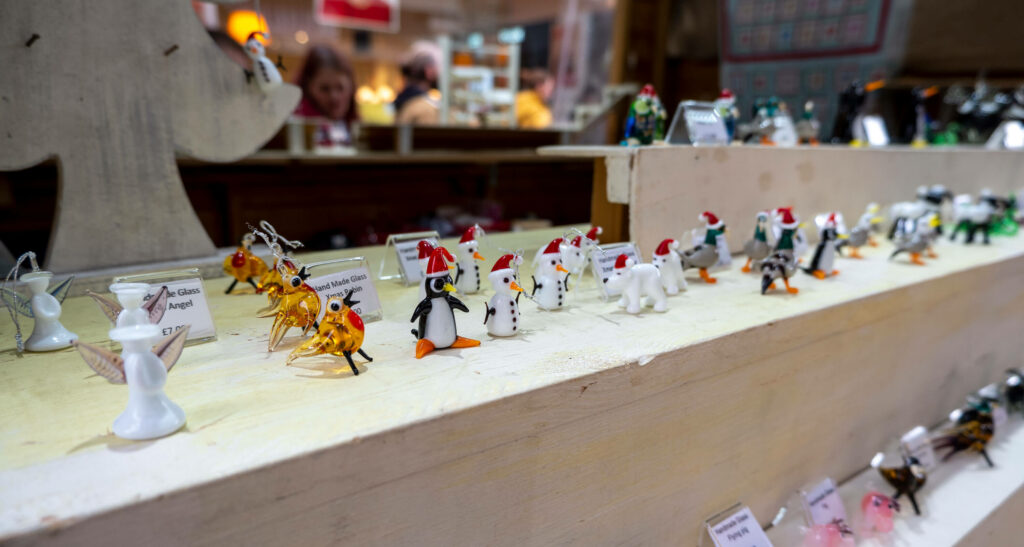 Kent-themed products
Previous exhibitors 'Canterbury Makers' have a hut which is full of Kent-themed gifts and home accessories. Canterbury Makers are a collective of local small business owners that sell handmade crafts and artwork. They currently have a permanent space in the Marlowe Arcade, but it's lovely to see them take part in the Christmas market again this year!
Drinks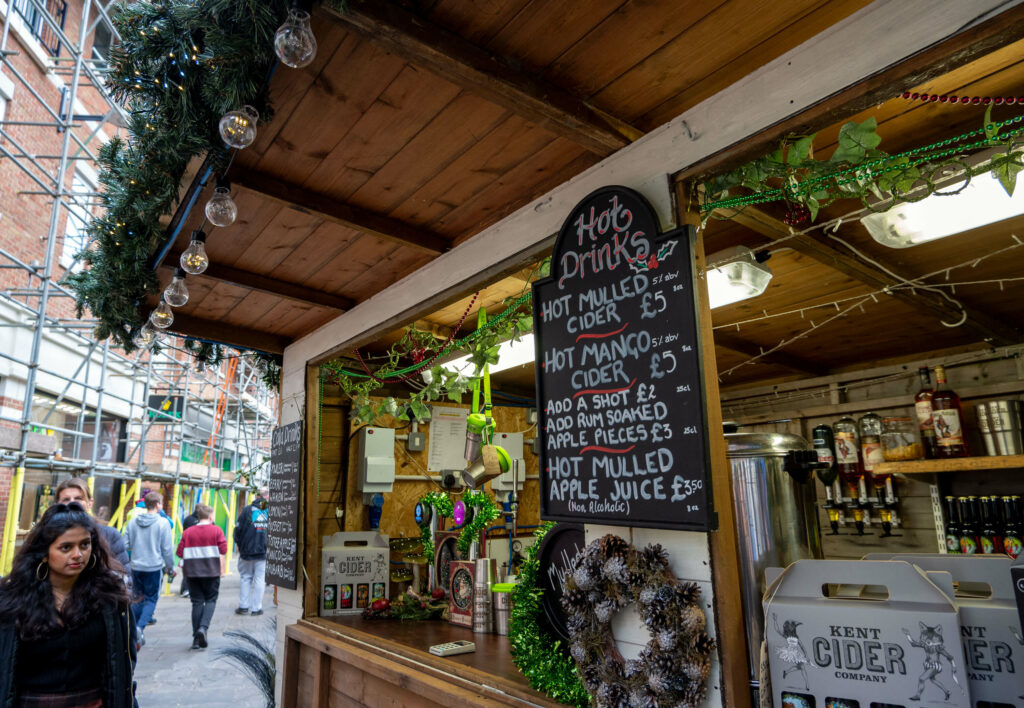 We visited the Christmas market during opening weekend and didn't have time to stop for food or drink, but I took note of the refreshments available. In the heart of Whitefriars you can pick up flavoured hot chocolates and mulled beverages (wine, cider and apple juice). There is specific Christmas market seating available in the courtyard between Next and Goldsmiths or you can stroll around the market with a hot drink in hand, really getting into the festive spirit. The latter is one of my favourite things to do when we visit a Christmas market abroad; my gloves (and hands) always end up so toasty!
Food
The 'Bratwurst Haus' rather appropriately serves bratwurst, currywurst and seasoned fries, bringing the spirit of Germany to Canterbury. I first tried currywurst and German seasoned fries during a trip to Munich Christmas markets in 2017 and ever since, I've been hooked on Christmas market cuisine. I'm looking forward to stopping by the Bratwurst Haus on a weekend during December and making the most of the seasonal snacks.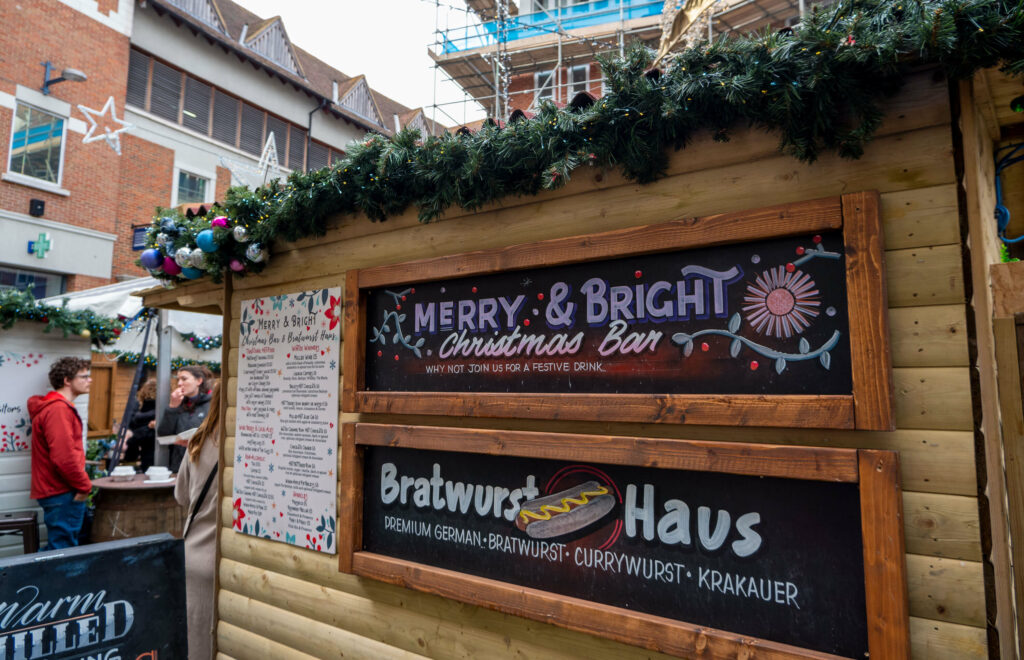 Nearby is the creperie 'French Crepes' and with both sweet and savoury options, there is plenty of choice. The crepe stall is actually where you can find hot chocolate, so why not treat yourself to both when you visit the Christmas market?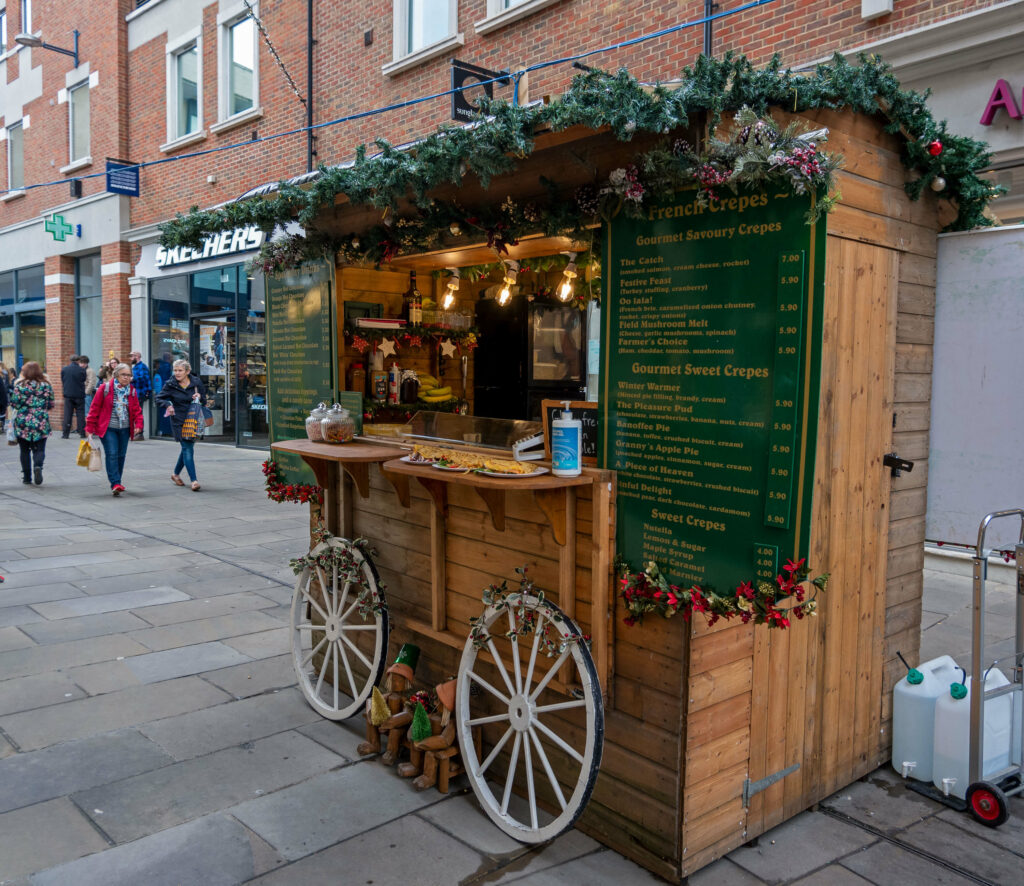 There is so much to experience at this year's Christmas market. From the bespoke craft stalls to the food and drink booths, visitors to Canterbury are in for a real treat during the months of November and December. It is so good to see the city bustling again for Christmas. I'm slightly biased as I call the city home, but it's a wonderful place to do your Christmas shopping.
Thanks for reading my blog today.
Love Kat xxxx