Last weekend I was in the Scottish capital for 72 hours, covering the Edinburgh Fringe. It was my first time visiting in a press capacity, filling my schedule with formal reviews, venue visits and a spot of sightseeing in the city. Now that I'm home and have finished my review coverage, I am excited to share my highlights of the 2023 festival. From watching spectacular production companies to hanging out in some of the many lively open spaces, it was an incredible weekend full of theatre.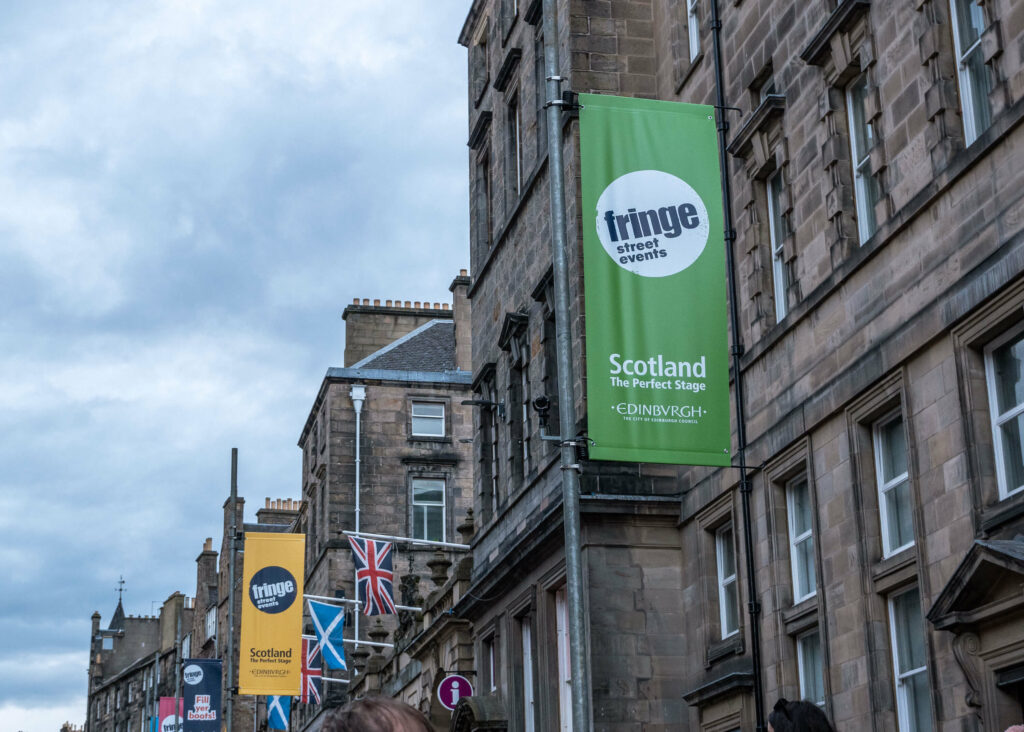 Masters of Choreography
Melbourne-based Masters of Choreography have created a mesmerising dance production in the form of Beats on Pointe*. Full of spectacular choreography, shimmering costumes and bundles of personality, the 10-member company showcase their incredible talents in a fusion of street and ballet styles. A family friendly option at the Fringe, the show is playing at the Gordon Aikman Theatre in George Square until 28th August.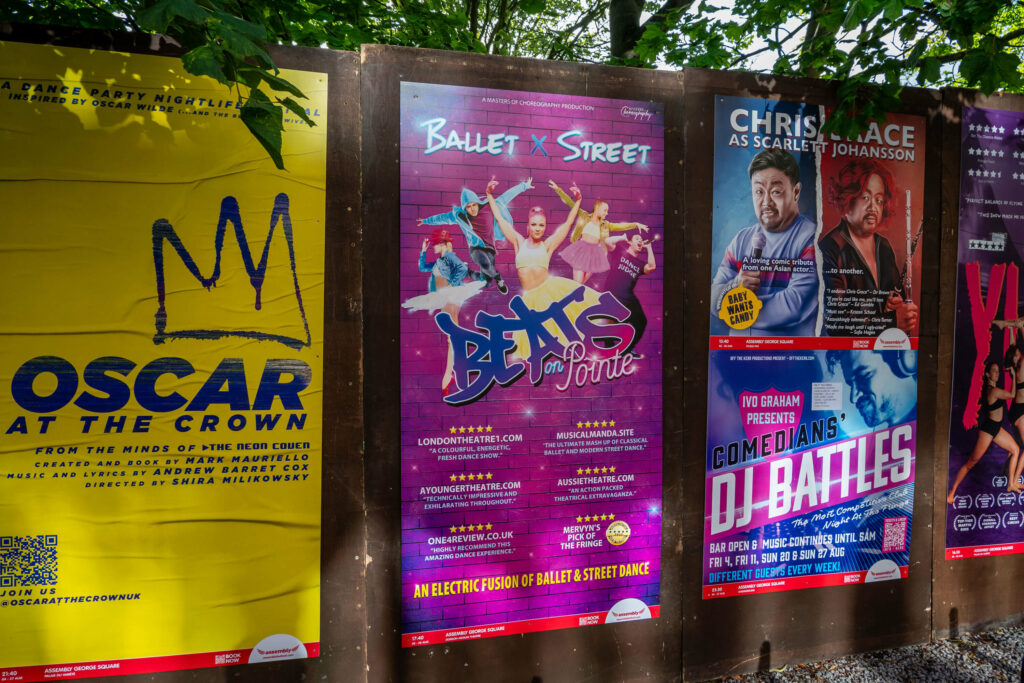 Chordstruck Theatre
Two of the shows that I formally reviewed are by Chordstruck Theatre. On Your Bike* and Jingle Street* are both fantastic examples of British musical theatre and cleverly written scores along with impressive vocals, making the company a must-see at the Fringe. Playing daily at 1:30pm and 4:15pm (excluding 21st), you can find the company in action at Gilded Balloon Patter Hoose on Chambers Street.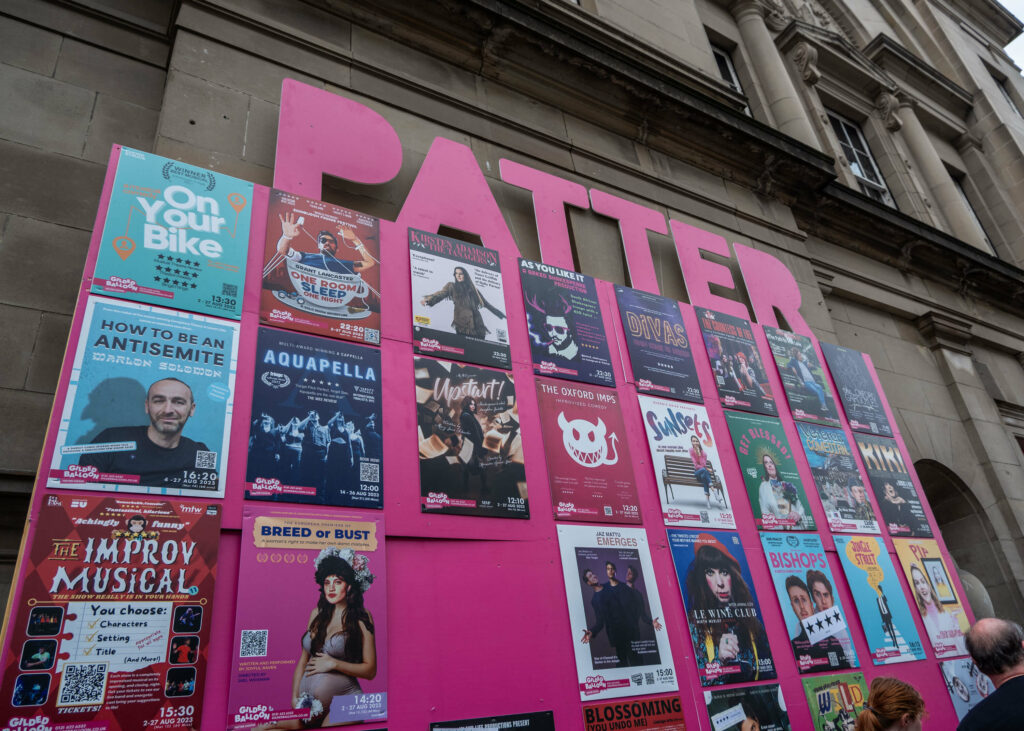 Night Owl Shows
One of my favourite companies of last year's festival, Night Owl Shows are back in action at theSpace @ Symposium Hall for 2023. This year I decided to watch The Fleetwood Mac Story, after enjoying the book and TV adaptation of Daisy Jones and The Six. Featuring Hannah Richards on vocals, the Night Owl band have created a really enjoyable musical revue that includes facts about the 70s icons and covers of their songs. Richards carefully mimics the performance style of Stevie Nicks on stage, leading the band through 50 minutes of toe-tapping hits.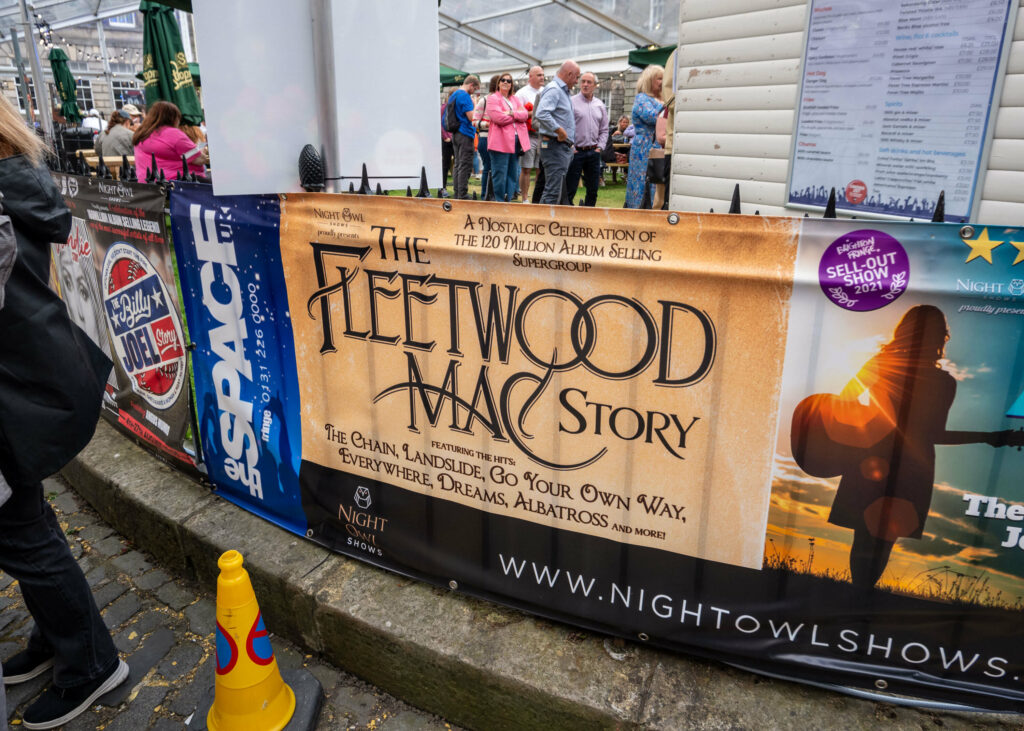 Coffee shop hopping across the city
In between shows we spent a lot of time in coffee shops and cafes across the city. I needed to find WiFi to write my reviews during the day and we ended up visiting some lovely places in the process. Leaf & Bean Deli in Marchmont Crescent was a location that we visited for lunch after walking over to my Mum's old neighbourhood. Ordering some delicious vegetarian toasties from the cafe, we thoroughly enjoyed their spacious facilities and location on the edge of The Meadows.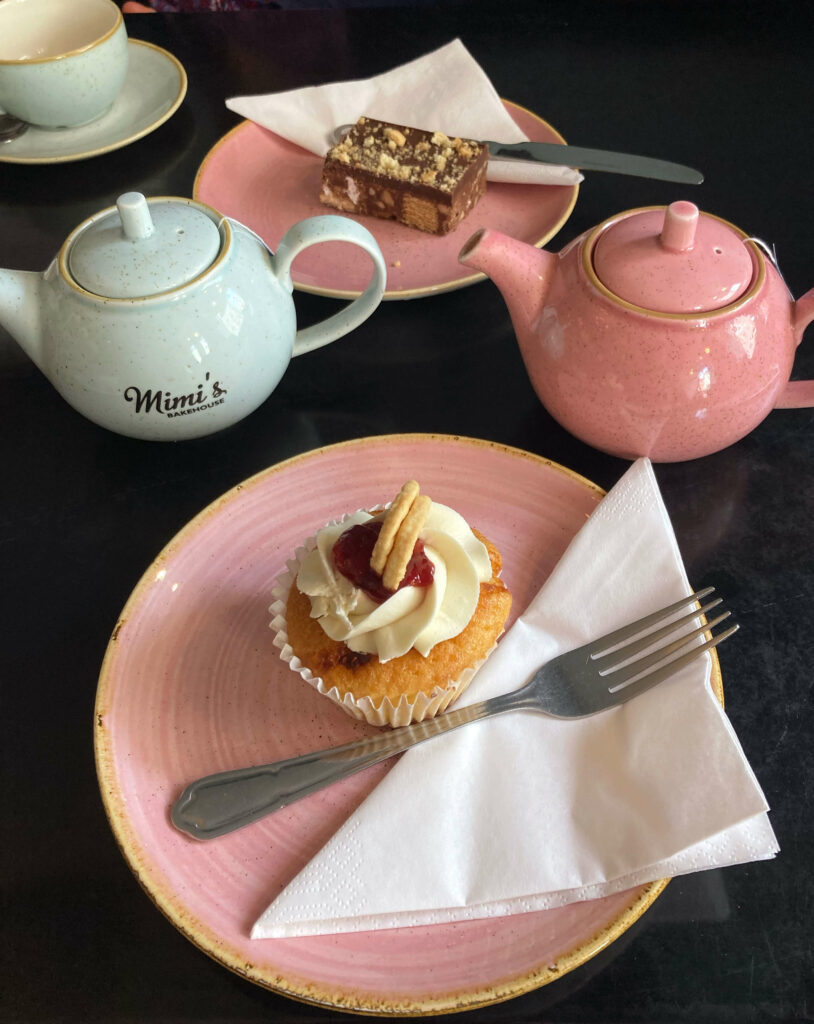 Another eatery that we discovered was Mimi's Bakehouse on the Royal Mile. They have an incredible selection of cupcakes, including an Irn Bru flavoured one. It was our last tearoom of the trip and with such friendly staff, I would recommend it to anyone. I didn't notice there being any free wifi, but if you need to access the internet and have data available, it's a great place to hotspot for a while.
Eating street food at George Square
George Square is a festival hub with lots of Assembly venues in and around the University campus. There are lots of street food stalls in the square, which offer a variety of quick bites to eat during the busy festival period. We ordered crepes from the Panquake stall in the square on the Saturday of our trip and they were absolutely delicious. I would thoroughly recommend a visit to George Square if you are short on time for getting food.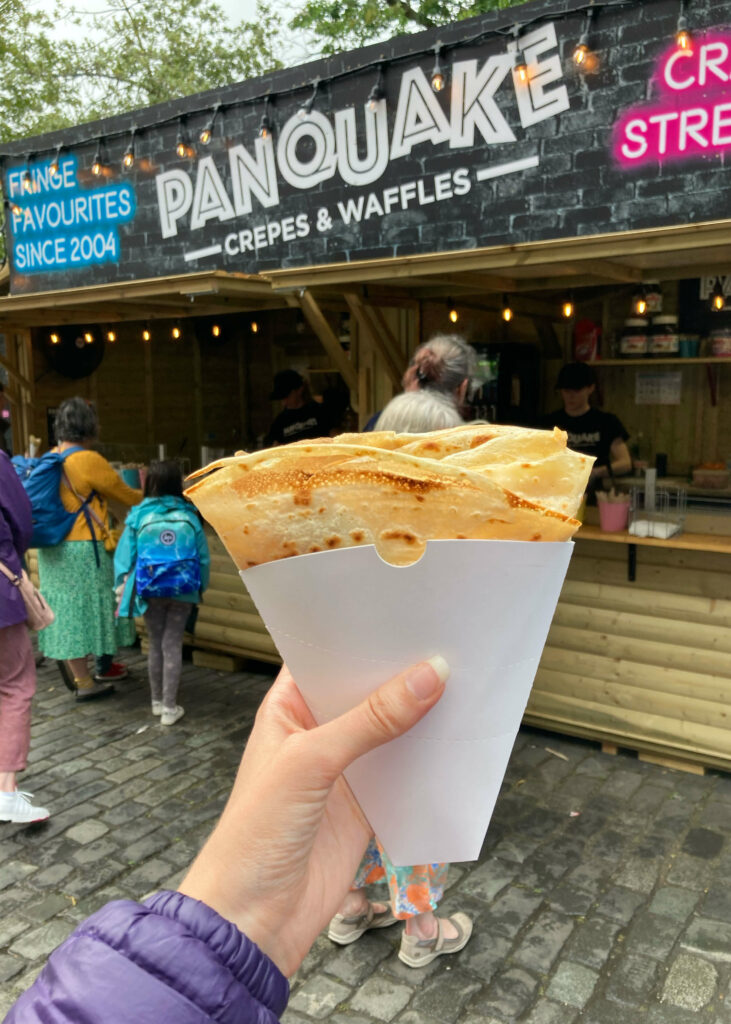 Watching a full scale production of RENT in a church
Paradise in Augustines is a memorable venue located on George IV Bridge. Situated in Augustine United Church, watching shows in this high ceilinged location is such a unique experience. I reviewed Bare Productions' version of RENT* here on Friday night and although the musical has now finished, Paradise Green still have plenty of shows available.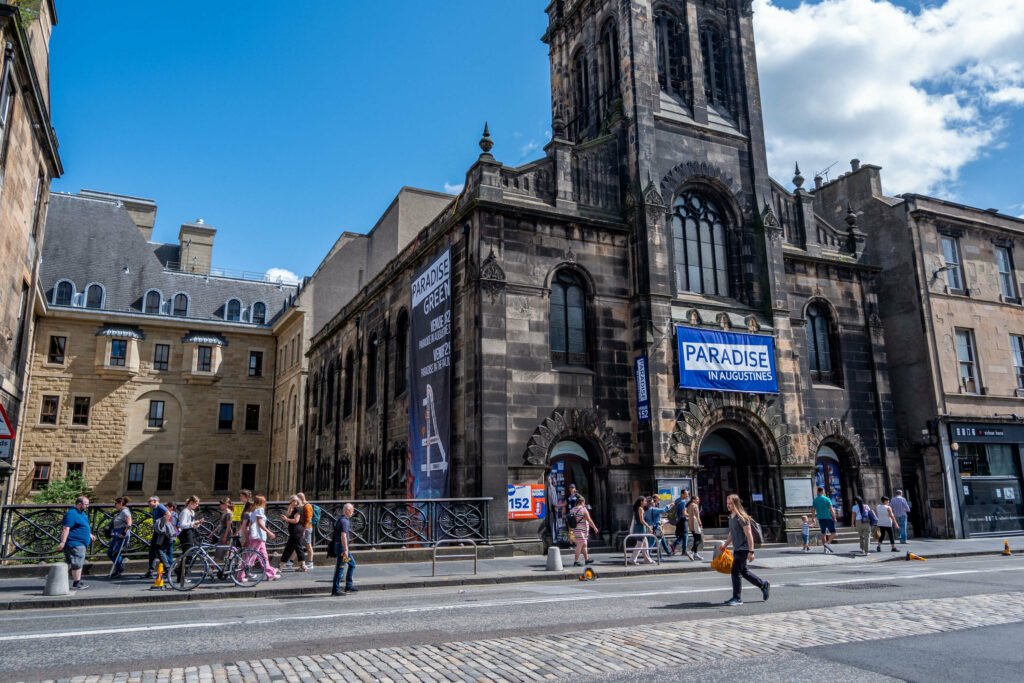 Visiting new venues
Last but not least was being able to visit some different venues to the 2022 festival. I am planning to write a whole piece on Edinburgh Fringe venues very soon, but until then, new ones for me this year included Assembly Festival at George Square and Gilded Balloon Patter Hoose. With nearly 300 venues, shows are located all over the city!
Are you heading to the Fringe this year? What are you most looking forward to?
Thanks for reading my blog today.
Love Kat xxxx
*My tickets for Beats on Pointe, Jingle Street, On Your Bike and RENT were gifted in exchange for a review.