In December my husband and I headed to Walt Disney World for two weeks, finally getting away on honeymoon almost two years to the day after our intimate wedding. With the pandemic and international travel halting for the best part of two years, we were struggling to find a time in 2022 where we could jet off to Florida for 14 days. After much deliberation we decided to do something completely different and head away for Christmas, celebrating the festive season abroad for the very first time.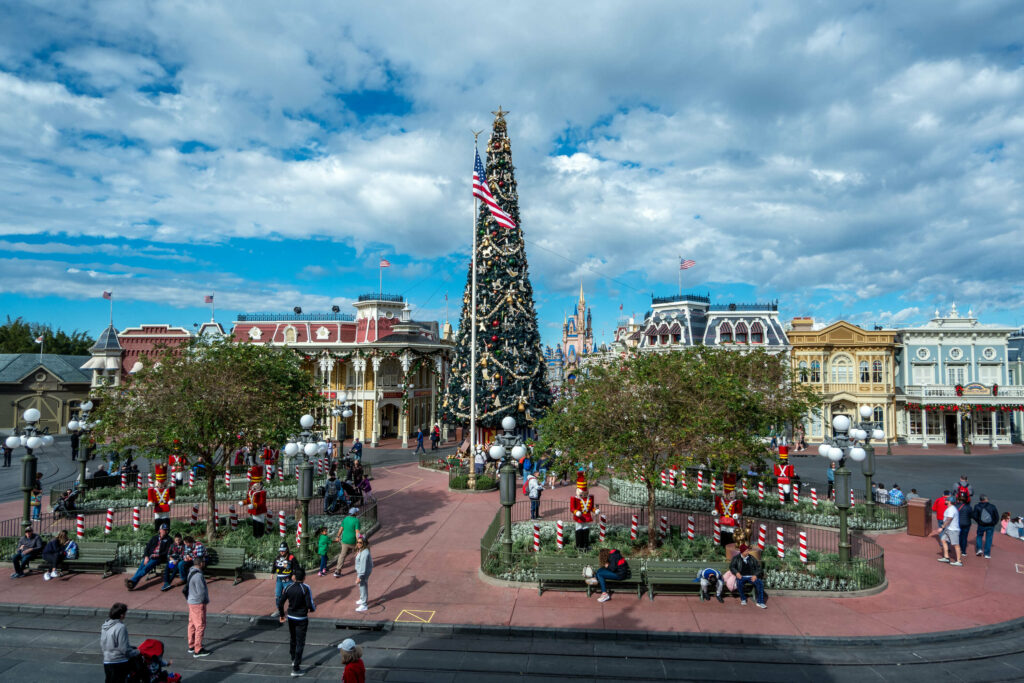 I was a little apprehensive ahead of the trip as a family Christmas in the UK is so special to me, but once we got out to Florida I absolutely loved spending Christmas at Walt Disney World. Lots of different special events, the beautiful decorations and limited time updates for the festive season all contributed to us having a wonderful time and I thought I'd share a full list of them today.
1. Christmas on Main Street, U.S.A.
If there was an image to sum up Walt Disney World at Christmas, it would be Main Street, U.S.A. decked in festive lights and tinsel. The first 'land' at the Magic Kingdom that leads up to Cinderella Castle, Main Street has a 65-foot Christmas tree, nutcracker statues, festive garlands and wreaths with bright red ribbons. The garlands light up in the evening and when combined with the gorgeous turn-of-the-century inspired lighting that the park entrance is known for, the fictional road feels even more magical than normal. We spent a lot of time on Main Street during our trip, soaking up the festive atmosphere.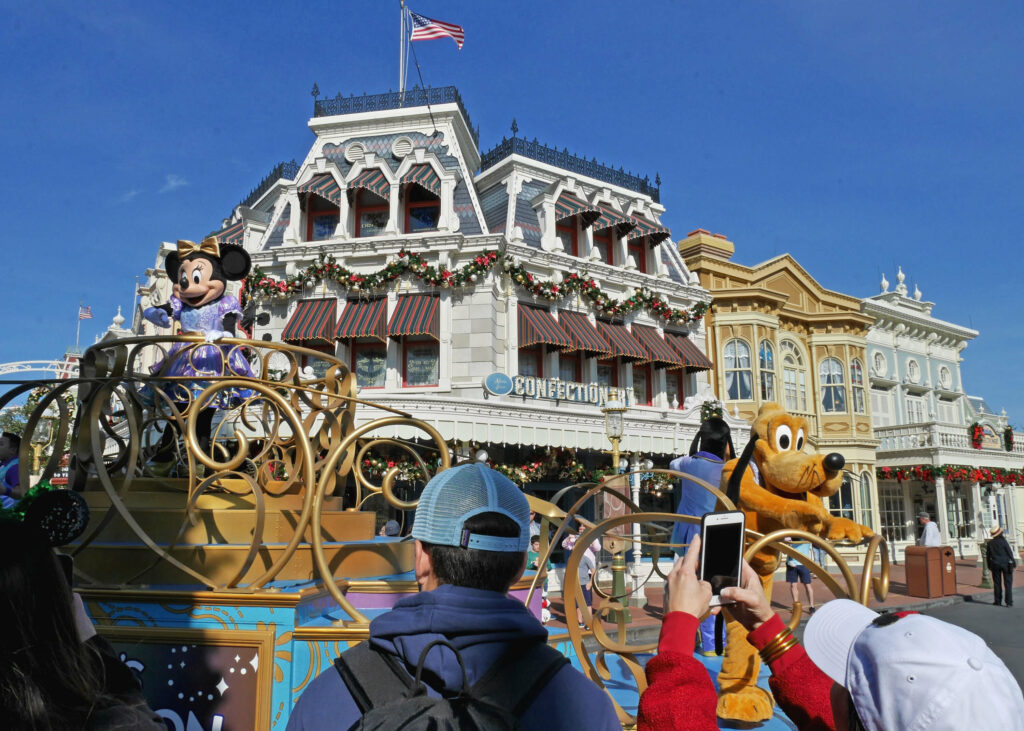 2. Mickey's Very Merry Christmas Party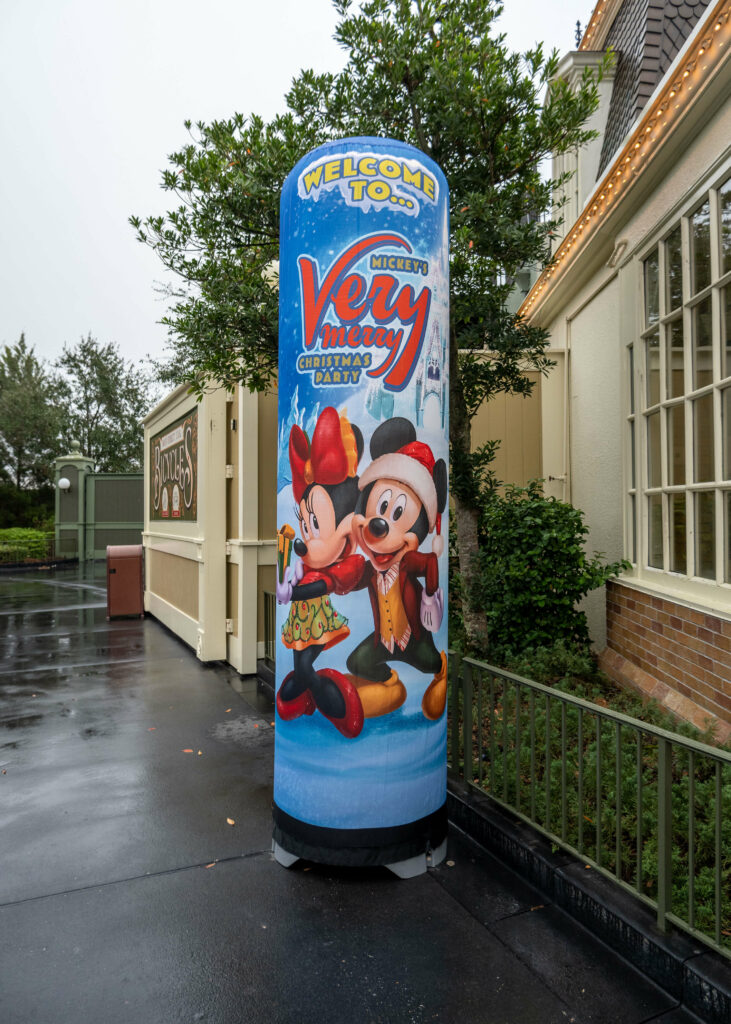 From September to December the Magic Kingdom closes early on specific nights to make room for the Halloween and Christmas parties. Mickey's Not So Scary Halloween and Very Merry Christmas Party are ticketed events that provide exclusive seasonal experiences to guests for approximately 5 hours in the evening. We headed to the Christmas party on 20th December and would describe it as one of the best nights of our two week trip. Unlimited cookies and hot chocolate, festive character meets, seasonal theming on some of the rides and a joyful Christmas fireworks celebration, it really was a once-in-a-lifetime experience! I enjoyed it so much that there will be a future article dedicated to the party coming soon, covering how we booked the tickets and our thoughts on the event itself.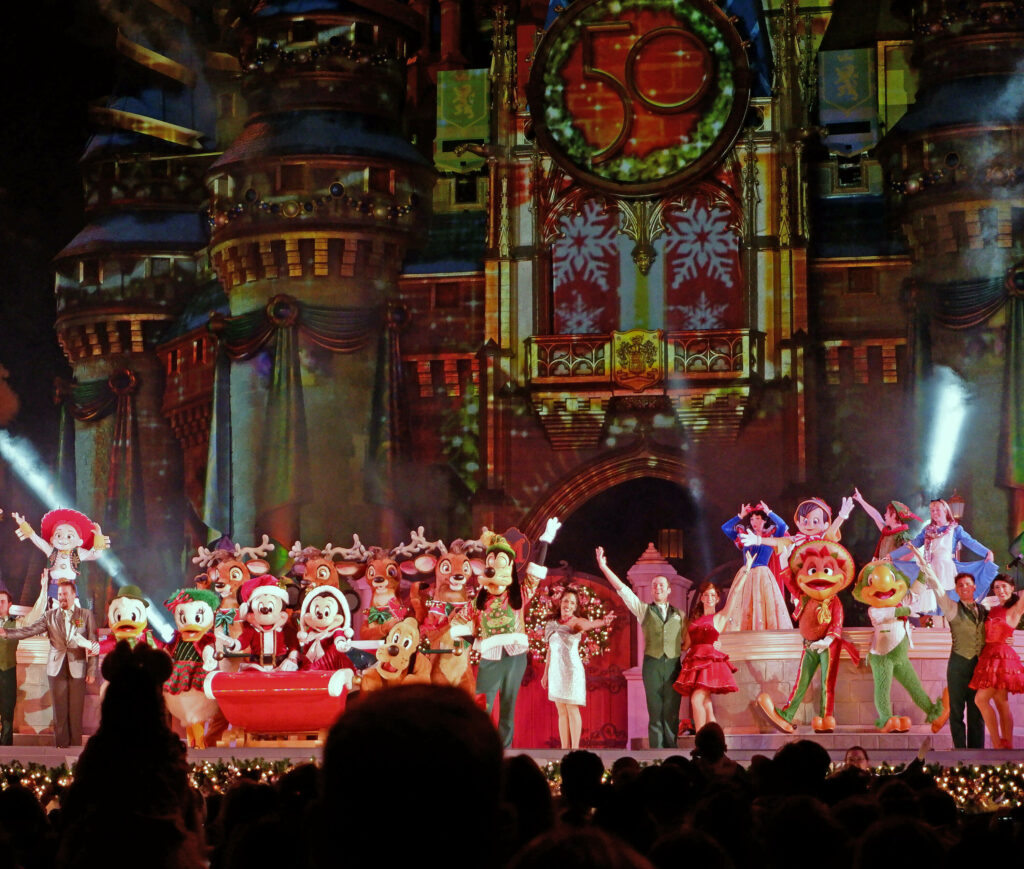 3. Festive ride theming
On party nights and Christmas Day evening the Tomorrowland Speedway, Mad Tea Party and Space Mountain attractions sported additional festive theming. The rides were illuminated with colourful lights and created a whole new ambiance. We experienced two of the three festive attraction themes, or 'overlays' as Disney describes it, for ourselves and then just as we were exiting the park on Christmas Day, we were able to witness the Space Mountain Christmas theming from the People Mover! It was such a fun way to end our first Christmas at a Disney Park.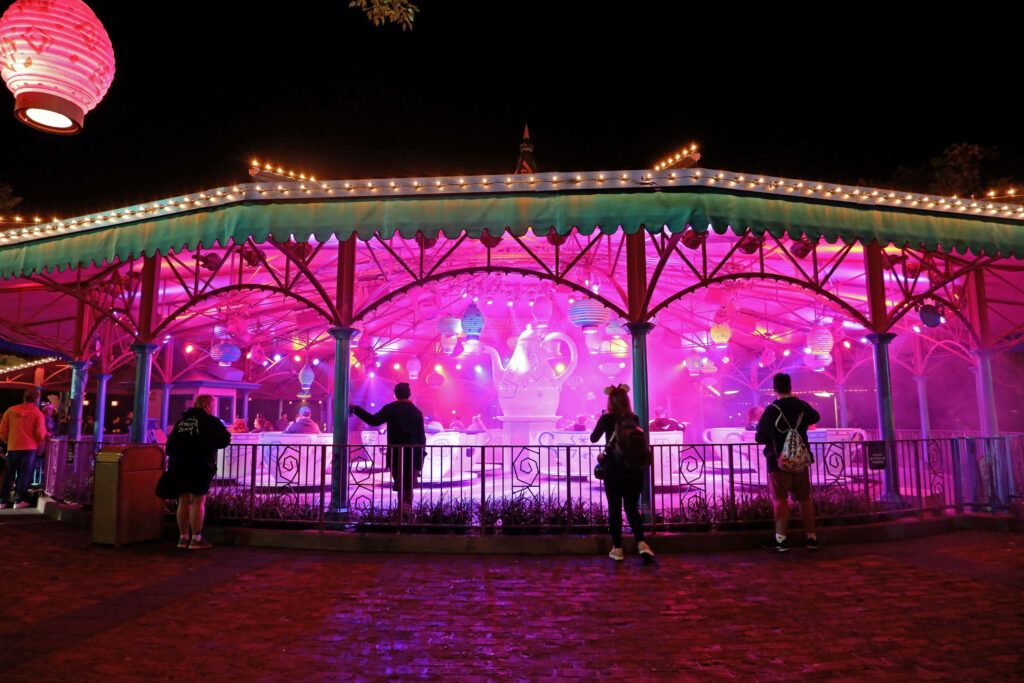 In addition to these time-sensitive overlays, Jungle Cruise becomes 'Jingle Cruise' from November until New Year and EPCOT's Living With The Land gets a temporary makeover in the form of the 'Glimmering Greenhouses'. The festive-themed jungle puns and insight into how agricultural processes cater for the holiday season makes these two attractions impossible to miss.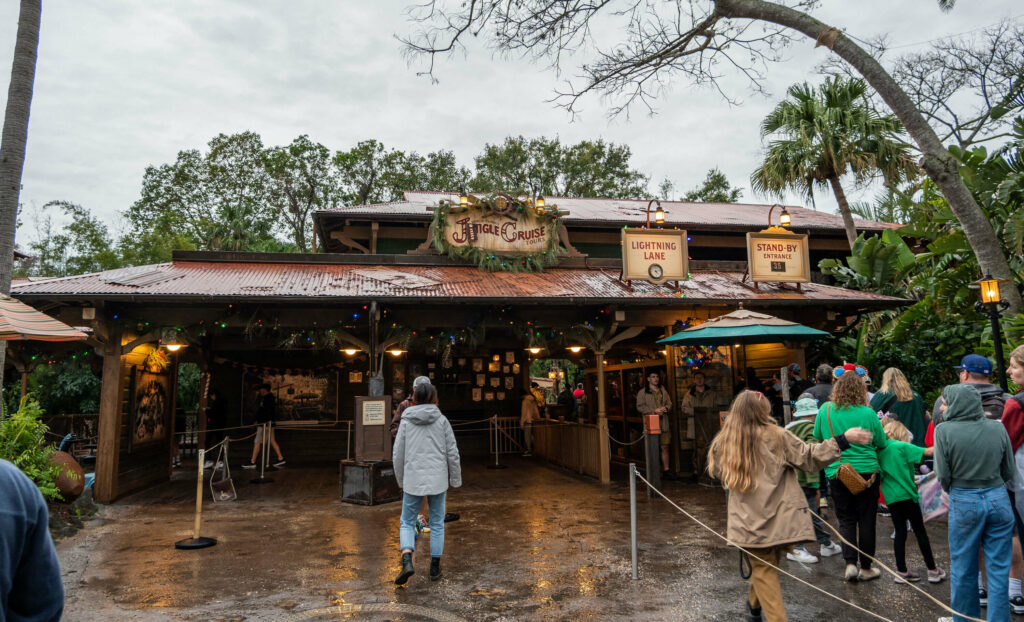 4. Mickey's Once Upon A Christmastime Parade
One of my favourite parts of any Walt Disney World trip is getting to see the afternoon parade at the Magic Kingdom. 'Festival Of Fantasy' is the current daily offering, but from the 23rd December it was temporarily paused to make way for 'Mickey's Once Upon A Christmastime'. The festive spectacle runs twice a day in Christmas week, bringing everyone's favourite characters, holiday tunes and impressive festive floats to the streets of Frontierland, Liberty Square and Main Street.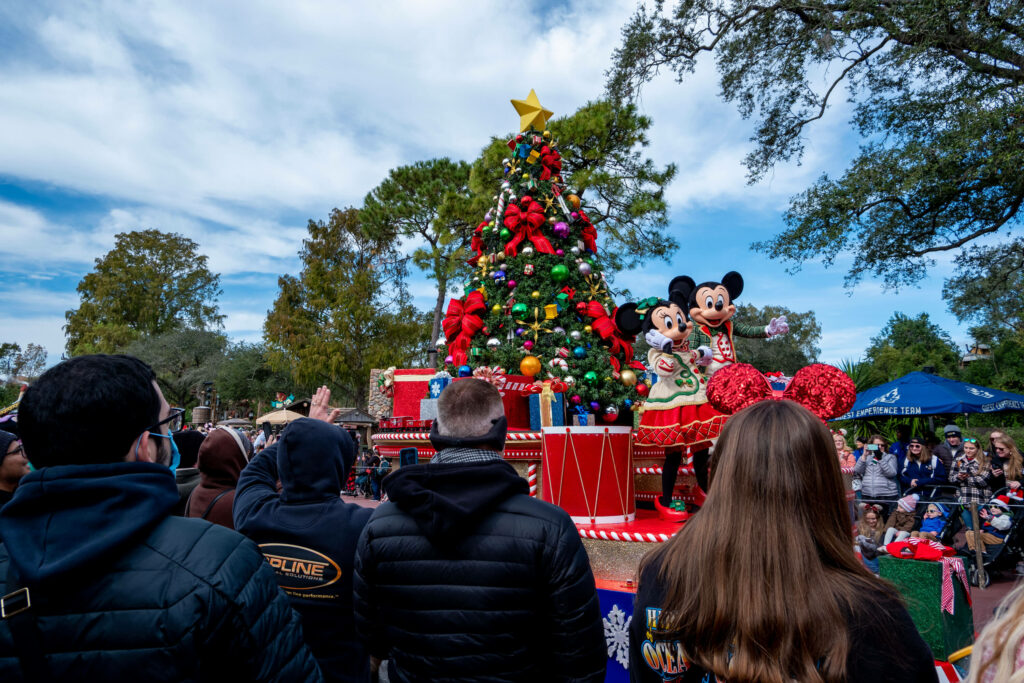 I avoided spoiler videos on YouTube ahead of the trip as I wanted to be totally surprised on Christmas Day. The parade was everything I could have dreamed of, with its catchy theme song and rare characters making an appearance. If you enjoy Disney and Christmas, it is the perfect blend of the two themes and an absolute must-see if you are celebrating Christmas in Florida.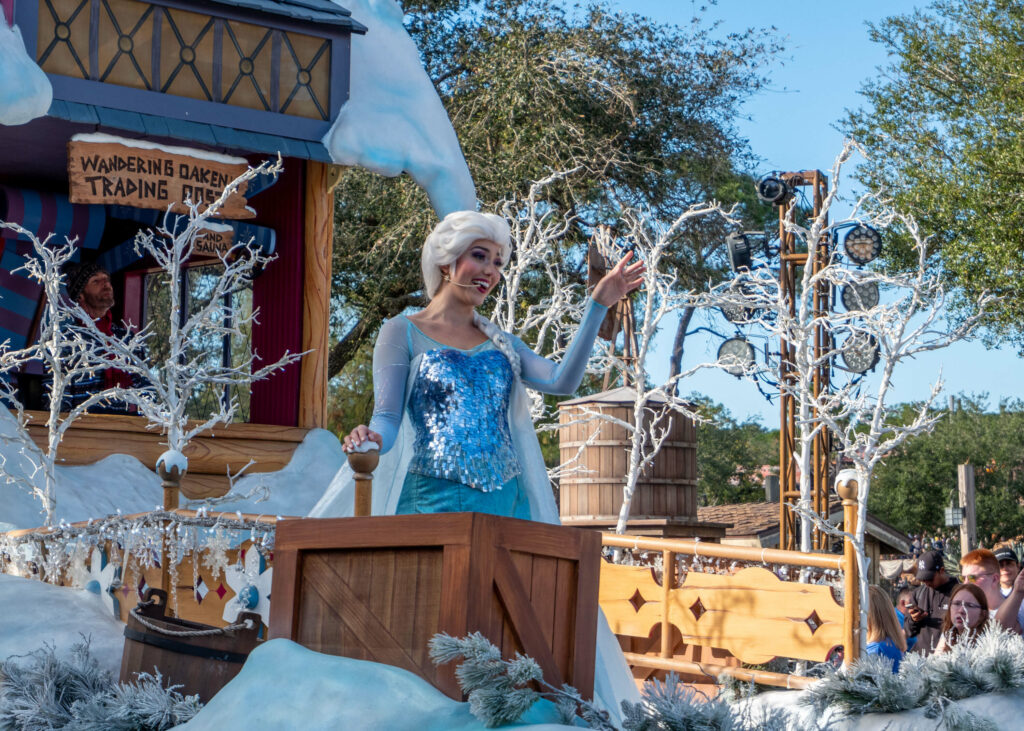 5. Epcot International Festival Of The Holidays
From late November Epcot transforms for the 'International Festival Of The Holidays'. Focusing on holiday traditions around the world, the festival takes place on the World Showcase and each of the pavilions or 'mini countries' that celebrate Christmas organise special entertainment for guests. Storytellers share anecdotes about the origins of holiday celebrations for each country and musicians and performers play seasonal music. The 'Voices Of Liberty' in the USA pavilion performed a joyful holiday set, full of much-adored carols. It was one of my favourite parts of the festival and I enjoyed it so much that we watched their show twice!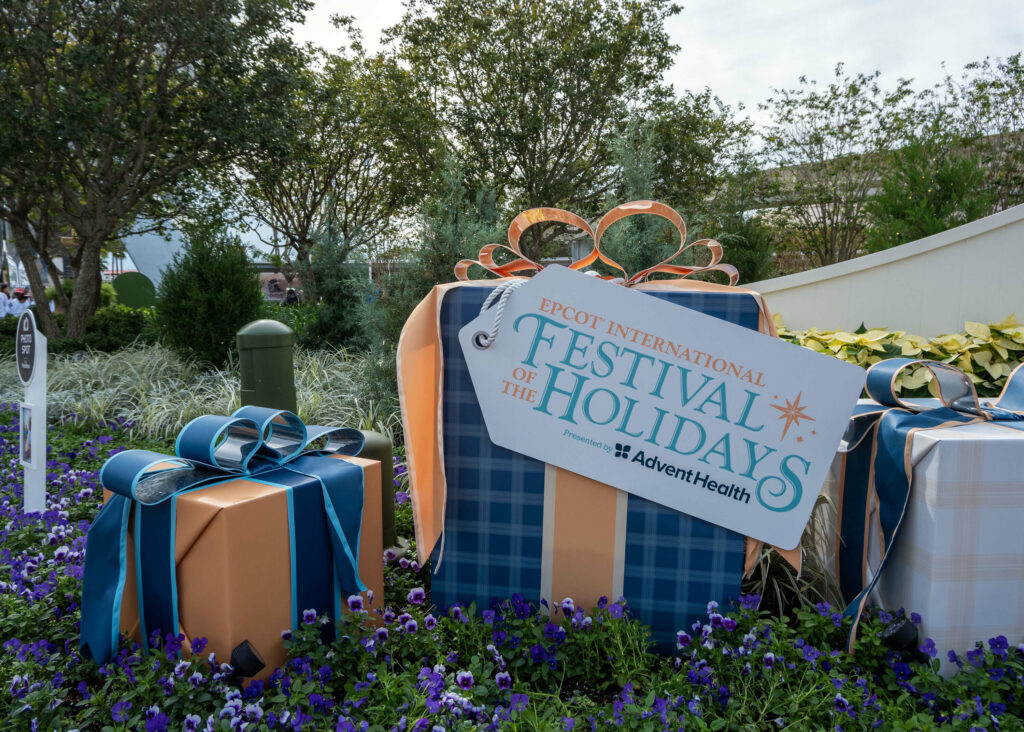 The food kiosks also serve regional festive treats including cookies, bratwurst and more! You can even take part in a designated stroll which involves purchasing unique biscuits in some of the World Showcase pavilions. We tried the sweet treats in the USA and Canada and although absolutely delicious, I definitely couldn't have managed any more of them!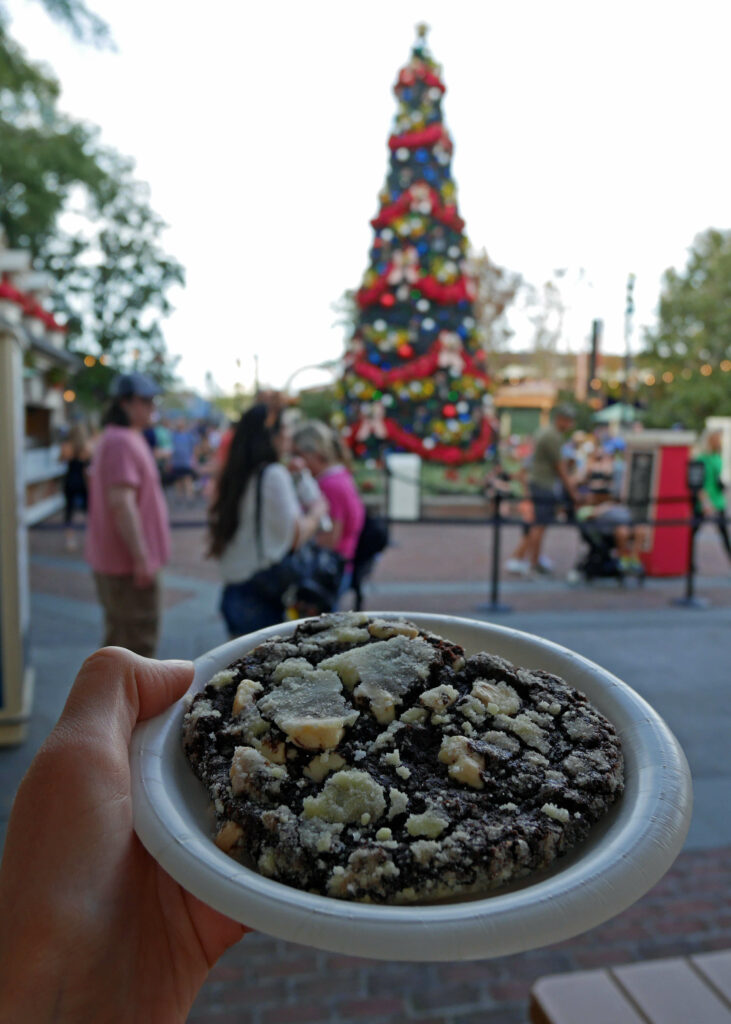 6. Minnie's Holiday Dine at Hollywood Studios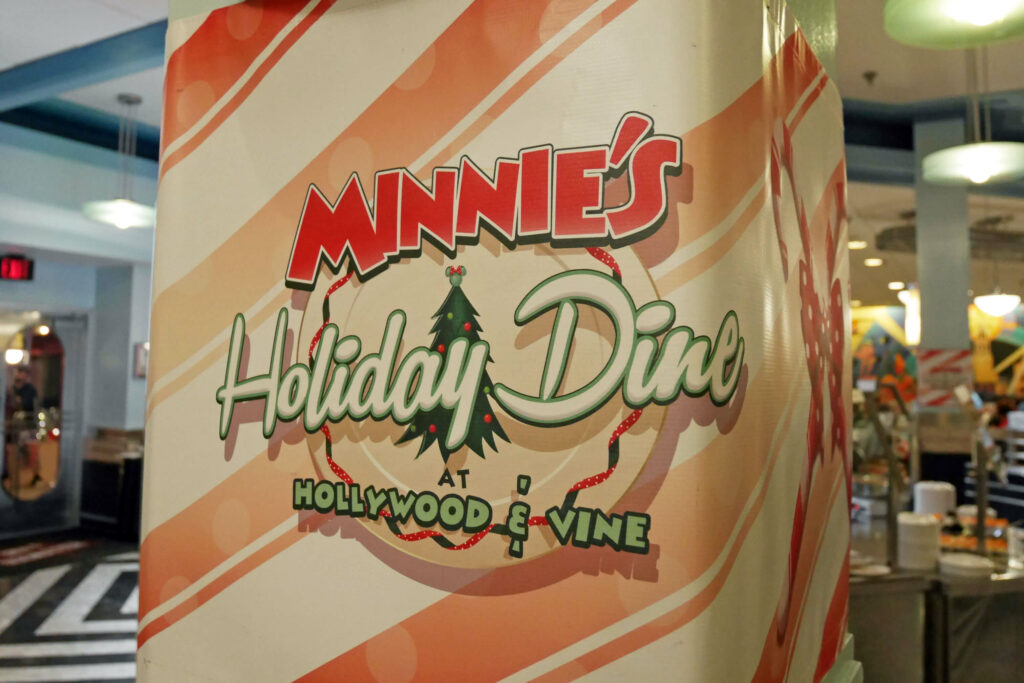 A limited time character dining experience, Minnie's Holiday Dine takes place at the Hollywood & Vine restaurant in Disney's Hollywood Studios park. Featuring Minnie Mouse, Mickey Mouse, Goofy and Pluto in Christmas attire, guests can enjoy a traditional American buffet featuring roasted meats and vegetables. We experienced Minnie's Holiday Dine on 23rd December and it was the most festive meal of the trip. It was a pricey experience, but a great way to get into the festive spirit ahead of Christmas Eve!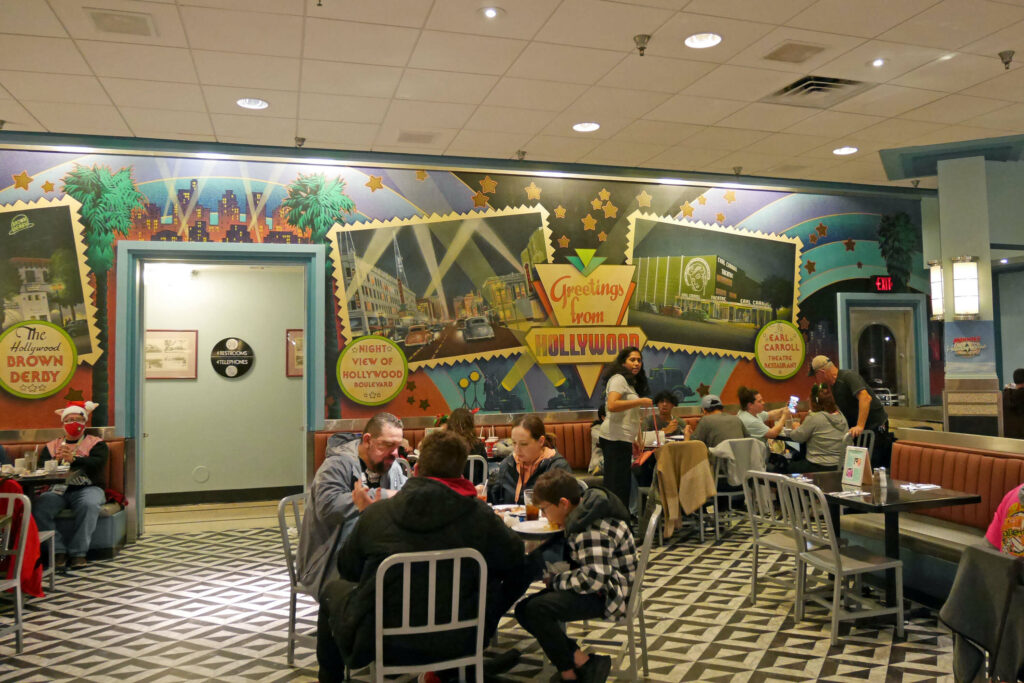 7. Disney PhotoPass Magic Shots
'Memory Maker' is Disney's unlimited PhotoPass product and it includes full digital access to all of your ride, family and character photos from your visit. If you are staying on Disney property for a lengthy period, it is such a helpful purchase with the huge number of photographers dotted around the parks. During the festive season the photographers capture limited time 'magic shots' which feature special overlays for the season. Whether it's a snow globe frame, Tinker Bell in a red Christmas outfit or some mistletoe added above your head, these additions make for some really fun photos. I will be presenting some of ours in a scrapbook and turning them into timeless memories!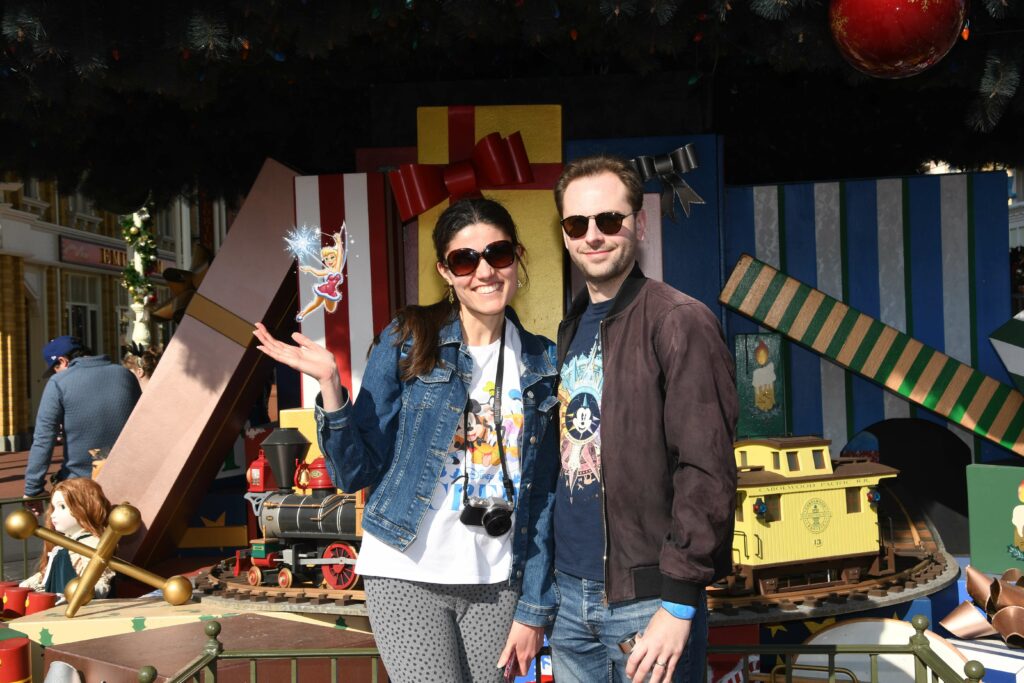 8. Festive touches at the resorts
Staying at Disney's Port Orleans Resort – Riverside for the entire holiday, we were in awe at the spectacular Christmas decorations from the moment we disembarked the Sunshine Flyer transfer service. Little did we know, the decorations were just the start of the festivities! In the lead up to Christmas weekend, the hotel's 'Movies Under the Stars' was festive themed and at the closest screening to the big day 'The Santa Clause 3' was the film choice.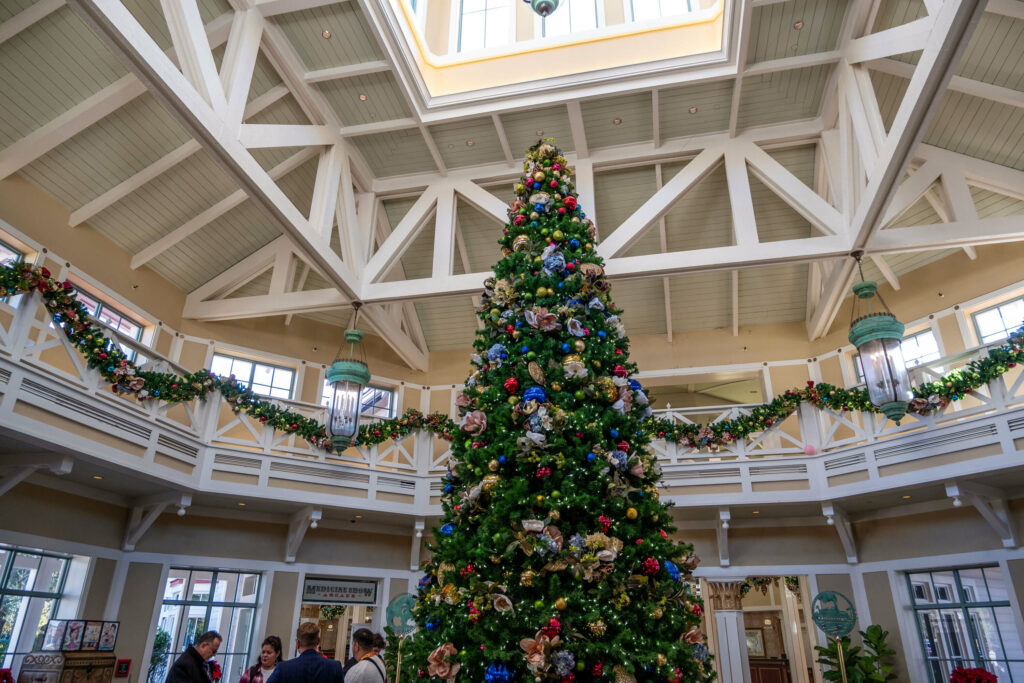 On Christmas Eve resort staff were handing out free cookies (biscuits), guests were able to meet Santa and on Christmas Day the food court had some limited-time seasonal dishes. It was certainly a novel experience spending Christmas at a Walt Disney World resort!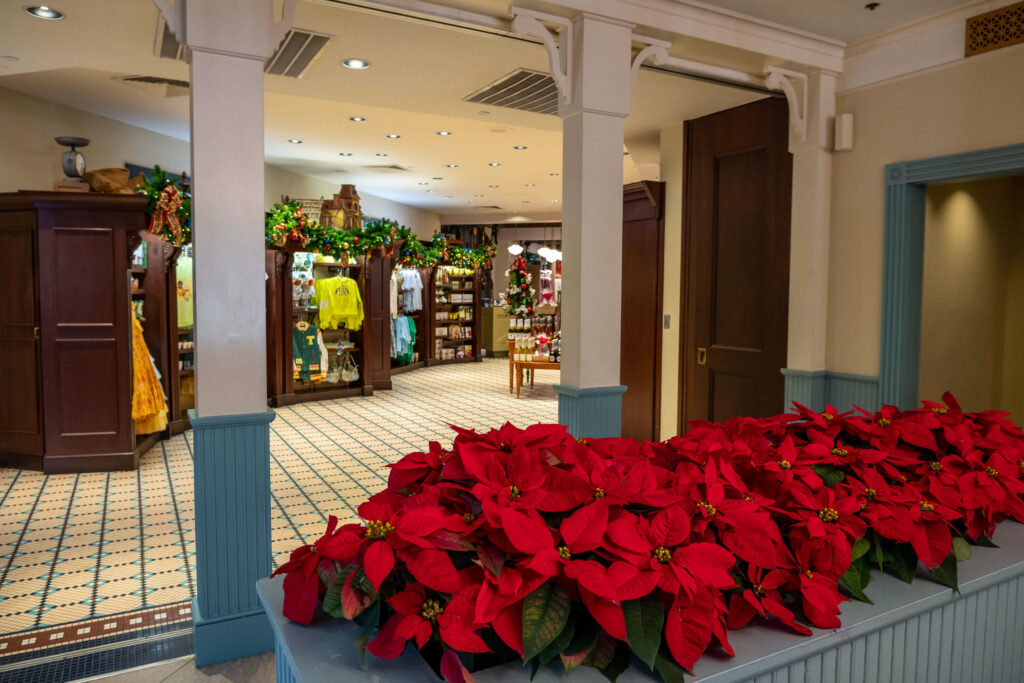 9. Christmas tree stroll at Disney Springs
The Disney Springs shopping and entertainment district is home to various merchandise shops, food outlets and entertainment venues. During the festive season it is adorned with themed Christmas trees and visitors can follow a bespoke tree map around the village, ticking off the ones that they find. If you fancy a break from the parks, this would be a great activity for a quiet but festive morning on Disney property.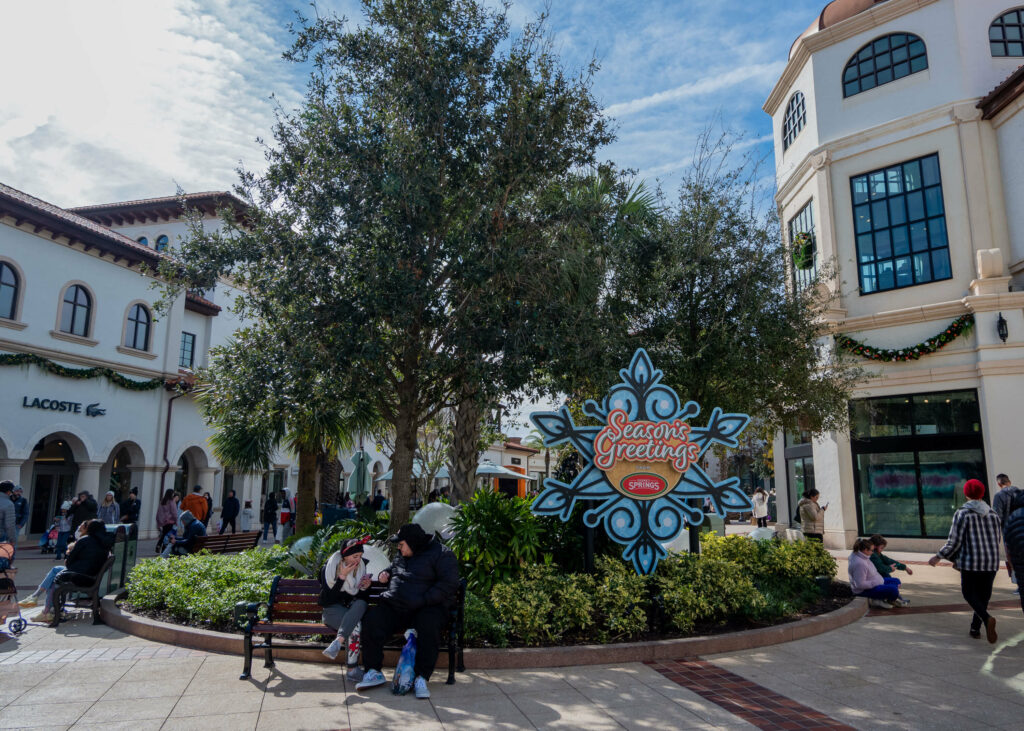 We didn't manage to complete the whole stroll, but we got to see a few of the trees around Marketplace and the Haunted Mansion was our favourite. It was very different to any others that we had seen and it fit perfectly into the Disney Parks location. Who'd have thought the grim grinning ghosts would make such fun festive decorations?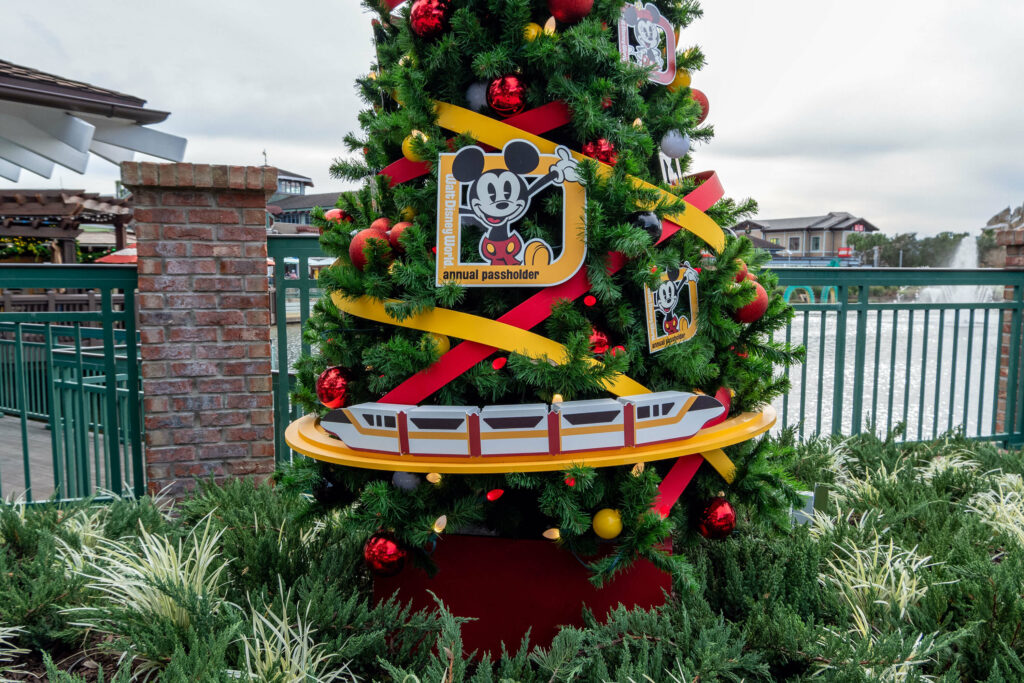 10. Tree decoration shopping
If you are a big Disney fan, it goes without saying that Walt Disney World is one of the most fun places to go shopping. If Christmas is also your thing, you are bound to enjoy purchasing tree decorations at 'Ye Olde Christmas Shoppe' in the Magic Kingdom or the '12 Days Of Christmas' location in Disney Springs. This is something we do on every trip regardless of the time of year, so I really didn't expect ornament shopping to be my favourite store experience; instead assuming that I would prefer browsing homeware.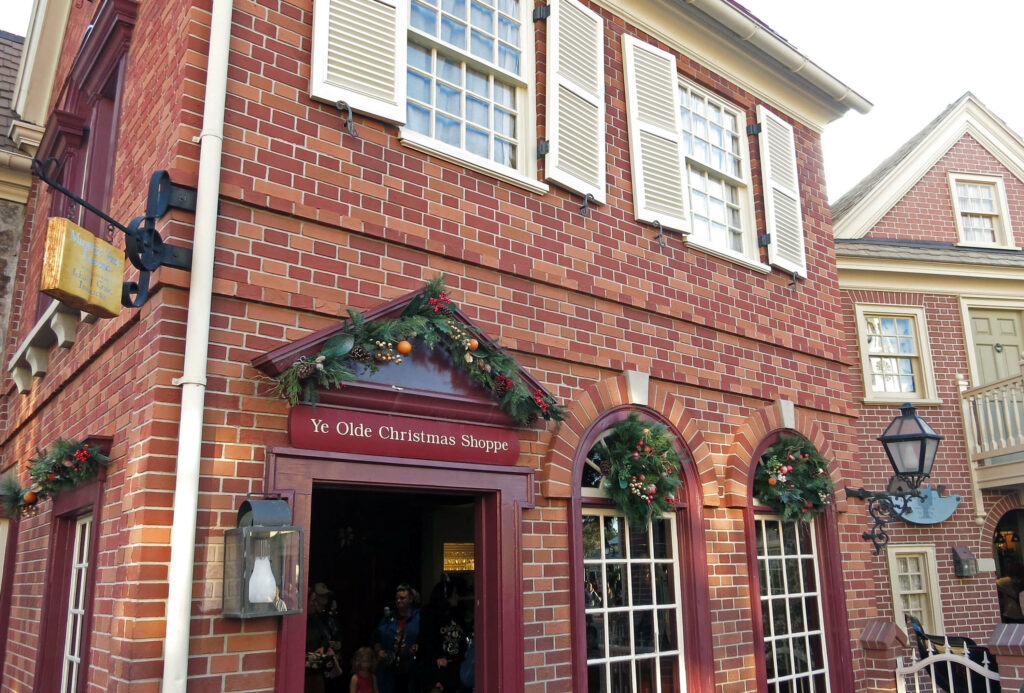 The atmosphere ended up being incredible inside these buildings during Christmas week. Everybody was so happy purchasing personalised decorations that would soon bring back lots of wonderful memories of their holidays. We personalised a couple of decorations ourselves and they are my most precious souvenirs from the trip. The artists that personalise the baubles are so talented!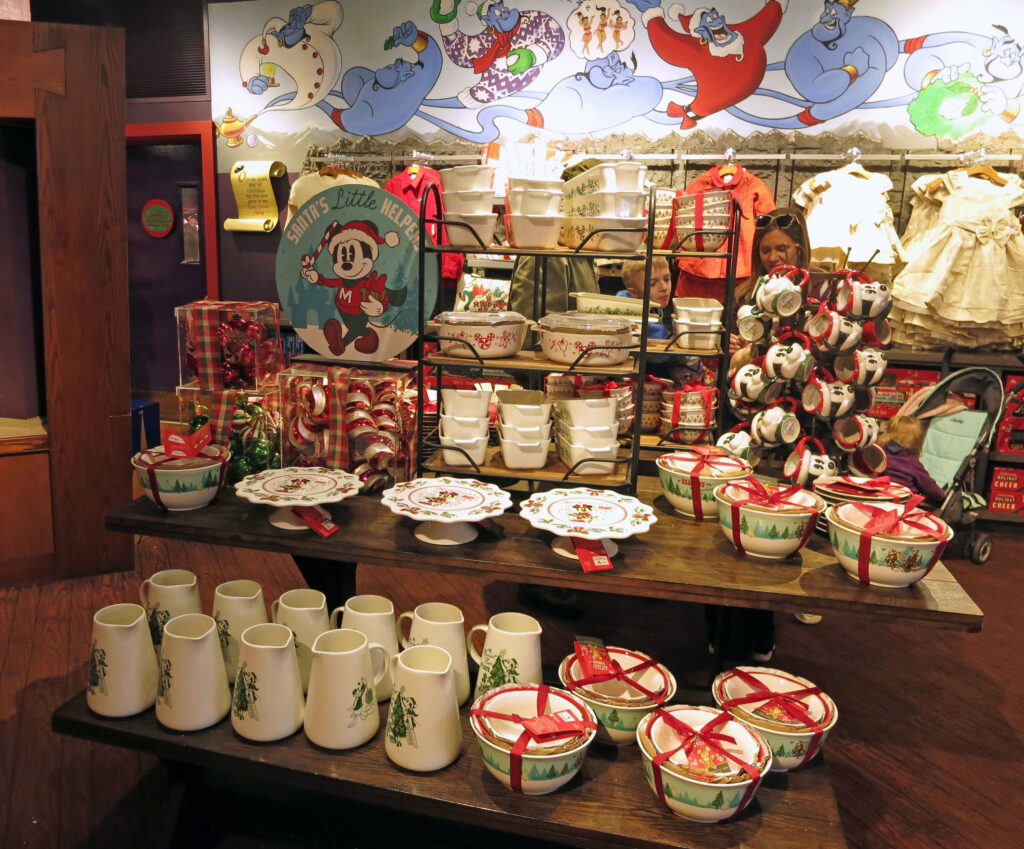 Celebrating Christmas in Florida was an experience I will never forget. Despite being a long list, my 10 things I loved about spending Christmas at Walt Disney World just scratch the surface of our trip; there is so much more I could have mentioned. The festive decorations, shows and cheerful atmosphere left me grinning from ear to ear for fourteen days straight, as we experienced the most wonderful time of the year at the most magical place on earth.
Have you ever been to Walt Disney World? What time of year did you visit?
Thanks for reading my blog today.
Love Kat xxxx