I first visited Florida when I was very little and it is no secret that I fell in love with the parks all those years ago. As I have grown older my interests have changed, but I still experience that same magic when I visit Walt Disney World in my twenties, over two decades since I first strolled down Main Street USA. Unsurprisingly, one of the things that has evolved is the amount of time that I spend watching the shows and stage entertainment. It is one of my favourite things to do in the parks and some of the spectaculars could fit right at home in the West End or Broadway. Given that this website primarily covers theatre, travel and Disney, I thought I would combine two of these topics today and share my top 5 must-see shows in Walt Disney World. From a 360-degree theatre featuring animatronics to a musical about everybody's favourite clownfish, the parks have plenty of sit down entertainment for families, couples and solo travellers.
The Festival of the Lion King
The Lion King was adapted into a Broadway musical in 1997 and opened in London's West End in 1999. The soundtrack lends itself so well to theatre with the rhythmic sounds of the pride lands and memorable lyrics. Thankfully Disney introduced a Lion King-themed show to Animal Kingdom park in 1998. Known as 'The Festival of the Lion King', it features four vocalists, several animal-themed animatronics and an ensemble of ballet and acrobatic dancers. Set to Elton John and Tim Rice's incomparable music, the cast perform live and audiences are treated to some beautiful renditions of the film's songs.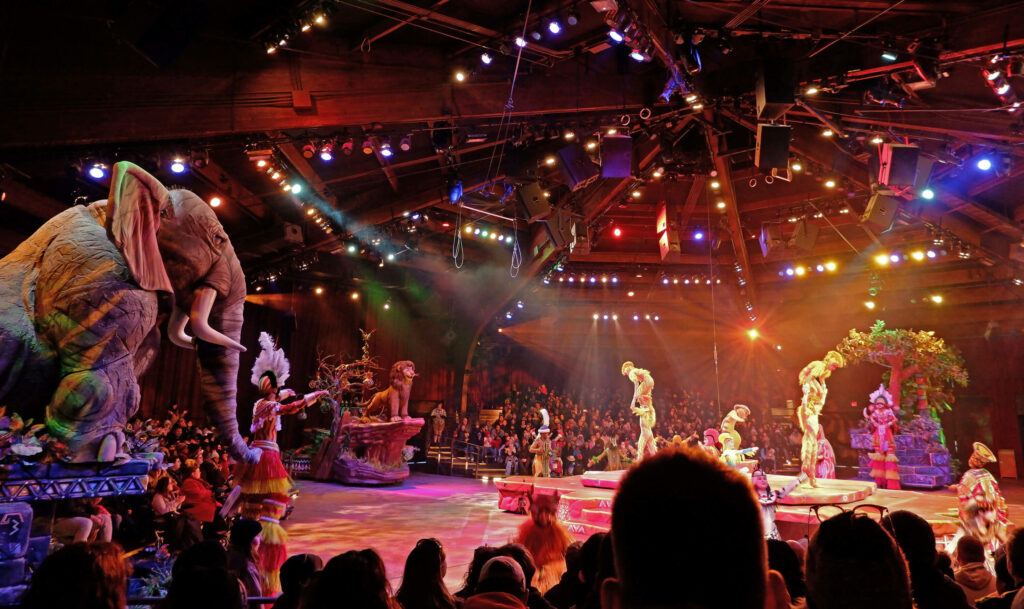 The theatre is based in the Africa area of the theme park and it is the perfect location for a musical tribute to one of Disney's most adored films. I sometimes watch it multiple times per trip as it makes me quite emotional and this year we got to watch the show on Christmas Eve. It was a moment that I will remember for many years to come! If you enjoy the film, definitely put some time aside to watch the Festival of the Lion King. It is appropriate for all ages and even has some interactive elements too, which is a lot of fun for kids!
Finding Nemo – The Musical
One of the best examples of musical theatre in Walt Disney World, Finding Nemo – The Musical has recently gone through a revamp and it is now back in action at the Animal Kingdom as 'Finding Nemo: The Big Blue… and Beyond!'. Full of vibrant colours, emotional songs and everybody's favourite animated sea creatures, the show features incredible puppetry and singing that with further development could easily be at home in the West End or on Broadway. The soundtrack is extremely heartfelt and focuses on the parent and child relationships of the film, specifically Melvin and Nemo and Crush and Squirt. With enchanting group narration, you don't want to miss this fast track of the original story told through the eyes of the memorable characters.
Walt Disney's Carousel of Progress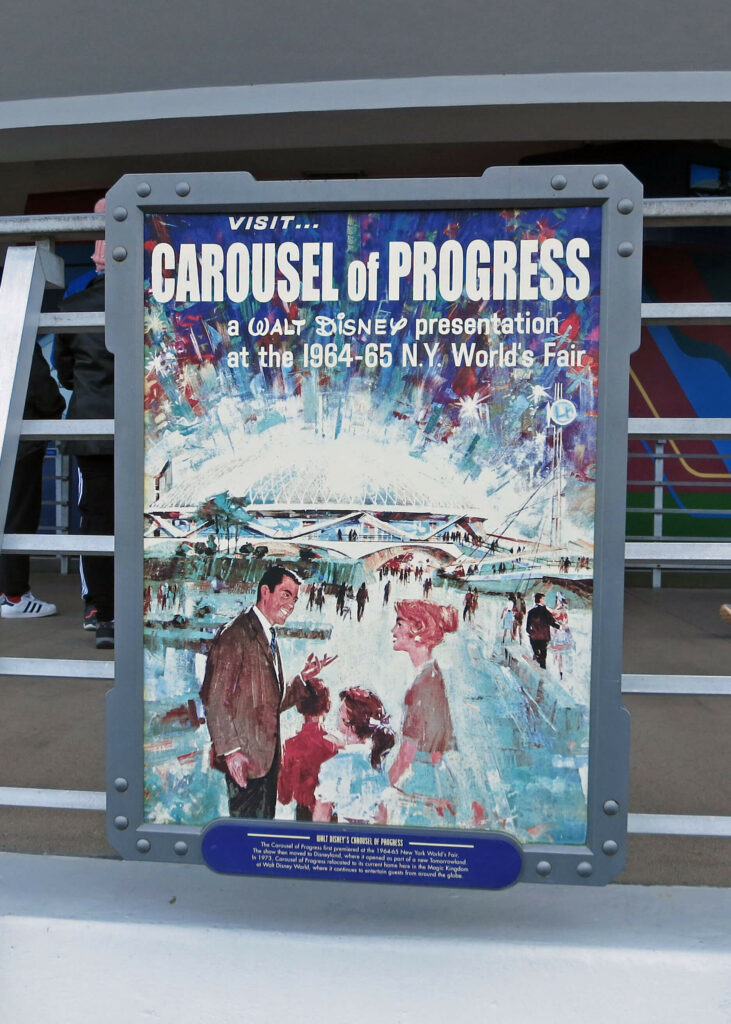 If you enjoyed Mary Poppins and Bedknobs and Broomsticks growing up, you are probably familiar with the work of the Sherman Brothers. Not only did they provide music for some of the 1960s and 1970s biggest Disney films, they also penned a track for Walt Disney's Carousel of Progress. Debuting at the World's Fair in 1964, the Carousel of Progress is an animatronic based show that looks at the life of the American family from the turn of the century right up until the modern day. It is hosted in a 360-degree, rotating theatre and was brought to the Magic Kingdom in 1975. It might seem a little odd to have included a robotic attraction in this list, but it is symbolic of Walt's fascination with technology and invention. This early imagineering work on the Carousel of Progress also inspired some of the present day ride technologies that we know and love. The show also has one of the catchiest theme tunes in the parks and is bound to be in your head for the rest of your day after a visit! The Sherman Brothers were absolute geniuses.
Fantasmic!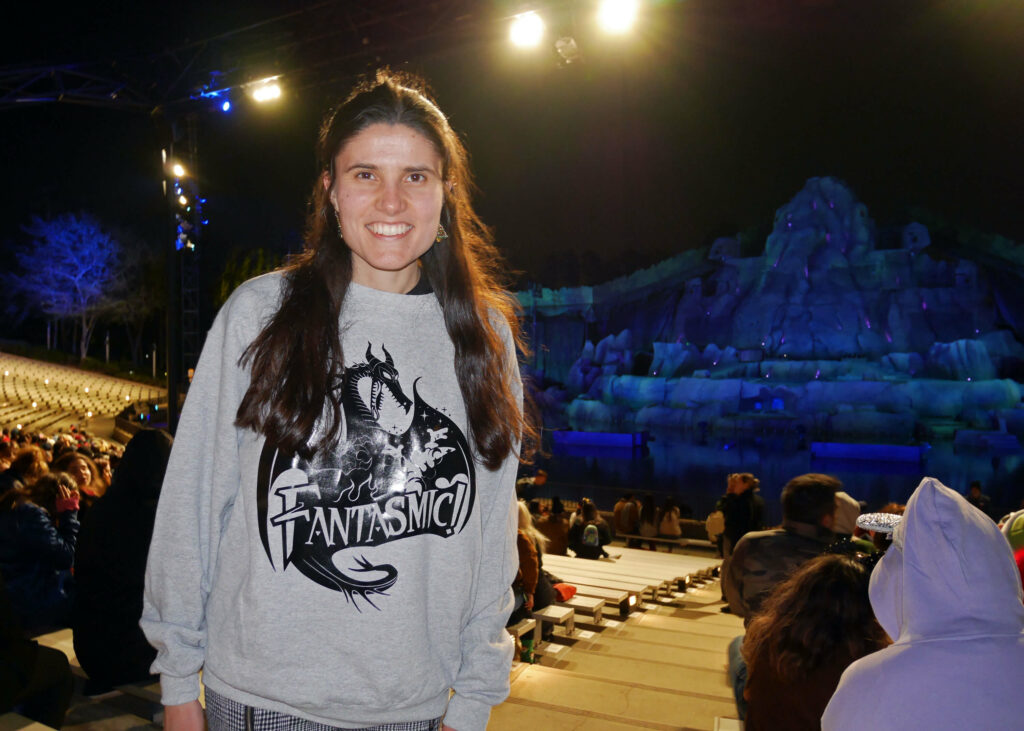 Visitors to Hollywood Studios are treated to a nighttime spectacular on several evenings throughout the year. Fantasmic! is a water, sound and fireworks show full of everybody's favourite Disney characters, much-adored songs and an action-packed story. It follows a journey through Mickey Mouse's imagination, featuring the heroes and villains of Disney films across the years. The show closed for almost two years during the COVID pandemic and recently went through an overhaul before reopening in November 2022. New characters and songs have been introduced, featuring some of the more recent Disney properties and they are very welcome changes. It is an emotional rollercoaster of a show for any Disney fan and should be top of your list of things to see at Hollywood Studios!
The Voices of Liberty at Epcot
The World Showcase at Epcot theme park features 11 mini countries or 'pavilions' as they are known. One of these is the USA and within this pavilion, there are daily performances by the incredibly talented Voices of Liberty singers. Alternating between period costumes and red and blue ensembles, the Voices of Liberty perform a cappella covers of patriotic American tunes. The group are known for their spectacular harmonies and they draw a crowd to every performance in the American Adventure Rotunda. At Christmas their daily set gets a holiday-themed makeover and audiences are treated to festive carols. Their stripped back musical show is one of the highlights of the World Showcase for me.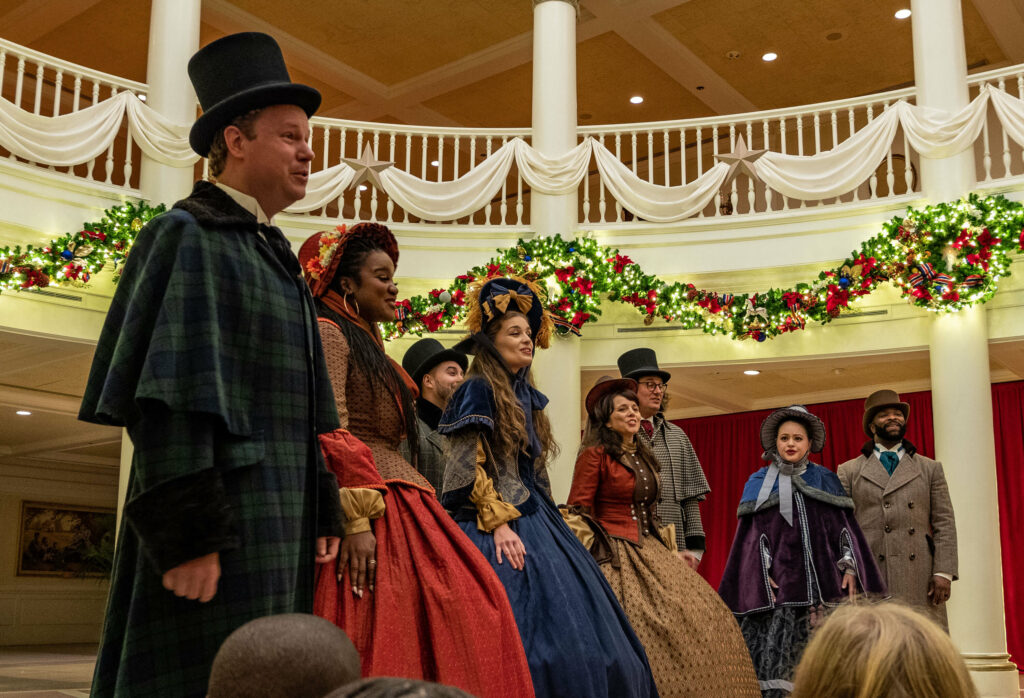 Whilst these five shows are my favourites, I have only scratched the surface of the productions at Walt Disney World. There are various other examples of live entertainment, from animal behaviour talks to more stage musicals inspired by the films. Each option offers something completely different to visitors and is the perfect way to break up a busy day at the theme parks! Check out the My Disney Experience application when you arrive for all of the available shows.
Have you ever visited Walt Disney World?
Thanks for reading my blog today.
Love Kat xxxx