One of the best things about getting to visit Walt Disney World during the Christmas season was finally being able to book tickets to a Disney seasonal party at the Magic Kingdom. I've been to Florida a few times over the years, but most of these visits have been in the summer or at low season, when the parks aren't dressed for a particular occasion. Previously the closest I came to visiting over a holiday was the Fourth of July in 2017 and getting to watch the 360-degree fireworks. This holiday only lasts for a weekend though, so it's no comparison to the level of decoration for Halloween or Christmas!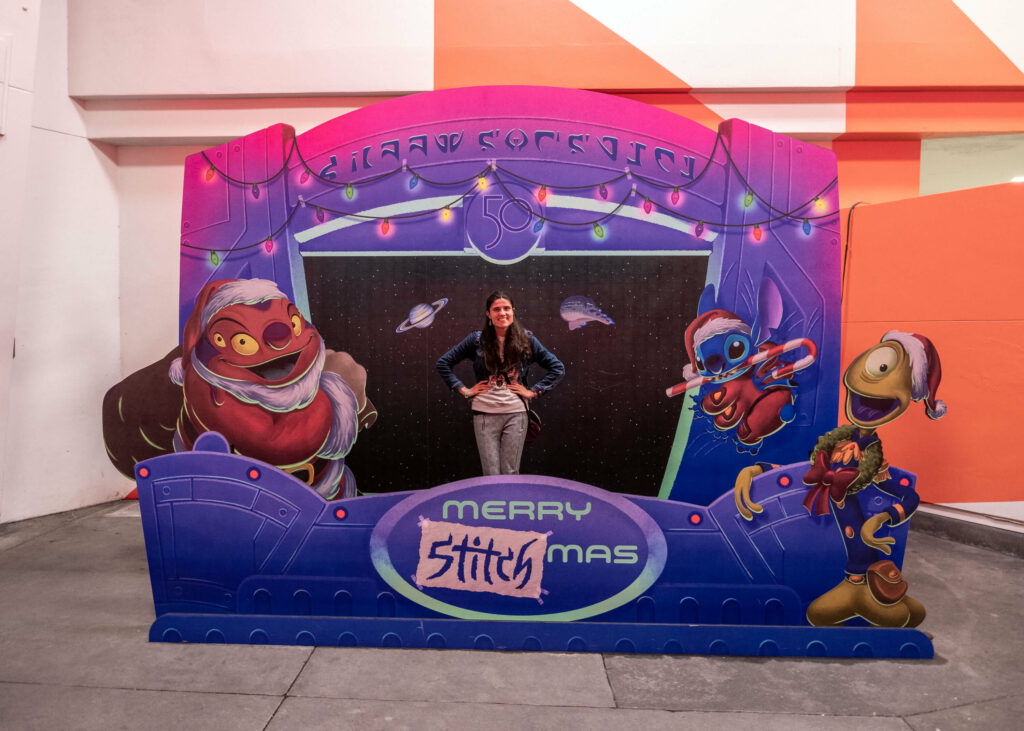 Mickey's Very Merry Christmas Party takes place throughout November and December and involves the Magic Kingdom closing early on specific nights to make way for a big celebratory event. It works completely differently to a regular day at Magic Kingdom, with guests being able to enter the park from 4pm: three hours ahead of the party starting, or alternatively enter the park as a regular visitor earlier in the day and head to a wristband station in the mid-afternoon. Ticket holders can enjoy a parade, fireworks display and approximately five hours of unlimited sweet treats, festive shows and Christmas themed rides.
Purchasing and receiving our tickets
Visitors can purchase a party ticket from authorised sellers, which in the UK means FloridaTix, Attraction Tickets Direct or Orlando Attractions to name a few. TopCashback has helped me save lots of money on travel over the past few years, so I purchased the tickets through the retailer offering the highest percentage of cashback on there, which happened to be FloridaTix. Disney released the party tickets in June and I have to admit I was out of the loop with park announcements, so ended up getting our tickets a month later when I finally remembered to look for tickets.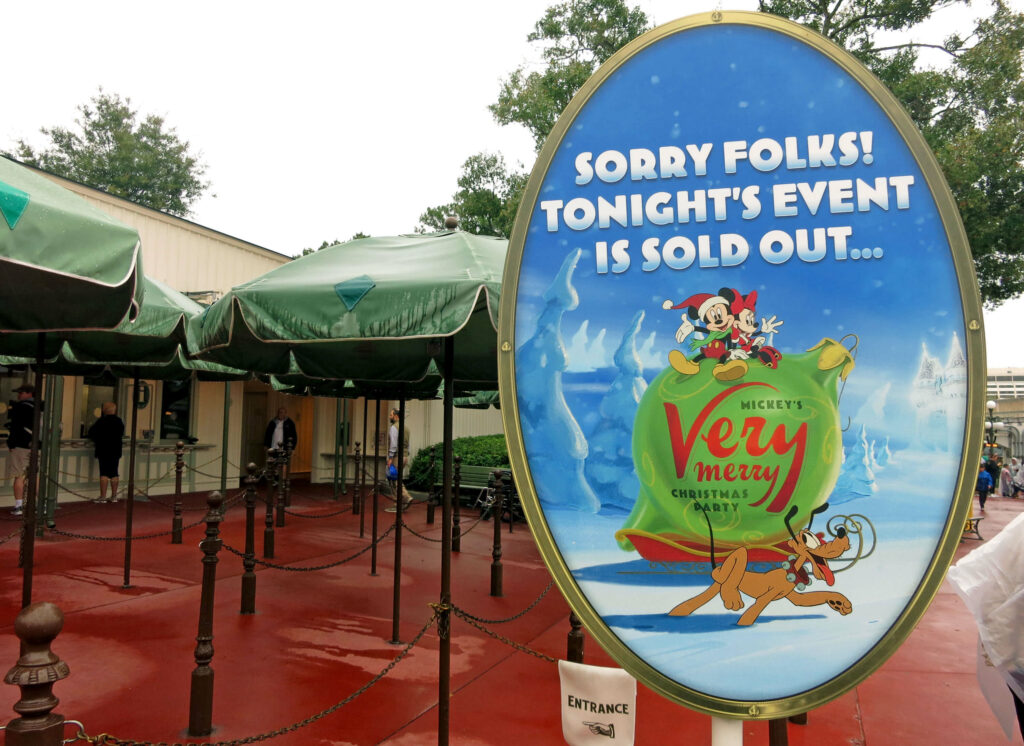 Pricing varies by date and the closer you get to Christmas, the more expensive the tickets are. Unfortunately that meant we had to choose between some of the priciest party dates, arriving in Florida on 17th December. In the end we decided to book the 20th December (penultimate party) as we wouldn't be so jet lagged by then and would be able to stay up late for the event. FloridaTix provided us with eTickets a few days after purchase and we were able to exchange these for physical tickets at Magic Kingdom Guest Relations.
Morning plans, park reservations and joining the party queue
At the moment you need a park reservation to enter any of the Disney theme parks, unless you are visiting for a ticketed event. Mickey's Very Merry Christmas Party is a limited time experience and your ticket acts as a park reservation for the evening, so you can either book a spot at the Magic Kingdom for a full day or visit somewhere else for a few hours first. We chose the second option as it didn't make sense to spend another full day there so close to our first visit to the Magic Kingdom. After a busy morning at EPCOT, we headed back to the resort for some lunch and downtime during the middle of the day.
Entering the park
We took the bus over to the park at 3pm, arriving approximately half an hour before the party gates opened. It was raining lightly but this didn't dampen anyone's spirits; there was a real buzz amongst the crowd waiting at the turnstiles. My husband used the spare time to exchange our paper tickets into physical cards at Guest Relations. Unfortunately the tickets we had purchased online weren't gate ready but this was a minor inconvenience that was easily sorted at the assistance desks.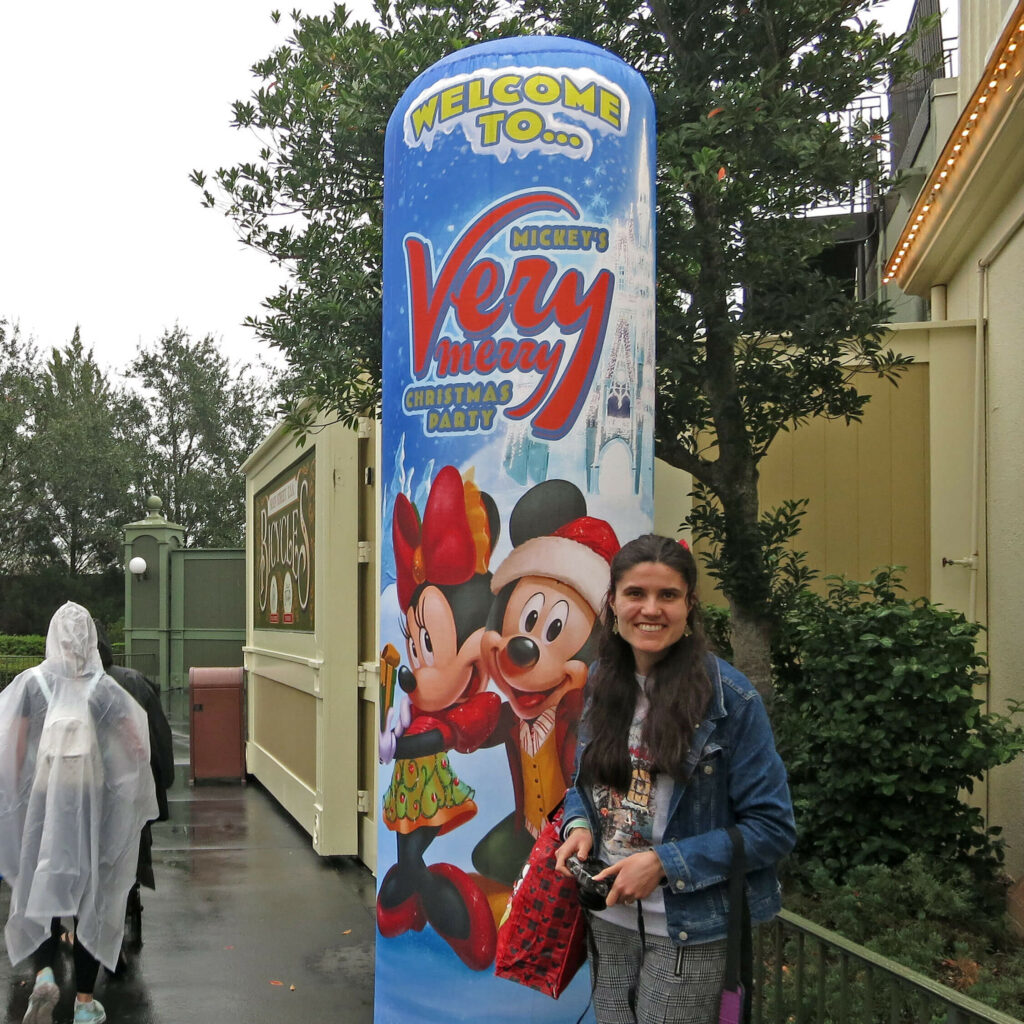 Entering the park was an extremely smooth process. We were provided with event wristbands and directed through to the back entrance of Main Street U.S.A, where cast members were handing out souvenir Mickey's Very Merry Christmas Party tree decorations. A calm and well managed one-way system had been set up to facilitate the arrival of party guests and departure of day guests, which took the stress away from the constant flow of people. We were inside the park and feeling very relaxed by about 4:05pm, ready to partake in the festivities.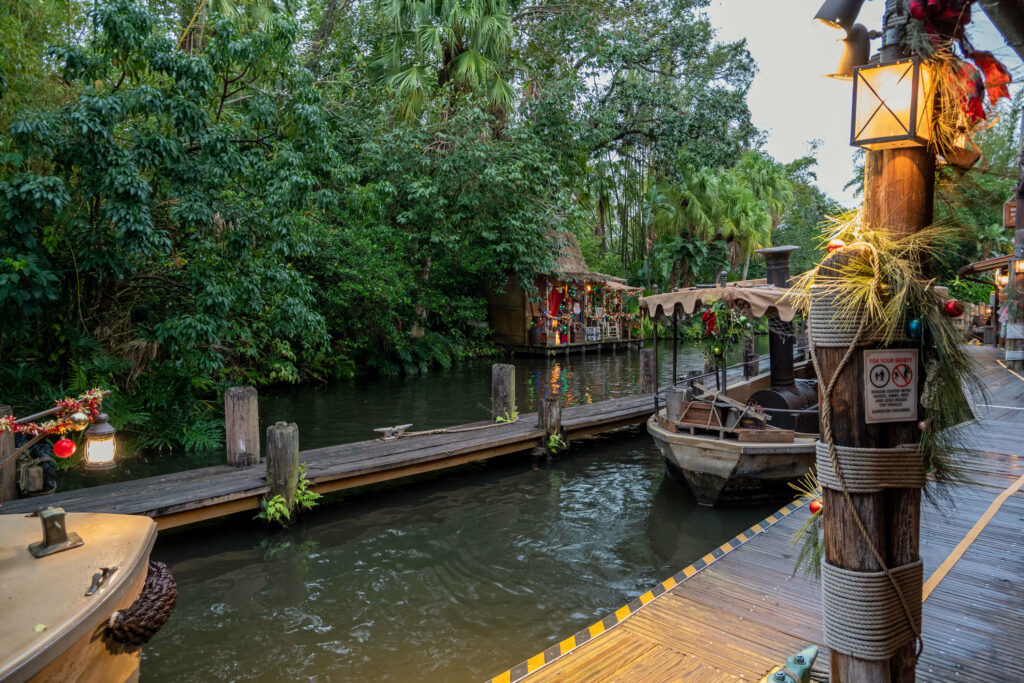 Pre-party plans
The party officially started at 7:00pm, so we had just over two hours to enjoy some of the regular rides ahead of the park transformations. We headed straight for Adventureland, specifically Aladdin's Flying Carpets and Jingle Cruise: the only area of the park that we didn't get a chance to visit properly on our first day. The rain seemed to significantly reduce the wait time for outdoor rides as people flocked to shows and covered attractions. We made the most of this and ended up getting to enjoy Jingle Cruise with a minuscule 15 minute wait. The queue wasn't this low at any other time throughout our holiday, so it was a brilliantly timed decision. After this we watched the Country Bear Jamboree show, rode Prince Charming's Regal Carousel in the dark and grabbed some food.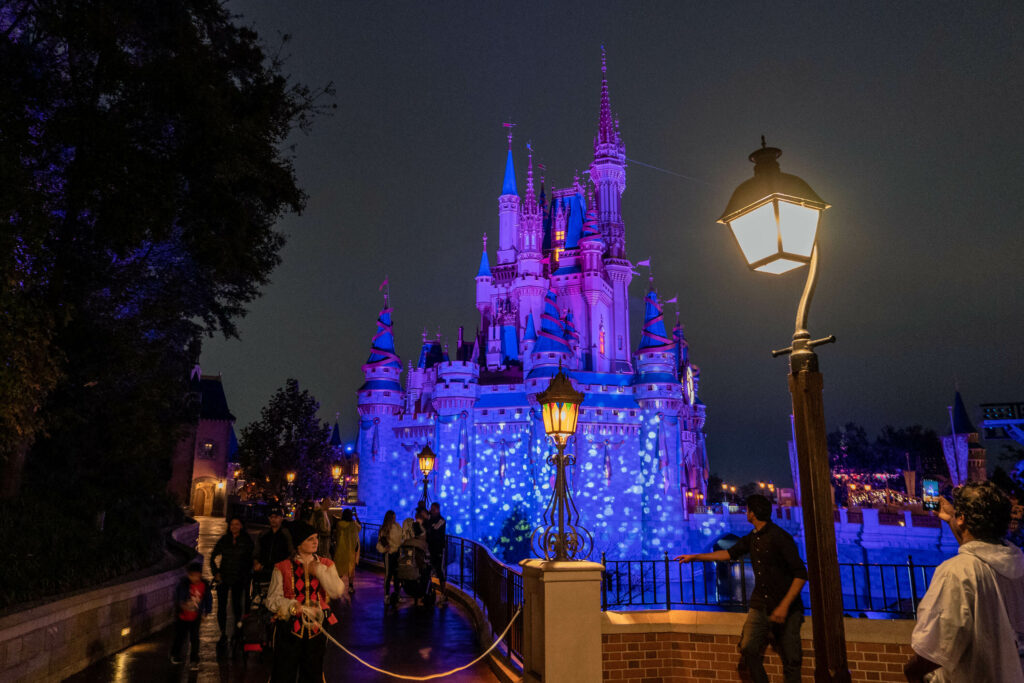 Party priorities and character meets
From 6:30pm some of the party exclusive events began to open up. Guests had one opportunity to make the most of a lighter queue before the official opening and we decided to prioritise the four-character Winnie The Pooh meet and greet. Being able to see Pooh, Piglet, Tigger and Eeyore together is a very rare experience at Disney Parks and the characters were in winter scarves too, which was an adorable seasonal touch. The wait time was approximately 45 minutes, but the queue was outdoors so we enjoyed some snacks in line. By the time we had met the characters, the party was in full swing and wait times were creeping up.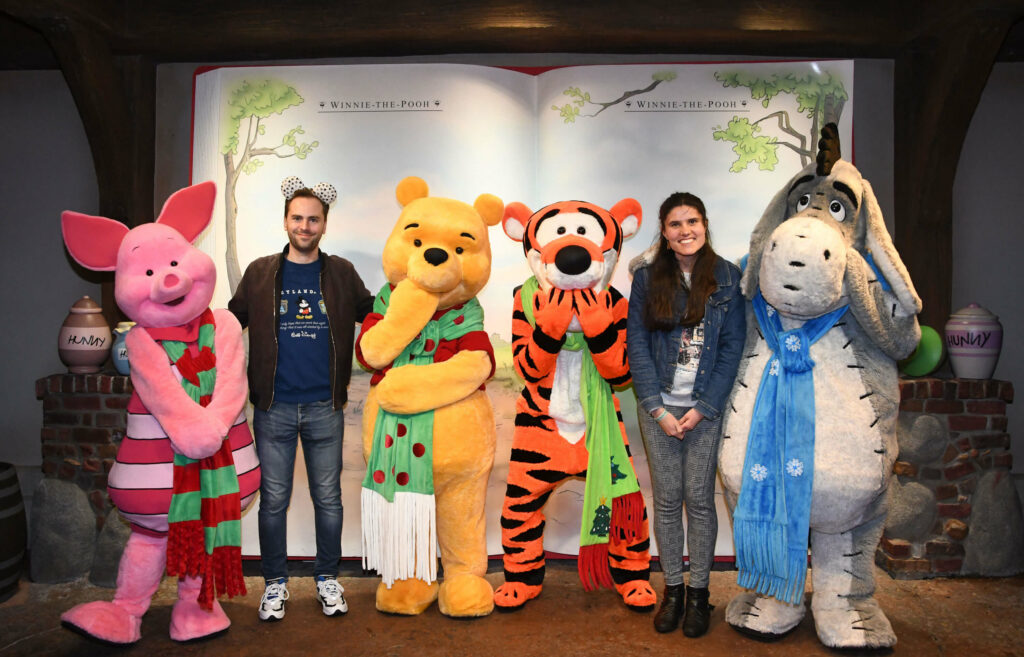 Our second priority was meeting Minnie Mouse, Daisy Duck, Donald Duck and Scrooge McDuck in their Christmas outfits. This character spot was located in the soft play area of Dumbo the Flying Elephant at Storybook Circus: a location that doesn't normally host characters. This was a much busier character meet, but I think this was because the party had officially been underway for over half an hour by this point. The experience was definitely worth the wait though with the party exclusive festive backdrops and seasonal costumes.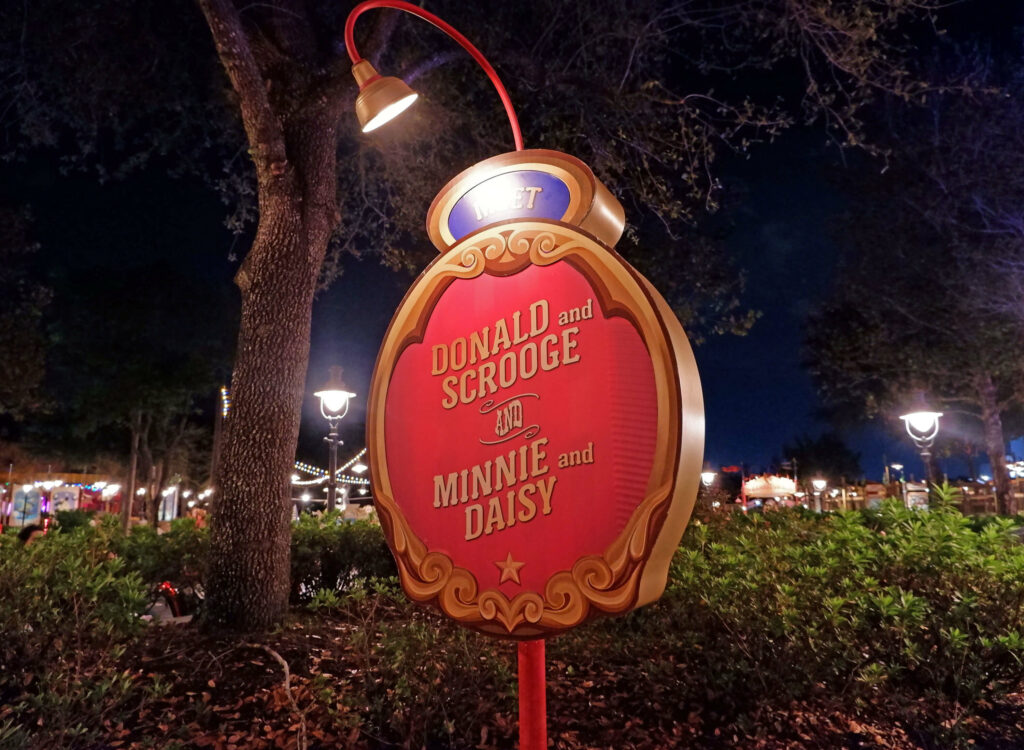 Cookie stops
One of the perks of booking Mickey's Very Merry Christmas Party tickets is getting to enjoy unlimited cookies and hot chocolate throughout the event. There are five cookie stops across the park and they are located in Tomorrowland, Fantasyland, Adventureland and Liberty Square. We visited each of the locations at intervals throughout the night and the offerings included various flavoured biscuits and the choice of hot chocolate, eggnog or apple cider.
The biscuits were individually wrapped so we took some of them away with us for future days of the trip. The party ended up inadvertently saving us a bit of money, as we didn't purchase many afternoon treats whilst we were away. The hot chocolates were also delicious, but there is only so much I can drink, so after enjoying a couple of them I quickly switched back to water. Even though we were totally sugared out by about 9pm, I am pleased that we still visited each of the stations as it was interesting finding out what was available at each of them.
Festive ride theming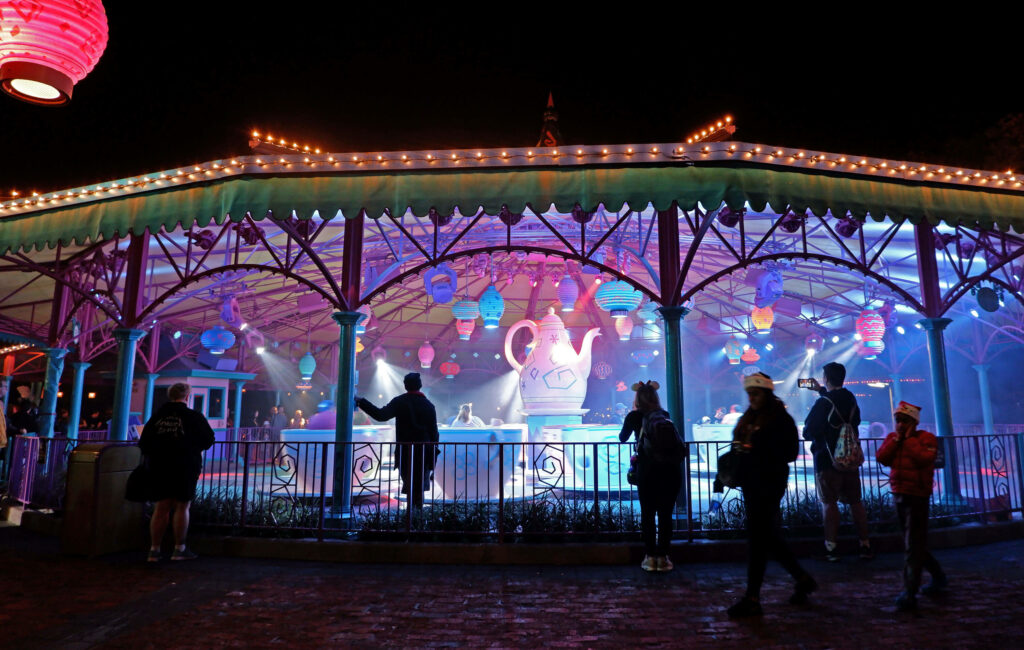 In my ten things I loved about spending Christmas at Walt Disney World I talked in detail about the Christmas-themed attractions. Apart from Christmas Day itself, you can only access these limited time ride 'overlays' on Mickey's Very Merry Christmas Party evenings. Throughout the evening we managed to squeeze in both the Tomorrowland Speedway and the Mad Tea Party, which were illuminated for the season. The festive ride theming completely uplifted these classic attractions, providing a whole new experience for guests. The only one we missed out on was Space Mountain, but my husband and I were ultimately quite happy to give it a miss as it is quite a jerky ride.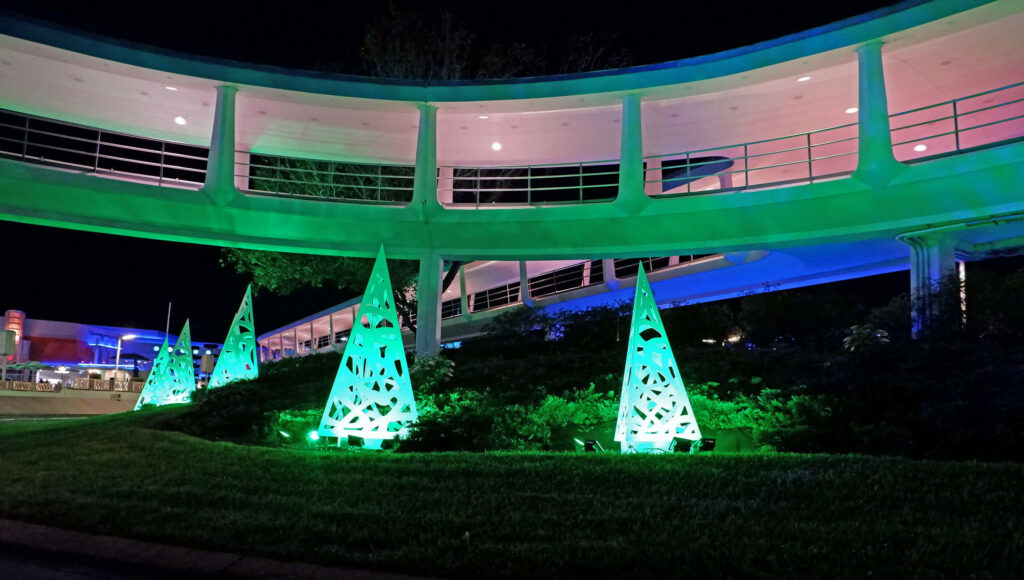 Musical stage show and fireworks
Towards the end of the evening we headed over to Main Street U.S.A. for the nighttime entertainment. Mickey's Most Merriest Celebration was a 20-minute musical stage show featuring lots of rare characters, Christmas tunes and fun dance routines. The Three Caballeros made an appearance in 'Feliz Navidad' and there was a country and western themed number starring Toy Story's Woody and Jessie. It was one of the best castle stage shows that I have seen throughout the years and it worked really well in the dark, thanks to the creative lighting effects.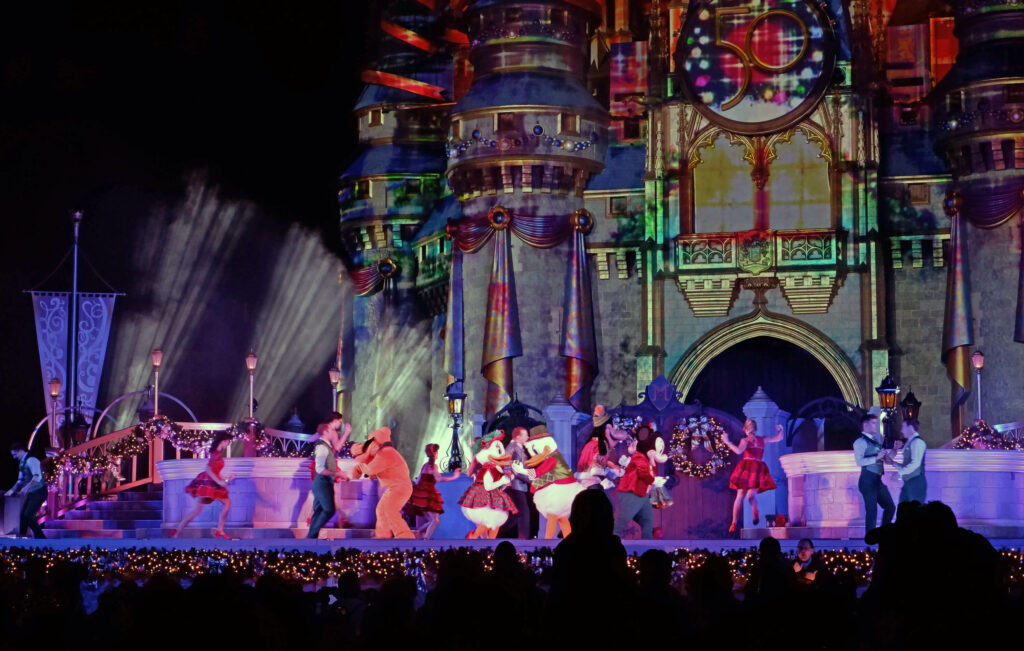 Minnie's Wonderful Christmastime Firework Show was the last thing we did at the party and it featured a voice over by Minnie Mouse, a seasonal soundtrack, spectacular castle projections and fifteen minutes of jaw-dropping fireworks. In my opinion Disney Parks produce the best firework displays and the Christmas spectacular cemented this viewpoint even more for me. It was a wonderful way to end our time at Mickey's Very Merry Christmas Party.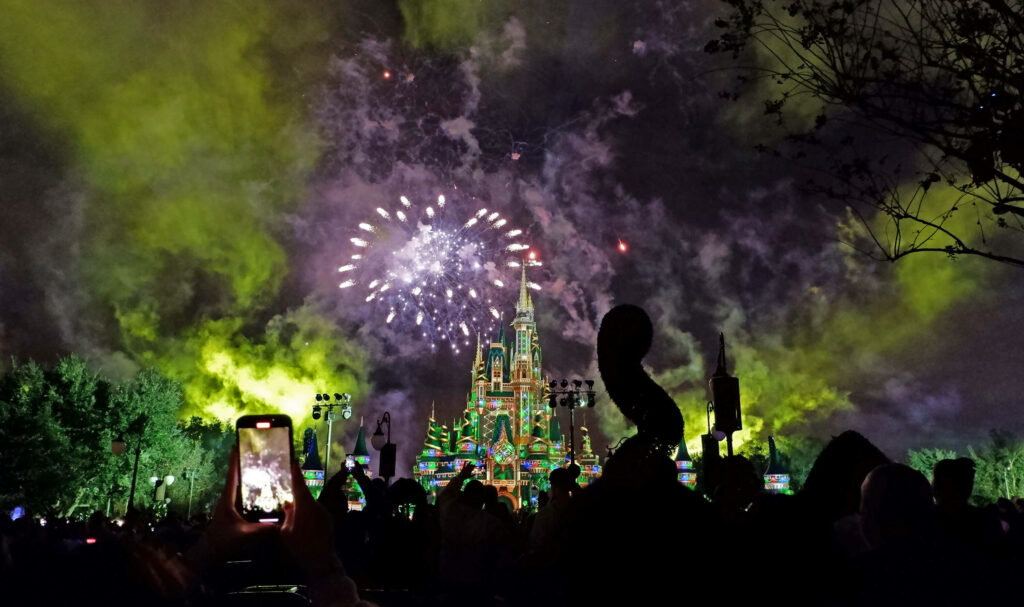 If I hadn't been so exhausted at the end of the night, we would have stayed for the late night showing of Mickey's Once Upon A Christmastime parade too. Instead we saved the parade for Christmas Day and it was well worth the extra wait!
Would I recommend Mickey's Very Merry Christmas Party to others?
Absolutely! It is expensive, but if you are not visiting during Christmas week, the party provides you with the opportunity to experience the magic of a Disney Christmas early. We could have easily skipped it and saved the money as we were in Florida until 31st December, but the exclusivity of the party, rare character meets and low crowds made it a no-brainer. Also it is unlikely we will visit Florida for Christmas again, so we wanted to experience the party whilst we had the chance.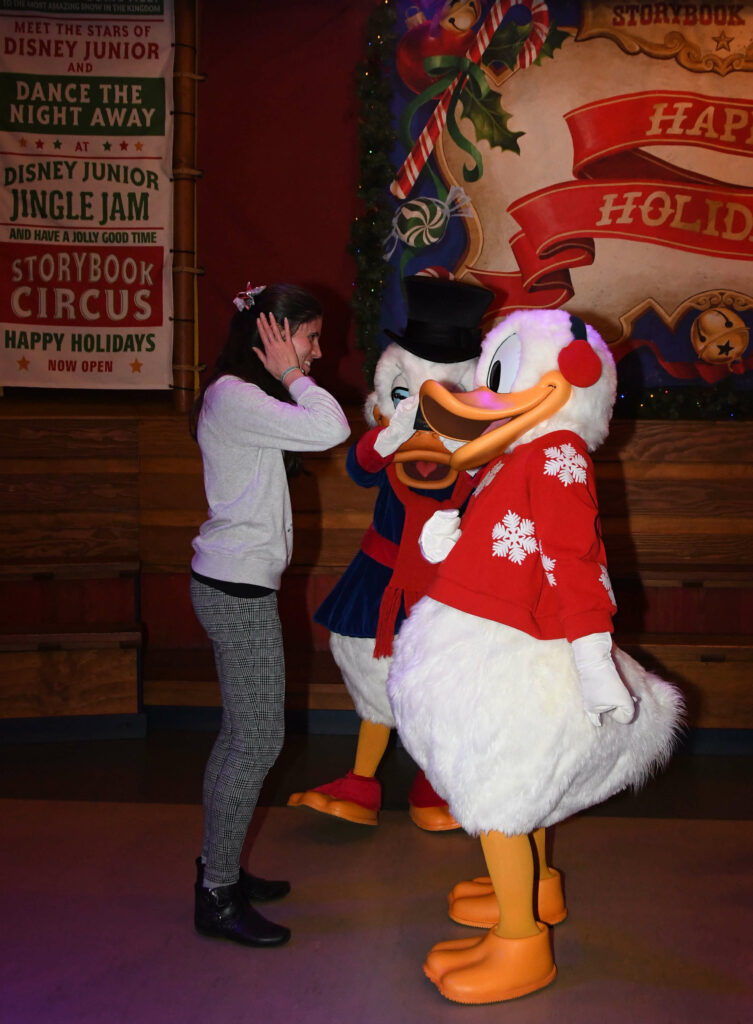 My top tip for the party
Choose your character priorities in advance of 6:30pm. With the long wait times for characters and various attractions running simultaneously, I recommend creating a shortlist of your favourite characters and focusing on them. This way you can get some lovely family photos, but also still have time for all of the other festive attractions! There were a handful of other character meet and greets available that we didn't squeeze in, but I didn't feel disappointed as we had been able to enjoy two of the rare experiences.
Have you ever been to a Disney Parks party? Which season were you celebrating?
Thanks for reading my blog today.
Love Kat xxxx