Last month on the 24th May, indoor restaurants were finally able to open their doors after being closed since Christmas. Four months of home cooking and takeaways meant we were very much looking forward to finally being able to dine out in one of Canterbury's many restaurants, and with us both having some time off work in early June we couldn't wait to make some post-lockdown reservations. One of the restaurants that caught our eye was Chuck and Blade Burgers: a Kent-based burger restaurant that opened on Sun Street back in April. With the closure of the high street Gourmet Burger Kitchen last year, a restaurant we've been to many times over the past 5 years, we were keen to find a replacement restaurant in the heart of the city that served good quality burgers.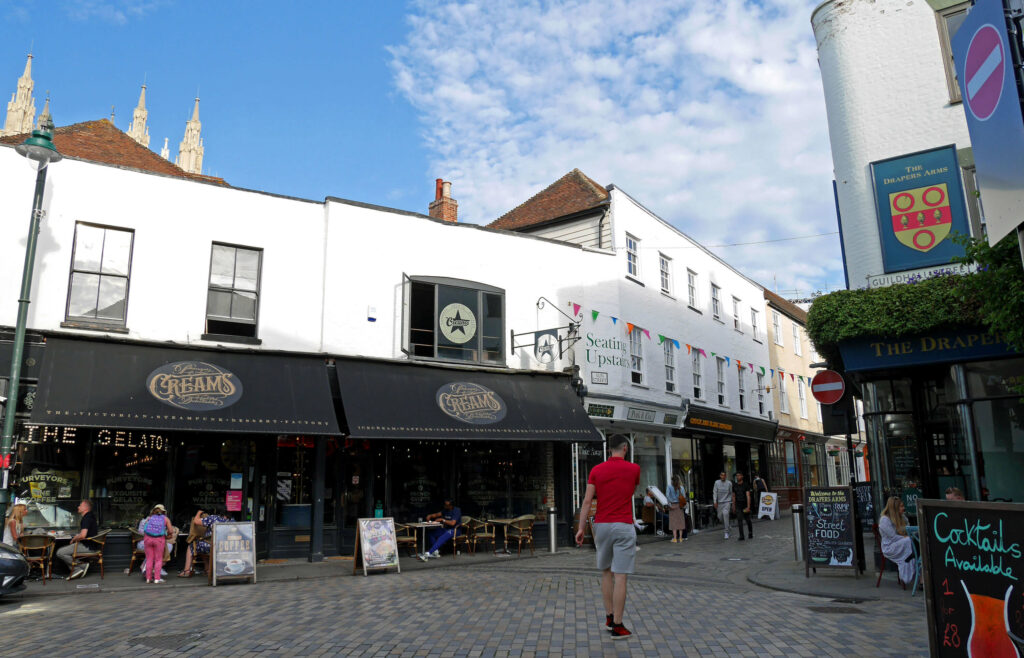 Arriving at the restaurant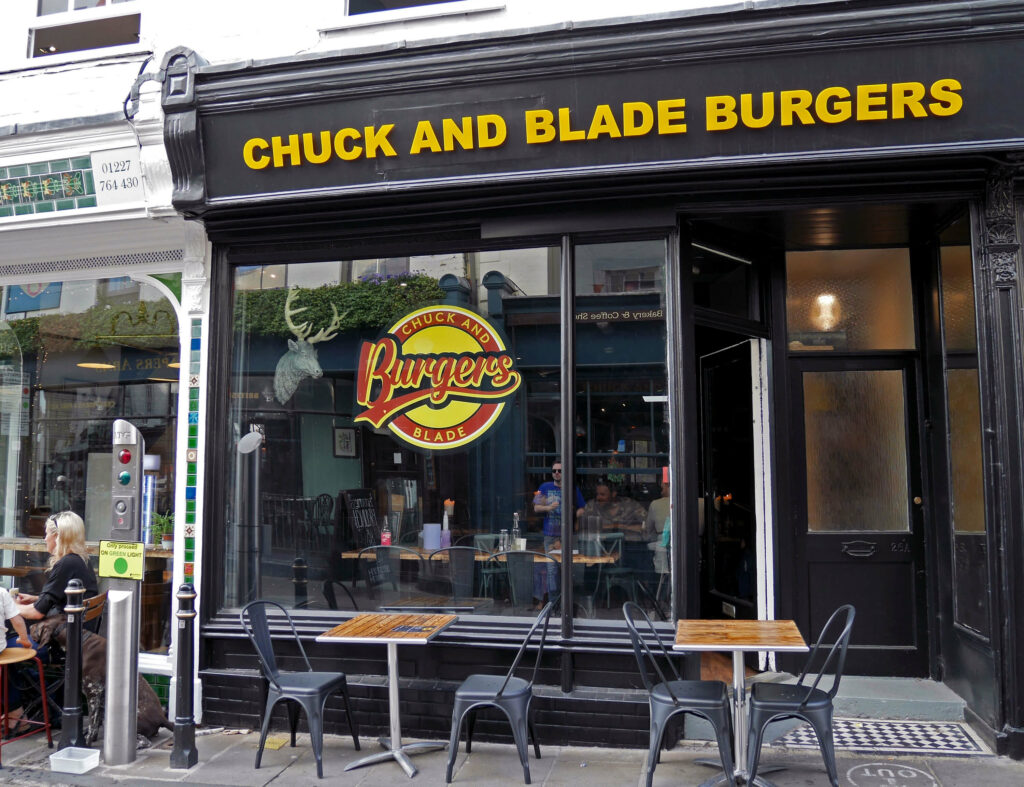 We made it to Chuck and Blade on a sunny Thursday after a trip to the local Curzon cinema to see Cruella. The first thing I noticed when we stepped inside was how popular the restaurant was for early on a Thursday. Booking for such an early time we were expecting to be one of very few parties dining, but this was not the case at all.
The decor
The restaurant decor immediately stood out to us with its black painted walls and dark wood tables. There were candle-like ornaments dotted on each of the tables helping to create a cosy, date-like atmosphere. We were seated at one of these striking tables straight away and couldn't wait to check out the menu.
The menu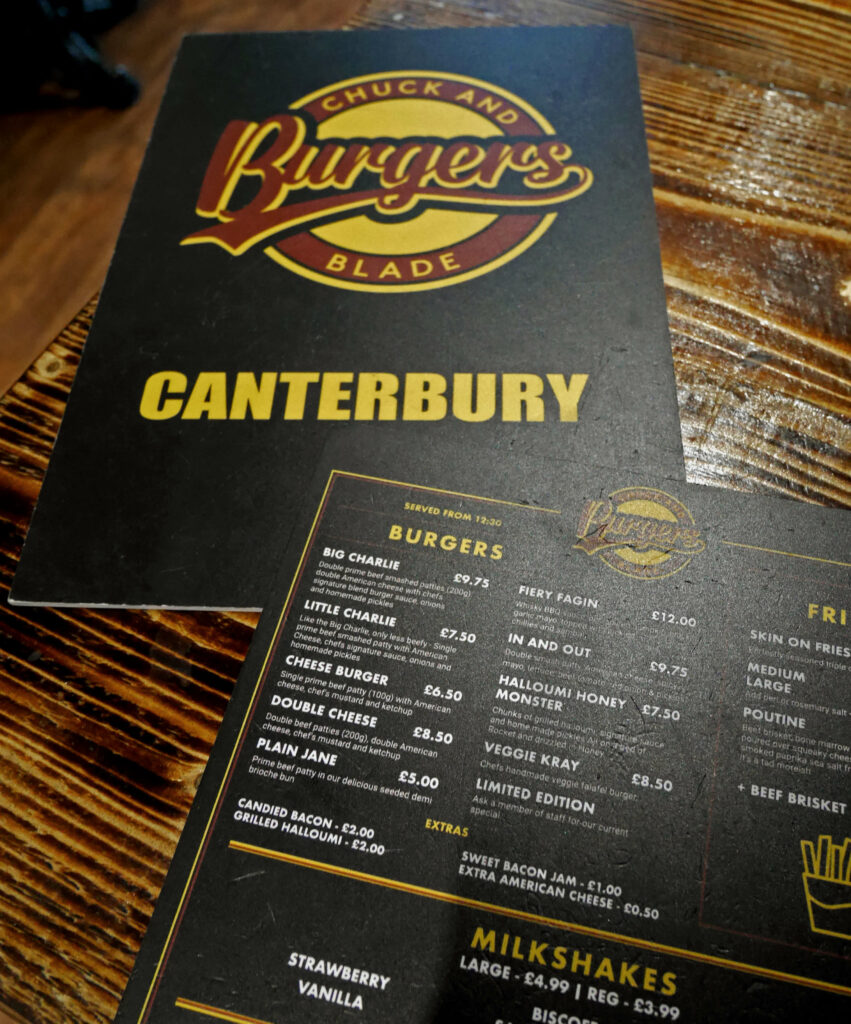 Chuck and Blade opts for the simplistic menu approach, where you pay for individual items instead of plates or platters. They serve various burgers, fries, shakes and poutine, which you can pick and choose between. For the first time ever Stuart and I ordered the same dishes: a classic 'Little Charlie' burger (£7.50) and medium skin-on fries (£1.99). The combination of American cheese, the Chef's sauce, pickles and onion just sounded delicious!
The food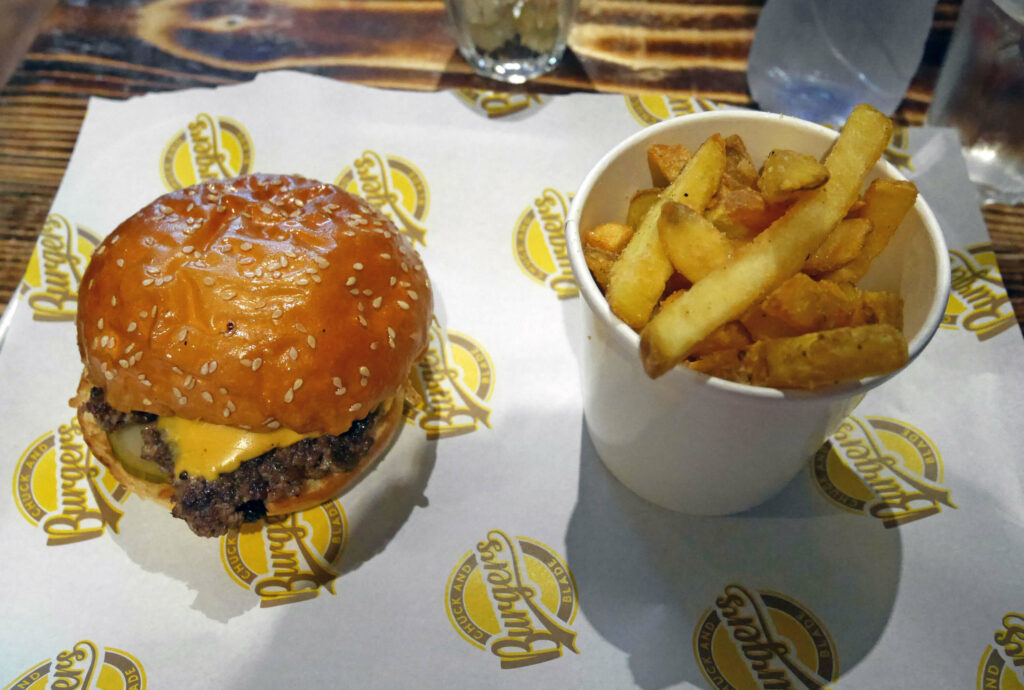 Having such a selective menu meant that we didn't have to wait long for our food. When our burgers arrived we were so impressed with the quality. The combination of flavours and well-cooked meat instantly put Chuck and Blade on the Canterbury culinary map for us. The skin-on fries were tasty too, which left us both very content with our main courses.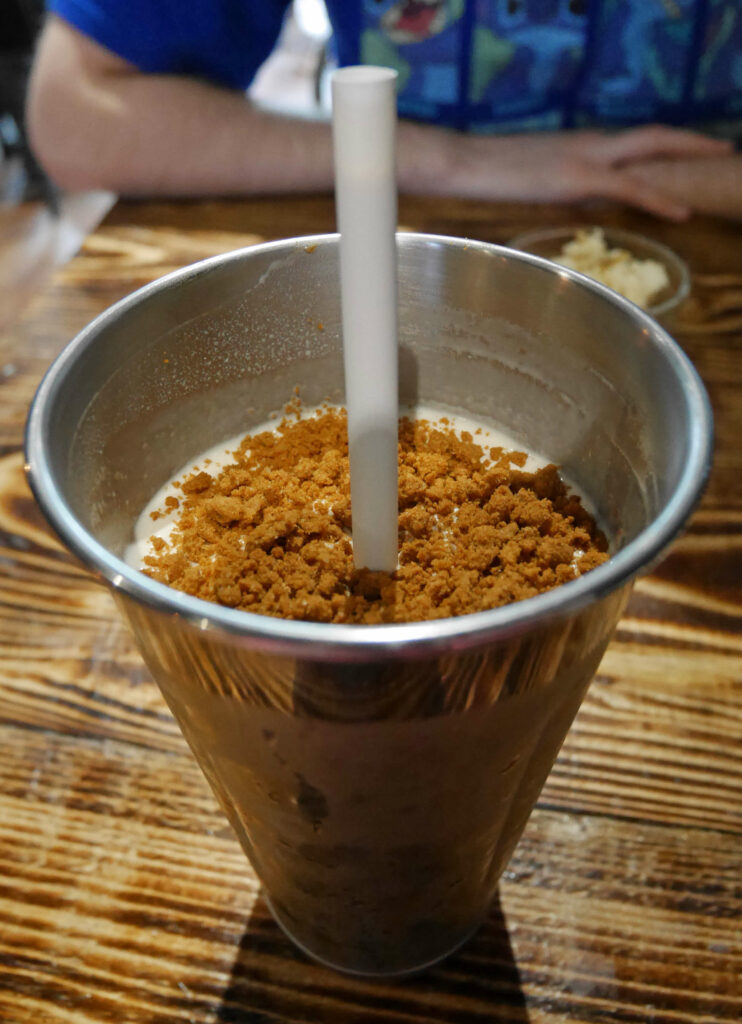 Chuck and Blade has a small selection of desserts, but it was the milkshakes that caught my attention. Salted caramel, strawberry cheesecake and biscoff to name a few flavours, I absolutely had to try one of their 'shakes for dessert. As a huge biscoff fan, I opted for the latter flavour of the three (priced at £3.99) and what a treat it was! Packed with ice cream and biscoff pieces, it certainly satisfied my sweet tooth. Next time we visit Chuck and Blade I will look forward to trying one of the other flavours.
Final thoughts
Stuart and I both thoroughly enjoyed our first experience of Chuck and Blade Burgers here in Canterbury. Good quality food in a city centre location? There's no question about where we'll be frequenting over the coming months when we're craving burgers and fries. The prices are very fair too at around £10 per person for a combination main, making it a relatively affordable meal out.
Thanks for reading my blog today.
Love
Kat
xxxx