Back in January on a really cold weekend, my husband and I decided to head into Canterbury city centre for a post-Christmas browse of the sales. We both had COVID over the festive period and missed out on this usual down time in December as we were isolating indoors, so on this particular January weekend we were so looking forward to our first trip into town of the new year. At lunchtime we were keen to visit somewhere new for lunch, but with Lost Sheep Coffee & Kitchen not offering hot food until later in the month, we decided to stop by an old favourite of ours: Eleto Chocolate Cafe. I've been visiting the Chocolate Cafe ever since I first moved to Canterbury for university; it's a brilliant place to visit for a late evening hot chocolate with friends and the staff are very friendly, letting you comfortably occupy a table for a few hours. However this January visit was my first time visiting the Chocolate Cafe for lunch and it certainly did not disappoint.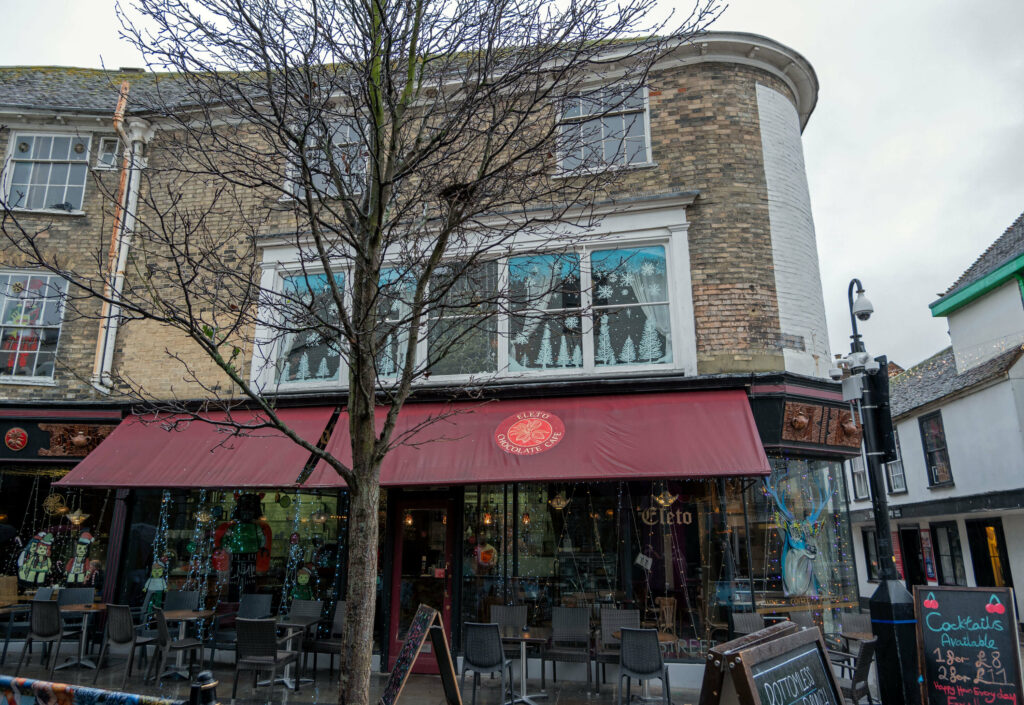 Location
The cafe is located two minutes from Canterbury Cathedral on foot and the upper floor seating offers views of the Cathedral roof and the King's Mile creative district. We usually always grab a table near the window, so that we can marvel at the historic architecture and soak up the atmosphere of the touristy streets below. These tables are a quiet haven in the bustling city centre, where you can watch the world go by. Fortunately there was a table free beside the window and this time, the window had been decorated with beautiful winter artwork by local mural artist Andrea Gregoriou. The decorations were a lovely touch, especially on such a cold January day!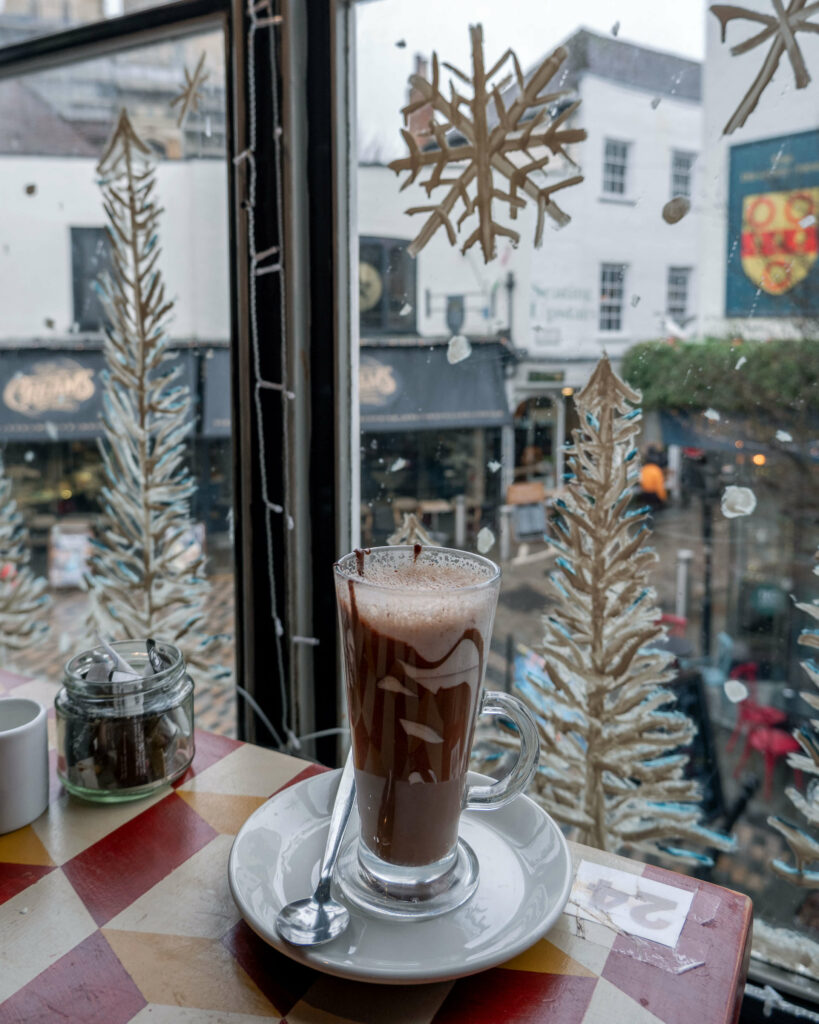 Drinks
Eleto Chocolate Cafe is known for its rich hot chocolates and unique teas. Both types of beverage arrive in stylish glass mugs, where customers can sit and admire the vibrant colours and textures of the drinks as they cool. I normally wouldn't order a hot chocolate for lunch, but as we were visiting the Chocolate Cafe, there was no other drink on my mind. They have a specific section of the menu just for hot chocolates and the signature one is absolutely dreamy.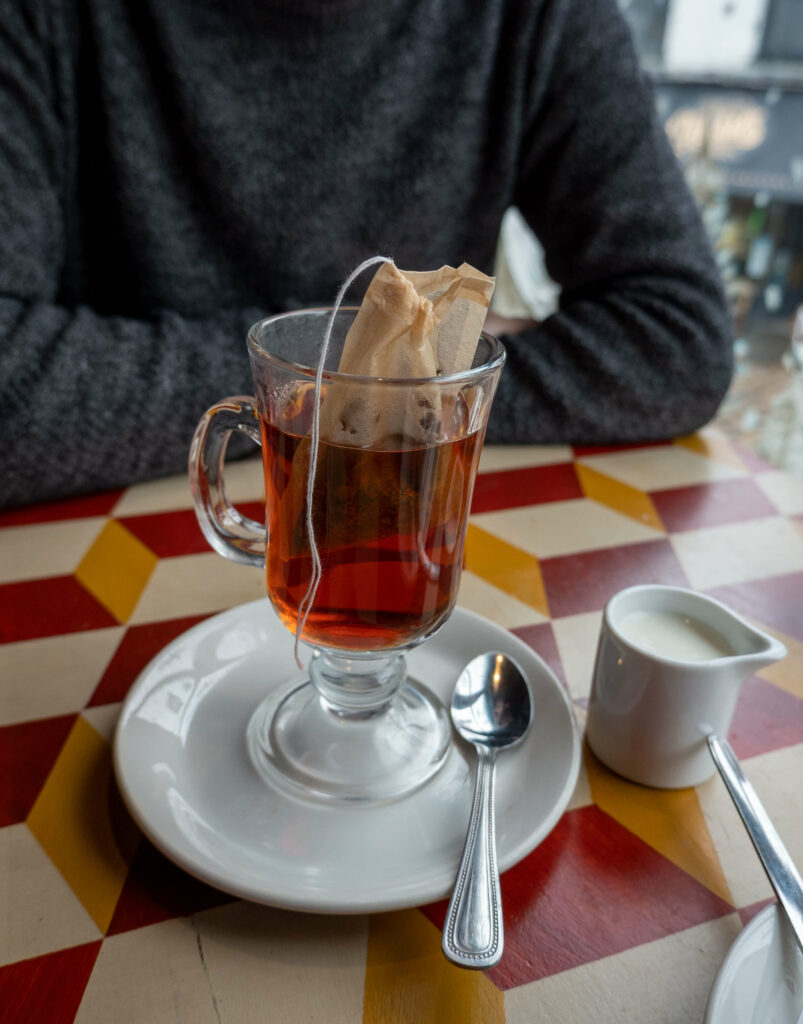 Food
Renowned locally as a cafe full of delicious sweet treats, at lunchtime it serves savoury crepes and toasted sandwiches. My husband ordered a bacon sandwich and I opted for the cheese and sundried tomato toastie, but I really struggled to make this decision as the crepes looked very tasty. The food was absolutely delicious and after assuming that Eleto Chocolate Cafe was solely a dessert bar for a long time, I was pleasantly surprised by how good the savoury options were. I have since learnt that they also offer soup, which would be perfect on a dreary winters day. Our two drinks (hot chocolate and breakfast tea) and sandwiches came to a total of £17.15, which was very reasonable considering that Eleto Chocolate Cafe is an independent, local business and everything is prepared on the premises.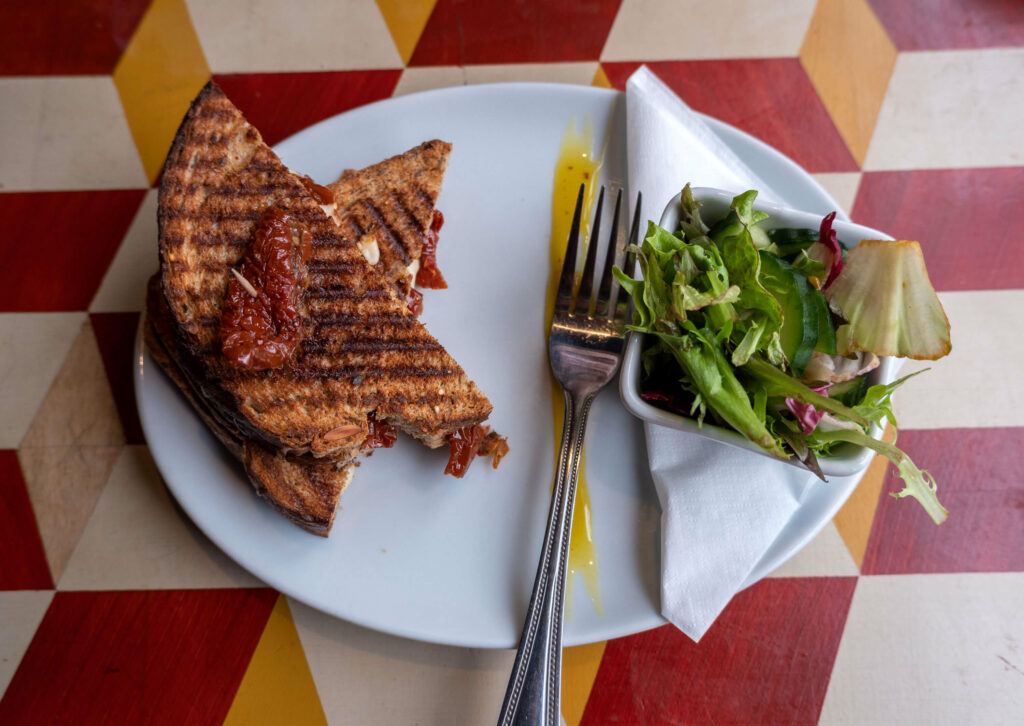 Atmosphere and future visits
The food and drinks on our January visit were delicious, but it is the warm reception and peaceful atmosphere that keeps me coming back time and time again. In a world where everything is instant, fast-paced and organised by time slots, I think it is great that you can relax with a hot drink by the window at the cafe. When they are not full, the staff are happy to leave you be, chatting with friends or working on a laptop. It is a really comfortable eatery and somewhere I thoroughly recommend in the city centre. Next time I stop at the cafe for lunch, I will definitely be trying one of the savoury crepes.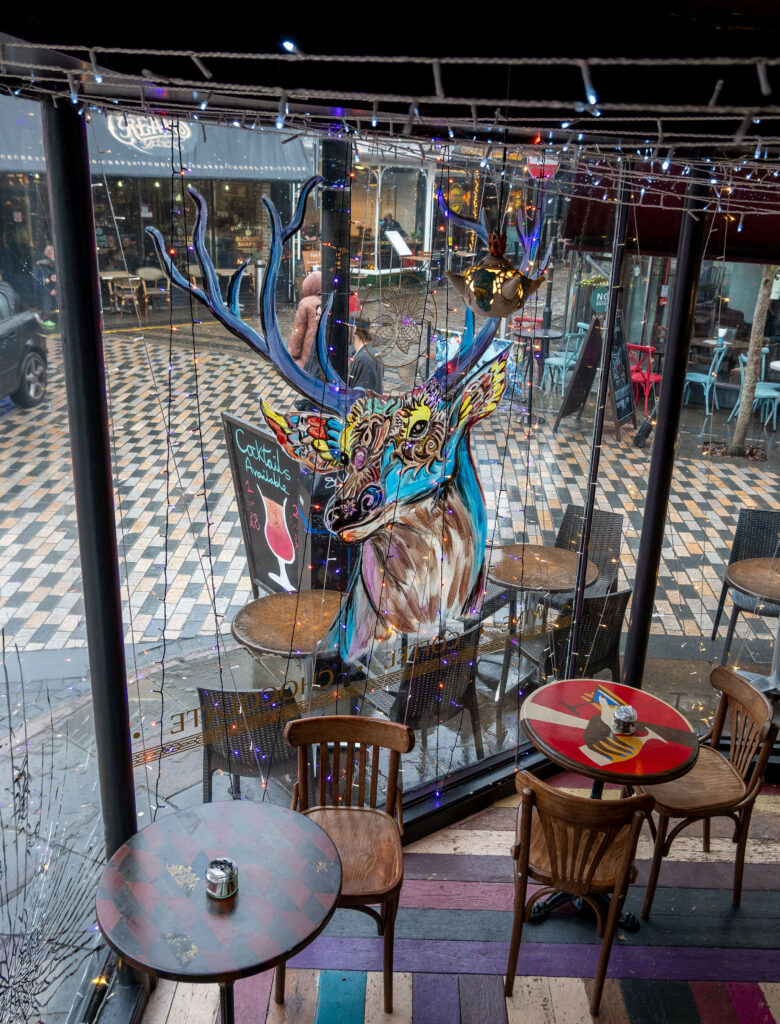 Have you ever been to Canterbury? Where did you pause for food during your visit?
Thanks for reading my blog today.
Love Kat xxxx