In December 2021 Kent-based coffee company Lost Sheep opened a new shop in the heart of Canterbury city centre, right next to the cathedral. The past year has sadly seen the closure of quite a few businesses, so it was exciting to see a new cafe open its doors on the historic Sun Street. Last year I featured Chuck and Blade Burgers on my blog and the new coffee shop has opened a few doors down from this restaurant. Serving coffee beans made locally in Whitstable, Lost Sheep Coffee & Kitchen is the new business venture from owners Sarah and Stuart. The duo entered the coffee business 10 years ago after tasting Aussie-style coffee when travelling down under. Upon returning to the UK, in 2012 they purchased a van and started selling this variety of coffee on Canterbury High Street. Skip forward to 2022 and the business has been taken to new heights, much to the delight of local coffee drinkers and frequent cafe visitors like myself.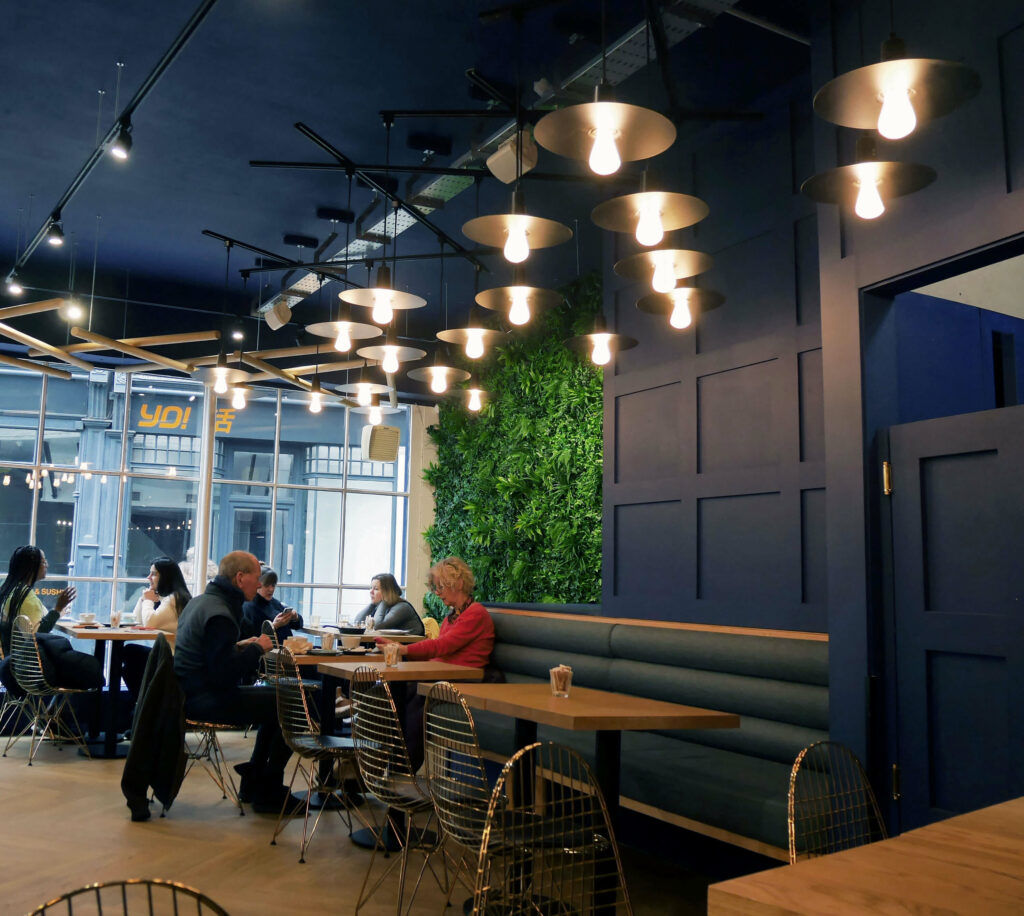 In addition to the new shop, you can order some of Lost Sheep's coffee online and make your own high quality coffee at home. Last weekend I headed to Lost Sheep Coffee & Kitchen for lunch with friends and after a really enjoyable experience, I wanted to share my thoughts. It's a beautifully designed shop in a historic part of the city, making it a brilliant place for tourists and locals wanting their coffee fix.
Interior decor and theming
Once inside the coffee house, I instantly spotted the sheep-themed signage in the entrance way. I adore sheep and think Lost Sheep have such a fun brand with their illustrated logo. Contrary to what the name suggests, Lost Sheep Coffee & Kitchen isn't a sheep-themed cafe but it's a wonderfully modern space where you can enjoy some locally-brewed coffee and cake beside a unique foliage wall.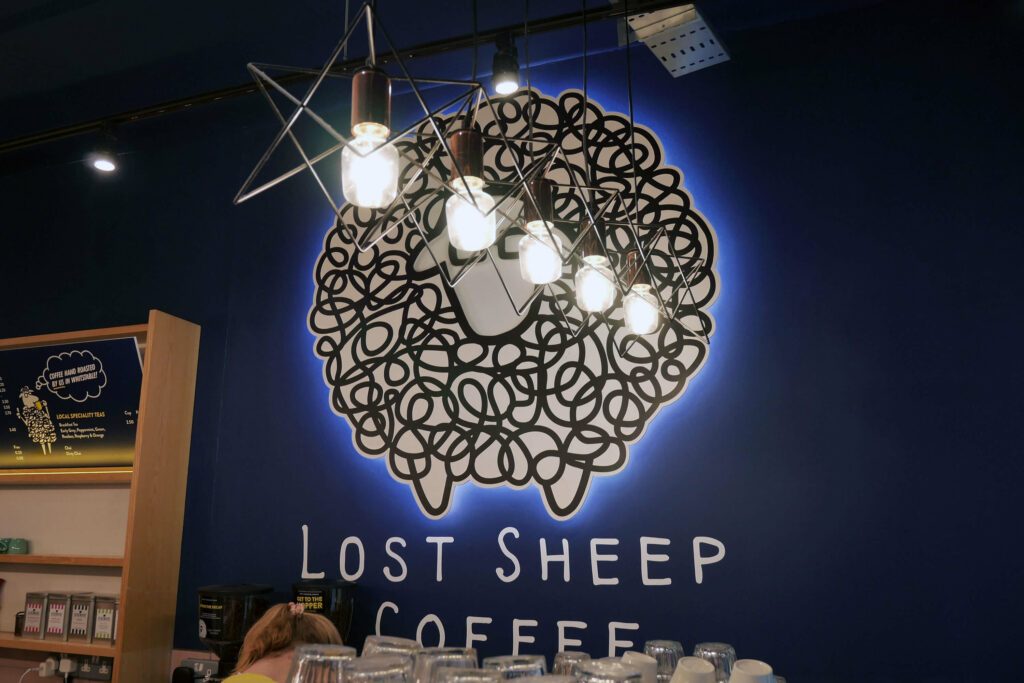 With hints of the coffee company's brand colours throughout, the premises definitely feels like an extension to the product range. The team even sells some of the beans and capsules in store, meaning visitors can take them home. We were seated at a table near the counter and positioned in a great location for soaking up the atmosphere of the bustling coffee shop. The counter was full to the brim with sweet treats and we simply could not ignore how delicious the cakes looked.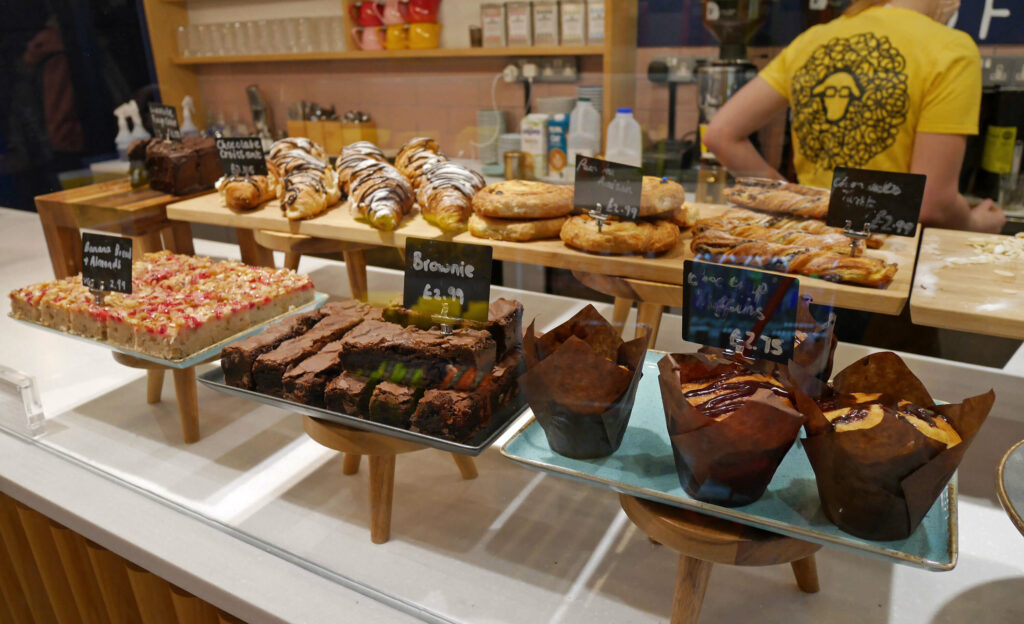 Drinks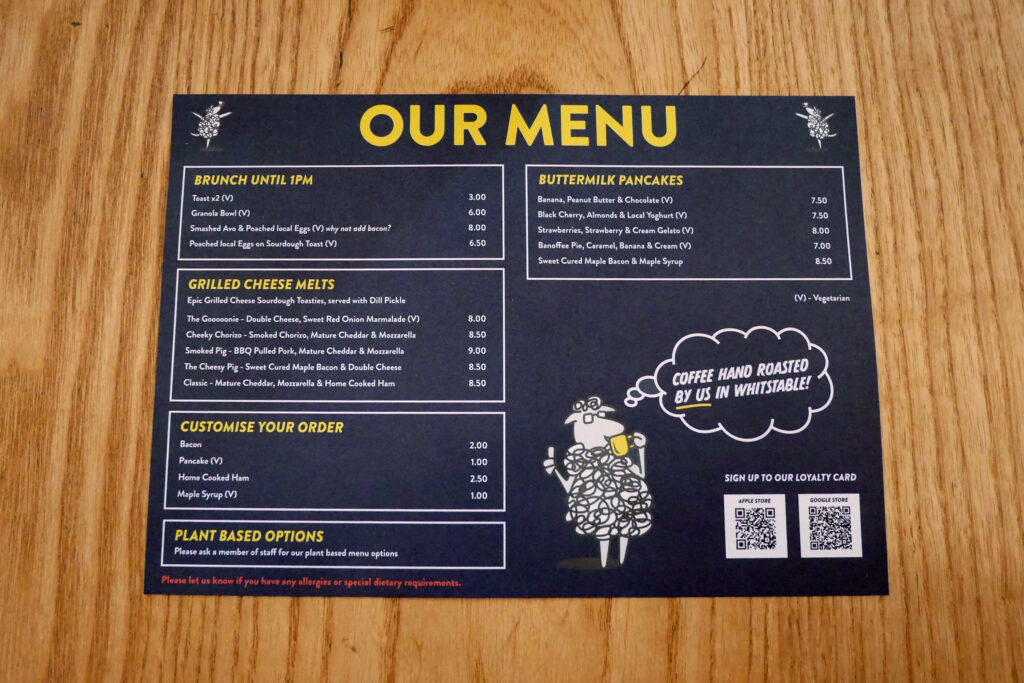 As you'd expect from a specialty coffee house, Lost Sheep had a huge selection of coffees on the menu. I've recently switched to a low-caffeine diet to help improve my sleeping habits and I was able to find a decaf latte on the menu (£3.20, produced via a non-chemical process). I am usually a tea over coffee drinker, but I thought I should try one of the lattes and see why everybody raves about their coffee! The artwork on top was simple yet elegant and the coffee was full of flavour. My friends ordered some of the local specialty teas (£3.65 for a pot) and they arrived in stump teapots from ProCook. You could instantly tell how much the company wants to create a special coffee shop experience, from the careful presentation of the drinks to their stylish tea ware.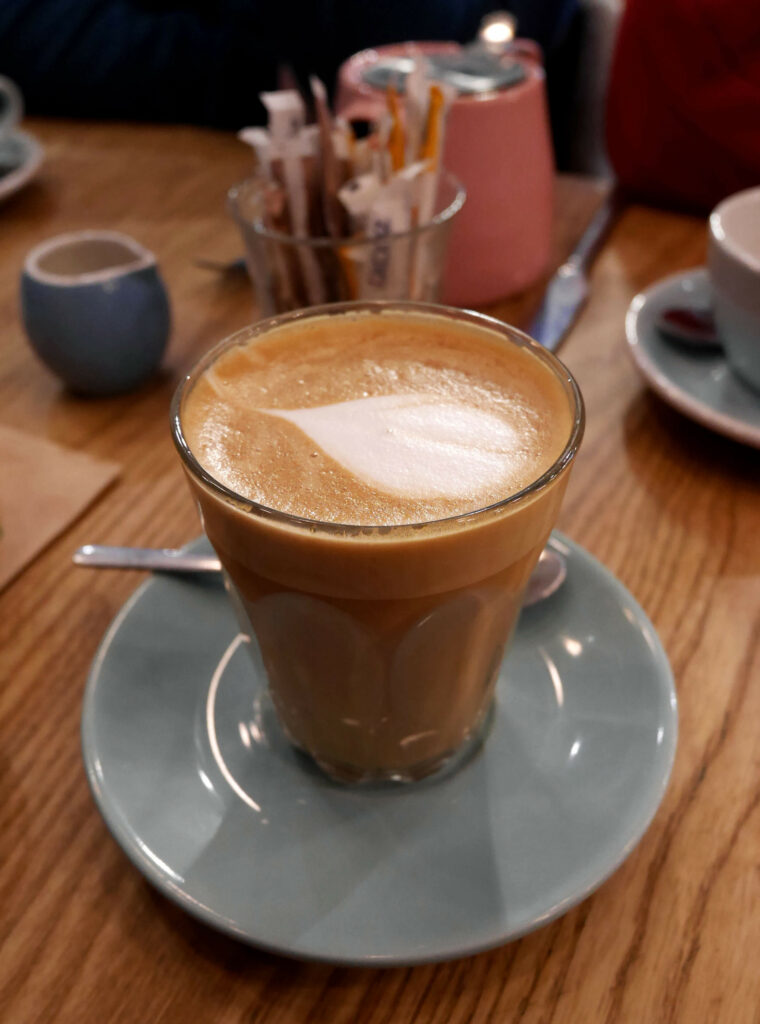 Toasties and pancakes
The hot food choices were varied, with both traditional toasted sandwich options and all day breakfast dishes. To the table we ordered a 'Cheeky Chorizo' grilled cheese melt (£8.50), the 'Gooooonie' sweet red onion marmalade grilled cheese melt (£8.00) and two different topped buttermilk pancake stacks (ranging from £7-8.50 per plate). When the lunches arrived we each marvelled at the presentation and size of the portions. The toasties were arranged in cast iron pans which were really unique and the pancakes were piled high on their respective plates.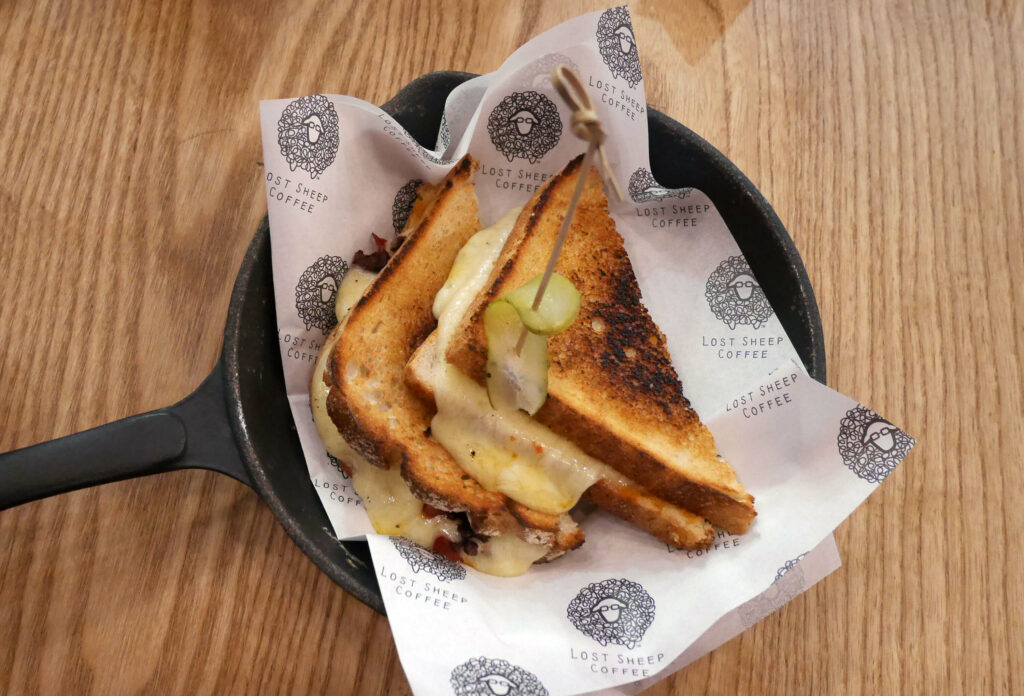 My cheese and chorizo toastie was delicious but after trying some of my husband's pancakes (Sweet Cured Maple Bacon & Maple Syrup, £8.50), I think I should have followed in his footsteps. The pancakes were the best I've tried in recent years, with their light and fluffy texture. As a group we were all extremely full once we had finished eating, but the dishes were worth every penny!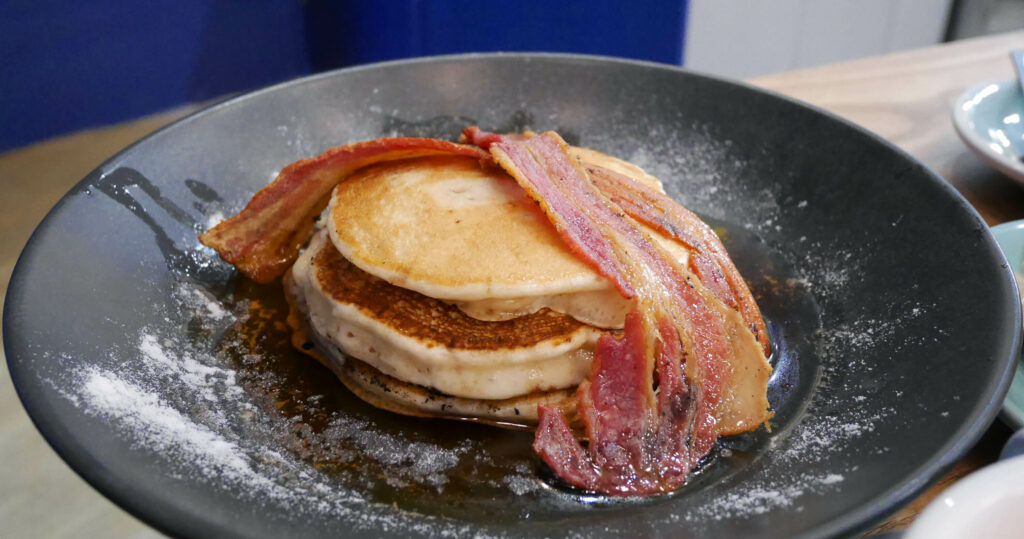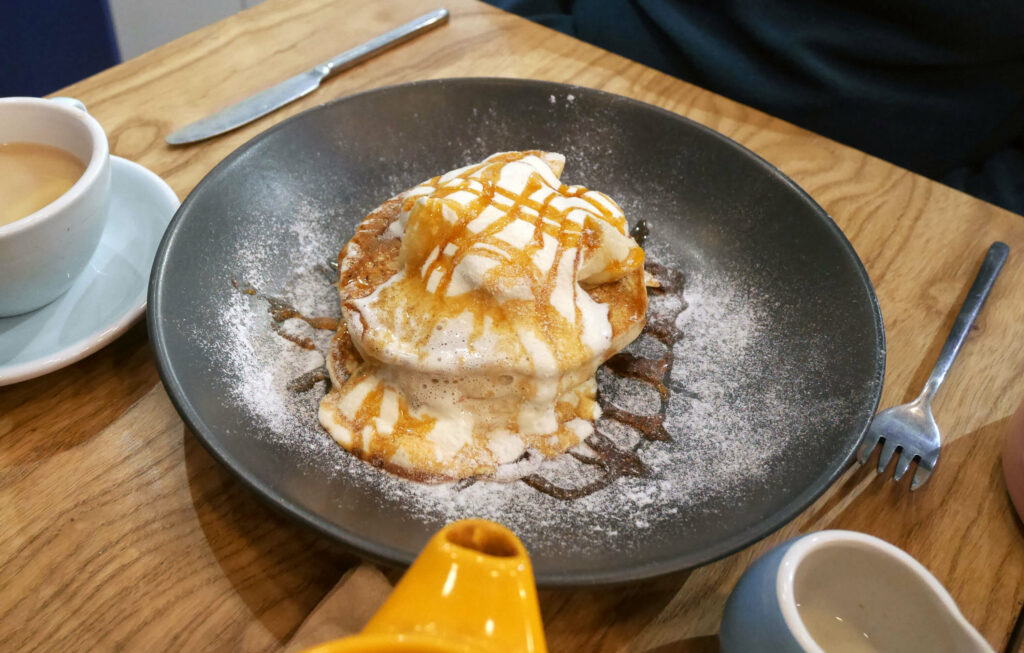 Overall thoughts
Following our extremely positive experience at Lost Sheep Coffee and Kitchen, I think it's a brilliant new addition to Canterbury city centre. Serving tasty snacks in a warm and inviting space, the new cafe is somewhere that I am sure we will visit many times in 2022. I can't wait to head back there soon and order my own dreamy stack of pancakes.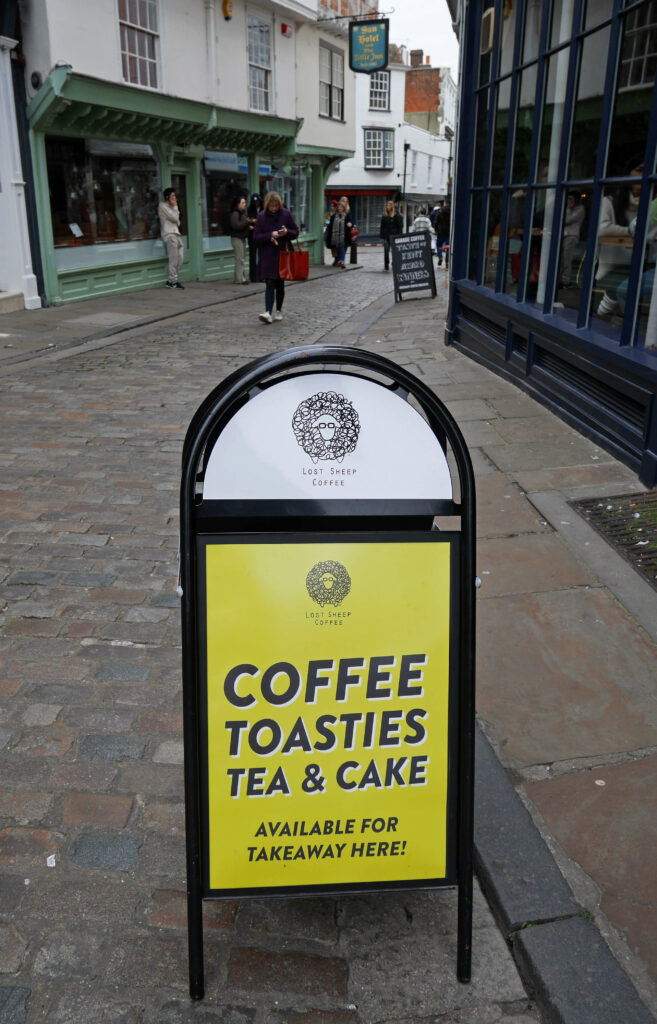 Have you eaten out in Canterbury recently? I'm always looking for new cafe and restaurant recommendations!
Thanks for reading my blog today.
Love Kat xxxx